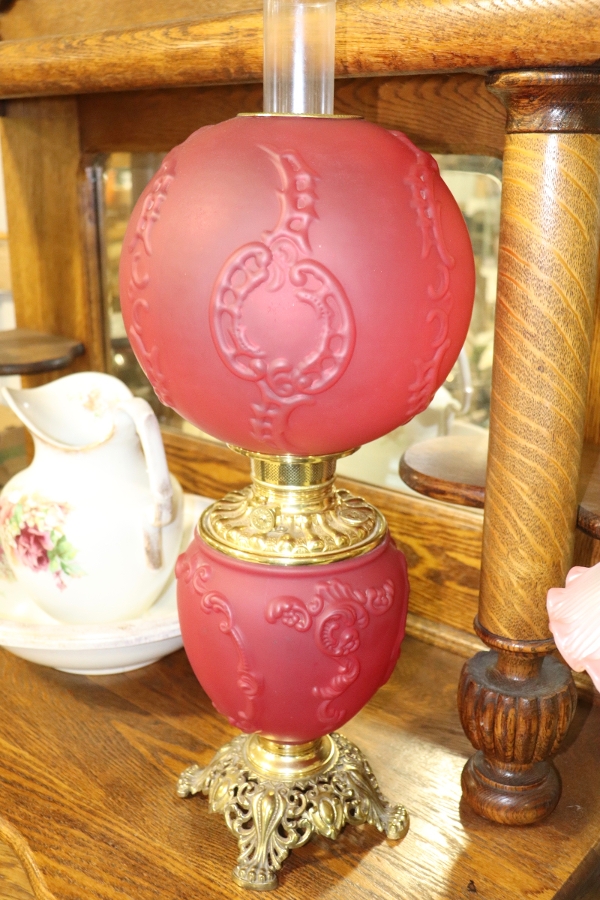 Quality Salisbury Estate Auction
November 11, 2020
28620 Ocean Gateway Salisbury, MD. 21801
ON LINE ONLY AUCTION***ON LINE ONLY AUCTION***
INTERNET ONLY AUCTION: October 19, 2020 through November 11, 2020. Bidding ends on Wednesday, November 11, 2020 starting at 5 PM.
PREVIEW DATES/TIME: Wednesday, November 4, 2020 from 4 PM to 6 PM.
CHECKOUT DATE/TIME: Saturday, November 14, 2020 from 9 AM to Noon. No exceptions.
LOCATION: 28620 Ocean Gateway, Salisbury, MD 21801
Eastern Shore Auctions, Inc. is honored to have been selected to sell the estate of Philip Sheehan of Salisbury, MD and several other local estates.
This is a large auction of quality items including Gone With the Wind style and other lamps, local blue gray stoneware crocks, a large selection of decoys including Briddell, Mitchell, Marshall, Tyler and others, antique furniture, quality glassware, Karastan rugs, Sterling silver goblets and tea pot, oyster cans, fur coats, local books and other collectibles. 
1
Antique Oak encased Regulator Wall Clock
2
Williamsburg Pottery Cobalt Blue/Gray small pitcher, creamer, and handled vase
3
B & H Kerosene Lamp with a Beagle decorated shade (non electrified)
4
White Opalescent Swirl Glass Minature Oil Lamp and Candle holder
5
Clear Glass Kerosene Finger Lamp and Blue Glass Kerosene Lamp
6
Two Bohemian Red Glass Vases decorated with birds
7
Bohemian Red Glass Decanter
8
Two Ruby Red Cruets (chips on bottom of tall cruet) and two Red Lidded Jars
9
Hand Painted Biscotti Biscuit Jar
10
The Juno Lamp by Miller Brass Kerosene Lamp with Pink Ruffled-top Shade (has been electrified)
11
Cast Metal Man Riding a Horse Statue (crack on right leg) and two Minature Brass pieces including a Coal Bucket and Pitcher
12
Antique Wooden Encased Clock
13
Noritake Bone China Stanford Court China Set including dinner and salad plates, vegetables bowls, platters and more (approximately 70 pieces)
14
Willamsburg Pottery Cobalt Blue/Gray Pitcher 7 1/2" and Vase with ears
15
Nickel Oil Lamp with Blue Glass Shade (not electrified)
16
Floral Decorated Wash Bowl and Pitcher (cracks in bottom of bowl)
17
Pink Aladdin Oil Lamp with pink floral decorated shade (has been electrified) (small chip on base)
18
Cranberry Satin Glass Gone with Wind Parlour Lamp (non electrified)
19
Brass Bed Warmer with wooden handle
20
Brass Floor Lamp with Marble in the Base with a Pink Scalloped Shade
21
Ruby Red Cut to Clear Decanter with two ruby red lidded jars (small chip on inside lip of jar)
22
Three Ruby Red Vinegar Cruets 
23
Two Cobalt Blue/White Porcelain Vases (Tall one is 10") (one is marked Pier 1)
24
Cobalt Blue/White Handled Pitcher (9") and a small Lidded Ginger Jar
25
Two Aladdin Model B  Oil Lamps, 1 Amber 1 Clear (non electrified) 
26
E. Ingraham Co Bristol Conn Wooden Wall Clock 
27
Mahogany Ladies Writing Desk with Walnut Trim 30 1/4" x 17 1/2" x 47"
28
Antique Two Drawer Communion/Altar Style Stand 25" x 17"
29
Oak Stand with 2 drawers and 2 doors 35" x 19"
30
Willie Crockett Water Color of Flying Widgeons Signed 1989
31
Salem Banjo Wall Barometer Made in England
32
Six Etched Glass  Water Glasses and Six Etched Glass Sherbets
33
Three Old Colony/Laced Edge Pink Depression Glass Serving Bowls
34
Two Old Colony/Laced Edge Pink Depression Glass Divided Dishes
35
Old Colony/Laced Edge Pink Depression Glass Biscuit Jar (chip on inside rim of lid)
36
Three Old Colony/Laced Edge Pink Depression Glass Candy Dishes (one with lid)
37
Pink Depression Glass Lot including 2 Saucers and 1 Vase/Candy Dish, Creamer (chip on base) & Sugar Dish, 2 Vegetable dishes and 3 tumblers
38
Green Aladdin Model B Oil Lamp with Frosted Shade (non electrified)
39
Cranberry Etched Glass Oil Lamp with white base (non electrified) (chip around top lip of lamp)
40
Two Clear Glass Vinegar Cruets and a Clear Glass Frog
41
Lot of Salt & Pepper Shakers including dogs, swans, and rabbits
42
Psyche Royal Porcelain Wash Bowl and Pitcher Set, small pitcher and handled mug
43
Amber and  White Lamp with a white base
44
Three Pfaltzgraff Cobalt Blue & Tan Mixing/Serving Bowls Marked 460 9 1/2" diameter
45
Pfalzgraff Cobalt Blue & Tan 2 qt Casserole dish with lid, Pie plate, and a Chip & Dip Plate
46
Pfalzgraff Cobalt Blue & Tan 3 1/2 qt Soup Tureen with laddle
47
Three Pfalzgraff Cobalt & Tan Platters marked 007 12"
48
Two Pfalzgraff Cobalt & Tan Baking Dishes,  one  9" x 9" and one 8" x 12"
49
E. Miller & Co Single Arm Brass Kerosene Student Lamp with Green Shade (non electrified)
50
Cape Cod (Nantuket style) Basket  with a scrimshaw style picture of a sailing ship
51
Sessions Clock Co Mantel Clock with Gold Gilding
52
Lamberton Maddocks Works Royal Porcelain Wash Bowl and Pitcher Set, small pitcher and small vase (broken trim on small pitcher and vase)
53
E. Ingraham Co Bristol Conn Antique Oak Mantel Clock with intricate carving
54
Antique Oak Picture Frame with intricate carving 22" x 24"
55
Antique Oak Picture Frame with intricate carving 22" x 24"
56
Two Cobalt Blue/White Large Vases (Tall vase is 12")
57
Cobalt Blue/White Pier 1 Small Waste Basket and a Gien France PA Decorative Plate with stand
58
4 Ice Cream Parlour Style Chairs with heart designed backs and wooden bottoms
59
Vintage Brown Glazed ware Pennsylvania Style Cookie Jar
60
Old Oil Painting with flowers on canvas 8 1/2" x 10 1/2"
61
Star Wars Starfighter, Star Wars Trilogy Special Edition VCR Tapes, a Darth vader 3D Reconstruction Log and a Star Wars Card Game
62
Large Copper Coal Scuttle Pot with Porcelain Handles with Lion Head crest deco
63
Hand Painted Rock Fish on wooden board Painted by Tom Hart 29" x 8" 
64
Wooden Lift-top Storage Box decorated with Grapes and Wine Goblets 14" x 14 1/2"
65
Wooden Full Size Duck Decoy in Natural Finish
66
Red Headed Wood Pecker Carving by Donald Booth Seaford DE 1988
67
Carving of a Dove Decoy with D carved in bottom and a Carved Flicker Decoy 
68
Primitive Wooden Duck Decoy 11 1/2" long
69
Vintage Copper Kettle with Lid
70
Multi-colored glass dish in the shape of a conch shell 17 1/2" long
71
Green Swirled  Scalloped-top hand blown Vase 8 1/4" tall
72
Carnival Glass Fruit Bowl, a South-western style Ceramic Tray, a Ceramic Pheasant Figurine and a Small Swan Planter
73
Tiffany Style Lamp with multi-colored shade
74
Pair of Brass Fish Book Ends
75
Framed Print of Mallards Titled  "Coming In" possibly by Roland Clark 14" x 15 1/2"
76
South-western Style Art Pottery Vase 8 1/4" tall
77
Vintage Tin Bread Basket circa 1950s
78
Vintage Spice Set with Baby Chicks and Salt & Pepper Shakers with Chickens
79
Lionel Locomotive 8040 with North Platte Road Tender,  North Platte Road Caboose, Republic Steel Car and Union Pacific Car
80
Ceramic Brown Rhinoceros, a Sea Shell Clock, Relpo Bear Planter and a Noah's Ark Child's Lamp
81
Copper Bed Warmer with Twisted Wooden Handle
82
Vintage SS TEXACO North Dakota Model Toy Tanker Ship by Wen-mac Corp
83
Gold Frame Motion Waterfall Picture with lights and sound 26 1/2" x 18 1/2"
84
Cement Cardinal Painted Black
85
Danya B Female Chef Bronze Sculpture
86
Six-lights Tin Chandelier
87
Copper Tray with wooden stand
88
Metal Fireplace Screen
89
Flora Decorated Bristol Glass Vase 14 1/2" Tall
90
Two Ashton Drake Bello Dolls
91
Old handled Basket made out of tree limbs/roots 24"
92
Dove-tailed Red Wooden Box with sliding lid and a Framed Needle point of Eagles
93
Framed Picture of Pintails and a Chesapeake Bay Buy Boat by TR Jones 26 1/2" x 19"
94
Two Cork Canada Geese Field Decoys with wooden heads, one in feeding pose
95
Green Floral Decorated Gone with the Wind Parlour Lamp (top and bottom light)(wear marks where shade meets support)
96
Pink and Gold Floral Decorated Gone with the Wind Parlour Lamp (wear marks where shade meets support)
97
Brown and Green Majolica Style Planter 18 1/2" tall
98
2 Ceramic Little Bo Peep Bedroom Lamps and a Small Green Oil Lamp
99
Large Assortment of Sports Cards Including Baseball, Football, Basketball and Ice Hockey Cards (box is 12" X 15 1/4") 
100
Pink Cermic Washbowl and Pitcher
101
Seth Thomas Mantle Clock Model No E511-003
102
Hamilton Mantle Clock DuPont Anniversary 2 Jewels Made in West Germany
103
Colonial Manufacturing Company Wall Clock With Key
104
Wooden Doll House 25 3/4" X 13 1/2" X 24" Tall
105
Bamboo Plant Stand 30" Tall
106
Hammered Tin Watering Pot Stamped with an N in the Bottom 12 3/4" Tall
107
2 Miniature Canada Goose Decoys Upper Bay Approx 7" long
108
2 Cast Iron Pineapple Doorstops 8 1/4" tall
109
Miniature Wooden Pintail Decoy 8" long
110
Vintage Econolite Locomotive Motion Lamp (Came on when tested)
111
Large Gold Framed Garden Scene Picture 46" x 34"
112
Figural Porcelain Planter marked AA-631 on Bottom and a Penquin Cookie Jar (large chip inside lip of cookie jar)
113
Large Gold Framed Painting of a Deer in a Creek signed SSL 29 1/2" x 35 1/2"
114
Framed Genuine Bull Durham Smoking Tobacco Poster Black Americana 18" x 25 1/4"
115
Painting of an Egret on Canvas 24" x 36"
116
Two Framed Linen Pictures, 1 is "Little Boy Blue" and 1 is "Old Woman in a Shoe"
117
Neuweiler Light Lager Beer and Ale Diamond Shape Metal Sign 60" x 41" 
119
Large Framed Water Scene Picture by S. Alegria 28 3/4" x 22 1/4" and Framed Winter Scene by Constance Sullivan 30 1/4 " x 26 1/2"
120
Castrol GTX Super Multi-Grade Motor Oil Lighted Clock (works)
121
Six-lights Tin Chandelier
122
Multi-colored Modern Art Bowl
123
36" Model of Cutty Sark Sailing Ship in Wood and Glass Case (one piece of glass missing from case)
124
Mega Nerf N-Strike Elite Toy Gun and Bas-Ket Real Basket in Miniature Game by Cadaco
125
Bamboo Basket, Handled Basket, Wooden Handled Vase and National Sex Week Can
126
Framed Picture of Forest with Fall Foliage 43 1/4" x 31"
127
Large Green & Tan Outdoor Planter 14" Tall (chip on lip)
128
Large Green & Tan Outdoor Planter 14" Tall 
129
R Madison Mitchell Drake Redhead Decoy Signed and Dated 1975
130
R Madison Mitchell Drake Canvasback Decoy  Signed and Dated 1949
131
Jimmy Pierce Mallard Decoy Pair, Drake is in Sleeping Pose (Signed on bottom)
132
Herters Balsa Golden Eye Hen Decoy Full Size
133
Black Duck by Bryon Bodt
134
Pair of Upper Bay Mallard Decoys
135
Hollowed Hooded Merganser Drake with initials  MWH carved into the weight
136
Natural Finish Wood Shorebird marked on bottom William F King 12" Tall
137
Shorebird Decoy on metal base Signed WEK (William Kirkpartick) on bottom 13 1/2" Tall 
138
Shorebird Decoy 12 1/2" Tall
139
John Lynch? Red Knot Decoy with hinged head
140
G Bullie Salmon Decoy 8 1/4" tall
141
Large Faulk's Duck Call Twice International Champ 10 3/4"
142
Three Wooden Game Calls, green one is a duck call
143
Pair of Over-sized Black Duck Decoys, hollow with glass eyes Signed JP Lattanzio Sag Harbor 1975, one in sleeping pose
144
Hen Merganser Decoy 19" long 
145
Folk Art Mallard Drake Decoy
146
Herters Drake Bluebill/Blackhead Decoy branded WGH on bottom 
147
Full Size Black Duck Decoy
148
Pair of Ruddy Ducks carved with C on the bottom Gary Crossman
149
Shorebird Decoy by Frank Mullen
150
Black-necked Stilt by Brown
151
Handcarved Tern signed (illegible) and a Shorebird Decoy
152
Miniature lot including Goose Decoy,  Black Duck by Biddle and Merganser Drake signed by Dick Robinson 
153
Miniature Shorebird Decoy, Flattie Shorebird Decoy and a Silhouette-style Shorebird with initials RD on bottom
154
Miniature Decoy lot including Flying Mallard, Hen Wood Duck, Drake Green Wing Teal and more
155
Metal Hen Pheasant Decoy and a Miniature Mallard Decoy (head has been repaired)
156
Antique Drake Pintailed Decoy
157
Full Size Canada Goose Decoy with Tack Eyes 18 1/2" tall x 25 1/2" log
158
Four decoys including Wooden Black Duck, Rubber Black Duck and two Natural Finish Ducks
159
Two Wooden Golden Eye Decoys
160
Old Squaw Decoy and two Black Duck Decoys 1 with initials LS on tag on bottom
161
Two Decoy Wall Plaques 38" long
162
South-western Style Area Rug 59 1/2" x 95"
163
Ozan's Furs Reading Mid-length Fur Coat (size unknown)
164
Hess Apparel Elan 100% French Rabbit Hair Short White Fur Coat Size Medium
165
Accrylic Painting of Flying Mallards by D Martinz? 44" x 32" 
166
Pine two-door Stand 29 1/2" x 14 1/2"
170
Wooden White Storage Cabinet with one door and one drawer  32 1/2" x 15" x 49"
171
Stand with one door and one drawer 20 1/2" x 17 1/2"
172
4 Drawer Pine Dresser 42 1/4" x 18 1/4"
173
Commode 4 Drawer Commode Chest 30" x 18" 
174
5 Drawer Pine Dresser 41" x 20"
175
6 Drawer 2 Door Mahogany Buffet 62 1/2" x 22"
176
Antique 2 Drawer Dresser 42 1/2" x 20"
177
Ridgeway Tempus Fugit Grandmothers Clock, case with Pendulum only 
178
Mahogany China Cabinet
179
8 Drawer Mahogany Highboy Style 2 Piece Dresser 34" x 19" x 60"
180
Carolina Furniture 6 Drawer Lingerie Dresser 21 1/4" x 16" x 57"
181
New Haven Clock Co 8 Day Antique Oak Encased Mantle Clock
182
Sylvania LCD 26" Color TV and a Toshiba VHS/DVD Player
183
Mahogany 4 Drawer Server 26" x 15 1/4"
184
Pine Entertainment Stand (made for corner)
185
Quilt Rack and Mahogany Wall Mirror 19 1/2" x 37 1/2"
186
Glider Rocker and Ottoman
187
Mahogany Stand with 2 doors and 2 drawers 19" x 10 1/2" x 18"
188
Mersman Mahogany Side Table 7164 25" x 14 1/2"
189
Pine 4 Shelf Bookcase
190
Mersman Drum Style Table with 1 drawer
192
One Drawer Drop Leaf Table (closed 19 1/2" x 34 1/2") with 2 Spindle Back Chairs, Cane Bottom Chair and a Green Wooden Chair
193
Small Mahogany Round Table 
194
Cast Iron Letter Holder
195
Oak Decorative Shelf, Pine Shelf, a Busy Bee No 16 Washboard with Towel Bar and a Mirror
196
Two Rayo Nickel-plated Oil Lamps with Globes (electrified)
197
Small Green & Floral Decorated Lamp
198
Brass Oil Lamp, Clear Glass Lamp with Shade, Seiko Battery-operated Clock, and a Gold Frame Floral Arrangement Picture
199
Antique Oil Lamp with Cast Iron Wall Bracket and Mercury Reflector (has been electrified)
201
Moon & Stars Red Candy Dish
202
Benjamin Adams CK62 Keyboard with Keyboard Stand
203
Intertek Craft Light and two Nickel finish-Floor Lamps
204
Brass Floor Lamp and Wrought Iron Oil Lamp (has been converted to electric)
205
Karastan Red Sarouk 2.2 x 4 Area Rug 
206
Karastan Red Sarouk 4.3 x 6 Rug 
207
Karastan Ardebil 4.3 x 6 Rug
208
Karastan Serapi 2.2 x 4 Rug
209
Karastan Heriz 2.10 x 5 Rug
211
Karastan Multi-color panekKirman 2.6 x 4.3 Rug
212
Karastan Bokhara No 722 4.3 x 6 Rug
213
Karastan Ispahan 5.9 x 9
214
Tidewater Seafoods Inc Newport News VA Pint Oyster Can
215
Phillips Jersey Cape Pint Oyster Tin
216
Quality Oyster Can Harrison Oyster Co Tilghman Md, The Todd Co Crabmeat Can Cambridge Md and Epicure Crabmeat Can
217
Full Widgeon Upper Bay Decoy 
218
H Haman Middletown DE Cork Goose Decoy with a Wooden Head dated 1982
219
Peep Shorebird by William Tyler Crisfield Md 
220
Wall Plaque containing Three Pintail Coasters
221
Wall Plaque with Three Crane Silhouette
222
1/3 Wood Duck Hen by Travis Tyler Crisfield Md (head repaired) and a Drake Pintail by PW Marshall 
223
Full-size Black Duck Decoy with Turned Head
224
Tucked Head Drake Pintail Decoy with initials WW carved on bottom  (age crack running bottom of decoy)
225
Brass Ships Porthole 10" Diameter
226
Orange Fish Decoy by Albert Mills 12 1/2" long
227
Drake Buffle Head Decoy  by George Bell Crisfield Md
228
Pair of 1/2 size Widgeon Decoys by PW Marshall dated 1981
229
Full Size Canada Goose Decoy in Sleeping Pose
230
1/3 Size Canada Goose Decoy
231
Eastern Shore Oyster Shucking Metal Bucket With Bail Handle
232
Stainless Steel 3 3/4 Gal Oyster Bucket marked GEO H Wahmann MFG Baltimore Md Bail Handle
233
Capt. Roger Urie Rockhall Md Pair of Miniature Widgeon Decoys
234
Capt. Roger Urie Rockhall Md Pair of Miniature Canvas Back Decoys
235
Remington Express Shotgun Shell Box End and a Shorebird Decoy made into a wall plaque
236
Morgan Oysters Packed by WF Morgan & Sons Weems Va Pint Can VA.92 
237
Strickler's Strictly Fresh Oysters RW Strickler Pint Oyster Can and a Bivalve Md 293 8oz Can
238
Wescoat & Steelman Cheriton VA 12oz Oyster Can VA 528 and a Bivalve Md 293 8oz Can
239
H Allen Smith Cheriton VA 10oz Oyster Can VA 585 and A Bivalve Md 293 8oz Can
240
B & L Oysters 12oz Can Bivalve Oyster Packing Co Princess Anne Md, Jeffries Salt Water Oysters 8oz Can Bivalve NJ N J 4, and a Tin Oyster Style Can
241
Teal Decoy branded J P Hand on bottom
242
Pair of Miniature Mallard Decoys marked R Anderson 1978
243
Charlie Jobes 1/3 size Drake Canvasback Decoy signed & dated 1981
244
Wooden Drake Bluebill Decoy
245
Miniature Black Duck Decoy with inletted weight marked RJS on bottom
246
Wall Plaque with Canvasback Duck  24" x 13 1/2"
247
3 Books including The Outlaw Gunner by Walsh, Wild Fowl Decoys by Barber, and Pioneer Decoy Carvers Autobiography of Lemuel & Stephen Ward by Berkey
248
Books including Decoys-North America's One Hundred Greatest by Harrell, Blue Ribbon Pattern Series by Veasey and American Bird Decoys by Mackey
249
Creative Bird Carving Book by William I Tawes 1969
250
Books including Hollica Snooze by Cook No 461/500 and Birds of a Feather Wildfowl Decoys at Shelburne Museum by Rizzoli
251
Decoys and Decoy Carvers of Illinois by Parmalee & Loomis
252
3 Books Floating Sculpture The Decoys of the Delaware River by Huster & Knight, Waterfowling Horizons by Smith and Decoys and Proven Methods For Using Them by Bourne
253
Antique Oak Handled Basket and 4 Vintage Feed Bags? 
254
Antique Cobalt Blue/Gray 1 Gal Crock Incised "From E E Jackson & Co  Dealers In Dry Goods Groceries" Salisbury Md  (has cracks)
255
Antique 2 Gal Brown & Tan Stoneware Crock McCoy?
256
Antique Cobalt Blue/Gray Stoneware Pitcher (Broken handle and has cracks)
257
Antique 4 Gal Crock with ears with Brown glaze inside (age crack in bottom)
258
Antique 1 1/2 Gal Cobalt Blue/Gray Crock incised JF Jester Dealer in Dry Goods Groceries & C Nanticoke MD
259
Cast Iron 'When Pigs Fly' Bank 10 1/2"
260
Pair of Don Briddell Hollow Pintail Decoys
261
R Madison Mitchell Canada Goose Decoy Signed & Dated 1938
262
Nesting Set of 5 Homer Laughlin Mixing Bowls, Daisy & Tree Pattern (4
th
bowl has crack & chip)
263
Brown Glazed Mixing Bowl marked USA 8 in (chip on rim) and a USA 7 in Green Glazed Mixing Bowl 
264
Vintage Pink Mixing Bowl 9 1/2" diameter 
265
Two Plastic First Shore Federal Savings & Loan Banks
266
Franciscan Apple Pitcher 6 1/2"
267
Green Glazed Pottery Barrel Style Pitcher with 4 mugs, 2 marked 4 in a shield and 2 marked 16 (small chip on one)
268
McCoy Brown Glazed Pottery Barrel Style Pitcher with 6 mugs, pitcher and 5 mugs are marked 4 in a shield
269
Blue Opalescent Ruffled Top Vase 7 3/4" Tall
270
Green Opalescent Ruffled Top Planter 4 1/2"
271
Hand Blown Blue and White Cruet and Small Vase
272
Two Old Heidelberg Beer Mugs and a  Mepoco Mug
273
Green Swirl Glass Sugar Shaker
274
12 Alfred Meakin England 'Harmony' Shape Bowls 
275
Lot of Black Amethyst including Wall Pocket, Vase, Shot Glass and a Handled Plate
276
A Whiting & Davis Mesh Bag in Beadlite Whiting & Davis Co Box
277
China Set including CH Field Haviland Limoges-10 Plates, 9 Salad Plates, 5 Saucers and  6 Austria Bread Plates 
278
Candlewick Saucer and Handled Dish 
279
Salmon Falls Dover NH Cobalt Blue/Gray Stoneware Pitcher
280
J. Beaumont Pottery Crooksville OH Cobalt Blue Teddy Bear Crock
281
Pair of Countertop Cracker/Candy Jars (one without a lid)
282
St Peter Graz Made in Austria Brown Spongeware Style Bowl No 2375 Signed
283
Dalton Pottery Southwestern Style Bowl with Rare Earth Pottery Southwestern Style Tray (both signed)
284
Oriential Decorated Pocelain Egg 4 1/2"Tall
285
Eurogres Made in Agueoa  Portugal Blue Coche Stoneware Pitcher 6 1/4" Tall
286
Stoneware Pottery Pitcher marked PDEHAFT 7 1/4" tall and a Pottery Bud Vase 
287
Lighthouse Style Oil Lamp/Mine Lamp Made in Poland
288
2 Miniature Stoneware Jugs marked USA 4 1/2" Tall
289
Balfour Keuka College Jr Weekend 1960 Small Jug and a Small Brown Jug
290
Vintage Brown & Tan Glazed Whiskey Jug
291
Pfaltzgraff Green Heritage Pitcher and a Clear Glass Decanter
292
Tan Stoneware Pottery Crock with Lid 9 3/4" tall
293
4 Glass Baskets, 1 marked Action International Limited and 1 marked  The European Collection 
294
Anchor Hocking Clear Glass Fish Dish,  A Nappy, Lidded Candy Dish with Pears on Lid, Creamer and a 2 Handled Candy Dish 
295
Lot of Clear Glass including Candy dishes, Pedestal dishes, ashtray and more 
296
Lot including Stangl Pottery, Clear glass lidded butter dish, Kirk Pewter Creamer & Sugar, Pitchers, Candleholder, Child Feeding tray, Child praying figurine and more
297
2 Books, Recollections Wicomico's One Room Schools and Holloways of the Eastern Shore 
298
2 Books, Recollections Wicomico's One Room Schools and Maryland A Pictorial History...the first 350 years by Kelly 
299
Crams Imperial World Globe 
300
Large Clear Glass Water Pitcher
301
Copper Pan with a Hammered Copper Ladle
302
Copper Poached Egg Pan and a Pan with an Apple Design
303
Johnson Bro England  Semi Porcelain Platter and a Meito Handpainted Japan Platter 
304
Noritake The Vitry Platter, Mikasa Platter and a White Platter with Child Figurines 
305
Brown and Tan Whiskey Jug
306
Brown and Tan Whiskey Jug stamped with 5
307
6 Sterling Silver Water Goblets marked 954
308
6 Sterling Silver Water Goblets, 5 marked Numsen Sterling and 1 marked Stieff Sterling and all monogrammed NCS 1927-1930
309
Sterling Silver Teapot marked Plymouth 1 3/4 pint A2411, monogrammed
310
Sterling SiIver Creamer marked 3/8 pint A2414 and Sterling Silver Sugar marked A2413,  monogrammed 
311
Sterling Silver Mint Dish marked A2415 and a Sterling Silver Handled Cup marked International Sterling K76, monogrammed
312
S. Kirk & Sons Sterling Silver Repousse Pattern Flatware, 38 pieces
313
2 Hammered Finish Silver Plated Sheffield England Coffee and Tea Canisters with blue plastic inserts
314
8 Apollo E. P. N. S. Bernard Rices Sons Inc Wine Goblets with Serving Tray
315
Pair of Sterling Weighted Candleholders and a Sterling Weighted Compote
316
3 Lenox Trinket Boxes and a Lenox Elephant
317
2 Pyrex Cinderella Style Mixing Bowls 
318
2 Pyrex 2 1/2 Qrt Casserole Dishes one is Pink other is White with Tourquieae with Lids (white one has a chip on the lip)
319
Antique Victorian Gold Gilded Figural Clock (Missing thumb)
320
2 Antique Kodak Darkroom Lanterns (Lense broken on one)
321
6 Carvel Hall Steak Knives and 3 Boxes Total of 22 Carvel Hall Knife Rests
322
Sheffield USA Silverplate Insulated Swing Top Ice Bucket, Tred Avon Yacht Club 1933 Pitcher monogrammed  and a Camp Wright 1931 Best Senior Boy Camper Trophy 
323
Lot including 3 Decanters (Double one is missing a stopper and has a chip), Apothecary Jar and 5 Glasses
324
Pair of Vintage Lion of Lucerne Bronze Bookends
325
Brass Footed Virginia Metalcrafters VM 7-11 Inkwell Rococo Revivial 
326
Blue Dish with a Dog Lid and 2 Clear Glass Elephants (Tusk on one is broken near end)
327
2 Brass 5 Candle Candleabras
328
Silver Plate Lot Including Crumb Tray and Scraper, Tea Pot, Jewel Box (lid detached), Nut Bowls and more
329
Brass Lot Including Box with Woman's Head on Top, Ash Tray, and a Fire Starter Handled Pot with Pumice
330
Collection of 14 Presidential $1 Dollar Coins 
331
Royal Albert Bone China England Old Country Roses China Set( Approximately 90 Pieces)
332
9 Gold Rim Glasses decorated with Roses
333
Maryand Time Exposures 1840-1940 Book By Warren
334
Two Books- Chesapeake Bay and Tidewater and The Face of Maryland by A. Bodine
335
Silver Plate lot including Sheffield Dish, Footed Bowl, Shaving Mirror, Vanity Brushes and Mirrors, Powder Jars, and a Stangl antique Gold Bowl (small chip)
336
Wawel Made in Poland China Set (approximately 34 pieces)
337
Blue Satin Glass Pedestal Dish with Grape Decoration (chip in seam line) and a Gold Glass Hen on the Nest
338
Orange Compote Candy Dish w/Lid and Carnival Glass including a Leaf Shape Candy dish, Vase and a Lidded Candy Dish
339
Corn Set (some chips on small trays)
340
McKee Jadeite Coffee Canister
341
McKee Jadeite Sugar Canister
342
McKee Jadeite Drippings Bowl, McKee Jadeite Refrigerator Dish and Fire King Dinner Plate
343
3 Pyrex Mixing Bowls, 2 4 qt and 1 small blue mixing bowl
344
Wooden Crab-Shape Sign ( Cindy's Steam Crabs), Fairmount Methodist Church 1957 Calendar, 3 Scrapers-Peakys Arco, Co-op Tires and Somer's Crabpots 
345
Perdue Farms Plastic Thermometer and an A W Perdue Farms Note Clip
346
Vintage Wooden Deer-Head Mirror with Towel Bar
347
Three Vintage Bowls (2 with age cracks) (1 marked Watt Pottery 6")  and a Green Shell-shaped Dish
348
Antique Green Bowl marked USA 8in on bottom
349
2 Brown Antique Bowls 1 marked USA 8in and 1 marked USA 7in on bottom
350
Vintage Cast Iron  Ocean City Md Tag Topper
351
White House Vinegar Bottle, 2 Robinson Ransbottom Roseville Pitchers (1 cracked), USA Pitcher (cracked), Tomato Salt & Pepper Shakers and Small Germany Stein 1/8L
352
2 Oyster plates (1 with a crack)
353
Remington Shur Shot Shell Box, G & E Oysters Mt Vernon Packing Co Princesss Anne Md 12oz Oyster Can and Cooks Oyster Co Bena Va 12oz Oyster Can
354
Wooden Double Pulley Block & Tackle
356
Wooden Pulley Block & Tackle
358
3 Drying Boards for Trappers
359
Wooden Level, Enterprise Grinder, a Pair of Tongs and a Maryland Tilghman Brand Miss Lib's Crab Cake Recipe Framed Label
360
Oak Childs Lift Top Student Desk and a Oak Chair
362
Dura Heat DH2304 Kerosene Heater
363
Antique Wooden Wheelbarrow
364
2 Heavy duty Metal Game Gambrel
365
Piece of Marble (possibly for a Mantel) 62 1/4" x 11"
366
John Deere 8Y Lawn Cart
367
Vintage Shipping Paper Holder with twine
368
Southwestern Indian Pottery Vase signed on bottom Navajo 14" Tall
369
3  Antique Wooden Ladder Back Chairs and a Framed Picture of a City 
370
Framed Picture of a Beach House by Albert Swayhover 36" x 43"
371
1 Radio Flyer Doll Wagon and 1 Little Red Racer Doll Wagon
372
Pine End Table and Lamp Combination and a Jug Style Lamp
373
Metal Document Box and 5 Pictures (1 The Watermill by Hobbema, 1 by Fred Beeler '97, and others)
374
Oak Rocking Chair with  Rush Bottom
375
2 Oak Ladder Back Chairs with Rush Bottom
376
9 Piece Nativity Set, Hallmark Sarah's Prairie Home, Vintage Christmas Ball
377
Fiesta Style Hazel Atlas Kids Coffee Tea Set
378
Lancaster Sandland Ware and Lancaster Englishware Creamers and a pair of candleholders marked Hummel on bottom
379
Kachina Doll marked Mud Man  initials BP 7" Tall
380
Kachina Doll marked Mud Head C Yazzle
381
Kachina Doll marked on bottom ? Rain ? 
382
Kachina Doll marked Suntae Kachina Myrtie Bi
383
3 Vintage Dolls, Ration card Postcard, Ice Cold Lemonade Wheel Toy Childs Book and Lets Play Store Childs Book 
384
Antique Standard Brewing Co 1888-1920 Baltimore MD Bismarck Mug made in Germany 
385
Roseville USA Vase 10-6"
386
Clear Depression Iris Pattern Pitcher and Vase 
387
Glimes Dairy Federalsburg MD Pint Milk Bottle
388
Antique Tan Mixing Bowl with Blue and White Trim (age cracks in glaze) 10" diameter
389
Giovanni Lengend of the Christmas Rose Pin 
390
Chemung Springwater 1/2 Gal Bottle
391
Chemung Springwater 1/2 Gal Bottle
392
Frank J Bender Minersville PA Bottle,  Theordore Miller Chambersburg PA Bottle and 2 Aqua  Ball Jars
393
3 Cobalt Blue Bottles 2 are Bromo Seltzer and 1 Bromo Caffiene
394
Vintage Poppin Fresh Pillsbury Doll
395
2 Shell Pink Pattern Jeannette Glass Co 5" Cornucopia Vases
396
McCoy Green Handled Vase with Bird Design  8" Tall
397
Black Peacock Decorated Japan Vase, 2 Paper Weights, and a Porcelain Floral Decorated Door Knob
398
Vintage Brown & Tan Pottery Foot Warmer
399
Vintage Brown & Tan Pottery Foot Warmer 
400
2 Framed Pictures 1 is of a Lighthouse and 1 is of a Harbor 14" x 12"
401
Framed Lighthouse Beach Scene by B Mitchell 24" x 20" and an unframed Goose Print by Richard Sloan 14" x 11"
402
4 Small Butter Prints
403
Split Oak Handled Basket 18 1/2" x 12 1/2"
404
Bag containing 13 Glass Floats
405
Fox Hunting Club Print by Fred Groves  featuring Hamilton Fox and Roger Williams Pemberton Dr Salisbury Md
406
Fishing Boat Docked at Harbor Sceenon Wood marked AW
407
Print entitled August at Walnut Grove 140/800 Lisa Geiman 20" x 17"
408
Lem Ward Signed Print of Geese Landing in Field 623/750 dated 1972 38" x 30"
409
British Colony Hong Kong Viking Tea Pot Kettle
410
Enterprise Sad Iron with Wood Handle, Prince Crimp Cut Tobacco Tin, Swee-Touch-Nee Tea Container, and a Cedar Box
411
Brown Agate Spatterware Strainer w/bail-style handle and a Tan & Green Agate Strainer 
412
Porcelain Blue & White Umbrella Stand
413
Metal Betty Lamp with attached hanging hook & double crusie 
414
Hopalong Cassidy Dinner Milk Glass
415
Jeannette Glass Co Carnival Glass with Poodle
416
Cast Iron Horse & Wagon with Brooke Bond Tea & Coffee Advertising
417
Pottery Biddy Waterer marked USA on bottom
418
2 North Dorchester High School Yearbooks 1955 & 1956 and 2 Goebel Crystal Plates dated 1978
419
Crane Carving by Albert E Mills
420
Hawk Carving by Albert E Mills
421
Goodwills Bed & Foot Warmer and Water Carrier patent Aug 20 1895
422
James Saltwater Taffy Barrel Bank Atlantic City NJ
423
Junior Model Gateway Child's Sewing Machine, circa 1940s
424
Lot of 6 Allabaster Eggs

RETURN