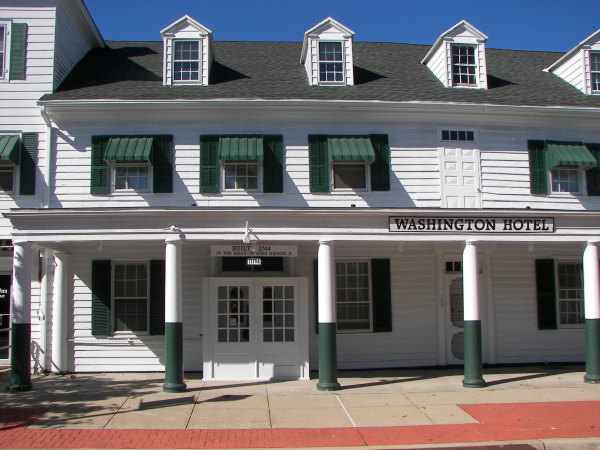 Contents of Washington Hotel
October 6, 2012
11784 Somerset Ave. Princess Anne, MD. 21853

Eastern Shore Auctions, Inc. is honored to have been chosen to sell the contents of the Historic Washington Hotel in Princess Anne, MD. The Washington Hotel originated as a tavern in 1744. The hotel had its beginnings as a private residence for Judge John Done who served as a judge on the Maryland Court of Appeals. The earliest record of the hotel is the deed to the property of Mr. John Bell in 1751. In 1752 he sold the hotel to Henry Waggamon. The main hotel was erected in 1775. Some items to be auctioned include items which were listed in an early 1900 inventory. The items were believed to be 150 years old during the inventory. Items include a pine corner cupboard, mahogany sideboard, mahogany clock, framed pictures of George & Martha Washington. Several pieces of quality furniture will be offered at this auction. PUBLIC AUCTION Valuable Furniture, Glassware, & Antiques from the Historic Washington Hotel Saturday, October 6, 2012 at 10 AM 11784 Somerset Ave Princess Anne, MD. 21853 Directions: From Salisbury - Take RT 13 S to Princess Anne. Turn left on Mt Vernon Road. Follow to stop sign. Turn Right on Route 675 Somerset Ave. Hotel on right next to firehouse. Signs posted. FURNITURE: Outstanding collection of antique furniture including 18th Century Eastern Shore pine corner cupboard w/raised panels and H & L hinges, Empire 1840's mahogany sideboards one with claw feet, Empire sofas, Empire deep dish mirror, Empire dresser, Empire style 3 panel mirror, Oak tables, dressers, washstand, and coat racks circa 1890, Oak pub chairs circa 1860, round oak table w/Firehouse Windsor chairs, Victorian/East Lake walnut hand carved high case bed w/matching dresser, Victorian 1800 mirror w/marble pedestal, Victorian walnut X-large mirror, Victorian hand carved high back ladies & gentleman's chairs w/pleated backs, Chinese Rosewood marble top circa 1880, mahogany antique bookcase, mahogany buffet, walnut open back chairs w/needlepoint cushions, 1880's mirror with gold gilded frame, 1860's cane bottom chairs, early flax wheel, antique spinning wheel, brass covered wood box, Serrell N.Y. mahogany mantle clock, mahogany bed circa 1920's, 1920's poplar tables, 3 tiered dumb wader circa 1920's, Sonora Victrola w/hand crank, cherry hand carved figure head chair, cherry high back chair, childs cane bottom & back rocker circa 1800's, postmasters gate w/lion/tiger images, large assort of cane & rush bottom chairs, cedar chest, Baldwin classic piano, showcase, quilt rack, square top restaurant tables, bar tables, 60 straight back cherry restaurant chairs, assort of hotel furniture, platform rockers, large assort floor and table lamps, wool winder, and much much more. PERSONAL PROPERTY/GLASSWARE 10:00 AM: Excellent assort of antique items including framed pictures of every U.S. President, President's wives, civil & revolutionary war hero pictures, George Washington picture and American Army discharge certificate dated 1783 signed George Washington, Somerset County native Samuel Chase print, Baltimore Steam Packet Co "Old Bay Line" print, Chesapeake Steamship Co "Old Point Comfort" print, SS Pocahontas Virginia Ferry Corp print, early lithographs, early oil painting pastoral scene, Sarouk oriental rug, Karastan rug, Washington Inn slate board hand painted sign, handmade baskets, needlepoint framed samplers, antique spittoons, Little Wizard lanterns, Dietz Night Watch lantern, sleigh, old sleigh bells, antique iron & sad irons, 50+ local church plates, Confederate States of America money 1863-1868, 1863 signed note of indebtedness, assort kerosene lamps, large assort quilts & afghans, cast iron radiators circa 19th century, antique candle mold, antique iron pot & kettle, antique perfume bottle, pewter pcs, old Coke bottles & others, sausage stuffers & grinder, metal dollhouse with furniture, old books, washbowl & pitcher, Moon & Star amber glass, Czech china, linens, Hall pottery, souvenir glass, oriental china, lrg assort Christmas decorations, TV's, restaurant equipment and much, much more. TERMS: Personal Property - No buyer's premium. Food Whitey's BBQ. This is an outstanding auction of antique furniture and other items from a local Historic Landmark.


Contents of Washington Hotel Gallery
RETURN