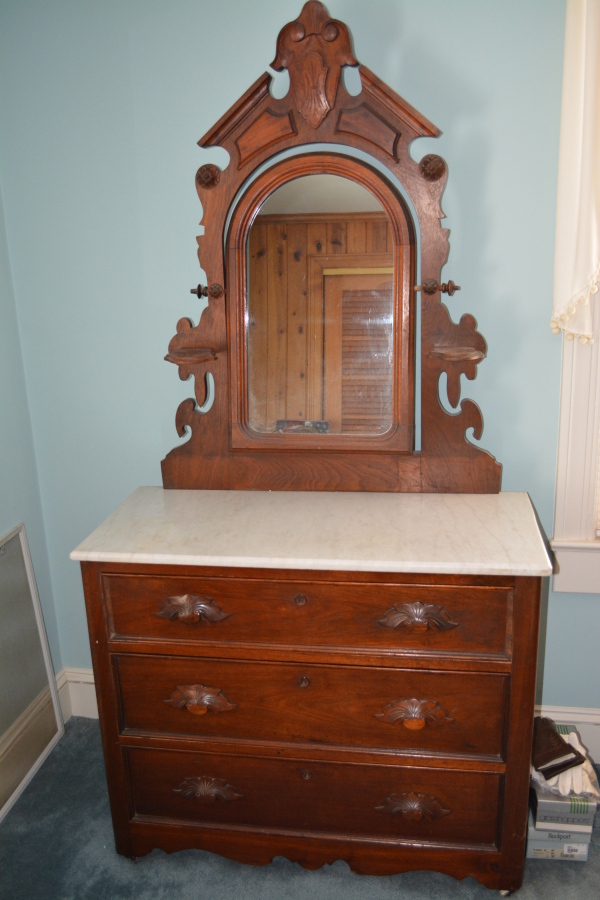 Salisbury Antique Furniture, Quality Glassware, Antique Dolls & Collectibles Auction
May 31, 2014
1113 East Main Street Salisbury, MD. 21801

On May 31, 2014 at 10 AM, Eastern Shore Auctions is pleased to offer for auction the contents of 1113 East Main Street Salisbury, MD. We will be selling an outstanding selection of quality furniture, glassware, antiques, collectibles, antique dolls and local art. This is a partial list: PUBLIC AUCTION Antique Furniture-Glassware-Dolls-Personal Property-Local Art Work-Toys Saturday, May 31, 2014 at 10 AM 1113 East Main Street Salisbury, MD. 21801 Directions: From downtown Salisbury-Take RT 50 E to East Main St. Turn left. Sale on left. From Berlin-Take RT 50 W to Salisbury. At East Main St turn right. Sale on left. Signs posted. FURNITURE: Victorian pcs include marble top dressers w/mirrors, bedframe, sofa, chair and rocking chair, Duncan Phyfe wall table & two drawer stand, Oak dressers, washstands, high chair, and childs table w/chairs, marble top stand, pine blanket chest, Daneher Germany Grandfather clock, Bennett Bretz player piano, Hammond organ, cane & rush bottom chairs, wooden pedestals, dinette set, sewing cabinet, end tables, power recliner, Ergo adjustable bed base, wicker set, and much more. GLASSWARE 10:00 AM: Outstanding selection of antique glassware including Orrefors, Kosta Boda, Lefton, Waterford Crystal, Fostoria, Candlewick, Nippon, Germany, Hungary, Italy, Lladro, Hummel, Royal Doulton, Staffordshire, Bavaria, Limoge, Roseville, large assort. Cranberry glass including epergne, Kings Crown, Cape Cod, Pennsbury, Lenox, Oriental pcs, Bristol vases, Johnson Bros, Wedgewood, Delft, Poppy Trail by Metlox, coin glass, opalescent vase, green depression, hobnail, pressed & hand blown glass, Custard glass lamp, milk glass, Buttons & Daisy, Westmoreland, Fire King, glass butter churn, Norman Rockwell, Dolly Dingle plates, Turn & Burn pottery, Canuck pottery, ruby, green, blue & amber glass, Toby's, and much, much more. PERSONAL PROPERTY: Seth Thomas mantle clock, large selection of bears including Steiff bears and rabbits, wooden chess set, large selection of local artwork including Anna Hope "Chance Marsh Herons", Lem Ward print, Grover Cantwell, Myrna McGrath and others, original paper mache clowns from Mexico, MD Biscuit Co wood box, very large assortment of books including Salisbury & Wicomico Co, antique & shadow box frames, table & floor lamps, old coins, pictures, Stereoscope, Delonghi air conditioner, humidifier, Kenmore freezer, milk bottles, brass, linens, nut cracker, oriental rug, post cards, Carvel Hall, TV's, Kenwood stereo system, costume jewelry, pewter, silver-plate, band saw, radial arm saw, Craftsman & Stihl chain saws, hand & yard tools, and much, much more. DOLLS: Antique dolls including Madame Alexander Huggums 1967 w/box, Kelly 1958 jointed knees, Sweet Tears 1965 signed & 1953 Rosebud oil cloth body, Pedegree Doll 1952 England, 1950 green gingham w/red trim, AM 341 Dream baby, American Character New Tiny Tears 1961, Drink & Wet, & Angelita Sebino w/box, Annette Himstedt Ellen, Kasimir, Fatou 3809 w/box, Kathe, Lisa w/box, & Paula w/box, Applause Raggedy Ann & Andy 3609 w/box, Atlanta Novelty Gerber Sleeper, Beckett original Becky Jean, Berjusa New Born Boy 1985, Cabbage Patch, Cameo Kewpie 2, Chicago Tribune Sparkle Plenty 1951, China Doll in pink cradle, Effanbee Dy Dee Baby & Faith Wick Clown w/box, Fisher Price Baby Soft & Sounds w/box, China SFBJ Paris 252 w/box, Horseman Music Box Doll & Tuffie, Ideal Baby Twinkle w/glass eyes, Kissy, Shirley Temple & Walker, Lee Middleton Echo & First Moments, Susan Gibson Molly w/box, Susan Wakeen 1990 Love Me Tender, Imperial doll, JDK Hilda jointed, Campbell soup dolls, and much more. TOYS/GAMES: Large selection including 1950's Tudor Tru Action Football, Tom Thumb red cash register, Junior Outdoor Croquet Set, Board games from the 50's & 60's, Wells Fargo Stagecoach model, Lite Brite, Howdy Doody bag, Tonka fire truck, roller, super tanker, farm master, forklift, tractor w/bucket & green bull dozer, John Deere scraper earth mover & excavator, and more. TERMS: Personal Property - 10% buyer's premium. 10% discount for cash and/or local check. All items sold "AS IS" with no reserve. Must have proper ID. Everything must be settled for and removed on sale day. This is a very large auction of quality items with something for everyone. Too many items to mention! Food-Powellville VFD.


Salisbury Antique Furniture, Quality Glassware, Antique Dolls & Collectibles Auction Gallery
RETURN