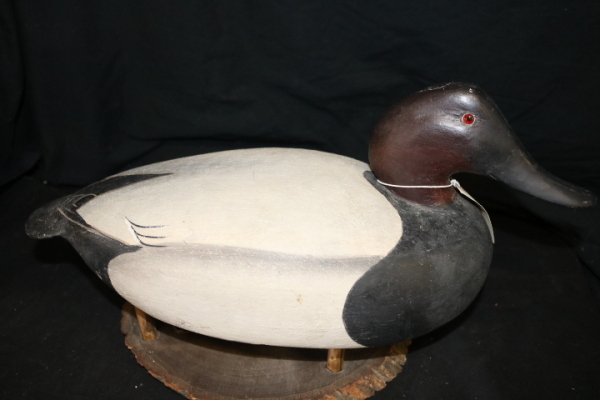 Outstanding Furniture, Glassware, Decoy, Gun & Coke Items Auction
January 27, 2018
4718 Snow Hill Rd, Snow Hill, MD 21863

On Saturday, January 27, 2018 we will be conducting an auction of quality items at the Snow Hill Volunteer Fire Company. We will be selling quality furniture and collectibles from the estate of Pearle Tatterson of Snow Hill, Maryland, waterfowl prints, duck & goose calls and antique decoys including Ward Brothers, Ira Hudson, Cigar Daisey, Will Heverin and others formerly owned by Ernest J. (EJ) Gibbons of Salisbury, Maryland, Teubner Hopkins furniture from a Salisbury estate and guns from a Laurel, Delaware estate. QUALITY ANTIQUE FURNITURE, GLASSWARE, DECOYS, GUNS & COLLECTIBLES AUCTION Saturday, January 27, 2018 at 10 AM Snow Hill Volunteer Fire Company 4718 Snow Hill Rd, Snow Hill, MD 21863 Directions: From Salisbury - Take Rt 12 S to Snow Hill. At traffic light turn R onto W. Market St. Turn L onto N. Church St (still Rt. 12). Fire Company on L. Signs posted. From Berlin - Follow US Rt 113 S to Rt 12 (Church St) turn R. Fire Company on R. Signs Posted. FURNITURE: Victorian pcs include marble top dressers, washstand & tables, Oak pcs include antique hall tree with bench, dressers w/ mirror, washstands w/towel bar, bedframes, antique blanket chest. Ladies desk, antique spool leg parlor stand, antique 4 shelf small bookcase, secretary, antique slant front desk & desk chair, Teubner Hopkins pcs include drop leaf table, sideboard & 4 chairs, Ethan Allen cherry dining table & chairs, cherry china cabinet, barrister 4 section bookcase, walnut arm chair, Victrola, round table with claw feet, Brandt side table, mahogany secretary desk, maple sideboard, bow front china cabinet, cane bottom rocker, Singer sewing machine with oak cabinet, mahogany tilt top table, Windsor style chair, rush bottom stool, shadow box frames, miniature handmade furniture, hanging corner cupboard, porch glider, and much more. GLASSWARE: Delaware glass bowl, Sandwich, Plutek, Mardi Gras, Ironstone, antique sugar shakers, coin glass, Johnson Bros, butter dishes, satin glass, McCoy canyon pottery, Aladdin & finger lamps, church plates, Tom & Jerry punch bowl set, Mandarin Yamaka china, Royal Doulton, and much, much more. COLLECTIBLES: A. Staib (Baltimore) mantle clock, antique hunting prints of dead hanging game, Frank Paton late 1800's dog prints, copper bucket, Pennsylvania Railroad switch locks w/keys, small Snow Hill Fire Dept cast iron helmet, hand made quilts, wrought iron plant stand, crocks, antique stoneware jugs including Baltimore jug, antique Georg Kreuzberg stoneware bottles, Ingraham Manhattan parlor clock, Ansonia Rosalind iron black mantle clock, Sessions eight day clock, three-piece gilt-metal figural candle garniture set with white marble bases and prisms, local advertising, wooden shaft golf clubs, Art LeMay print, signed photos by local photographer Orlando Wooten, antique copper pcs include nautical lights, kettle & pitcher, Buffalo Bill bb gun, antique percussion pistol, Frankoma GOP elephants, Snow Hill letter sweater, Ouija board, glass target balls, oak eel trap, antique sleds, ships belaying pin, nautical knot board, swords, antique photo album, brass ships clock, old toys including Marx train set, cat with ball & toy town dairy horse wagon, political pins, Centurion 5000 generator, paddle board, antique glass Christmas balls, childs spring horse, antique local metal savings banks, silver plate tea service from Cole family, linens, old childs books, inert bazooka shells, biddie waterer, Sunoco 5 gallon can, Pennzoil oil drum & Havoline 5 gallon oil can, Wheeling oil can, Duracell Powersource 1800 solar generator, Coleman Mach camper air conditioner, wooden ammo boxes, antique lawn jockey, and much, much more. COCA COLA: Lollipop sign with base, clock, Coke trays, 1950's advertising pcs, toy trucks, 1955 calendar, local photograph and much more. DECOYS/HUNTING: Ward Bros canvasback drake, Ira Hudson pintail drake, Cigar Daisey ruddy duck & cork mallard, Charles Birch drake bluebill, Doug Jester black duck, Miles Hancock black duck, Will Heverin high head canvasback branded "Outlaw", Madison Mitchell pcs include signed bluebill drakes, bluebill hen, pintail drake & canvasback drake, canvasback drake & black duck branded Accomack Club, VA., Toots Lawson miniature redhead drake, Paul Gibson canvasback drake, Charles Bryan hen red head, Hillman brant decoy, Harry Jobes including geese, bluebills & redheads, Vernon Bryant canvasback drake, Butch Parker bluebill drake, Jimmy Bowden hen bluebill, Ducks Unlimited black duck, shorebird decoys, set of redhead V board decoys, antique gunning light, signed Ward Bros books, selection of duck/goose calls by Olt, Faulks, Tim Grounds, Mallardtone and more, large selection of decoy books, and much, much more. FIREARMS: Sigarms Inc Exeter NH 20 gauge over and under shotgun marked L.L. Bean 3 " chamber with screw in chokes made in Italy, Sigarms Inc Exeter NH Aurora 36/410 gauge 3" chamber over and under shotgun with screw in chokes made in Italy, Smith & Wesson 38 special revolver with 6 inch barrel wooden grips, Colt Trooper MK III 22 caliber LR revolver with 6 inch barrel, Remington 1187 Premier 20 gauge fully rifled shotgun 2 ¾ inch chamber with extra barrel, SHT LE Short magazine Lee Enfield III* rifle caliber 303 markings on stock including number 400, British Enfield rifle NO 1 MK III 303 India imported by Century Arms , Inc St. Albans, VT., Remington Rolling Block 38-55 Winchester rifle, US Rock Island Arsenal model 1903, US Springfield US model 1884 trap door muzzle loader branded 1888, Marlin 22 rifle model 57 S,L, LR tubular magazine, 12 gauge percussion double barrel shotgun, Flintlock rifle with half round and half octagon barrel inscribed BRJ with decorative stock, Flint lock rifle inscribed BRJ with decorative stock, Muzzleloader with tiger stripe wood stock single set trigger 45 cal marked OTR Boise Idaho, Diana model 46 pellet rifle made in Germany with BSA air rifle scope and more. Preview Friday, January 26 from 2 to 5 PM. Food will be available for purchase.


Outstanding Furniture, Glassware, Decoy, Gun & Coke Items Auction Gallery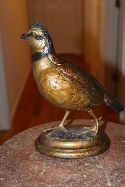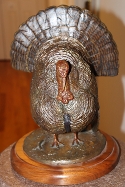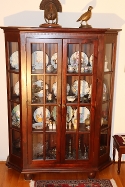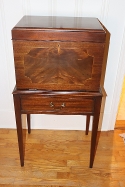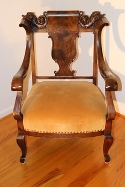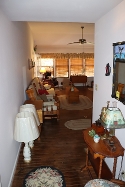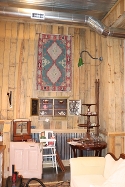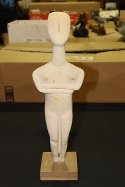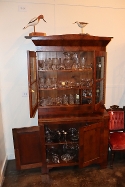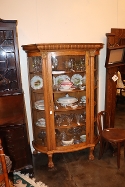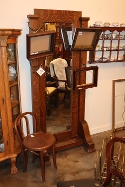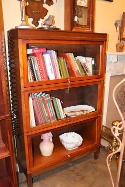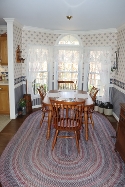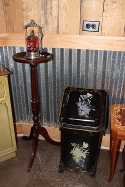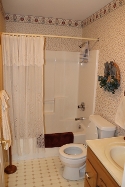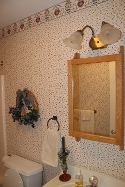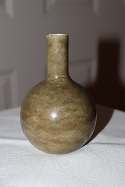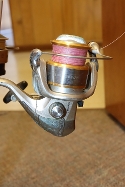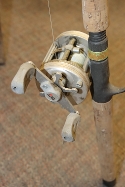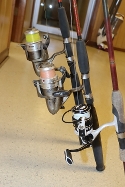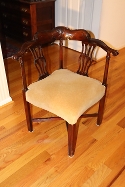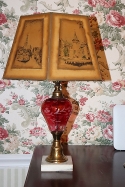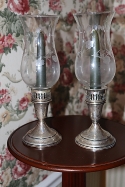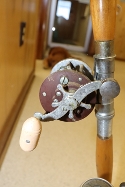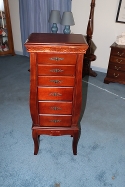 RETURN