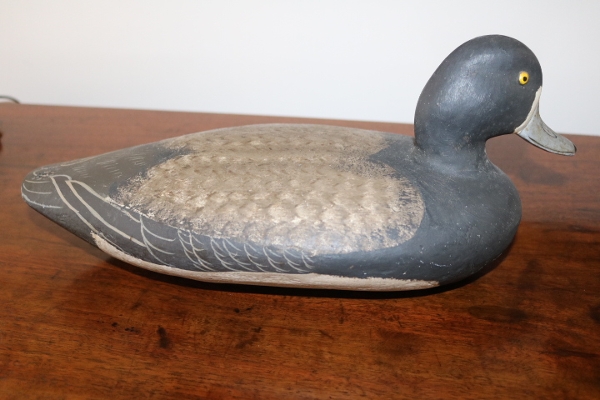 Quality Snow Hill (Public Landing) Personal Property
November 14, 2018
8320 Third Street Snow Hill, MD. 21863
ON-LINE ONLY**ON-LINE ONLY**ON-LINE ONLY
Type Online-Only Auction
Date(s) 10/17/2018 - 11/14/2018
Internet only auction from 10/17/18 to 11/14/18.
Bidding ends on November 14 starting at 5 pm.
Preview Date/Time Thursday, November 8, 2018 from 5 pm to 7 pm.
Checkout Date/Time Pick up date is Saturday, November 17 from 12 pm (noon) to 3 pm. No exceptions.
Location 8320 Third Street (Public Landing)
Snow Hill, MD 21863
Buyer Premium 15% for this auction
Description:
1 Bluebill hen old hunting decoy
2 Lot of three (3) sand piper decoys on base
3 Pair of antique heavy brass candlesticks
4 Duggan water view picture #1507
5 Pair of antique cast iron figural candle holders 16 3/4 inches tall
6 Duraflame electric fireplace DFS-500-4
7 Black cast iron pot with lid and handle 7 1/2 inches tall
8 Coal scuttle
9 Intricately carved Victorian childs chair 20 3/4 tall
10 The E. Ingraham Clock Co Bristol Connecticut "Rita" mantle clock
11 Brass floor lamp and two book shelves
12 Emperor Clock Company model 100M Movement Grandmother clock
13 Walnut antique drop leaf table
14 Carnival glass plate
15 Pair of matching foot stools
16 Mighty Bright magnifying floor lamp
17 Walnut one drawer writing table
18 Arched foot stool made in Great Britian
19 EAPG Six (6) Lions Head frosted bottom glasses
20 EAPG Lions head compote 9" long and round candy dish
21 Hobnail salad bowl and 5 smaller bowls
22 Cut glass handled bowl, diamond shape candy dish and 6 bowls
23 Gold distressed finish five shelf lighted curio cabinet
24 Pair of yellow patterned low back chairs
25 Yellow flower patterned love seat with pillows
26 Amber fruit bowl, creamer, hobnail handled cup and etched glass compote (chips)
27 Half moon game table
28 Row of Red Amaryllis by Cheri Blum painting on canvas
29 Magazine style handled basket and large handled basket
30 Drexel curved leg end table and small spool legged stand
31 Gold framed beveled mirror
32 Brass three legged clock made in India and a Quartz desk clock
33 Antique walnut drop front desk
34 Brass table lamp with claw feet and a white table lamp with red shade
35 Patterned high back chair
36 Antique walnut framed mirror
37 Old oil painting on canvas landscape scene
38 Seth Thomas 1008 Helmsman - W brass ships clock
39 Ethan Allen magazine holder
40 Flag, walking stick, umbrella in metal container
41 Purnell style frame containing Clark Bronson goose picture
42 Large glass vase containing artificial flowers and Jeanne Reed Italy flower
43 Ethan Allen curio style coffee table
44 Pistol shaped lighter
45 J. Stevens Arms Company Little Scout 22 long rifle
46 Framed picture of two resting teal
47 Pine 60" drop leaf dining table
48 6 pine Windsor style chairs
49 Tea cart
50 Decanter set with six glasses
51 Large floral decorated hand painted planter
52 R Wallace silver soldered Hotel Pennsylvania tea pot
53 Windsor style doll chair with doll and wooden zebra
54 Lampe Berger lamp, pewter pickle jar, pewter cup, clam dish and pewter picks
55 Walnut buffet with three doors and three drawers
56 Goose print 47/700 in a wooden frame
57 Green Depression lidded dish, Green Depression handled bowl, green hen on nest (with crack) and small white hen on nest
58 Oil & vinegar cruets with tray, pair candle holders, AVON glass tray and a soap dish
59 Geniuine Mahogany Assoc silver chest/server
60 Boardman Colonial pewter tea set, pewter tray and spoon
61 Carnival glass Marigold bowl and cup
62 Wooden fruit bowl, framed picture, hot plate and coasters
63 Aunt Jemima cast iron door stop
64 Two wooden chairs 1 is barrel style
65 Three pictures one titles "Little Brother & Sister" two others in matching frames
66 Pair of mirrors
67 EAPG frosted lion water pitcher 9" tall
68 EAPG frosted lion candy dish with lid 7 7/8" diameter
69 7 miscellaneous pieces of EAPG frosted lion
70 2 EAPG frosted lion jars with lids
71 EAPG frosted lion candy dish with lid 8" diameter
72 EAPG frosted lion candy dish with 4 1/2" diamter and vegetable tray with lid 8 1/2" long
73 4 pieces EAPG frosted lion including small pitcher, vase and two jars
74 Frosted lion plate "Give Us This Day Our Daily Bread" with lion head lid
75 2 lion dishes and lion mold marked Cillinder and Sons
76 12 total salts four with spoons
77 U.S. Grant "Let Us Have Peace" plate and two yellow Depression plates
78 2 vases and one decanter with sand dollar
79 Misc lot including pewter mugs, bud vases, salt & pepper, coasters and stoneware pitcher
80 Pine corner cabinet 76" tall
81 Set of 6 wildfowl and game pictures Lynn Bogue Hunt
82 Lancer Corp country red patterned 3 cushion sofa
83 Whiskey jug made into a lamp
84 Wooden one drawer writing table
85 Cobalt blue/gray stoneware crock with ears
86 Med-Lift brown leather recliner/lift chair (works)
87 Victorian childs chair with rooster upholstry
88 Statton Tru Type Americiana slat front desk with bookcase
89 Oriental figurine, decorative plate, small vase and enameled lidded jar lot
90 La Z Boy white leather recliner
91 Antique coffee grinder and wooden cart
92 2 beer steins (one made in Germany) and a leather wrapped decanter with ducks
93 Old bull dog figurine and Pearlite eagle statue
94 Seth Thomas mantle clock
95 3 section bookcase display wall unit
96 Entertainment center with Fisher turn table and TEAC receiver
97 4 pieces of glassware including three blue and one clear
98 Sea turtle and snail paperweights
99 Pair of wooden duck book ends by Cornwall Products
100 Old wooden canvasback hunting decoy
101 Old wooden blue bill hen hunting decoy
102 H.J. Miller swimming pintail decoy
103 Two factory decoys one a canvasback drake and one hen bluebill
104 Two decoys one a natural finish wood duck by Plum and one a greenwing teal drake
105 H.J. Miller pintail drake decoy
106 Richard Morgan shorebird decoy
107 Swimming porpoise created by John Perry
108 Hand made wooden canoe with Ty goose and Ty mallard
109 Figural oil lamp and Hortensia globe
110 Decorative tin box with stand a pair of small sailing ship bookends
111 Mallard cast iron door stop
112 Brass desk lamp
113 Walnut drop leaf table
114 Wrought iron floor lamp
115 Waterford crystal small clock
116 Gold colored decorative lighter
117 Cane bottom and back rocking chair and mahogany upholstered chair
118 Hammary curio style display coffee table
119 Samsonite card table with 4 chairs
120 Half of a snow goose decoy and a split oak handled basket
121 Large Ruby plate with wrought iron stand and two ruby urns
122 German Sheppard cast iron door stop
123 Framed drawing for a Sinepuxent Skiff as taken off Cambridge, MD 1943 D. Toods boat
124 Young America Rapid Fire Gun
125 Harvey Ricker Half Minute copper pot with lid and a copper Aladdins style lamp
126 Queen Anne No 2 floral decorated oil parlour lamp with underplate
127 Cherry free standing jewelry box
128 Wicker laundry basket
129 Large cat with cobalt blue spots
130 1920's Mahogany and Oak 3 piece bedroom suite (Chest, dresser with mirror and nightstand)
131 Antique pine blanket chest
132 Mahogany quilt rack
133 Antique one drawer writing stand
134 One large and one small lidded basket
135 Wedgewood powder dish and small pitcher
136 Two Oriental dishes with lids one a powder dish other a jewelry box
137 Assortment of animal figurines including cats, owl, alligator
138 Snow Crest Bear Bank and three jewelry containers
139 Spool design bed frame with extensions
140 Marlin model 336C lever action 30-30 rifle
141 Browning automatic 22 rifle grade 1
142 Smith & Wesson Bodyguard 380 semi-automatic pistol
143 Cane bottom chair and wooden CD tower
144 Small writing desk with one drawer and chair
145 Panasonic EZBAREFLOOR vacuum
146 Dirt Devil Simplistick lightweight vacuum
147 Dresser with four drawers
148 Three table top lamps with shades
149 Pair of bookcases (not including contents)
150 Goebel W. Germany birds, hummingbird and assortment of blue glassware
151 Walnut dresser with four drawers
152 Barometer, wooden framed mirror, country scene picture, VA Beach Sailor picture and US flag picture
153 Walnut bed frame with extensions
154 Winchester model 190 22 L or LR rifle
155
Gesichert P08 German Luger with matching numbers, two magazines and a leather holster marked R. Ehrhardt Poessneck 1939
156
P. Beretta Cal 9 Cortc Mod 1934 Brevettato Gardone VT1939 XVII
157
Remington Arms Union Metallic Cartridge Co Inc Remington ILion Works model 51 .380 caliber semi automatic with clip and leather holster
158
Arman "Bost" Eibar special grade steel 20 gauge 3 inch chamber R full& modiefied chokes
159
Remington Arms Co Inc 30.06 Springfield model 721 bolt action rifle
160
Sheridan Products Inc "Blue Streak" 5m/mcal
161
Lefever Arms branch Ithaca Gun Co Nitro Special 12 gauge double barrel shotgun
162
Remington "Wingmaster" model 870 12 gauge pump action shotgun for 2 3/4 inch shells
163
Winchester model 12 20 gauge pump shotgun 2 3/4 inch chamber WS-1 with muzzle brake
164
Savage Arms Corp 22LR over .410 3" chamber over and under model 24
165
Springfield 1836 rifle musket marked US both sling swivels intact bayonet lug intact eagle with spread wings
166
Ruger model 10/22 carbine 22 LR caliber
167
Richards double barrell muzzle loader original butt plate , stock is solid no shake
168
Lefever Arms Co Nitro Special 12 gauge double barrel shotgun
169
Early rifle musket marked US both sling swivels intact brass hardware with brass patch box inscribed 1808 inside
170
O.F. Mossberg& Sons, Inc.model 395K bolt action 12 gauge shotgun with C-Lect choke chambered for 2 3/4 and 3"
171
U.S. Model 1878? Trapdoor Springfield Rifle and Bayonet eagle with spread wings
172
Springfield Armory model 1898 stamped US cal. 30-40 Krag Bolt-action Rifle.1900 in stock
173
Two old knives with sheaths
174
Lot of 3 pcs 1 is wooden handled knife inscribed L.E.D, Case XX 3246R, and a straight edge razor engraved ERN 688non blade Wald Solingen
175
Ethan Allen by Hoppe's double barrel, percussion pistol. Hammers work and trigger works SN 01780
176
Antique black powder percussion pistol
177
Unsco solinge Germany knife with red stag grip, match holders from HMS Victorious and two Sterling match holders
178
Two powder flasks one is copper and brass and the other is a horn powder flask
A full list of items will be added soon.

RETURN