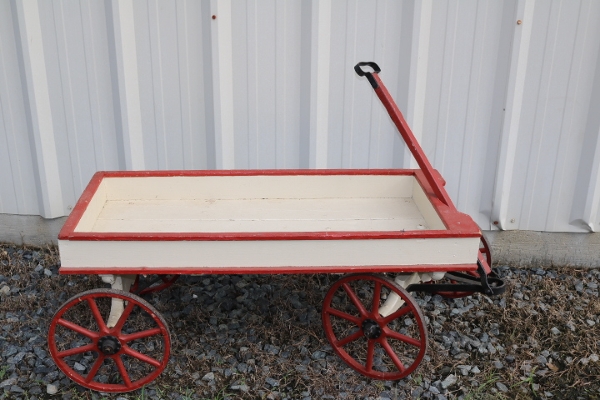 Lifetime Maryland and Delaware Collector
November 28, 2018
28614 Ocean Gateway Salisbury, MD. 21801
ON-LINE ONLY***ON-LINE ONLY**ON-LINE ONLY**
On line only auction from 11/5/18 thru 11/28/18. Bidding closes on 11/28/18 starting at 5 PM.
Preview Date/Time Wednesday, November 21, 2018 from 4 to 6 PM
Checkout Date/Time Sunday, December 2, 2018 12 to 3 PM. No exceptions.
This is another outstanding on-line only auction of quality items from a lifelong Maryland and Delaware collector. We are selling antique wagons, crocks, antique ballot box, promo type collector cars, decoys, Shawnee Pottery, furniture and more.
See the full list and photos below.
1
Red and white cast iron wheel wagon circa 1900 body 40" long 17 1/4 wide
2
Yellow and red slated wagon with cast iron wheels and brake original condition 36" long 13" wide
3
Sidewalk glider with hand brake "Gliderole" 34 1/4" long by 13" wide
4
Flexy Racer No. 300 made by S.L. Allen & Co Inc Phila also makers of Flexible Flyer Sleds 40 3/4" long by 12" wide
5
Early wooden sleigh in original condition 35" long by 15" wide
7
Meyer & Halheimer Baltimore MD wooden post card box tongue and groove 8 1/2" by 9"
8
Early Oriental chess set possibly made of stone contained in an oak wooden box with brass corner plates
9
Brass lamp with a Tiffany style shade
10
Brown and tan Slag glass shade on an antique brass lamp
11
Lamp with Victorian style globe
12
Salt glaze handled bowl 9 1/4" diameter
13
Wooden cheese box with metal bands
14
Early 1800's restaurant style butter press
15
Two salt glazed bowls one with lid 6 1/2" diameter on larger and 5 1/2" on one with lid
16
Salt glaze butter crock with lid 7" diameter and bowl 8" diameter
17
Borax hand and washing machine soap 18 mule team wagons and water tank model display 38" long
18
Wooden Conestoga wagon with six cast iron horses possibly hand done
19
Authentic B & O Railroad Rest Rooms (White Colored) cast iron sign 10 5/8" long
20
Stoneware 6 gal water cooler 18" tall including lid 12" diameter
21
Antique Ballot Box from Baust Church near Taneytown (Carroll County) Maryland
22
Handlan St Louis USA lantern with red globe and Adlake Kero lantern with blue globe
23
Structo Livestock Trucking toy truck
24
Gumby's Jeep tin litho toy and Structo Towing Service metal truck
25
Luckenbaugh Chevrolet Company Spring Grove, PA phone 3711 advertising promo car
26
Hubley red station wagon, green metal Dodge promo car and a Marx silver wind up friction car
27
Old wooden goose decoy with raised wing carving and a wooden black duck with a tag listing Leon Goslee as the maker
28
Wooden bufflehead hen decoy
29
Five wooden decoys including Victor pintail, mallard and bluebill, Capt Harry Jobes signed unfinished duck and unsigned natural finish decoy
30
3 gallon blue/gray stoneware crock with ears marked R.T. Williams New Geneva, PA
31
Antique carriage heater with briquette and instructions
32
Antique round top trunk made by Hanover with initials RSB on top
33
Troy Wagon Works Troy, Ohio wagon bench stamped Thomas Kennedy Botkins, O.
34
Shawnee Pottery Granny Ann teapot patented USA
35
Shawnee Pottery yellow swan vase, man with cart, clock, squirrel marked Shawnee and a flower on front of a vase
36
Shawnee Pottery vases (6) one yellow with handle, two gray, one burgundy, one blue and small green one
37
Six pieces of pottery believed to be Shawnee - swan vase, boy wearing hat, clown, girl in dress, fish (white spot on front) and candleholder
38
Shawnee Pottery Railroad Train planter
39
Shawnee Pottery Blue Daisy and pink flower teapots
40
Folk art pair of wooden roosters
41
Folk art rooster and paper mache' pumpkin
42
Mahogany half moon wall table
43
Walnut marble top spindle leg table with shelf
44
Pine dresser with three drawers
45
Wooden box with A.H. Reid Manufacturer Philad'a PA 56 lb Pat'd Sept 30
th
1884 possible dairy box
46
Pine open washstand with towel bars that extend out
47
Old Country store counter top oak display case sitting on a glass diplay case
48
Oak curved glass display case
49
Antique tin prototype Ford Model A with driver wind up toy made in Germany marked BW
50
Antique tin prototype Ford Model T with driver wind up toy made in Germany marked BW
51
Old Cast iron wagon with two horses and driver
52
5 Wings of Texaco planes including planes 1 thru 4 and 6 of the set '29 Air Express, '32 Northrop Gamma, '31 Stearman Biplane, '40 Grumman Goose and '29 Curtiss Robin
53
Two folk art carvings one of an Indian face by Jay Timlick and other a standing bear by Heidi Blance
54
Two old powder flask one is leather with brass fitting with possible CVA on logo and other is a powder horn
55
Lot of 2 Faux Scrimshaw one dated 1852 with a field worker on one side and plantation, ship and worker on other side Initialed RFF?and one of Ship Mercury Captain Daniel Jordan Green Port
56
Lot of 2 Faux Scrimshaw one with Commodore Perry and ship Lawrena and other with riverboat and farm house signed JA
57
Assortment of 27 arrow heads framed. Noted on back "Arrow points found in Prince Charles County, MD 1973 Framed and mounted by Kenneth Hetrick representing his collection in part"
58
Assortment of 28 arrow heads framed. Partial notation on back "Framed by Kenneth Hetrick Ken Hetrick Collection"
59
Assortment of 39 arrow heads framed. Partial notation on back "From collection of Dr. Spurgeon. Framed by Kenneth Hetrick and from his collection"
60
Green Carnival glass bowl
61
Cast iron cat with pink collar bank
62
Cast iron puppy with red collar marked Fido bank
63
Four pieces of folk art including hand water pump marked D Sipes, log cabin, outhouse and well with bucket
64
Two vintage fishing creels, circa 1930, made of wicker and a Creek Chub Pikie fishing lure
65
Two display boards containing miscellaneous fishing lures
66
Shawnee Pottery Corn King covered casserole dish in pristine condition. Bottom marked Shawnee USA 74 oven-proof
67
Two Shawnee Pottery Corn King vegetable dishes (one is deeper yellow in color)
68
Two Shawnee Pottery Corn King creamers marked Shawnee USA 70 and Shawnee saucers marked Shawnee USA 91
69
Assortment Shawnee Pottery including 2 luncheon plates, 2 salad plates, 2 soup bowls (chipped), 2 desert bowls and 2 corn on the cob holders
70
Seth Thomas mantle clock with key from Thomaston, Conn
71
35 pcs Royal Staffordshire "Tonquin"by Clarice Cliff made in England, 3 Jenny Lind soup bowls and saucers, small wash bowl & pitcher, 2 candleholders and small vase
72
Cobalt blue and gray pitcher with standing crane and flowers small chip out of spout and back
73
Embory Mfg Co Warsaw NY No 160 Supreme with red globe marked Dietz loc-nob D lite
74
Marx Toys tin wind up U.S. Tank Co. No. 4 (wind up does not work)
75
1950's Japan tin friction toy army truck with yellow tool box N-680
76
Pressed steel blue racer No 6 with pistons and driver 2137 21 marked under car appears original
77
Marx No 5 1930's tin wind up race car with boat tail (wind up works)
78
Marx No 71930's tin wind up race car with boat tail (wind up works)
79
Lot of three wooden decoys including canvasback hen, bluebill drake with broken bill and a teal
80
Lot of three wooden decoys including hooded merganser made by WD 1986, and two bluebills one with a broken bill
81
Wooden goose decoy with slightly turned head
82
Cast iron corn bread mold shaped like corn on the cob and two brass bpokends of a sailing ship
83
Five miniature butter molds one made by GMT Co. Germany
84
Three large antique wooden butter molds
85
Three large antique wooden butter molds one has a swan and a fish
86
Four old wooden butter paddles two have grooves
87
Seven Auto World slot racers including '69 AMC AMX purple, '40 Willys Custom Panel, '66 Chevy Nova, '69 AMC AMX white, '64 Dodge 330 Pro Stock & '57 Chevy Suburban and '70 Chevy Nova
88
Misc lot of five pieces including one blue and one yellow pitcher marked USA (Shawnee?) and a yellow pitcher, tray and a glass marked with a W or M
89
Mechanical bird cigarette dispenser
90
Three glass oil bottles including brown Marquette Mfg Co and two clear bottles with The Master Mfg Co spouts
91
Three glass oil bottles and one jar with pour spouts
92
Vintage Steroscope with 4 glass slides and 28 cardboard slides
93
Assortment of 30 lead soldiers most by Barclay
94
5 toy cannons including Arnold made in Germany US Zone, Japan metal canon5-10-15, Tootsie canon, tin rail canon and metal canon marked USA
95
2 steel antique toy cars each missing a wheel
96
4 pc lot including Barclay 43 metal tank, Tootsie Toy armored personnel carrier, rubber tank made in USA and Arcade tractor implement
97
Marx Commodore Vanderbilt New York Central engine in original box with 8 additional cars including side dumping car, coal tender, Colorado & Southern refrigerator car, Derrick crane car and more
98
Marx Stream Line train set with engine and 5 cars and train track
99
Old sleigh bells and two brass bells one has leather strap
100
American Electric Telephone Co antique telephone. Looks like all the insides are there.
101
Rare antique circa 1910 S.H. Couch Co Boston, Mass Autophone
102
Antique Allumettes enamel match box and tin Salt wall hanging box
103
4 pieces including enamel chamber pot, pot with handles, coffee pot and large pan 12 inch diameter
104
3 whiskey jugs one 7.5 inches tall, 8.5 inches tall and 11 inches tall
105
Old wicker basket with handles containing 5 textile spools and a hog scraper
106
Haefner Brewing Co Lancaster, PA wooden box with reinforced metal band 19" X 12"
107
1 gal USA crock, pottery spittoon and a brass spittoon made in England
108
Slate chalk boards including large one that is 15 1/4 by 13 3/4, folding chalk board bound with leather is 14 1/4 by 8 3/4 when opened and an eraser
109
Tonka hook and ladder fire truck 32" long
110
6 Boxes of race track parts and controls
111
Aurora Road Racing set, Fast Lane Long Bridge Challenger II, Monza Banked Curve and Sears Allstate Road Racer Set
112
Old Atlas, Ball and Mason jars, Dietz No 3 Tubular globe, jelly glass and Ball lids
113
Dietz railroad lantern with cracked red globe and a Embury Mfg Co No 40 Traffic Gard lantern
114
2 Steel wheels possibly off a childs wagon 14 3/4" diameter
115
2 old samplers one is 14 1/2 by 11 1/4 and other is 17 X 16
116
Nativity set, old lighted wreath display (works), box full of antique cardboard Christmas decorations
117
2 antique miniature barrels one marked PPP Works 5 3/4 inches tall and antique wooden bucket 6 1/4 inches tall
118
Old whiskey jug 14" tall
119
2 gal brown and white crock
120
Double ox yoke 46" long
121
Lot of butter molds including one round and three rectangular
122
Logan & Strobridge Iron Co antique coffee grinder
123
Old coal scuttle with shovel
124
Siemens Brothers & Co London antique wall phone and Western Electric desk top phone
125
Antique carriage lamp with large red lense and smaller clear lense on one side
126
Lot including old metal horn with number A8039856, hand grinder stone and Little Giant 8" wall mount oscillating fan
127
Ball Mason quart jar full of old marbles
128
Ball quart jar full of old marbles
129
Ball Mason quart jar full of old marbles
130
2 Ball Mason pint jars full of marbles
131
Ball Mason pint jar containing old clay marbles and a Ball Ideal jar containing large shooter marbles
132
6 advertising tins including Stauffer's Nifty Butter Pretzels, "Uneeda Bakers" Butter Jumbles and King Syrup
133
Strickler's Strictly Fresh Oysters Daily from Crisfield pint size oyster can
134
2 Permissible Miner's Safety Lamps No 209 Koehler Mfg Co Marlboro, Mass
135
Dietz Little Wizard railroad style lantern with red globe marked Dietz
136
11 pc lot including Peerless jar with glass top and clasp, Yeoman's Fruit bottle, Coffee and Tea canisters
137
Bullseye mirror with eagle motif at the top 22" wide by 29" tall made of wood
138
Vintage metal porch milk boxes one marked Little's Dairy Hanover, PA other is not marked
139
Samuel Bass Liquor Dealer Baltimore, MD whiskey jug and a handled pottery dish with 4 stamped inside a crown 7" tall 9 1/2" wide
140
Vintage block and tackle 4" roller bushed and other has a wooden wheel
141
Box lots of old tools including hand auger, square, level, small clamp marked Narragansett Mach Co. and old hand plane
142
Lot of brass candleholders including 2 pairs wall sconces, one additional wall sconce and 2 pair candleholders
143
12 gal crock 18 3/4" tall 15 3/4" wide
144
5 Gal crock marked USA
145
4 Gal Crock marked York PA
146
Lot of 6 old wooden spinning tops
147
Lot of 6 old wooden spinning tops
148
Wooden box with felt lining and a pintail decoy on top 12" by 7" and a small rooster weather vane with an eagle on the side 6 3/4" by 3 3/4"
149
Vintage Griffiths spice jars white milk glass set of 4 and a light salt and pepper
151
Perfection Smokeless Oil Heater made into a light (works) with painted scene of covered bridge by Steve Redding
152
Large round oak framed mirror with detailed carving at the top appears to have come off a dresser 39" wide by 34 1/2 tall
153
Arcade 25 coffee grinder mounted on wood
154
Antique three panel eveled bmirror with intircately carved top and decoration inlaid in mirror made of wood
155
3 oil lamps one is a double wick with brass claw feet and one is a finger lamp Queen Anne 1
156
Three boxes toy racing supplies including one box of 17 slot cars (at least on is Bachmann), a box with 2 race cars, and box of parts
157
Wooden push scooter with wooden wheels 22"tall by 24"long
158
2 gal crock marked York PA.
159
5 pc lot including McCormick Platte Valley 4/5 quart whiskey jug, old crock with cracks, Atlantic City small wooden jug, copper pot with handle and bottle wrapper in wicker
160
3 sets brass candleholders 1 is set of candelabras, two are wall sconces
161
3 brass bells one marked 1878 Saicnelegier Chiantel Fondeur, one of other two has no clapper and an iron eagle
162
Assortment old kitchen utensils including Bromwells measuring sifter, hand mixer, hand mixer with jar, old wood and metal scoop, wooden masher and pie plate
163
Griswold colonial breakfast skillet Erie PA marked 666
164
Antique commercial wooden press

RETURN