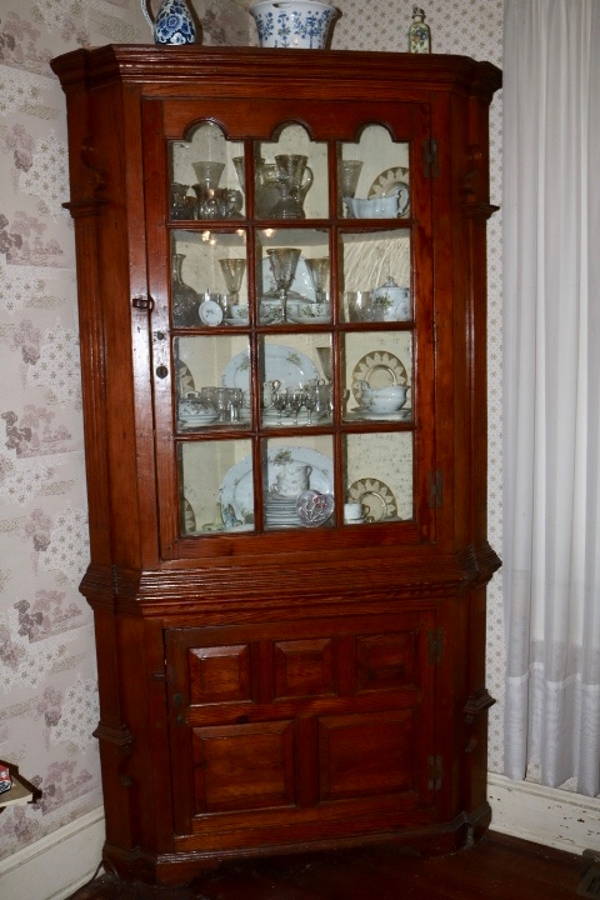 Quality Princess Anne Auction
February 27, 2019
30462 Broad Street in Princess Anne, MD. 21853
ON-LINE ONLY***ON-LINE ONLY***ON-LINE ONLY***
INTERNET ONLY AUCTION Auction runs January 28, 2019 thru February 27, 2019. Bidding ends on February 27 starting at 5 PM.
PREVIEW DATE & TIME Sunday February 24, 2019 1 to 3 PM.
CHECKOUT DATE/TIME Pick up date is Saturday, March 2, 2019 from 12 to 3 PM. No exceptions.
LOCATION 30462 Broad Street in Princess Anne, MD. 21853
This is an outstanding on-line only auction. We are selling quality antique furniture to include an Eastern Shore corner cabinet, a late 1800's grandfather clock, marble top dressers and stands, glassware, crocks, local advertising and much more.
1
Seth Thomas Sonora Chimes mantle clock burled walnut with key
2
Pine blanket chest 50" long X 22 1/2" wide by 26 1/2" tall
3
2 International Historical Watercraft Collection Melbourne Smith lithographs of the skipjacks J.T.Leonard 1882 and the Geneva May 1908 17" X 13"
4
Red sofa with hand carved legs and framing 81" long
5
Adjustable wooden easel
6
Savings Department Accomack Banking Company Parksley & Bloxom VA metal bank
7
The Savings Bank of Somerset County Princess Anne, MD metal bank
8
Interest Department Bank of Somerset Princess Anne, MD metal bank
9
Northwood antique carnival glass vase 6 1/2" tall
10
4 International Historical Watercraft Collection lithographs signed Melbourne Smith of Bonhomme Richard 1779, Peggy Stewart 1774, Hannah 1775 and Rattlesnake 1779 17 1/4" X 13 1/4"
11
Melbourne signed lithograph of the frigate The PRESIDENT 23" X 19 3/4"
12
Oak framed mirror 22 1/4" X 14 1/2" and 2 needlepoint silhouttes 4" X 5"
13
L.S.? Stevens & Son Baltimore, MD. signed oak slant front desk with one drawer
14
2 Oak arm chairs with curved legs one is marked on bottom 8940-5 other has small break in back support
15
Cobalt blue and gray stoneware crock 10" tall with 6 1/2" diameter
16
Pair of Victorian parlour chairs with gold upholstery
17
Mahogany drop leaf table
18
Figural lamp with 3 women and an old brass desk lamp
19
Antique oak document box 12 1/2" long X 9 1/2" wide
20
Karastan The Eastern Primitives Collection Red Shirvan 6 X 9 rug
21
4 small rugs 50" X 24", 24" X 15", 30" X 25" and 38" X 21"
22
Antique stand with nne drawer possibly pine with a dark finish 21" X 16" X 31 34" tall
23
Wooden arm chair with tan upholstery
24
Small Parlour lamp with flower decorations 17" tall not counting chimney. The globe has been repaired.
25
Drum style table 28" tall with a diameter of 21 1/2"
26
Manokin Presbyterian Church Princess Anne, MD painting by Doris M. Cohn 22 1/2" by 18 1/2"
27
Etching of house by S. Pheiffer1986 21" X 17"
28
Walnut framed wall mirror 20" X 28"
29
Intricately carved rounded wooden bench with mother of pearl inlaid in back one leg is loose and needs to be glued
31
2 footstools green one has 5 legs and has Davis Furniture label. Blue one is needle point and has a loose leg
32
Brass floor lamp with glass globe and a table lamp decorated with flowers
33
Mahogany drop leaf table with Duncan Phyfe style legs
34
Victorian sofa with inticatley carved wooden back and legs
35
Brownbill Leeds walnut grandfather clock 94" tall 22" wide at widest point
36
Wooden stand with two drawers 26 3/4" X 19 1/2" X 29 1/4 tall
37
Walnut Parlour chair with blue needlepoint cushion
38
Antique wooden chair with lion carved on the back and claw feet
39
Drum style table 28 1/2" tall with a diameter of 17"
40
Assortment of 5 hand crocheted and needlepoint pillows
41
Antique mahogany chair with needlepoint cushion with fruit
42
Antique coat rack 58" tall with beehive top and bottom
43
Gold colored wooden arm chair with Duncan Phyfe style legs and an antique green parlour chair with carved frame and feet
44
Oriental rug 139 1/2" X 106" blue, tan and mauve colors
45
Pair of Baldwin twin candle candleholders with globes (one globe broken at top)
46
Chauncey Jerome walnut mantle clock
47
Assortment of 5 figurines male and female marked Germany
48
Vintage Sabbath five arm brass candelabra with fu dogs 15 1/2 " tall not counting candles
49
Roseville Pottery Clematis Bookends 5 1/4" tall 1940s-50s
50
Assortment of cups and saucers including Foley China England, Ardalt China England and Bucks County Bi-Centennial 1682 - 1882
51
Marigold Carnival glass vase 11 1/4" tall and two blue vases (one has chip on bottom)
52
F. Rosano signed watercolor or print of a lake scene in Gesso Gilt frame 19 3/4" X 9 3/4" and boat on shore signed H.G.C. 13" X 11"
53
4 pieces of black amythest glass including bowl, two handled vases with flowers on front and candleholder
54
Lot of glassware including Austria vase, Norleans jewelry case, angel figurines, Eagle candle holder and other vases
55
Antique Manhattan Brass Co.brass student desk oil lamp w/ milk glass
56
Pair of flower paintings in antique wooden gold frames 14 1/2" by 12 1/4"
57
2 pictures one is flower watercolor in frame 20 3/4" X 14 1/4" and other is white roses in frame 11" X 17"
58
2 Oriental pictures approximately 16" X 5 "
59
Assortment of 12 pieces of glassware including bowls, footed bowls, etched glass and Pink Depression handled bowl
60
Antique True Friendship sampler signed LTH 1932 and another unframed sampler Recollection of Childhood Scenes
61
Oriental lot including metal type bowl with Japan on bottom, brass tray with man and woman and rice bowl
62
Walnut buffet with 5 drawers and side board extension
63
Figgjo Turi Design Tor Viking Large Covered Rectangular Baking Pan with lid 14 1/2" long, Figgjo Flint Tor Viking covered casserole, green casserole dish and a Corning Ware baking dish
64
The Etude music magazine 1937 & 39 and other old sheet music
65
Mahogany coffee table with Duncan Phyfe style legs, Rush bottom rocker with hand painted flowers and a mahogany chair with cross design on back
66
Watermelon Depression sorbet glasses 8 of them 4" tall with etched flowers
67
Watermelon Depression water goblets 7 of them 5 7/8" with etched flowers
68
Pink Depression ice bucket with metal handle
69
Plastic Santa Claus holding a soft drink and old Christmas ornaments in a glass bowl
70
White rocking chair with cushion
71
Walnut marble top one drawer stand 29 1/4" X 19" X 29" tall
72
Pine shadow box style mirror and shelving unit 14" X 17" with figurines and collectibles and a wall tapestry with birds
73
4 Collectible Somerset County plates including Washington Hotel, Teackle Mansion, Manokin Presbyterian Church and St. Andrews Episcopal Church
74
Hand sewn Log Cabin style quilt 75" X 70"
75
Pine spool style bed with bedspread
76
T. L. Ruark & Co. Wholesale Grocers Mill Street Salisbury, MD. Phone 2-1131 wooden thermometer
77
2 lamps one with metal base and baby figure on front and other is bubble design glass lamp
78
2 drawer dropleaf bedside stand marked The Miles Sectional Building Pocomoke City on bottom of one drawer 16 1/4" X 17" X 28 3/4 tall
79
Pair of Bristol glass vases hand painted with flowers approx 10 1/2" tall
80
Antique pickle castor marked Wm Rogers & Son Hartford Conn on bottom
81
White two door hanging cabinet 23 1/4" X 7" X 28" tall
82
Heywood Brothers Wakefield Co Baltimore MD childs rocker with cane bottom
83
Oak high chair with spindle back and monkeys playing on back and two white doll rocking chairs
84
Seth Thomas Sharon 10W 8 day mantle clock with Bank of Somerset brass plate on front
85
3 crystal vinegar cruets
86
Lot of salts including 4 double salts, 12 salts, 3 shot glassesand 2 prism lamps( one has crack in globe)
87
Lot of glassware including fruit bowl(chipped), stackable colored ashtrays, candy dish, cut glass vase, knife rest, small dog figurine, silver plated mirror
88
Eskimo Art loon carving appears to be signed 5" long and a miniature black duck decoy
89
Mahogany game table/console table
90
Pink/red floral decorated card table and two oak cane bottom chairs one is an arm chair
91
Metal plant stand, old cookbooks, Taylor Smith E Taylor saucers, Westminster Guild ashtray
92
Briddell Carvel Hall carving knife and 4 steak knives
93
Local interest lot including The Hatchet yearbook '51,'54 & '55 (Washington High School), Bank of Somerset cookbook, The Entailed Hat and photo June '55 Maryland Girls State Annapolis, MD
94
Lot including The Skipper magazine for yachtsman '63,'66,'67,'69, Summons to Somerset magazine, Kernan Hospital 1945, Navy Institute
95
Loy including Sailing Vessels of the Chesapeake by Melbourne Smith nine original lithographs, Souther Cross book, Pride of Baltimore book, launching Pride of Baltimore block and nail
96
Mahogany 3 tier plant stand
97
2 hand blown Easter eggs one appears to be dated 1951, Easter egg candy dish and a celery dish
98
Lot of gold trimmed china including handled candy dish, 6 plates, 6 water goblets, 6 sorbets, small pitcher and a small glass
100
Lot of silver plate including tea set, 2 trays and a Sheffield bowl
101
Pair of Sterling weighted candle holders
102
3 brass candle holders one is 10 1/2" tall, one 10" tall and a finger candle holder
103
Lot of 4 candle holders two are 6 3/4" tall, one 6 1/2" tall and a finger candle holder
104
Peter Scott 1939 print of geese on island
105
Fenton white fluted top dishm etched glass basket, hobnail candy dish and 2 sets salt and pepper shakers
106
Small blue handled vase, piano, male and female figurines
107
Victoria Austria china in corner cabinet including large platter, small platter, casserole, gravy, round butter dish, plates and cups, cut glass sugar dishes and glasses
108
Eastern Shore corner cupboard pine 87 1/2" tall X 47" wide
109
2 decanters, 2 glasses, butter dish with lid marked Golden & Crown E&R Germany
110
2 water pitchers, pair crystal candle holders and 6 glasses
111
3 box lots china including Haviland Limoges, Bohemia china and Japan
112
Flowered prfume bottle, Cinnamon jar from France, bud vase, tea pot and other miscellaneous pieces
113
Lot of Fostoria including 12" canoe divided dish, pink cream and sugar, heart dish, handled bowl and 2 creamers and one sugar
114
3 egg plates and a scalloped top bowl
115
Turi design Lotte Norway dish with lid, Tor Viking Norway butter dish, Delft Holland pitcher
116
Lot including water pitcher, cake plates, handled dish, footed bowl, divided dish and more
117
Coleman Co Quick Lite (crack in shade)
118
Mahogany buffet with 2 doors and 2 drawers 66" X 19 1/2"
119
Gold framed wooden wall mirror 44 1/2" X 23"
120
Lot including Washington High School plate, Lefton plate, Gourmet bowl set, Christmas plates and a gravy dish
121
Hoover widepath bagless vacuum
122
Lot of old games including Monopoly, Scrabble, Musical Bingo and Moon Probe
124
4 box lots including 2 box lots of linens, box of candles and pot holders and napkins lot
125
Lot including cheese dish, Germany tray, 2 syrups, milk glass plate and Egyptian/African style wooden knife, fork and spoon
126
America's Cup Defenders book by G.D. Dunlap and Circumnavigators full color prints by Melbourne Smith
127
Revenue Cutters six full color lithographs by Melbourne Smith and Circumnavigators six full color lithographs by Melbourne Smith
128
Circumnavigators full color prints by Melbourne Smith and 4 Van Gogh collectors color prints
129
2 miniature butter prints, jar of buttons, small metal jewelry box and a picture frame
130
Lot of old postcards some Princess Anne and Pocomoke, History of the Manokin Presbyterian Church Princess Anne, MD 1672-1980, book Sesqui Centennial The Farmers National Bank of Annapolis and Johnny Longfoot book
131
Logan and Strombridge antique coffee grinder Franco American
132
Antique oil finger lamp, antique oil lamp, two juicers(one has small chip) and a candy dish with a lid (small chip on lid)
133
Assortment of pewter and silver plate including hammered finish water pitcher, cream and sugar, trays, mug
134
Longaberger Basket and two other baskets, cast iron candle holder trivit and a food warmer
135
B.W. Donohoe Furniture & Appliances Princess Anne MD phone 260 ash tray and Bunky Price House of Delegates eyeglass tissues
136
Bank of Somerset cardboard advertising thermometer & Bank of Somerset 1961 calendar
137
Lot including tea pots, creamers (orange ones possibly Fiesta)
138
Refrigerator dishes including one Westinghouse, one Federal Glass has corn on lid, pink one plastic, and a Corning Ware dish with lid
139
Excelsior Improved Spring Balancescale and two tin graters
140
2 rolling pins and three ice cream scoops
141
Pottery lot including two pitchers one is Monmouth, tea pot, two blue bowls with 5" diameter, and three smaller bowls with 3 1/2" diameter
142
Tor Viking Norway ceramic pottery pan, Corning Ware coffee pot and Corning Ware tea pot
143
Large Pyrex yellow bowl 10 1/2" diamter, Pyrex blue bowl 5 3/4" diameter and a large white bowl
144
Agate wash bowl and agate handled pot with old masher and cookie molds
145
Lot including Shirley Temple creamer, Trico cream and sugar, green satin compote, blue glass tray Turi design Norway dish, McCoy planter and small jewelry dish with lid
146
Imperial Cape Cod china with 8 plates, 9 water glasses, 7 juice glasses, 1 tea glass and 2 cups
147
Etched Pink Depression including 9 plates, 5 water glasses, 4 sorbets, handled plate, scalloped edge plate and a pink creamer (crack in base)
148
Hand painted metal tray, 2 brass trays one with Oriental scene, small Oriental dishes (soy sauce) and a crumb scraper
149
Christmas items including Santa Claus, 2001 Princess Anne ornament and 2 hand made sheep with wooden legs
150
Dogs Rule food bowl, Candlewick compote, Chestnut Farms Dairy half pint bottle, green Depression lid, glass horse shoe and salt & pepper
151
Ball Perfect Mason #2 jar with lid and various size glass canisters
152
Small klitchen appliances including Mixwell mixer, B&D coffee pot and Proctor Silex 4 slot toaster
153
Miscellaneous wall hangings Iodized salt plaque, Morton salt plaque, wooden spoon display, 3 plates and a green framed note holder
154
Japan orange canister, Oriental Japan metal dish, wooden paper towel holder, small wood cutting board, Washington HQ Valley Forge plate and more
155
Coke bottles for toy truck, Allis Chalmers Nicolls Brothers Onley VA note pad, Chesterfield tin, Old English Curve Cut tobacco tin, VA Peanut City bag and a tin kleenix holder
156
Old Farm style pine table 36" X 29" X 28" tall with two cane bottom chairs
157
Contents of 4 cabinets including plates, bowls, glasses, cups and other miscellaneous pieces
158
Contents of 3 cabinets and 5 drawers including flatware, glassware, baking pans andfoils and wraps
159
Contents of 4 cabinets including pans, casserole dishes, and glassware
160
Looney Tunes TAZ popcorn popper, a box lot of kitchen utensils and two plastic trash cans
161
3 sailing vessels pictures, 2 bird pictures, country decoration and a PHS needlepoint
162
Walnut marble top dresser with 3 drawers 40" X 18"
163
Antique Torpedo soda bottle aqua with bubbles
164
Antique sliding pencil case school box with 3 slate pencils
165
Green Depression compote dish with lid and a cream and sugar
166
Antique Indian ax head
167
Walnut washstand with chocolate marble top (no crack in marble it is a litghter color vein)
168
Antique walnut hanging towel rack (small crack in mirror)
169
Cobalt blue Lady Liberty flask/bottle, 1732-1932 George Washington glass bottle and a green Sunsweet bottle
170
World's Fair "A Century of Progress" bottle 1833-1933 and an antique whiskey/wine bottle marked "Federal Law Forbids Sale or Re-Use of This Bottle"
171
4 collectible cast iron sad irons one 5, two 6's and a small one
172
Wrought iron floor lamp with a small brass duck
173
Vintage Pressman Xylophone with glass tubes and playing stick
174
Early Antique Double Dry Measure, constructed with wooden staves and metal banding 13 1/2" tall possibly peck & half peck
175
Evert Young 1977 1/3 size wood duck on wood and a miniature redhead by Habbert Dean The Fat Duck Collection
176
Lot including two card tables, wooden foot stool, two plant stands, basket, metal trays, Zenith tv, Toshiba VCR/DVD player and television stand
177
Lot including red crackle glass, lamp, Lefton mallard duck, amber vase, small wooden needle case, Los Bohios candleholder and more
178
Pine drop leaf table 41 1/2" long
179
Box lot including large Carnival footed bowl (cracked), old bed warmer, flowered pitcher, silver plate basket, sailfish brass trivit, insulator and more
180
3 box lots and a round tray containing glassware, flashlights, rotary phone, goose and swan, artifical flowers
181
2 antique Robert Turlington Balsam of Life bottles 2 1/2" tall
182
2 lots including Atlas Embossed Picture Co pictures, Jacques Bitte landscape, puppet, oven mits, ice trays
183
3 box lots including hammers, screw drivers, trimmers, hand plane, paperweight and cook books
184
4 box lots including Japan blue china, Regency bone china, Homer Laughlin, Noritake, red globe (broken), Rubik's cube and more
185
6 box lots including light bulbs, puzzle, ribbon, Wilson Jones Buddy stapler, decoys, umbrellas and candles
186
Green patterned sleeper sofa with two matching pillows
187
Aladdin model #11 brass table lamp, floral decorated lamp, off white colored lamp, wooden document box with stamps (damaged) and an "Old Silver and Old Sheffield Plate" book by Howard Pitcher Okie
188
Small table with decorations on legs marked 293 on bottom 18" tall
189
Lot include Wyeth eye washer, two perfume bottles, powder containers, tray, small plate and old thermometer
190
Lot including three glass flower frogs, two metal pin style flower frogs and three glass furniture caster cups
191
Spool leg wash stand with one drawer
193
The Wind Machine floor fan, a metal clothes rack and tins on shelf
194
Stoneware Whiskey Jug Large Rare 14" Height
195
Bank of Somerset cardboard advertising thermometer, Chaney Tru Temp metal thermometer and a book 150 Years of Banking on the Eastern Shore
196
Pair of twin beds with bedspreads, pillows and mattresses
197
Victorian oak side table with brass fish or fu dog feet 20" X 20" X 29" tall
198
Antique round table 23 1/2" diameter, 3 table lamps including one milkglass lamp, a basket with pine cones and rotary phone
199
Antique oak rocking chair painted green
200
Cedar chest (rear leg needs to be re-glued) 48" X 19 1/2"
201
Antique cradle 37 1/4" long
202
6 piece Vanity set with flower designs (one perfume is broken)
203
Miscellaneous lot including metal base lamp, Bone china jewelry dish, swan and elephnat figurine, Christmas planter, earrings, jam jar and more
204
Mahogany veneer dresser with 5 drawers
205
Old wooden flip top jewelry box and a milk glass jewlry dish with female figure marked made in U.S. of America
206
Antique Tiger Oak vanity with beveled mirror and chair
207
Primitive Pine blanket chest 44" X 19"
208
3 box lots including scarves, gloves, pocket book, linens and yarn
209
Hand sewn quilt Log Cabin style
211
Pair of hand sewn patch work quilts
212
Hand sewn quilt with purple flowers
213
Pine bookcase with books including Frye's Complete Geography general edition and McCalls Storytime Treasures
214
Lot of old dolls, three miniature dolls and stuffed animals including 1940's Gund wind up elephant
215
Lot including goose tray, wooden Holy Bible box, Occupied Japan figurine, small oil lamp, Noritake Salt, pepper & marmalade and wall pictures
216
2 rugs with roses one is 56" X 36" and other is 43" X 24"
218
Rush bottom rocking chair
219
Stoneware Whiskey Jug 9" height
220
Advertising lot including Rapa Brand Scrapple knife, C.H Hayman & Sons American Fence notebooks, Old Manokin bulletins and more
221
10 piece Vanity set marked Ivory Pyralin Dubarry
222
Oak drop front dresser (Butlers desk) with 4 drawers
223
Walnut framed wall mirror 13" X 16"
224
Wooden coat rack 57" tall
225
Do-Bo the Donkey push puppet and a tin seal wind up toy
227
Antique Sofa table with one drawer
228
6 piece Washbowl and pitcher set (cracked) and a box lot with Italy vases, basket and a small green vase
229
Oak 3 drawer dresser and wall mirror
230
Oak mission style desk 26 1/2" X 42" and a cane bottom chair
231
Antique round top trunk with metal bands
232
3 box lots of linens including sheets, dollies and tablecloths
233
Old sleigh style bed with bedspread, pillow, goose down full mattress topper and mattress
234
Hand sewn Quilt topper and a runner
235
Lot of books in bookcase inside door including childrens books, Hood College Yearbooks '57,' 59
236
Lot of comic books including Dick Tracy, Popeye, Bugs Bunny, Archie, Mickey Mouse and more
237
Wicker stand 20 1/4" X 15" by 28 1/2" tall
238
Early 19
th
Century Schoenhut Toy Piano with 22 keys
239
Small drop leaf table possibly childs table 17" X 14" X 19" tall
240
Six old dolls including a black doll and a cane bottom chair and a wicker cradle
241
Oak one drawer side table 15" X 15" X 29 1/2" tall
242
Three shadowbox frame pictures one is Mona Lisa
243
Pair of walnut lyre back dining chairs with cream upholstery
244
Victorian foot stool needlepoint top
245
Vintage Westinghouse Custom speaker system
246
Mahogany vanity with 6 drawers with Nathans Furniture Store brass tag inside
247
Pair vintage pink glass lamps, hair receiver, bud vase, miniature oil lamp, music box and Noritake tray
248
Bradshaw Funeral Home wicker fan, Washington High banner and war ration books
249
Eagle Lock Co brass lock with keys and a miniature cast iron dog paperweight 1 1/2" tall possibly Hubley Fido
250
Camphor wood or pine seaman's chest or sea chest with rope handles 43 1/2" long X 17 1/2" wide by 21" tall dovetailed corners
251
4 box lots including yards of material, candles, artificial flowers, vanity mirrors and coasters (possibly Sterling), PEZ dispenser, blue salts,
252
4 cane bottom chairs with spindle backs (Cane loose in one)
253
Skandia Furniture Co. Mahogany drop front secretary or ladies writing desk
254
Oak hall tree with claw style feet and beveled mirror with lion face hooks 34" X 16" X 78 1/2" tall
255
Lot of comic books including Buster Brown comic marked V.H. Powell Salisbury, Tom Mix, Lassie, Silver, Donald Duck, Looney Tunes, Lulu and more
256
Large split oak basket with handle
257
Lot including large glass tray with 21" diameter, 3 hand painted creamers and a HB Quimper stock pot enamel with metal lid 6 quart hand painted produced exclusively for FASC Princess Anne MD
258
Cherry Thomasville dining room table with claw feet and 6 chairs (1 is arm chair) with table cloth
259
Old sleigh bells on leather
260
Wool carpet with gold and blue decorated by birds and flowers 110" X 139"
261
Christmas lot including nativity set made in Western Germany, old ornaments and old Christmas tree stand
262
Lot including 2 box fans, metal document box and a Windsor stove
264
Walnut one drawer table with curved legs
265
Wool blue and gold floor rug 36" X 60"
266
4 old toys including toy banjo with a picture of a clown and Boston terrier, 2 noise makers and a spinning top
267
2 wall pockets both made in Japan
268
Pine podium or open back writing stand with floral decoration on front and a small pine stool
269
Mahogany drum table with one drawer
272
Assortment of Pink Depression including two bowls, candleholders, footed dish and a powder dish bottom
273
2 clocks including metal green Fashion Alarm in swivel and a Dorset 4 jewel alarm clock
274
Pair of Williamsburg Pottery candleholders and a brass fish candleholder
275
C.K. Duncan consignee The Texas Co Firestone Tires Pocomoke City, MD phone 223 advertising thermometer (broken glass cover)
276
Sewing lot including buttons, sewing kit, knitting needles and octagon wooden box
277
Old wooden sewing machine cabinet containing a Davis sewing machine
278
Vintage Eskimo metal fan and a Toastmaster space heater
279
1939 New York World's Fair First Edition Official Guide Book, Brooks Robinson 1965 ad, and an Avon Packard Roadster
280
H.D. Allen 1938 Gong Bell Mfg Co cat pull toy
281
Glasbake Terrace set French casserole service in box, agate wash bowl, agate handled pot, ceramic handled pot, refrigerator dish lot and hand tools
282
Oak washstand with towel bar
283
E. Ingraham Co Bristol Conn mantle clock
284
Antique oak rocking chair
286
Box lot including linens, towels, sheets, yarn and wool blanket and an ironing board
287
Clicquot Club wooden beverage case containing 22 old bottles including Clicquot Club, Salisbury Coca Cola, Gosman Ginger Ale Baltimore MD and Cloverdale Ginger Ale
288
Antique Pine rocking chair
289
Corby's Reserve Blended Whiskey reverse painted advertising
290
5 drawer dresser painted gray and a small wooden truck painted blue
291
Oak server with 3 drawers and two doors
292
Oak dresser with mirror with 4 drawers
293
Old wooden gathering bowl with 15" diameter and a wooden handled butter pat
294
Lot of pictures including Stern & Hackner "Play Ball", print of men and religious print with girls and 2 Royal Grafton bone china thimbles
295
Picture of Napoleon and Josephine with a mirror in the middle
296
Antique wooden double horse glider and an old wood and metal baby stroller
297
Remington Rand typewriter sold by Willings Office Equipment Salisbury, MD
298
Underwood Standard Typewriter No 5
299
Lot of old hats with hat boxes
300
Lot including 10 Somerset Pewter cups, Holland tea pot, and 9 Delft Holland cups
301
Oak buffet top, a mahogany wall table, cherry arm chair and a homemade quilt
302
Lot including Hulton Collection Hyde Park - London 1939 print, A. Einstein E=MC2 print, wooden mirror, glassware, Lazy Susan, snack sets
303
Hazel The Auto Stove Works New Athens Ill No 22A stove
304
Miscellaneous single Maryland tags years 1960, '63, '66, '68. '70, '71
305
Pair of Maryland tags 1964 FD:78:66
306
Pair of Maryland tags 1971 FC 6408
307
Pair of Maryland tags 1962 FD-58-42
308
Pair of Maryland tags 1968 ES-6014
309
Pair of Maryland tags 1969 FF 1217
310
Vintage mid century Comet sled 62" long
311
Wicker plant stand, oak plant stand painted green and a small tile top table
312
Contents of porch including glider sofa, wicker chairs, green rocking chair and a green bench
313
Contents of basement including Coke trays, Ball Mason jars, cabinet, old wheels (Not washer & dryer or anything connected to house)
314
Old tractor seat and boat anchor
315
Contents of garage including ladder, Coke tray, homemade trailer, coal scuttle, dressers, table, street sign and more
316
10 silver half dollars including (1) 1945 Liberty Walking half dollar Philadelphia mint and 9 Ben Franklin half dollars some minted in Philadelphia others in Denver dating 1951, (2) '52, '54, (2) '59, '61, (2) '63
317
10 silver Liberty Walking half dollars including 1935D all others Philadelphia '38, '39, '41, (3) '43,'44, '45 & '46
318
10 silver Liberty Walking half dollars including 1935, '40, (3) '41, '42, '42D, '42S, (2) '44S
319
10 silver Liberty Walking half dollars including 1940, '41, '42, '42D, '42S, '44D, '44S, '45, '46, '47D
320
20 silver quarters including Silver Standing Liberty Quarter (Dateless), '39, 40, '41, (3) '42, '42D, '43, '43S, (2) '44, '45, '47, '48, '50D, '52D, and (3) '53D
321
20 silver quarters including '54, (2) '56, '57D, (2) '59D, '59, (2) '61D, '62D, '63, (7) '64, (2) 64D
322
20 silver quarters including Silver Standing Liberty Quarter 1929, '36, '37, '43, (2) '44, '45, '45D, '50D, (2) '51D, '51, (2) '52D, '53, '56, '57, '57D, '59, '59D
323
20 silver quarters including '60, (4) '62, '62D, '63, '63D, (10) '64, (2) '64D
324
20 silver quarters including (2) '35, (2) '36, (2) '41, '41S, '42, '43S, '44, '45, '50D, '52D, (2) '53D, '54D, '57, (3) '57D
325
20 silver quarters including '59D, 59, (2) '61D, 61, (2) 62D, 62, '63D, (2) '63, (8) '64, '64D
326
Roll of silver quarters all are 1964 and appear in very good condition. Only ones discolored are the two at the ends of the roll
327
20 silver quarters including Standing Liberty Quarter (dateless), '39, '40, (3) '41, '42, '43, '44, (2) '45, '47, '48D, '48, '51, '52D, (3) '56, 58D
328
20 silver quarters including '57D, '58D, '59D, '59, (2) '62D, (14) '64
329
22 silver quarters including '40, '42, '44, '54D, '56D, '56, '59D, '61, (2) '62D, (2) '64D, (10) '64
330
20 silver quarters including '36, '42, '44D, '45, '46, '47D, '48, '54D, '56, '57D, '61D, '62D, '62, (2) '64D, (5) '64
331
8 Kennedy half dollars including (2) '65, '71, '72D, (2) '76, '77, '79 and a '72 Eisenhower silver dollar
332
11 half dollars including 5 Walking Liberty 1935, '42, (2) '43, '45 and 6 Franklin '53D, '54D,'57D, '62D, and (2) '63
333
Roll of silver dimes ($5.00 roll equals 50 dimes) Sample of 16 were all 1962D. Appear to be very good condition
334
Roll of 50 silver dimes 26 are Mercury dimes 24 are Roosevelt dimes

RETURN