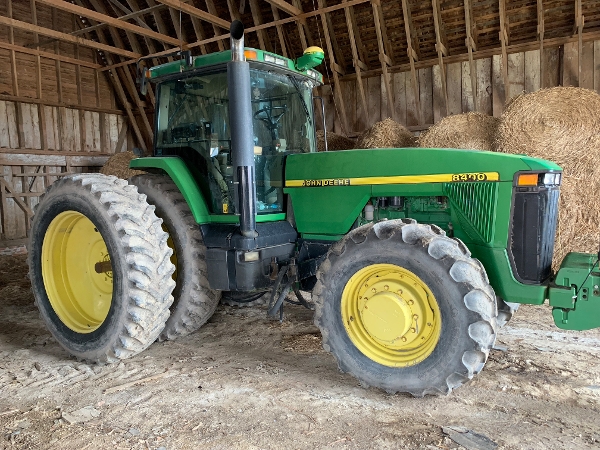 Richard E. Jones Farm Equipment Auction
March 23, 2019
641 Critcher Road Pocomoke City, MD. 21851
PUBLIC AUCTION
John Deere 4720 Self Propelled Sprayer, John Deere 8400 Tractor, Ford 8970 Tractor, New Holland 8770 Tractor, Case IH 2388 Combine, John Deere 1990CCS air seeder, Trucks & a Good Line of Tillage Equipment
Eastern Shore Auctions, Inc. is proud to have been selected to sell the farm equipment for Richard Jones, of Pocomoke City, MD, who is retiring after a lifetime of farming, on:
Saturday, March 23, 2019 at 10 AM
641 Critcher Road Pocomoke City, MD. 21851
Directions: From Salisbury - Take Rt 13 S to Pocomoke. At Brantley Road turn L. Follow 2.2 miles to Critcher Road. Sale on right. From points South – after crossing the Chesapeake Bay Bridge Tunnel continue on Rt 13 N for 74.3 miles. Turn R onto Brantley Road. Follow 2.2 miles to Critcher Road. Sale on right. Signs posted.
TRACTORS/COMBINE/SPRAYER: '05 John Deere 4720 Self Propelled Sprayer w/4421 hours 90 foot boom & 800 gal tank, '97 John Deere 8400 tractor w/7321 hours duals and full weights, '99 Ford 8970 tractor w/5231 hours duals and full weights, New Holland 8770 tractor w/6593 hours duals and full weights, '01 Case IH 2388 combine, New Holland TR97 combine, John Deere 4630 tractor, John Deere 3010 tractor, Ford 8N high clearance, Ford Jubilee tractor, and more.
TRUCKS: '99 Intl road tractor, '94 Intl road tractor, '83 Intl 10 wheel grain truck 189,778 miles, '86 Intl S2200 road tractor 889,208 miles, '80 GMC 7000 grain truck 96,010 miles, '78 Ford truck with Chandler spreader body 71874 miles, '73 Chevy C65 dump body grain truck 30115 miles, '62 Intl R200 truck, '84 GMC truck tractor, '83 GMC Brigadier 10 wheel truck, and more.
TRAILERS: '87 Timpte Hopper Bottom trailer, '83 Fruehauf Hopper Bottom grain trailer, '81 Fontaine drop deck trailer, Kruger tri axle trailer.
EQUIPMENT: '07 John Deere 1990CCS air seeder, Kinze Twin Line 12 row planter with liquid fertilizer, John Deere 7100 8 row 30" planter with KMC Ripper strip till unit, Great Plains 2400TT Turbo Till, Case IH 490 or 496 disk, Unverferth 2750 seed tender, John Deere 25 ft field cultivator, Case IH 1020 30 foot bean header, Unverferth HT30 header transport, John Deere 40 30 foot rotary hoe, Caterpillar D7 bulldozer, root rake dozer attachment, New Holland 996 corn header w/Case IH adapter, New Holland 973 bean header, New Idea manure spreader, Case 24 foot disc, John Deere 12 foot chisel plow, 16 foot cultipacker, land leveler, irrigation reel, Oliver 8 foot drill, John Blue 6 row nitrogen rig, John Deere 260 loader, and more.
PREVIEW: Auctioneer will be on site on Friday, March 22 from 11 to 2. Items can also be viewed by appointment and on auction day. Contact auctioneer to schedule appointment.
Terms: Cash, credit card or check approved by auctioneer. Credit card fee 3%. Proper ID required. Unlimited parking available. All sales are AS IS, where is with no warranties, guarantees or implications of any kind. All announcements auction day take precedence over any printed, internet or verbal announcements/advertisements. Auction Company and sellers are not responsible for accidents.
Food will be available. Plenty of parking on site.

RETURN