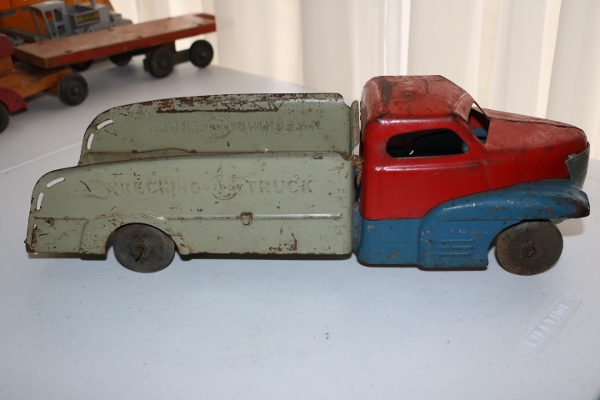 Westover Living Estate Auction
March 20, 2019
9140 Old Princess Anne Road Westover, MD. 21871
ON-LINE ONLY AUCTION***ON-LINE ONLY AUCTION***ON-LINE ONLY AUCTION
INTERNET ONLY AUCTION - Auction runs from February 26, 2019 thru March 20, 2019. Bidding ends on March 20 starting at 5 PM.
PREVIEW DATE AND TIME: Tuesday, March 12, 2019 5 to 7 PM.
CHECKOUT DATE/TIME: Sunday, March 24, 2019 1 to 4 PM. No exceptions.
LOCATION: 9140 Old Princess Anne Road Westover, MD. 21871
This is an outstanding on-line only auction. We are selling furniture, glassware, old toys, tools and much more.
1
Curio cabinet with upper and lower door 21" X 71"
2
Curio cabinet with upper and lower door 21" X 71"
3
Curved front corner curio cabinet with upper and lower door
4
D & A wall clock with display shelves (clock only) 9" X 33"
5
Kincaid cherry china cabinet 61" X 84"
6
Kincaid cherry dining room table 68" X 42" with two leaves and pads and 8
chairs including 2 arm chairs
7
Gold framed decorative wall mirror 36" X 33" with two 3 candle candelabras
8
2 Gold framed silhouette wall pictures
9
Torte bowl with custard dish, Spode plate, small fish and tin plate
10
Prussia handled plate, lidded dish, two cups and two saucers
11
Lot including pewter, stainless steel tray, casserole dish, Italy plate
and napkin rings
12
Maruta Ware turkey plater 20" X 15", 5 pieces white china including
Corning bowl, Pier One lidded dish, handled bowl, butter dish and white
tray
13
8 apple mugs, apple napkin holder and wooden folding apple basket, white
tray, two handle glass tray, square plate and 4 ashtrays
14
4 Porcelain doll body and head figurines made in Germany, 4 small doll
body figurines and musical angel
15
Set of 10 Candlewick sorbets glasses
16
Set of 10 Candlewick sorbets glasses 1 chipped on rim and 2 Candlewick
water glasses
17
Set of 9 Candlewick punchbowl cups
18
Set of 8 Candlewick punchbowl cups
19
Set of 6 Candlewick lunch plates and 1 saucer
20
Candlewick divided serving dish and Candlewick relish dish
21
Etched glass candy dish with lid and etched glass vase
22
12 Water glasses, 12 wine glasses, 3 fluted top vases, 12 napkin rings,
decanter, large vase and glass knife and fork
23
Oak bench with storage
24
White painted wall cabinet with 2 doors and 2 drawers
25
Wrought iron match holder, 2 trivets, apple fly swatter and black round
wall clock
27
Oak bow front china cabinet 73 inches tall
28
3 Shelves of glassware including hobnail salt and peppers, pressed glass
pitcher, cream and sugar, butter dish, silver trim glasses and 3 water
pitchers
29
2 Shelves Including 2 water pitchers, apple plates, large apple bowls,
small apple bowls and heart shaped dish
30
Oak display cabinet 40 1/2" X 76"
31
2 Shelves Including frosted flower bowl and tray, fluted top bowl, gravy
boat, toothpick holder, round tray and 4 metal picture frames
32
Pink Depression candle holders, Pink Depression etched glass bowl, Green
Depression bowl
33
3 Shelves glassware including egg plate, vegetable serving dish, dove tray
and other misc glassware
36
Ashley Furniture Company large vinyl ottoman
37
Fox hunt scene wall picture
38
Oak glass top end table and oak glass top drop leaf end table
40
Set of 4 Oak television trays
41
Antique Oak high chair
42
6 Pine bar stools with foot rests
43
Lifetime fiberglass folding table 4 foot
44
4 Oriental Accent brown vinyl chairs, 2 of which are arm chairs (scars on
one armchair)
45
Marx 1958 Public Utility Service Truck
46
Gleaner metal toy combine also with corn header
47
1948 wooden autocar flatbed truck
48
Model Toys metal Caterpillar bulldozer 1952-54
49
Buddy L Wreckin' Truck metal 1947-1949
50
Model Toys Heiliner red pan metal 1950-52
51
Charles William Doepke Model Toys grader metal
52
2 Winross Estes collectible tractor trailers
53
2 Winross Estes collectible tractor trailers
54
Ertl Massey Harris 44 special tractor metal NIB
55
Internation tractor 5288 metal
56
1 Winross Estese tractor trailer new and a 2004 International 8600 Estes
Express Lines tractor trailer NIB
57
First gear Estes war bonds tractor trailer #41 and first gear Estes
delivery next day truck
58
Lot of 3 trucks including Estes FLD 120 Freightliner tractor trailer 2001,
Spec Cast Cato tractor trailer and a real wood tanker truck
59
Ford 8N tractor NIB and Ace 80 years 1955 Diamond T anniversary stake
truck NIB
60
Ertl John Deere 50/520 tractor set NIB
61
Viewmaster in box with several circle slides
62
International blue stake body truck molded plastic by Product Miniature
Company
63
International yellow dump body truck crack on roof
64
International yellow pick up made by Product Miniature Company
65
Wyandotte Grey Van Lines moving truck and trailer pressed steel
66
3 Trucks including: 41 Plymouth, 40 Ford, Pennzoil Delivery Truck
67
Pepsi Cola 1940 Ford pickup, Esslingers beer truck
69
Lionel 2046 Engine and 2046W tender
70
Lionel diesel switcher Seaboard 602
71
5 Lionel train cars including 6357 caboose, 6656 cattle car, 6462 coal
car, 3472 automatic refrigerated milk car, Sunoco tanker car and a Hafner
Trains car
72
Lot including Lionel TRAINmaster type KW transformer, Marx transformer,
Lionel 494 beacon, lights, track and other miscellaneous pieces
73
Pine style bookcase with 4 adjustable shelves
74
Pine style bookcase with 4 adjustable shelves
75
Pine style bookcase with 4 adjustable shelves
76
Pine style bookcase with 4 adjustable shelves
77
Oak glass top sofa table with two drawers
78
Ceramic Christmas tree 20 inches works
79
Santa bank Chalkware Duquesne Statuary
80
2 White Opalescent Hobnail pieces including candy dish with lid, bowl, and
a green lidded dish shaped like a pineapple
81
Stoneware crock with cobalt blue and ears, small crack in bottom
82
Stoneware milk jug approximately 15 inches
83
Blue/grey stoneware crock with cobalt blue flower 1.5 gal crack running
entire length and stoneware whiskey jug measuring 7 inches
84
Stoneware whiskey jug measuring 10 1/2 inches
85
Stoneware whiskey jug measuring 13 inches
86
Tonka Toys Mound metalcraft pressed steel truck tractor with #130 carry
all trailer
87
Vintage Johnson Seahorse 25 outboard toy boat motor in working condition
88
Nascar 1:43 scale Budweiser Racing tractor trailer and a Kenworth grain
tractor trailer
89
Vintage John Deere Hay rake and Bailer
90
Metal John Deere tractor with scoop
91
Vintage John Deere corn picker eska 1950's antique tractor toy
92
Brown stoneware jug with small chip on lip 7 1/2 inches tall
93
Sauder Woodworking computer armoire
94
Dell Inspiron computer Athlon II Windows 7 home premium edition with Dell
printer V313 and speakers (was being used by family)
95
Maple tea cart with glass shelf and drawer
96
Wood Flag display case
97
Maple Wooden Child's High Chair 1966
98
Globemaster 12" diameter globe
99
Vintage wooden bowl with decorative balls (6)
100
Steamer trunk and 3 piece Lady Baltimore Vintage luggage
101
4 pieces luggage including American Tourister green bag, MacGregor bag
containing suit covers, Lucas carry on bag and brown duffle
102
Cedar chest with crack on top
103
Vintage pair women's roller skates size 9 with bag
104
Pair 10 lb cast iron Hex dumb bells
105
Mainstay NIB Garment Rack and Coat Closet
106
Massage full body mat, Tighten N'Tone sit up seat, original thigh master
and Duracraft humidifier
107
Etienne Aigner purses and 3 boxes of misc handbags
108
Full comforter set, box with cotton bedspread, box with bedspreads
109
Lot including Afghans, old quilt and a throw
110
Box lot of wool blankets
111
2 Box lots including Jordian Mfg Co Chair cushions (5), misc pillows and
cushions
112
Pari Trek S Compressor Assy and CPAP machine in working condition
113
Remstar Choice LS Cpap machine working condition
114
ResMed Cpap machine Elite 2 working condition
115
5 box lots including stationary, paper, calculator, desk supplies
116
2 box lots including stationary, thread, alarm clock and a snuggie
117
HP 8.4 inch digital picture frame NIB
118
2 box lots including pocket knives, candles, plate stands and a portable
cd radio boom box
119
Box lot of travelling bag, sheets, towels, bath rugs, shower curtain,
stuffed animal dog, basket of pine cones
120
3 box lots including tea towels, napkins, linens, king comforter, two
Royal Velvet Egyptian Twin Cotton blankets
121
3 box lots including comforter (possibly queen), pillow shams, pillows,
sheets
122
4 box lots of Christmas including poinsettias and artificial flowers,
decorations, bows, ribbon, napkins, paper cups
123
3 box lots including men's hunting clothes 2X, Grizzly hat, poncho, back
support brace, 2 grabbers, ski clothes, gloves, thinsulate tobaggoons
124
Crib containing dolls, doll clothes and merry christmas basket
125
5 boxes including: Austria China, Globe style bookends, christmas tray,
cake plate, and more
126
3 boxes including: silhouette pictures, glass baskets, cake plates,
clocks, pedestal candy dish
127
Large assortment of baskets including, picnic basket, Easter baskets,
handled baskets, sombrero, 2 wall pictures
128
Lot of John Deere Tins
129
Large box lot of christmas items including: potholders, small stockings,
napkins, plates, cups, assortment of cards
130
General Electric model 416 Westminster Chime mantel clock works second
hand sticks occasionally
131
4 compote candy dishes with scalloped top, wooden candle holders and fruit
basket, decanter and 2 bottles
132
4 box lots including: 2 snowglobes, cake plate, 14 glass candle holders,
metal tiered trays, decorative boxes
133
Snowman family and a halloween witch
134
2 box lots of christmas including: santa, wooden reindeer, and artificial
flowers
135
5 box lots including: Avon, window candles, and other Christmas
decorations
136
Large lot including: christmas lights, bulbs, pillows, bows, flowers,
decorative boxes, purses, shoe stretchers
137
3 box lots including: Paper Mache' Santa, old electric Santa, 2 plastic
snowmen, tree topper
138
Split Oak laundry basket
139
New Bright Plastic Remote Controlled Construction Set (all pieces moved
with new batteries)
140
Play Pal Antique Wooden tank 10 1/2 inches long
141
Hubley Division Gabriel Ind red Volkswagen bug
142
McCormick Farmall 806 metal toy tractor
143
Lot of 4 metal toy tractors including Ford 8630, Case MX180, Case MX 135
and a John Deere 8400
144
Vintage toy box containing walking penguin, Fisher Price pieces include
the happy house boat, school bus, wooden people, roly poly, small tow
truck and three men in a tub
145
Antique John Deere manure spreader metal
146
Marx Sante Fe 21 diesel train set with track 8 total cars
147
Lot of 4 train pieces including covered tunnel, platform, train office and
other building
148
Vintage John Deere plow circa 1950's
149
3 John Deere metal toy tractors (various conditions)
150
McCormick Metal plow circa 1950's, red bean header, hay mower and a
McCormick Deering farm wagon plastic
151
Toy lot with plastic ford tractor, allis chalmers plastic toy tractor,
Baker plastic bulldozer, box of misc small toys and tie tacks
152
Vintage opera brand harmonica with case
153
Lot including toy Allis Chalmers B112 lawn tractor and two small John
Deere tractors, and a metal yard John Deere wagon
154
2 pieces of Calla Lily including a heart bowl and a scalloped bowl made in
Italy and a ceramic goose planter with crack made in portugal
155
Marx Antique Happy Time Tin toy barn circa 1950
156
Keep safe floor safe (has combination but does not work) dimensions 17 x
23
157
Tractor Books John Deere and Oliver, flags, basket with handle, cart,
electric cords
158
Box including hallmark ornaments
159
2 box lot Christmas decorations including pewter and glass ornaments
160
closet containing large Christmas lot, including small trees, large
assortment of bags, ornaments, wrapping paper, tags
161
Slik 1000 camera tripod
162
lot including Pine 12 gun gun cabinet 2 wooden wall sconces, wicker
basket, 2 wall pictures, owl plate and 3 crystal vases
163
Clayton Marcus Sleeper Sofa with hassock with mirror and 2 country wall
sconces
164
Oak glass top coffee table with drop leafs, floral wall picture, country
plaque, basket
165
Oak Entertainment 3 piece entertainment cabinets with JVC VHS/DVD player,
stereo and record player (does not include smalls)
166
Spirit of '76 Mooseheart FD decanter (circa 1974)
167
Rickards bag company Selbyville, DE advertising thermometer
168
Contents of display cabinet including: figurines, nutcracker, deer clock,
cruise ships, wedding bowl,
169
Contents of bookshelf including: lanterns, metal box, office supplies,
tripoley game
170
Somerset and architectural history book by Paul Touart
171
2 books: Unforgettable Treasures of the Eastern Shore and Somerset County
a Pictorial History both by Brice Stump
172
Duck bookends, John Deere lamp, John Deere cookie jar, miscellaneous books
173
Maple Windsor style chair
174
Cherry twin poster bed with comforter and mattress
175
Jane's Island lighthouse picture
176
Marble top stand with lamp
178
Rush bottom rocker and rush bottom chair
179
Lot including vase, hair receiver, mirror, jewelry holder and an oval
glass tray
180
Lot including Cheyenne table lamp with Victorian style glass shade, lift
top jewelry box, candle holder, mirror, small glass bucket and globe for
lamp
181
Yellow enamel compact with Weldwood Watch Illinois Watch Case Co, wooden
cigarette case and an enameled compact
182
Box lot of decorative occasional bags, box of ribbon, box of bows and
wrapping paper in closet
183
3 Box lots including Longaberger basket ties, Orioles stuffed animals,
American flag pins, books and party supplies
184
4 Box lots of linens including place mats, table clothes and dollies
185
Tub of party supplies and box lot of bags and tissue paper
186
2 trays of Gibson black handled flatware
187
3 boxes of Evolution dinnerware each has a place setting for 4
188
2 metal trays and Lenox ice bucket
189
Pic Nic basket, metal turkey, swan and a pumpkin
190
Chantal and Pfaltzgraff lot including butter dish, serving dish, salt &
pepper and 12 glasses (1 has chip on base)
191
Lot of old perfume bottles and compact
192
Lot including seat cushions, rugs, Singer sewing machine and vintage Sears
curling iron
193
Cedar wardrobe inside bedroom closet (full wardrobe hard to get picture
due to closet)
194
Antique bookcase with glass door (small crack in bottom of glass)
195
Oil lamp, hand painted tin planter, Shanghai mail order pieces marked 2170
and old eye glasses
196
Mahogany color 5 shelf corner stand
197
Wooden double bed frame
198
Entertainment center with Sanyo television, CD's, speakers and a Phillips
Magnavox portable radio
199
Contents of hall closet including candles, copper chargers, glass serving
tray, photo memorabilia boxes and more
200
Baskets lot with decorative gourd, snowman and owl picture
201
Bathroom lot including smoking stand, trash can, wire shelf, picture and
kleenex holder
202
Pine duck design coat rack and a Welcome Friends sign
203
Green sewing kit with buttons, thread and needles, tin of thread, plastic
tub with sewing supplies and blue sewing kit
204
Lot including parts bin, tin of old buttons and a vintage shoe shining kit
205
Lot including coffee maker, 3 warming trays and 3 wrought iron serving
stands
206
Lot including wooden wall sconces, Proctor Silex iron, Continental iron,
Kirby vacuum bags, clothes pins and more
207
Ironing board and gray foot stool
208
Safety 1
st
2 step stool
209
Skinny Mini 3 step foot stool
210
Kincaid cherry bedroom suite including queen bed frame, highboy, lingerie
chest, 2 nightstands
211
2 Les Brown Chair Co mauve swivel rockers with ottomans and a high back
bedroom chair
213
Antique oak rocking chair
214
Richmond Cedar Works cedar chest
215
Antique shotgun muzzle loader
216
Pair of Cracker Barrel rocking chairs
217
4 piece wrought iron patio set including sofa, arm chair, rocking chair
and a small table with cushions
218
Glass top table with 4 chairs
220
Wooden tile top table with two metal stools
221
3 Vintage sad iron flat irons
222
Lot including cast iron 1/2 chicken doorstop, metal star, 2 wrought iron
pie racks, wooden welcome sign
223
Small milk can with lid and wrought iron flag stand
224
Reeves Coal scuttle with wooden black lab yard ornament and a basket
225
5 Better Homes black & white outdoor chair cushions with 2 pillows
226
Maynard Reese goose picture
227
Antique Cast Toys wooden riding dump truck 36" inches long
228
Lot of 6 coolers including Coleman, Igloo Marine 94, and Rubbermaid
229
Genuine vintage Therma - Chest aluminum cooler
230
Muscle Rack Welded Storage Rack (Does not include contents)
231
Muscle Rack Welded Storage Rack (Does not include contents)
232
Muscle Rack Welded Storage Rack (Does not include contents)
233
10 folding chairs with metal chair rack
234
2 Wicker rocking chairs
236
2 wooden planters pair
237
7 box lots including bleach, resolve, bungie cords, car cleaning supplies
and other misc items
238
Craftsman 6 hp shop vac 16 gallon
239
Roper by Whirlpool HD super capacity washer (was working when stored in
building)
240
RIVAL 16 quart roaster (works when stored in building)
241
Christmas tree, black tub, Christmas decorations, box fan and bird feeders
242
Frigidaire commercial freezer 32 inches x 71 inches
243
Pine wardrobe 50" wide x 70 1/2" tall
244
Lot including hand saws, hammer, drill bits, Dryden grease, tool belt,
braces, and more
245
Pittsburgh 4 ft metal ruler, a 4 foot and a 2 foot level and an Empire T
Square
246
Box lots including clay pigeons, nails, grease gun, trolling sinkers,
wooden welcome sign and flanges
247
Wooden work bench 79" X 30"
248
Lot including plastic parts bin, light switch covers, nails, cast iron
Scottie dog, horseshoe wrought piece and more
249
Lot including Craftsman sockets, knee pads, nut drivers and mre
250
Wildgame digital game scouting camera and a Sight Vise
251
Lot including electric switches, outdoor lamps, switch plates and more
252
Two Coleman lanterns, nails and cord lot
253
Lot including Lionel train metal sign, Utilitech 42W dusk to dawn light,
Secure Home motion activated light and electric boxes
254
Lot including tow lights, small tires, targets, back support, Scroll saw
and milk crate contents
255
Lot including Dryden oil can, Krylon Dual paint & primer, WD 40, PB
Blaster, NAPA transmission fluid and more
256
Lot including Castrol GTX motor oil, Rotella T , GoJo and more
257
Lot of yellow extension cords and bungee cords
258
HJC motorcycle helmet CL -10 Snell M95 DOT
259
Porter Cable 150 PSI air compresser
260
Workmate 200 work bench
261
Lot including push broom, work light, coal shovel and shovel
262
TRW 48" jack 7000 lb capacity
263
Aluminum 5 foot ladder
264
Aluminum 8 foot ladder
265
Werner 10 foot aluminum ladder 300 lb capacity
266
Ryobi tool kit including charger, drill, circular saw and reciprocating
saw
267
Craftsman orbital sander, Bosch circular saw and Ryobi charger and drill
268
Makita angle grinder with DeWalt pads
269
Work light, Stanley spot light, Power Craft 20 million candlepower spot
light, Craftsman sander and drill
270
Wheel barrow and a Rubbermaid stool
271
Lot including storage cabinet on wheels, galvanised bucket, Rifleman
magazines, farm magazines, wood finishing books, metal target, flash
lights and fishing line
272
Schumacher starter charger battery tester
273
Lot including Hitachi nailer, chain, and B&D Fire Storm 18V saw
274
Lot including saw horses, cable and Radnor pre cut flexible welding cable
50 foot
275
Schwinn Airdyne exercise bike and a Weslo Cardio Glide
276
John Deere GX 85 riding mower
277
Anvil with forging tools
278
Gas can lot with metal trash can, gloves and hand sprayers
279
Lot of yard tools including pitch forks, sledge hammer, hoe, shovel and
ax
281
Trash can with two tubs some bird feed
282
Fiskars extendable tree cutter and chain saw attachment
284
Cast iron kettle and pot with lid
285
Craftsman 22 inch trimmer and a Ryobi 18" electric trimmer
286
B&D battery operated weed whacker and B&D Grass Hog electric weed whacker
287
Troy Bilt 2600 psi pressure washer powered by Honda
288
8 hp commercial engine rototiller
289
Miscellaneous contents including wagon, fish scaler, wood, landscaping
fence, shovel, planter and more
290
Lot of 20 1936 Walking Liberty Half Dollars (2 are D, 1 is S)
291
Lot of 20 Walking Liberty Half Dollars 8 '47, 2 '47D, 8 '46, 2 '46D
292
Lot of 20 Walking Liberty Half Dollars 11 '45, 2 "45S, 2 '45D, 3 '46, 1
'46D, 1 '46S
293
Lot of 20 1944 Walking Liberty Half Dollars( 1 is a 44S, 6 are 44D)
294
Lot of 20 1944 Walking Liberty Half Dollars( 6 are 44S, 3 are 44D)
295
Lot of 20 Walking Liberty Half Dollars 1 '39, 6 '44, 2 '44D, 7 '45, 4 45D
296
Lot of 20 1945 Walking Liberty Half Dollars (3 are S, 1 is D)
297
Lot of 20 1942 Walking Liberty Half Dollars (4 are S)
298
Lot of 20 1942 Walking Liberty Half Dollars (5 are D, 3 are S)
299
Lot of 20 Walking Liberty Half Dollars 15 '42, 1 '42S, 2 '42D, and 2 '45
300
Lot of 20 1941 Walking Liberty Half Dollars (5 are D, 4 are S)
301
Lot of 20 1941 Walking Liberty Half Dollars (5 are D, 4 are S)
302
Lot of 20 1943 Walking Liberty Half Dollars (2 are D, 2 are S)
303
Lot of 20 1943 Walking Liberty Half Dollars (2 are D, 2 are S)
304
Lot of 20 1943 Walking Liberty Half Dollars (6 are D, 2 are S)
305
Lot of 20 Walking Liberty Half Dollars 1 '41S, 2 '41, 12 '43, 1 '43S, and
4 '43D
306
Lot of 20 Walking Liberty Half Dollars 7 '37, 2 '37S, 7 '38, 3 '39 and a
'39D
307
Lot of 20 Walking Liberty Half Dollars 5 '17, 2 '17S, 2 '34, 1 '34D, 1
'34S, 6 '35, 3 '35D
308
Lot of 20 Walking Liberty Half Dollars 3 '17, 1 '17S, 3 '18, 1 '18S, 19S,
2 '20, '21 possibly, 4 '34 and 4 '35
309
Lot of 19 Walking Liberty Half Dollars '17, '27S, 2 '34D, 35D, 7 '40, 3
'40S, '41D, '41, and 2 '45
310
Lot of 20 1951 Franklin Half Dollars (5D, 4S)
311
Lot of 20 1954 Franklin Half Dollars (10 D)
312
Lot of 20 Franklin Half Dollars 3 '48, 8 '49, 1 '49D, 3 '54, 5 '54D
313
Lot of 20 1950 Franklin Half Dollars (6D)
314
Lot of 20 1952 Franklin Half Dollars (12D)
315
Lot of 20 1952 Franklin Half Dollars (10 D)
316
Lot of 20 Franklin Half Dollars 8 '56, 8 '57, 4 '57D
317
Lot of 20 Franklin Half Dollars 8 '58, 1 '58D, 11 '59,
318
Lot of 20 Franklin Half Dollars 2 '57D, 2 '59D, 1 '60, 3 '61, 2 '61D, 2
'62, 2 '62D, 2 '63, 4 '63D
319
Lot of 20 Franklin Half Dollars 4 '53, 10 '53D, 1 '53S, 5 '58D
320
1879 O Morgan Silver Dollar
321
Lot of 5 Morgan Silver Dollars 1881, 1888, 1889, (2) 1921
322
Lot including 6 Peace Silver Dollars 1922S, (2) 1923, (2) 1924, 1925
323
Lot of 20 silver quarters including 4 Standing Liberty, '34, '35, '36,
'36D, '37, '41, '41S, '42, 3 '43, 4 '43D, '43S
324
Lot of 20 silver quarters including 3 '44, 2 '45, 45S, '46, '47, '47S,
'48, '50, 4 '51, '51D, '52, '53, 2 '53D
325
Lot of 20 silver quarters including '53D, 2 '54, '55, 4 '56, '56D, 5 '57,
2 '57D, '59D, '62D, 2 '63
326
Lot of 20 half dollars including 4 Walking Liberty one 1917 one 1920, 10
Franklin Half Dollars '50, '50D, '51S, 2 '52S, '52D, '52, '53D, '54D, '63
6 Kennedy Half Dollars
327
Lot including 4 Walking Liberty Silver Half Dollars (Unk date), '66
Kennedy half dollar, silver quarters include '63, 8 '64, '64D and 8
Buffalo nickels 2 unk, '29, '30, 2 '36, and 2 '37
328
Large assortment of silver nickels one checked was '44P
329
Lot of 45 Mercury Dimes including 1917D, 1919D, several 1923
330
Lot of 66 silver Roosevelt dimes
331
Lot including 1877 Seated Liberty Dime, Indian Head Pennies dated 1898,
1902 & 1904, 4 Buffalo nickels, a 1941 English 1/2 penny and a 1944
Curacao 1/4 Gulden

RETURN