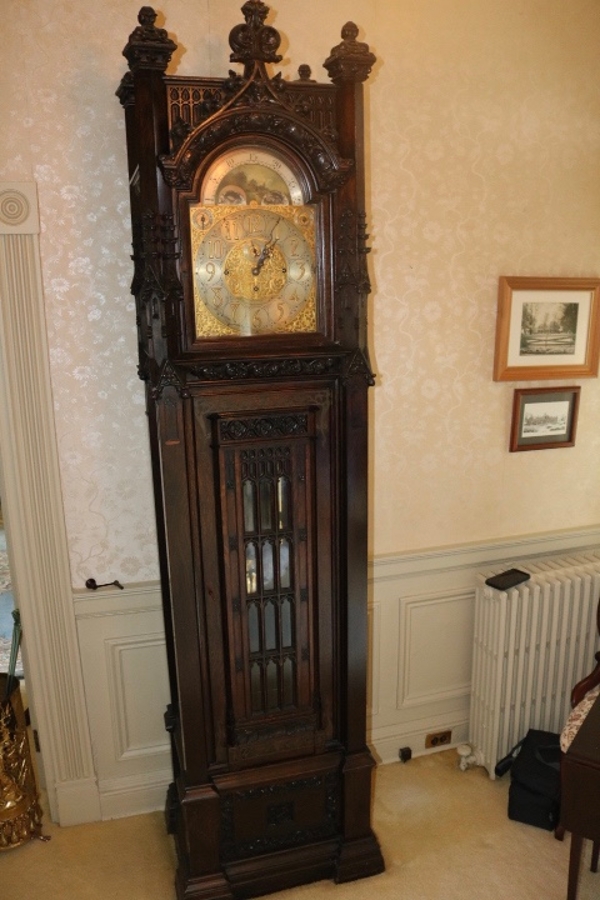 Barnes & Duncan Estate Auction
August 14, 2019
3951 Whitesburg Road Pocomoke City, MD. 21851
ON LINE ONLY AUCTION*****ON LINE ONLY AUCTION*****
INTERNET ONLY AUCTION: Auction runs from Monday, July 15, 2019 thru Wednesday, August 14, 2019. Bidding ends on August 14, 2019 starting at 5 PM.
PREVIEW DATES AND TIMES: Tuesday, July 30, 2019 from 5 to 7 PM, and Sunday, August 4, 2019 from 1 to 3 PM.
CHECKOUT DATE AND TIME: Pick up is Saturday, August 17, 2019 from 9 AM to 12 Noon. No exceptions.
Eastern Shore Auctions, Inc. is honored to have been selected to sell the former estates of Ellen & Dave Barnes and Ruth & Lynwood Duncan of Pocomoke, MD. Lynwood Duncan and his brothers founded Duncan Brothers, Inc. car dealership in Pocomoke, MD. Duncan Brothers sold Chevrolet, Oldsmobile, Cadillac and GMC trucks.
This is an excellent auction of quality items.
Enjoy the posted photos, however, keep checking back as this is not all of the items we are selling. Additional information and photos will be added soon.
1
Pair of Bristol glass vases
2
Pair of Baldwin Brass candleholders 7" and flower arrangement
3
Pair of Baldwin Brass candleholders 4 3/4" and flower arrangement
4
Brass figural & prism candleholders with marble base 16" tall
5
Gold framed decorative Mirror approx. 63" x 26"
6
2 Pair of Staffordshire dogs 12 1/2" & 9 3/4" tall taller set has chip on paw & crack running down body
7
Copper/Brass coal log holder
8
Brass pot with spout & fire starter
9
Pair of custom upholstered Wing back chairs Peach color one has small stain on cushion
10
Claw feet vintage tea serving table small damage on lip of table
11
Burled walnut 2 drawer stand
12
Etched glass candy dish, pitcher, pottery planters & bird figurines with damage
13
Brass candleholder with prisms & marble base 10" tall
14
Blue based & crystal lamp
15
Cherry 2 drawer server
16
Blue decanter set with 8 glasses & brass tray
17
Gold framed picture of woods scene with mother & children double matted
18
Victorian parlor chair with intricate carvings & blue upholstered with matching foot stool
19
3 Candleholders 2 Brass one with antique scissors & one tin candleholder
20
Mahogany candle stand 25" tall
21
Antique Victorian wooden framed wall mirror Mahogany
22
Ward Antique Shop Belle Haven, Va 2 drawer drop leaf mahogany table 18 1/2" tall x 18 1/2" wide x 27 1/4" long with leaves down
23
Victorian sofa with walnut frame & intricate carving
24
2 Victorian parlor chairs
25
Brass floor lamp with marble base
26
Gold framed Victorian style picture " The Minuet" by V. deParedes
27
Steinway & Sons Piano with stool and sheet music
28
Blue based & crystal lamp
29
2 Brass candleholders with flower arrangment 13" tall
31
Pair of Lion figured 3 candle candleholders
33
Glass ink well, brass paperweight and letter opener
35
Antique paperweight with postcard inside
36
Gibson glass egg, Antique perfume bottle, tooth pick holder, glass egg & Nippon tray
37
Glass lamp with etching & Mahogany mirror with eagle
38
Cherry Governor Winthrop desk signed Alfred Carr in one of the hidden drawers
39
Pair of Brass candleholders, tin tray & flower arrangement
40
4 Wedgewood small dishes
41
Pair of Baldwin brass candleholders 5" tall, brass finger candleholder with pill crusher and 2 desk top clocks
43
Robert E. Lee gold framed picture
44
Antique Victorian King & Queen parlor chairs stain on upholstery back of King chair upholstered cream color
45
Blue glass marble base table lamp, brass based small table lamp with glass center & brass candleholder with globe
46
Blue opalescent candy dish with fluted top & 2 blue small hobnail dishes
47
Pink Condiment set topper and pink vase
48
Lot of figurines including Staffordshire carriage wheel broken on one side, handpainted Andrea figurines female has broken foot & fingers and 4 other figurines,one which has been reglued
49
Cherry 2 piece corner cabinet
50
Cherry 2 drawer drop leaf stand
51
Fluted top cranberry & opalscent bowl and vase, white opalscent bowl with a crack
52
2 Pink Satin vases, cranberry & opalscent fluted vase
53
England lusterware small pitcher & 2 lusterware saucers
54
Oak claw foot dining chair, cane bottom chair & brass floor lamp
55
Large wedgewood style planter
56
2 Toyo Oriental Peacock bowls & trinket box and Kutani Oriental vase
57
2 Bavaria bone dishes, white opalscent footed candy dish, eye washer, creamer, teapot, marmalade jar with crack on lid and metal tray
58
2 Heavy brass 2 handled cups
59
Hosley Brass candleholder, 2 metal trays and bellow damaged
60
Wicker sofa & 2 chairs with cushions
61
Fan style wicker chair
66
Wicker Sofa with cushions
67
White minibar with contents including decanters, shots glasses, pheasant glasses, ice bucket with matching glasses, ash trays and oil lamp
68
Wooden bucket with handpainted roosters
70
Gold framed mirror and 2 white wrought iron floor lamps
71
Lot including Wind chime, wreath, wrought iron stand with wicker basket of flowers and 2 pictures
72
Lot including planters, gold bowl, shell, candles, small wind chime and wicker basket
73
Royal Tara China Ireland powder dishes, Oriental style dishes and butterfly trays and saucers
74
Pair of Brass Baldwin candleholders 7" tall and 3" tall and Willamsburg Brass Trivit
75
Cherry 4 drawer chest 39 1/2" X 18 1/2"
76
Purina Chows walking stick
77
Walnut Framed mirror 18" x 24" 1/4
78
Gold metal umbrella stand Military scene with claw feet, metal umbrella stand with lions heads with flowers and acrylic cane
79
Walnut Grandfather clock 98" tall x 22" wide
80
3 Cherry Nesting tables
81
Caro-craft Mahogany one drawer drop leaf stand
82
Marble base lamp with shade, May & September seasonal pictures and picture of Fairfax Hall
83
Brass pot with bail style handle
84
Spongeware spitoon glaze off on small spot on bottom and Majolica leaf pattern plate with chips
85
Parlor chair with intricate carving on back and wooden dining chair with arms damage to one arm
86
Pair of Marble base & brass lamp with yellow glass midsection with deer scene
87
5 Brass Candle candelabra, metal tray and 2 brass incense burners
88
Pair of John Moll pictures including Chesapeake Bay bugeye and Chesapeake Bay pungy
89
Mahogany gate leg table
90
Cast iron cricket boot jack
91
2 Victorian Parlor chairs one is a rocker
93
Cherry coffee table with fold down sides and ends
94
Pair of Horse head ashtrays
95
Mahogany Magazine stand
96
Royal Goedewaagen Delft Maryland Jar
97
Pair of black base & clear glass lamps
99
Brass pot with bail style handle
101
Rockdale Stoneware Cobalt blue gray Maryland Crock
102
Walnut 2 drawer stand
103
Duncan phyfe style tilt top table
104
2 Baldwin Brass candleholders 6" tall & 7" tall
105
Pair of Baldwin Brass Charleston Reproductions candleholders 5" tall
106
2 Brass Eagle ashtray toppers, metal leaf tray, finger candleholder and 2 brass pineapple sconches
107
Large Floral pitcher, 2 old blue( possibly wedgewood )pitchers and planter
108
"Tall Ships" Newport 1976 Picture by Kipp Soldwedel
109
Small drop leaf table 19" tall X 14 1/4" wide X 22" long
110
2 Wing Back chairs with matching upholestry
111
Austin Sculpture Female golfer
112
Vintage Hotel or Help Desk Bell
113
4 Brass candleholders and letter holder
114
Brewster & Ingrahams Walnut Gothic style mantel clock with key
115
Cherry Chest with writing desk
116
Lot of 4 Amber dishes including tray
117
Brass Fireplace guard with lion heads 42" wide
118
Andirons , brass handled fireplace tools including shovel, poker and mesh fireplace screen does not include grate in fireplace
119
Misc fireplace tools including brass fireplace shovel
120
Kandahar handmade in India virign wool 100% rug 8"11" X 12" 4"
121
Andirons, bellows, fireplace screen and fireplace tools
122
Jimmy Bowden Chincoteague VA Canvasback Drake hunting decoy
124
Black Duck working Decoy signed Dave Barnes on the bottom
125
Pair of Upper Bay Mallards by Jimmy Pierce
126
Minature Swan Decoy by Jesse Eure Rockhall, MD
127
Canvas covered Drake Canvasback Decoy with initials W.M. carved in the bottom
129
Blue Bill Hen Decoy signed by Dave Barnes with slightly turned head
130
Upper Bay Hen Mallard decoy crack in neck & on underside partial brand WOLF
131
Cobalt Blue German Beer pitcher with pewter lid 13" not including lid marked with a 4
132
Cobalt Blue German Beer pitcher with pewter lid 11 1/2" not including lid marked with a 2
133
Cobalt Blue German Beer pitcher 11 1/2" marked with a 2
135
Doulton & Co Limited " The Poacher" D6429 large Toby and pottery figurine of a man (broken hat damage to hat)
136
Gesetzlich Gesschutzt Germany 2 liter beer stein with pewter lid D.R.G.M. 154927
137
German 1 1/2 liter Beer stein with pewter lid
138
German 2 liter Beer Stein with pewter lid marked 613 on bottom
139
Hooded Merganser Drake Decoy with open beek signed Dave Barnes
140
Blue Bill Drake Decoy marked Stoney Point Decoys Glen Bernie,MD
141
Canvasback Drake Decoy signed Frank Gosnell
142
Minature Bufflehead Drake and Hen on wood signed on bottom painted by Shirley Greene Crisfield, MD
143
Ruddy Duck by Sharon Dean Creative Creations
144
Blue Bill Drake Decoy with glass eyes no crack behind head it appears to be a paint line
145
Cherry 8 pane Corner Cupboard contents not included
146
Mahogany Dining Room Table with 2 leaves 104" long with leaves in and 6 chairs
147
2 Blue Upholstery Dining chairs match Dining Room upholstery but did style chairs
148
Wilcox Wayfield # 7067 Silver Plated Tea Set monogramed with D
149
Walnut 4 drawer Chest
150
Gold framed Fox Hunting Scene with women on horses
151
"The Meet At Badminton " Painted by William & Henry Barraud engraved Wiliiam Giller print
152
Cherry 18 Pane Eastern Shore Corner Cabinet board has been reglued at top
153
Walnut framed wall mirror 25" X 37"
154
Drexel Cherry Tea Cart
155
Cherry Grandfather Clock English made crack in glass
156
Walnut Buffet with claw feet 78 1/2 " long X 24 1/4 " wide X 51 1/4 " tall
157
Pair of Cranberry prism candle holders
158
2 Cranberry Decanters
159
Jeromes & Darrow Mantel Clock with painting of Monticello with claw feet & carvings at the top
160
2 Moon & Stars 10" candy dishes
161
Lot of Cranberry glass including bud vase, lidded dish, cruet with cracked top and lidded mug with small chip on bottom
162
3 Pieces of Souvenir Glass Worlds Fair Piece 1904, 1909 Piece and Pocomoke piece shows crack in glass but unable to feel
163
Moon & Star pedestal candy dish with lid 16" tall
164
Silver plate Punch Bowl set with 12 cups, ladel, tray presented to Weccaroe Steam Fire Engine Co #8 of Wilmington, De by Liberty Steam Fire Engine Co #5 Reading,PA April 15,1911
165
2 Silver Plate 3 candle candelabras
166
2 Silver Plate 5 candle candelabras presented by Mariel Du Quesne
167
SouthingtonC & Co quadruple plate tea set
168
Decanter set with 6 glasses on Silver plated tray chip on stopper
170
Community Plate Tea Pot, Cream & Sugar and Tray
172
Moon & Star cake plate, 3 candy dishes with lids and fruit bowl
173
Cranberry condiment set
174
5 Piece of Crystal glass including 3 bowls, candy dish and water pitcher
175
Lot including large candy dish, small candy dish, etched glass vase and candleholders
176
Haviland & Co gold trimmed tea pot with cream & sugar with acorn on top and Chester Field Haviland soup tureen
177
Moon & Stars Water Pitcher and 12 glasses one is cracked
178
Stieff Sterling water pitcher mongramed EBD
179
Stieff Sterling Cream & Sugar monogramed EBD
180
3 Sterling Cups including one baby cup
181
Compote Mexican Sterling
182
2 Sterling Master Salt S. Kirk & Son and Sterling minature porringer
183
2 Cake Plates one is Moon & Stars with a crack and candy dish
184
Moon & Stars Lot including punch bowl(cracked), 7 salad plates,celery dish, 15 sherberts, 5 small bowls and misc punch cups
185
Carvel Hall by Briddell carving set
186
Moon and Stars lot including compote candy dish, 2 large bowls, 3 medium bowls, 2 large and 2 small vases (1 chipped) and a candy dish
187
Lot including 2 pitchers, 2 candleholders with globes, canoe dish, square candy dish, round candleholder and more
188
Vinegar cruet, large water pitcher(small crack were handle meets pitcher) and compote candy dish with birds
189
11 Round Dinner Plates inscribed with LWD, 10 square Moon & Star plates and one large serving plate
190
Lot including 4 aspargas dishes, fluted top bowl with 9 salts, 2 pairs of candle holders one is Lenox, Nuutajarvi Finland Bowl
191
Lot including Moon & Stars candy dishes, salts, bowls, fruit bowl and marmalade jars,covered dish and more
192
3 Decanters one has crack
193
Pair of Gorham Sterling salt & pepper and B7M Sterling ash tray inscribed CC of Maryland Golf Committee Trophy
194
German Crystal salt & pepper, colbalt blue glass, bird candle holder, England mug, etched glass cream & sugar sugar has a crack, Brierley cream & sugar & more
195
British Scenery Booth Silcon China Bowls, 2 Mantua covered dishes( couple of chips and cracks) and Red Holland bowl
196
Theodore Haviland Limoges covered dish, Made in USA covered dish, 5 H & Co Bavaria cups & saucers with 6 spoons (1 Sterling) and 12 Haviland Limoges Butterfly saucers
197
Lot of water glasses, tea glasses and brandy glasses
198
2 pair Sterling weighted salt & pepper and cobalt blue salt & pepper
199
Lot of Silver Plate including coffee pots, ice bucket, sugar dish, water pitcher and trays
200
Gorham Sterling porringer
201
Handpainted cranberry glass and Cranberry sugar jar with lid
202
Cobalt Blue & Gray Umbrella Stand a couple of age cracks at the top
204
Shorebird Decoy signed Dave Barnes
205
Marty Linton Cork Red Head Drake Decoy
206
Marty Linton Cork Canvasback Drake Decoy
208
Drake Widgeon Molded Duck Decoy tail is broken
209
Stoney Point Drake Wood Duck Decoy signed Johnny Ennis
210
Bufflehead Drake Decoy by Donnie Holloway Chincoteague, VA
211
1/2 Size Green Wing Teal Drake Decoy molded
212
Cork Golden Eye Drake Decoy itnitals D.B.
213
Coot/Black Duck Decoy
215
Victor Canvasback Drake decoy
216
Ruddy Duck Decoy signed Dave Barnes
217
Bufflehead Drake Decoy by Donnie Holloway Chincoteague, VA
218
Drake Pintail Decoy mold
219
Upper Bay Drake Redhead Decoy by Bill Collins
220
Black Duck Decoy with Miles Hancock head
221
Upper bay Drake Pintail Decoy looks like Madison Mitchell
222
Eastern Shore Drake Canvasback Decoy with D.N. & E.L. on bottom
223
Drake Bluebill Decoy branded Stoney Point Decoys Glen Bernie, MD
224
Drake Widgeon Decoy carved by Jimmy Bowden Chincoteague,VA
225
Canvasback Drake Decoy hollow by Donnie Holloway Chincoteague, VA
226
Drake Greenwing Teal Decoy
227
Drake Canvasback Hunting Decoy
230
Box lot of Cat's Meows and a box lot of candles
231
Glass Canister set made in Germany couple lids & one jar are cracked
232
Lot of Blue & White Holland style glassware including Delfts & Royal Copenhagen, pie crust roller and 2 Williamsburg Pottery candleholders (shelving unit not included)
235
Antique copper bed warmer and copper & brass handled planter
236
Copper watering bucket with bail handle couple of small cracks near rim
237
Blue Onion wall mounted Salt container
238
Framed print of 3 lab puppies 329/1000
239
Cherry Drop leaf gateleg table and 4 Windsor style arm chairs including 2 Nichols & Stone chairs and 2 Plantation chairs
240
Eastern Shore 12 pane Yellow Pine corner cabinet not including contents 38" X 84"
241
Robinson Ransbotton Roseville,Ohio nesting mixing bowls 1 quart, 1 1/2 quart and 2 1/3 quart
242
Robinson Ransbottom Roseville Ohio Low jars with lids one pint jar, one quart jar & 3 quart jar
243
Dr Townsend sarsaparilla Albany, NY bottle, (appears to have a crack near neck) Vinol bottle, Jno. Wyeth & Bros. Liq. Ext. Malt bottle, bottle with anchor and Acme Nursing bottle
244
2 Blue opalescent vases
245
Blue glass incuding opalescent bowl, thunb print style glass, blue hobnail hat, 2 white hobnail hats one with chip, candy dish and 4 glasses
246
Yellow glassware including large & small pitcher, 6 glasses, creamer and 2 glasses
247
Carnival glass 1911 Atlantic City BPOE bell, Wedgewood pitcher, 2 coffee pots, Delfts creamer and Holland creamer a clear bell
248
Brass kettle, 2 pair of brass candle holders, brass bear candleholder, Baldwin brass tray
249
Brass beehive candleholders, teapot with warmer, brass handled pot, trivits
250
Large wooden butter print, 2 metal candleholders, Iron Art horse & decorated sad iron
251
Robinson Ransbottom Roseville Ohio casserole 1 quart and small pitcher
252
Box lot of clear glass including glasses, plates, tooth pick holders, salts with spoons and decorative glass hats
253
Lot of local cookbooks including Tater Neck II, Cooks tour of Eastern Shore, Mitz Perdue, Virginia's Eastern Shore, Smith Island & more
254
Lot of local cookbooks including Berlin, Snow Hill , Pocomoke and other cookbooks
255
3 Pieces of crystal including Waterford bowl, bowl and small pitcher
256
George Foreman grilling machine & rectangular serving dish NIB
257
Kitchen Aid Artisan mixer with cover
258
Royal Daulton "Bunnykins" cup & bowl, Uncle Wiggily cup, small hen on nest, cobalt blue hat, 2 Lenox saucers and Yukon yellow saucers
259
Kitchen lot including cups, Osterizer blender, Hamilton Beach toaster, canisters, paper towel holder & more
260
Ansonia Walnut wall clock
261
3 Box lots including amber glasses, dishes, bird coffee cups, potpourri and steamig pot
262
Hotpoint microwave, kerosene lamp , 2 pitchers and Revere Ware kettle
263
Beaumont Bros Pottery cobalt blue/gray crock and a Williamsburg Pottery vase
264
Cobalt blue & gray stoneware crock 8 3/4" tall and a Cobalt blue & gray stoneware crock 8 1/2" tall with crack
265
Pine farm style bench 71" long X 23 1/2" wide with cushions
266
2 Wicker chairs with cushions and wicker table
267
Lot including snowman, watering cans, wicker basket,thermometer, tv trays, wind chimes, lady golfer sign, bell and lamp
268
Antique spinning wheel
269
Cherry Half moon table
270
2 brass prism lamps and flower arrangement
271
Cherry full size bed with 7 drawer dresser and night stand that is faded on top with bedspread
272
LT Ward Brothers photograph taken by Scorchy Tawes signed by Lem & Steve Ward
275
White alabaster base with clear middle lamp and a pink bird design lamp
276
Birch 4 drawer dresser
277
Large shadow box mirror 26" X 30"
278
La-z-boy Rocker Recliner, foot stool with claw feet and duck throw
279
Pair of table lamps one is Amber with floral shade and one is crane design on alabaster with clear middle
281
"The Decoys of Lem and Steve Ward" print by Lem Ward and Paul Shertz 426/950 signed by Lem
282
Old Wooden gathering bowl made into a stand
283
Brass bail handle bucket
284
Fireplace screen and andirons
285
Black lab with decoy plaster
287
Magnavox TV, TV stand, Trutech DVD player, alarm clock and 2 drawer stand
288
Duck lamp, Labrador print and Franklin Mint Labrador mold
289
Pine 6 drawer dresser
290
Calloway Rugs American Hearth collection 5'7" X 8'5"
291
Victorian loveseat with pillows
292
Gold framed oval pictures of George & Martha Washington and Myrna McGrath print 943/975
293
Square tilt top table
294
Red Hobnail lamp with alabaster base
295
Maryland 1979 Waterfowl print & stamp 768/950
296
West Virginia 1990 Waterfowl print & stamp 881/2000
297
2 Ducks Unlimited prints with stamps 1987 is 3162/5000 and 1990 is 4187/5000
299
Vase made in England and 2 table lamps one has a marble base
300
Walnut framed mirror 21 1/2" X 30 1/2"
301
E. Ingraham Walnut Mantel Clock possibly signed inside door
302
Walnut 3 drawer dresser
305
Antique Oak Windsor back style chair
306
Wooden plank bottom chair and rush bottom ladder back chair
307
Small one door one drawer washstand
308
White opalescent style lamp with marble base & white shade and kerosene lamp
309
Cream colored platform swivel rocker
310
Floral bedroom print by Benarand 483/2900 37 1/2" X 31"
311
Cannonball style single bed frame with mattress & box spring with linens & bedspread
312
Brass 5 candle candelabra, brass 3 candle holder and lot of artificial flowers
313
Black & gold column style clock pendulum is off clock
314
Mahogany drop leaf table
315
V&J Magnin Guedin & Co clock ,barometer, compass and thermometer
316
Hotel/Help desk bell, Antique ink well with sterling silver cap and double ink well stand
317
Victorian B&H Bradley Hubbard Elk Letter Holder
318
Green glass lot including floral jar, 2 opalscent footed candy dishes, 2 glasses and scalloped top Oriental dishes one has age cracks
319
Seth Thomas mantle clock piece of masking tape is on front of glass with key
320
Contents of Secretary including vanity pieces, books, Sony Am/Fm radio, Valient 16 transistor, brass compote and Eisenhower US Proof dollar 1971
321
Maple 2 piece Secretary does not include contents
322
Oriental doll, Bride & Groom bears, Amish couple dolls, angels, night light, tapestry, candles and more
323
Vintage green glass painted luster candle holders with prisms
324
Vintage Kundo Anniversary clock
326
Wicker mirror, wall shelf and soap holder, toothbrush holder and picture
327
Walnut Federal Period washstand
328
Brandt mahogany framed mirror marked 3504
329
Contents of closet including sheets, towels, medical supplies, blankets and more
330
Pine Blanket chest with 2 drawers 49" X 20 3/4"
331
Blue glass lot including pitcher,hobnail bowl and tray, Button & Daisey tray and vanity tray
332
Pine one drawer stand
333
Tiger Maple chair with rush bottom
334
Maple Rope style canopy bed with bedspread ,boxspring and mattress
335
Tiger Maple 2 drawer bedside stand
336
3 Clear kerosene lamps converted to electric, Sharp alarm clock and phone
337
Swival rocker, floor lamp with metal shade, floral picture, foot stool and Philips Magnavox 20" TV with stand
338
Maple wall mirror 24" X 29"
339
Maple 3 drawer vanity
340
Albany Pattern Wash bowl & pitcher set including large & small pitcher, tooth brush holder, soap dish & handled cup & Switzerland Burslem England Dalton handled pot with cracks
343
Hadley Cashmere Black sweater with fur
345
Duncan Brothers, Inc.Pocomoke City, MD Advertising ash tray of First Chrysler Raodster 1924
346
Duncan Brothers, Inc.Pocomoke City, MD Advertising ash tray phone 255-455-655
347
Small wicker stand, 2 wicker trash cans, wicker wall shelf, wicker mirror, 2 pictures, white chair and more
348
Panasonic EZ Bare Floor vacumn
349
Mahogany Drop leaf gate leg table
350
Lot of artificial flowers
351
Pair of gold framed pictures and game table with floral decorated top
352
Pair of John Moll Skip jack prints Chesapeake Bay skipjack and skipjack Derelict
354
Victorian banquet lamp with cherubs, claw feet and floral globe
355
Mahogany dressor top mirror, wooden document box and hand blown bristol glass vase
356
Cherry flip top chest with 2 drawers
357
Mahogany Large tilt top table diameter 31"
358
Windsor style chair and cane bottom chair
359
Vanity tray with sterling silver handled pieces
360
Handmade quilt of local churches
361
Pair of Mahogany twin beds with bedding
362
Mahogany spool leg table
363
Jenny Lind Glass Works S. Huffsey hand blown bottle
364
Hand blown handled pitcher, Father of thos country bottle and S. Fries bottle
365
Lot including crochet bedspread, placemats, Vera Bradley shoe bag and perfume
367
Box lot including Easter tree with ornaments, Ferret furs, Conair foot spa, Yankee Candle and more
368
Blue table lamp with shade and small pine TV tray
369
Contents of corner cabinet including cups & saucers, doll china, teapot, figurines, vanity set and more
370
Sterling brush & mirror and clear glass handled mirror
371
Floral decorated Parlor lamp
372
LE Coultre clock presented to LW Duncan for the sale of Texaco Petroleum Products 1962
373
Cast iron shaving mirror
374
2 Floral pictures, 2 table lamps, 2 cologne bottles one is chipped, jewelry dish and 2 glass trays
375
Cherry Ladies writing desk signed 1900 Ignaitz Molnar
376
Lot of lighters, BPOE spoon, small pill box, Fairfax Hall paper weight
377
Cherry 4 drawer dresser
378
Walnut Claw foot tilt top round table
379
Admiral TV 13 ", pink bedroom chair, ladderback chair, mirror and floral picture
380
Cherry poster rope bed with mattress, box spring and bed linens
381
Linens including blankets, bedspreads, gloves, handkerchieves and Johnson Brothers dishes
382
Harlequin Drake molded decoy signed by Dave Barnes, damaged tail feathers
383
Canvas Back Drake molded decoy signed by Dave Barnes
384
Bronze of a Chesapeake Bay Retriever holding a duck, signed Blake, 8 and 1/4 inch tall
385
Swan decoy, signed Z. Ward, Crisfield Md., paint chip on side, age crack in neck
387
Jimmy Bowden, Shore Bird Decoy, Assawoman, 1988
388
Antique German Regimental Artillary Commemorative Stein 1/2 Liter 2
nd
battery 2
nd
lower alsace regiment 67 Hagenau 1908-1910
389
Colbalt Blue/Gray Stein, marked 710 on bottom, 12 inches tall
390
Colbalt Blue/Gray Stein, marked Germany 1195 on bottom, 15 and 1/2 inches tall
391
Large Colbalt Blue Stein, marked Germany 542 on bottom-chip on lip, small German stein, marked 429 on bottom-1/2 liter, German stein without lid, marked 478-1 liter
392
Colbalt Blue Stein, marked on bottom 180-2 liter
393
German Beer Stein with male and female figures, marked 866 on bottom
394
Beer Stein with monkey handle and monkey decorations, marked 83/111 on bottom-2 liter
395
Tin Stein, with brass soldier handle, Roman soldiers décor, 16 inches tall
396
Rosie Parks model Skipjack, by W H Deckert, 1988, 26 inches long
397
Upper Bay Mallard Decoy
398
Upper Bay Black Duck Decoy, branded Wolf on bottom
399
Magnavox TV, TV stand, Magnavox VHS, cassettes and Sound Design AM/FM cassette radio/record player with speakers, DVDs
400
Patterned cream and blue sofa, Blue La-Z Boy Rocker Recliner, Blue La-Z Boy Recliner, and Brass Floor Lamp with shade
401
2 drawer pine stand, 19" X 17"
402
2 Door cabinet, top addded later
403
Ward Brothers-Sun Magazine-signed print by Lem Ward, 510/550
404
A.F.U. S. Army. Type D12 Bendix Aviation Corporation Compass in wooden box, serial number AF-42-7135
405
Brass Duck-head book ends by W Bell and Co.
406
Eastern Shore of Maryland and Virginia, three book set by Charles Clark, Volumes I, II, and III
407
Mallard Drake Decoy table lamp
408
Antique Pine Dough Box, 41" X 20"
410
Wooden Firkin, hand painted floral design, 13 and 1/4" bucket height
411
4 German Colbalt blue/gray steins, approximately 1/2 liter
412
2 Beer mugs made in Occupied Japan (one is cracked), 1 Avon hunting/fishing mug, 1 small mug, 2 Colbalt blue/gray German mugs
413
German Colbalt Blue/gray pitcher with dog heads, marked 4 on bottom
414
German Colbalt Blue/gray mug with three males (worn on lip), 1 Colbalt blue star design mug marked 181, 1 Cherub marked Germany 9, 1/2 liter, 1 small colbalt blue/gray, Germany
415
Colbalt Blue/gray German Beer Stein, marked 237 on bottom, 2 liter
416
Colbalt Blue/gray large German tankard with dragons, a few chips, 16"
417
Colbalt Blue/gray tankard, marked 1305 on bottom, 3 liter, 17" tall
418
Colbalt Blue/gray German beer stein, 2 and 1/2 liter, 15 1/2" tall
419
Colbalt Blue/Gray German Beer Stein, 2 and 1/2 liter, 14' tall
420
William Veasey minature flying geese
421
Pioneer Decoy Carvers, A Biography of Lem and Steve Ward and L T Ward and Bro Wildfowl Counterfeiters Books
422
The Labrador Retriever, The History, The People by Richard A Wolters and The Labrador Retriever, The History, The People Revisited by Richard Wolters
423
4 books--Water Dog by Wolters, All About the Retrievers Duck Dogs by Wolters, The Working Retrievers by Quinn, and the Everything Labrador Retriever Book by Thornton
424
3 books-Decoy Ducks by Ridges, Game Bird Carving by Burk, and Ducks, Geese and Swans from North America by Kortright
425
5 books-Unforgettable Treasures of the Eastern Shore by Brice Stump, Worcester County, Md Arcadias by Truitt and LesCallett, Rivers of the Eastern Shore, by Footner, and more
426
3 books-Architectural History of Worcester County by Touart, Western Wind Eastern shore by deGas, Eastern Shore Indians by Rountree
427
Duck Stamps and Prints, The Complete Federal and State Editions
428
2 books-Worcester, A Pictorial Review by Badger and 18
th
Century Structures of the Eastern Shore--Copy 230.
429
Antique Hull Country Tavern Art Stoneware Pottery Pitcher Mug Stein Set
430
5 liter German Beer Tankard marked 549 on bottom, 20 and 1/4" tall
431
4 liter German Beer Tankard marked 496 on bottom, 20 and 1/4" tall
432
1/2 liter German Musical Beer Tankard playing Show Me the Way to go Home
433
Mettlach Stein #2894 "Heidelberg"
434
Mettlach Stein #2403 "View of Wartburg"
435
3 Tankards- 1 Germany Cream/green with ladies ( small chip on base), 1 Germany green tankard with ladies playing music-#1258 and Germany tankard-man sitting on bench- #1166
436
Colbalt blue/gray pitcher (detached lid), 1/2 liter Germany lidded cup, I liter Germany tankard marked drgm454927, 2 liter Germany Tankard marked 1008 (chipped lid)
437
Mettlach #485 Beer Stein 1/2 liter; dark tan with lighter tan bands and designs of musicians and dancers on a blue background
438
1/2 liter Germany Tankard with a Knight in Armor marked #1313-736, 13 and 1/4"
439
2 liter Colbalt blue/gray German Tankard, marked #1132
440
Antique Merkelbach & Wick frog beer stein marked 1171 on the bottom 1879-1921
441
Antique Merkelbach & Wick frog beer stein marked 1171 with a stamp on the bottom 1879-1921

RETURN