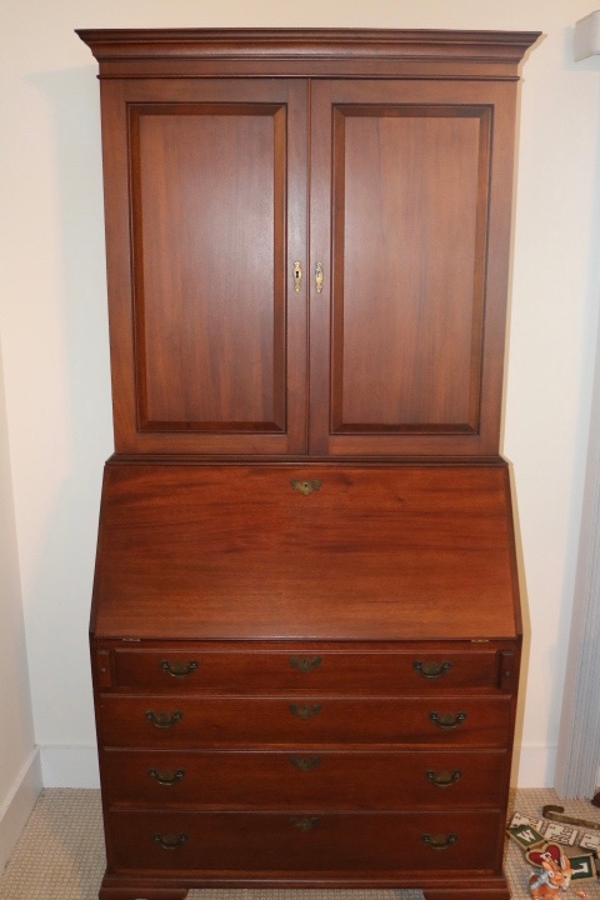 Quality Talbot County Auction for Ida Taylor
August 21, 2019
29730 Bolingbroke Point Dr Trappe 21673
ON LINE ONLY AUCTION*****ON LINE ONLY AUCTION*****
INTERNET ONLY AUCTION: July 24, 2019 through August 21, 2019. Bidding ends on Wednesday, August 21, 2019 starting at 5 PM.
PREVIEW DATES/TIME: Wednesday, August 7, 2019 from 5 PM to 7 PM, Sunday, August 11, 2019 from 1 PM to 3 PM.
CHECKOUT DATE/TIME: Sunday, August 25, 2019 from 9 AM to 2 PM. No exceptions.
LOCATION: 29730 Bolingbroke Point Drive Trappe, MD 21673
Eastern Shore Auctions, Inc. is honored to have been selected to sell the Estate of Ida Taylor of Trappe, Maryland.
This is an auction of quality items including furniture, crocks, piano lamps, Sterling silver, glassware and other collectibles.
Enjoy the photos but keep checking back as additional lots are still being added.
1
Mahogany smoking stand with detailed carving on front 18" X 15" X 29 1/2 tall
2
Small Mahogany drop leaf table with spool legs 24" X 9" when folded
3
Large brass candleholder with candle and artificial flowers that stands on the floor 37" tall (not including candle)
4
Walnut hat and coat rack with umbrella stand with beveled glass mirror
5
Small white parlour style lamp and a clear glass lamp
6
Antique wicker covered wine bottle and a picnic basket
7
Longaberger 25
th
Anniversary Collectors Cub edition basket with lid, liner and protector
8
Le Choix Du Poisson matted and framed print
9
2 Vintage Ladies clutches cream colored one hand made in Belgium red one made in Czechoslovakia
10
Vintage draw string ladies clutch, antique Mother of Pearl coin holder, antique metal coin holder and a 1950 Niagara Falls beaded pouch
11
4 Vintage womens purses two are beaded and one of the beaded has a make-up bag
12
3 baskets Longaberger 1999 Good Ol' Summertime Seashell basket with liner & protector, "Yuletide Blessings" Christmas 1996 Delaware Heritage basket and Hershey's Mapletree Basket
13
2 Longaberger baskets including Christmas Collection 1997 edition Snowflake Basket and a 1995 small market style basket
14
Longaberger Collectors Club 1998 Harbor Basket with lid, protector & liner and Dorchester Co Chamber of Commerce basket 2009 American Traditions with Cambridge MD lid 325
th
anniv.
16
Antique Wheeling Pottery LaBelle China washbowl and pitcher set (only damage noted was to small pitcher)
17
Baker Office Furniture Company Pittsburgh, PA oak roll top desk with antique oak adjustable office chair
18
McCoy Pitcher 7529, Hope & Carter Stone China Burslem England pitcher and washbowl (both cracked) and a C.P Co pitcher with a small handled jar
20
Cannon PC 940 copier, shredder essentials paper shredder, Smith Corona SL 500 electric typewriter
21
Black 3 drawer metal file cabinet
22
Oak 4 drawer file cabinet and Farrington lap table
23
Library Bureau Sole Makers 8 drawer Oak double file cabinet
24
Steel cased 5 drawer metal file cabinet
25
Cherry-Glycerine The Ideal Cough Cure James Baily & Son Baltimore ,MD wooden box
27
Western Electric Co Antique Wall phone with operating system
28
Cherry Ladies drop front writing desk
29
Wooden half model boat dated 1946
30
B &H green & floral parlor lamp
31
Mahogany white marble top table 28" X 19 1/2"
32
Metal rooster watering pitcher, Hen cookie jar and Rooster
33
Oval marble top table 24 1/4" X 17 1/2"
34
Amberina Daisy & Button style kerosene lamp & Ruby Moon & Stars kerosene lamp
35
Purnell style framed cross stitch picture, Pinkie shadow box picture and gold framed picture of an elderly man in a Kirk Brothers Frame
36
Lot of childrens books including Radio Patrol, Dick Tracy, Smitty, Little Orphan Annie and more
37
Caroline County Courthouse Denton, MD by John Moll sketching
38
Sampler "Let me live in the house by the side of the road and be a friend to man" signed Pearl Taylor 1939
39
Brass Piano Lamp converted from oil to electric with floral shade adjustable claw feet
41
2 Raggedy Ann style dolls, wooden bench and Radio Flyer wagon
42
Porcelain pot with bail style handle, one step stool, porcelain baking style dish and 2 refrigerator dishes
43
J.T.Baker Apothecary jar and 2 hand blown wine/water bottles
44
Vintage chalkware lighthouse light 16 1/2" tall
45
Plume & Atwood Kerosene Parlor lamp
46
2 Butter prints and 2 mashers
47
Royal Fine porcelain coffee set including pot with lid, cream & sugar and 6 cups & saucers
48
Banquet Lamp with lions head base
49
3 pieces of Wedgewood including platter, water pitcher and serving bowl
50
Pine drop leaf table 40 1/4" X 19"
51
Victorian sofa with wood frame and claw feet
52
Arrowhead & pipe display in a wooden frame with velvet background
54
Mepoco Germany Vintage Lusterware Tea set including pot with lid and 4 cups & saucers
55
The Rochester handled table lamp with red satin shade
56
Walnut washstand with brown marble top with back splash
57
I. Ulman & Sons Fine Liquors Baltimore, MD crock
58
Authentic Reproduction by Craftique Blind Door Mahogany Secretary slant front desk
59
Marble top table with white marble 20" X 15"
61
Antique Victorian platform rocker
62
Pennant Peanuts 5c salted peanuts jar and a Planters 75
th
anniversary jar
63
Lot of sewing items including yarn basket, thread, singer sewing box and more
64
Staton Furniture corner table with white parlour style lamp with marble base and small kerosene lamp
65
Sony Bravia 40" LCD TV and television stand including RCA VHS, baseball tapes
66
German Luster Rose Biscuit jar and another Rose Biscuit jar
67
2 Flowered Pattern biscuit jars including Nippon & Germany
68
Multi-color hand blown glass vase fluted top 8" 1/4
69
Imperial elephant handled Carnival glass cup, Shirley Temple creamer, 2 bud vases, 2 Japan Ladies head vases
70
Christmas Tree 16" tall
71
Pine Document box 16" X 8 1/2"
72
Pine one drawer stand 32" X 20" and table lamp
73
Lazy Boy rocker recliner
74
Lot of crystal including decanter, etched glass vase, compote candy dish, tall compote candy dish and cut glass dish
75
Lot of 5 Crystal cruets
76
Cherry 3 Drawer Commode 22" X 16"
77
Pine Blanket Chest 37 1/4" X 18"
78
" Three Mallards" by Roy M Mason watercolor print reproduction by Katterlinus in intricately carved frame
79
Yellow, cream & green patterned sofa 83" long
80
Maple 3 drawer commode, kerosene lamp with shade and fox picture
81
Pair of floor lamps one lights in bottom
82
Floral decorated cheese dish and Anchor Hocking Green Depression candy dish
83
Juno Brass adjustable floor lamp with 3 shelves, claw feet and floal globe
84
Cobalt Blue & Gray stoneware crock 8"1/2 tall
85
Rare H. Remmey Baltimore stoneware crock with floral design and loop handles Baltimore is inscribed upside down 9"1/2 tall
86
Cobalt Blue & Gray stoneware crock crack on one side floral design 10" tall
87
Oak wash stand with white marble top
88
Lot of Crystal including handled bowls, footed bowls, signed globlet and more
89
Lot of Crystal including bowls and trays
90
Samsonite Folding metal card table
91
4 Boxes & 3 baskets full of clear glass including glasses, toothpick holders, salts, candy dishes, salt & pepper
92
Lot of seasonal items including Thanksgiving, Halloween, Christmas, plastic snow globes with water in them and antimated cardinal in gage
93
Collection of Birds including cardinal, oriole, woodpecker, glass birds purple has a crack, 2 Brazil vases, 2 Japan vases and 2 Bavaria candleholder/vases
94
Floral table lamp with brass base and pink shade
95
Lot including Kings Crown candy dishes, 2 compote candy dishes and covered casseroles
96
Pine drop leaf table 36" X 19"
97
Blue & Gold lead glass vase and Pottery handled pot marked Swannoa N.C. 1933 flower hand painted 8 3/4 " tall
98
Wooden firkin made into magazine stand and cheese box with goose lid
99
Lot of 3 chairs including beige La-z-Boy recliner, Hallagan Manufacturing Brown swival rocker and green arm chair
101
Black folk art doll made out of bushel basket bottom
102
King sized power adjustable bed with Cherry headboard and bedspreads
103
Pennsylvania House Cherry 5 chest and dresser with mirror
104
Toshiba 26" television manufactured January 08 does not include wall mount
105
Oak drop front ladys writing desk
106
Pair of Crystal Clear lead crystal table lamps made in Polland
107
Small pair of clear glass table lamps and pair of white glass globe lamps
108
Swarthmore College black armed chair and Oak cane bottom chair
109
Antique steamer trunk circa 1870s rare
110
Pair of wooden furkins
111
Pair of wooden furkins
112
2 Boxes of linens including afghan, dollies, throws and tablecloth with napkins
113
Lot of 3 containers of linens including wicker style baskets, rugs, sheets and bedspreads
114
Hand painted Fern Japan bisque colonial couple match holder wall pockets
116
Metal floor lamp with marble
117
Cherry claw foot table with spindle legs
118
3 Drawer night stand top needs to be reglued, half moon table, clothes drying racks, linens and hat boxes
119
Green patterned recliner and two box lots including Butterfly jewelry box, wooden jewelry boxes, squirrel dish and more
120
Taylor Jamestown solid cherry seven drawer dresser
121
Brass table lamp, small parlor lamp with gold hobnail shade, nickel kerosene lamp with floral shade converted to electric and a painting signed J.D. Bucholtz
122
Three metal foot stools
123
Oak 4 drawer stand with a slab of marble on top
125
Pair of Bisque figurines, pig bank, Paper weight, perfume bottles, Anchor hocking turtle jewelry dish, small clocks
127
John Moll print of The Wye Oak and a framed painting of flowers by J.D. Bucholtz
128
Sampler of Lords Prayer and a small religious framed print
129
Lot of sewing items includung crochet needles, sewing baskets, thread pin cushions, needles and more
131
Cobalt Blue & Gray stoneware crock with ears , chip on lip and one ear 14" tall
132
Lot of old handkerchiefs, linens and hat pins
133
Hand sewn quilt 70 x 70
134
Hand sewn quilt 81 1/2 x 88
135
Lot including Santa Clause, figurines, a Family singing Christmas Carols and a Baby Jesus
137
Lot of pocket books on shelf and in tub cedar shoe stretchers
138
Lot including mens wallets, needlepoint pocket books and evening bags and gloves
139
3 Bisque Porcelain Clowns
140
Box of local pewter Christmas decorations including St. Michaels, Bethlehem, Chesapeake Bay and more
141
Christmas lot including Mr and Mrs Claus, Santa Claus, Mickey Mouse, cups, trivets, stockings, Halloween and more
142
Hi-Value prunes wooden box
143
Invincible oak icebox manufactured for Janney, Semple, Hill & Co 23 1/2" wide 16" deep x 40 tall
144
Lot including Ball Mason jars, Atlas jars, Drey jar and more
145
McCoy drip cannister 7014, Hull covered dish, soup tureen, old mixing bowl
146
White painted 4 shelf bookcase (does not include contents)
147
Longaberger Vanity Basket with liner, protector and lid, egg jewelry containers, Easter basket with salt and peppers
148
Longaberger Holiday Sleigh Basket, The Dash Away Sleigh and Santas Little Helper, all with liners and protectors
149
2 Longaberger large Vegetable baskets with liners and protectors
150
Tub of cook books including Betty Crocker, Better Homes and Garden, Duncan Hines and many more
151
Wicker basket containing local cook books from St. Lukes UMW, Salisbury, Cambridge, Dorchester County, Caroline County and more
152
Wicker basket containing local cook books from Denton, Reliance, Maryland, Mid-Shore, Cambridge, Wicomico County and more
153
Wicker basket contaning local cook books from Denton, local Co-op,Cambridge, Worchester County, Smith Island, Salisbury, Hoopers Island and more
154
Lot of old tins including Prince Albert, King Syrup, Nabisco Crackers, Proctor and Gamble coffe tin, Christmas tin and more
155
Lot including stainless steel bowls, Vita craft, baking pans, and more
156
3 alunimum folding tv trays /tables
157
Oriental Geisha china lot including chocolate pot, 5 cups, 4 saucers, pitcher with lid, cream, sugar and more
158
Lot including oriental chocolate pot, cup and saucer, Edwin Knowles picture, gone with the wind music box and more
159
Lot of chickens including Cracker Barrel salt and pepper and hen on nest, red candy dish, wild turkey decanter and more
160
Antique carved oak mirrored side board
161
Crowleys Binghamton milk can marked 66
162
Vintage Cosco kitchen stool
163
2 Coke trays and 2 Kelloggs trays
164
Lot including Chatillons spring balance 50lbs, S&W Co. 25lbs spring balance, 2 graters, metal strainer and small hammer
165
Diamond State Brewery Wilmington, De Beer Tray
166
Serving cart ,2 Antique folding cups, small wash bowl & pitcher, puzzles, glasses and more
167
2 Wooden fruit bowls containing wooden fruit
168
Dale Earnhardt Sculpture 1/110, Earnhardt bag, Nascar blanket, head set radio, binoculars and phones
169
Assortment of roosters and chickens
170
Antique Oak bow front china cabinet 29" wide 62" tall
171
Queen Anne and Marydel crocks by Rowe Pottery 1993
172
Rowe Pottery Bethlehem crock and Maple City Pottery Powelville crock
173
3 Quart milk bottles including Southern Dairies, Annapolis Dairy and 2 pint milk bottles
174
Oak Hoosier cabinet with flour bin sifter, sugar bin and a spice rack
175
2 Condiment sets chip on stopper on one cruet
176
2 Shelves of clear glass including cake plates, tobacco jar, sleighs, vases, candy dish and more
177
Country Crock cookie jar and wooden tray
178
4 Box lots including chickens, roosters, Halloween decoration, turkeys, stoneware cups, sugar dish and more
179
EIG Cutlery Germand bamboo handeled knives, ice cream scoops including Salisbury Milling Co. and crab mallets
180
Rival toaster oven, Rival deep fryer and Presto ever sharp electric knife sharpner
181
Carvel Hall knives including steak knives, carving set and others
182
Pamperd Chef lot including pitcher NIB, 9 X 13 Baker, flour/sugar shaker and baster & cleaning brush
183
Lot ot trivits,rooster hangers and 2 turkey platters
184
Mr. Coffee small coffee makers, extra coffee pots, basket of kitchen items including sifters, grader, bottle openers and a organizer
185
Small kitchen appliances including Brim coffee maker, Osterizer blender, Hamilton Beach toaster, can opener, stainless steel flatware and more
186
Lot including refrigerator dishes, Glass Bake caserole dishes, Cera-met tea pot, Fire King dish and Pyrex baking dishes
187
Corning Ware including 1 Quart sauce maker, 1 1/3 quart, 2 1/2 quart & more and Tramontina knives
188
Contents of cabinet including Churchill Chartwell Collection Briar Rose set of china, pyrex baking dish and more
189
Contents of 3 cabinets including glasses, Fire King casserole dish, pyrex baking dish, vases, measuring cup and more
190
Contents of cabinet including Showtime Rotisserie & BBQ, cutting boards, flatware, knives and towels
191
Contents of cabinets including flatware, wooden spoons, knives, Rubbermaid containers and clear glass including covered candy dish, ice bucket and more
192
Contents of cabinets including spoons, Old Hickory knives, corn servers, glasses, flatware, candy dish, scoops, pots, measuring cups, knife sharpner and more
193
Contents of cabinet including approx 70 pieces Noritake Chanlake dishes and green vase
194
Contents of cabinets including hand mixers, whisk, tongs, knives, strainers, meat forks, Christmas items, coke bottles and more
195
Lenox Fabulous Fruit salt & pepper, egg plate, rooster salt & pepper, wooden rolling pins and spoons
196
Marble rolling pin with holder
197
Split Oak Basket of 5 rolling pins
198
Lot of flatware, hand painted and other metal trays and 2 pitchers
199
Glass bowl containing 7 pieces of Lenox glass fruit
200
Fenton Petticoat bowl, Fenton handled bowl (broken handle), candleholders, Amberina toothpick, red vase and red compote candy dishes
201
Lot of Orioles items in a doll cradle including old marbles, Oriole bird, Oriole books, Oriole doorstop and more
202
Lot including amber hobnail lamp, clear table lamp, English hobnail custards, bowl , platter and more
203
3 piece wicker set including sofa, rocker and chair with cushions
204
Green wicker plant stand and table
205
Green wooden storage box with contents, cement planter and 2 wrought iron plant stands with artificial flower arrangement
206
Tile top wrought iron table, floral top wrought iron stand, wire plant holder and artificial flower arrangement
207
La-Z-Boy recliner, 2 wooden chairs, small duncan phyfe style plant stand, blue jay planter
208
Pair of metal tricycle planters
209
Pennsylvania 2 gallon brown & gray salt glazed crock
210
4 Gallon brown & gray salt glazed crock with clover decoration
211
2 Gallon brown & gray salt glazed crock
212
4 Gallon brown & grat salt glazed crock chip on bottom
213
Lot of Chesse crocks and basket does not include shelving unit
214
White 4 shelf wooden shelving unit does not include contents
216
Fan, jug table lamp, clear glass table lamp, 2 candles and 3 boxes of pillows
217
Singer sewing machine and cabinet, floral decorated table lamp, heart basket, plastic bucket and handled basket
218
Gray crock and gray planter
219
Amira Magnificence beige 5" 5" X 7 ' 7" floor rug with runner and 3 scatter rugs
220
3 Braided scatter rugs
221
Homemade floor rug 92" X 120"
222
Assortment of figurines including Candrea, Turtle King
223
Statton Cherry 5 drawer dressor
224
Gold frame mirror 23" X 27"
225
Lot of glassware including Amber candy dishes, handled basket, lamp and yellow Depression cup and saucer and more (does not include stand)
226
Small stand with 4 shelves (does not include contents)
227
3 Small Cedar jewel boxes one marked Nathan's Furntiure Store
228
US Flag with 48 stars 36" X 59"
229
Pair of Verona Liberty Bell bookends
230
1963 Colonial Virginia Eagle 1776 bookends
231
Pair of Indian Chief bookends
232
Portable Luminaire Floor lamp
233
Statton Cherry knee hole desk with chair
234
Yellow, cream & green patterned recliner
235
Men's dresser top valet by London Leather, wooden jewelry box dated 1946, Durabrand AM/FM cassette radio and a Conair Phone (NIB)
236
Redskins Danbury Mint ornaments including 2004 Christmas bell, 2005 Christmas train and brick doorstop
237
Victorian walnut chocolate marble dresser
238
Longaberger Baskets include 2002 Classic Horizon of Hope with liner, protector and lid, Medium purse basket, Ice Bucket with liner and 2003 Royce Craft Basket with lid
239
Permacraft Furniture Sanford Furniture Co cherry record cabinet
240
2 kerosene lamps converted to electric, a bronze table lamp with a Stiffel shade and a handcrafted leaf shaped bowl
241
Advertising pieces include Truckers and Savings Bank letter opener and a Haddaways Shell Service Cambridge MD saucer
242
Christmas ornaments including St Michaels, Cambridge, Salisbury Pewter and The Merk Family Old World Christmas
243
Lot including Barlow & Case pocket knives, Flint lighters, Cross pen set, Truckers & Savings letter opener and pipes
244
9 Danbury Mint Baltimore Oriole Collectible ornaments
245
Local advertising pieces including Alban Tractor, V.V. Hughes John Deere, C&P Hardware, First National Bank of Salisbury, Donaway Furniture, J Conn Scott
246
A.W. Perdue & Son yardstick and V.V. Hughes & Son Salisbury yardstick
248
Yard sticks including Pilchard Brothers, L.W. Gunby Co., C&P Hardware, E.S. Adkins and more
249
Yard sticks including A.W. Perdue & Son, Moores, Bartlett Hardware, Jones Implement John Deere, David Bradley Mowers
250
Lot of 12 yard sticks including E.S.Adkins, Nuttle Lumber, Calloway Furniture, Farm Credit and more
251
Lot of 12 yard sticks including Tri Gas & Oil, J.Conn Scot, Frampton Funeral Home, Tru Value Hardware Denton and more
252
Lot including Economical Mans Cobbler Outfit wooden box, Advertising ink pens, travel alarm clocks, rulers and more
253
Cherry full bed frame possibly Kling with mattress and linens and Kling Cherry night stand
254
5 pictures including Sunset in Cuba dated 1931, Fruit pictures, flower picture and Liberty Bell
255
Podiceps Rubricollis 19
th
Century Lithographs of Birds by Gould ( Red-neck Grebe) rare
256
6 Chair cushions some worn, 4 afghans and 4 area rugs(runners)
257
Silva The Ranger compass
258
Contents of closet including sleeping bag, blankets and bedspreads
259
Remington gun safe some scrapping to sides
262
Antique bubble glass farm house picture and gold framed doll clothing
263
3 hand braided area rugs
264
Antique Oak secretary with beveled mirror shipping label on back says SMACK PITTSVILLE, MD
265
Ansonia Gothic style mantel clock
266
Pine one door cupboard 37" wide X 16" deep X 59" tall
267
Cosco 2 step stool and 3 dust pan and broom combo sets
268
Contents of closet including towels, sheets, bedspread, bathroom rugs and more
269
3 afghans,blanket and 4 boxes of linens
270
Patchwork quilt handmade full size
271
Handmade patchwork quilt full size has a stain and handmade quilt
272
Patchwork quilt full size
273
Lot of 3 oyster jewel bowl/ash tray
274
Lot including figurines, hobnail lamps, artificial flowers, vanity mirror & brush
275
Ceramic Christmas tree
277
3 Drawer dressor with mirror
278
Seagull Speciality Co. Parrot & Monkey wooden box Baltimore, MD
280
Childs rocker with old teddy bear and Oak childs chair with doll Ashley Belle doll
281
2 Cosco foot stools and 4 boxes of linens
282
Doll cradle with Raggedy Ann & Andy and Antique doll stroller with doll marked 390 A2-OXM
283
Antique childs trunk with leather straps has been refinished
284
Lot of Dolls including Seymore Mann, Avon, Brinn and others
285
Childs high chair with dolls including 25
th
Anniversary Cabbage Patch
286
Hallmark Very Merry Trio, Hallmark Jingle Bear, Fitz & Floyd musical car, Lenox Christmas snow globe (NIB) and Lenox cup
287
Christmas lot including numerous Santa Clauses, Mrs. Santa Claus, mugs and more
288
Homemade Pillows, stuffed animals, Boyds Bear, Teddy"s Teddy, Love You Bear and more
289
Schoenhut Co. Vintage Wooden doll house and Converse stables
292
Hand crocheted dress, Colonial style dress with bonnet, dress with bloomers and 2 Vietmanese hats
294
Lot of dolls including Brinn and others
295
Antique pine washstand
296
Ideal Toy Corp. Doll marked G35-7
297
Table lamp with black metal bottom clear mid-section and clear glass table lamp with white hobnail shade
298
Alligator purse, Alligator shoes and horse wallet
299
2 Handmade braided rugs one is 10 1/2" X 49" and one is 34" X 81"
300
Sewing basket with thread, pin cushions, small step stool, rush bottom chair and tin
301
Bed frame with mattress, box spring, bedspreads (? 3/4 size)
302
Electrolux Renaissance cannister vacumn worked when tested
303
Lot including Adora Inc. doll, Kelly, clown , McDonalds kids meal toy Madame Alexander,2011 Holiday Barbie and more
304
Lot of 5 shadow box frames Les Modes Parisiennes, Petit Courrier Des Dames prints
305
F. Arnold country road scene picture, Jes harbor scene and Rheims cathedral
306
Lot of four pictures including woman & girl playing the piano, 2 oval framed pictures one is cupid awake copyright 1897
307
Lot including pictures of Old Ironsides, cardinal, Jesus, pintail duck, 2 lamps leather box with Avon thimbles
308
Large handmade braided rug 118" wide X 152" long

RETURN