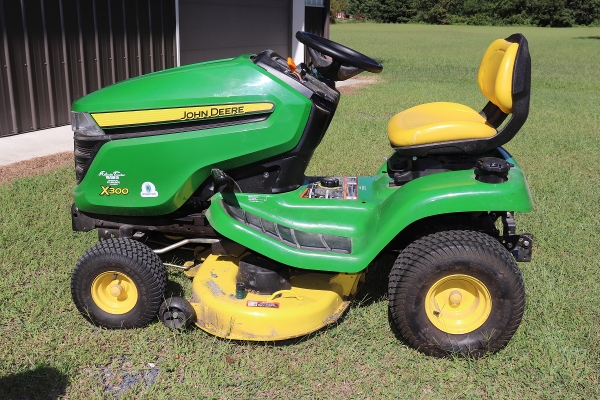 Estate of Betty Long & Other Local Estates
September 25, 2019
28614 Ocean Gateway Salisbury, MD. 21801
ON-LINE ONLY AUCTION***ON-LINE ONLY AUCTION***
Date(s)
9/4/2019 - 9/25/2019
Wednesday, September 4, 2019 thru Wednesday, September 25, 2019. Bidding ends on Wednesday, September 25, 2019 starting at 5 PM
PREVIEW DATE/TIME: Wednesday, September 18, 2019 from 5 to 7 PM.
CHECKOUT DATE/TIME:
Sunday, September 29, 2019 from 10 AM to 1 PM. No exceptions.
LOCATION: 28614 Ocean Gateway Salisbury, MD 21801
Eastern Shore Auctions will be selling the estates of Betty Long of Perryhawkin, Maryland, Burton Mitchell of Salisbury, Maryland and several others during this on line auction. Items include furniture, glassware, Sterling silver, a John Deere X300 riding mower, Cub Cadet 2X 26" snow blower, long guns, tools and much, much more.
1
Large jar of old marbles
2
Antique Indian ax head 5 1/2" long
3
Old brown stoneware mixing bowl 9" (couple spots in bottom where glaze worn off resulting in chips)
4
Blue/gray stoneware crock 1 gal with floral decoration on two sides 10" tall (chip on lip)
5
Stoneware 2 gal brown and tan whiskey jug
6
Old pottery pitcher brown, tan with some green 6" tall signed on bottom (small chip on lip)
7
Cookson Pottery green bowl marked CP-41 USA 7 1/2"
8
Vintage plastic goose that lays eggs (eggs inside), Curious George toy with wooden base and a Disney/Pixar McDonalds toy
9
2 jars containing old buttons (1 jar is Golden Harvest canister)
10
Top section of a pottery biddie waterer
11
Indian artifiacts including arrow heads, small ax head and more contained in a wooden cabinet
12
B & B USA silver tone duck carving set with steak knives in original box
13
Rogers Bros 1847 Eternally Yours flatware set circa 1941 approx 97 pieces
14
Vintage Capodimonte candle holders (some chips on leaves one missing the handle) and a pair of antique figural vases marked 1152
15
1980 Cracker Jack tin and a limited edition third in a series Cracker Jack tin
16
3 glass paperweights including a flower, a mushroom and a bird
17
3 glass paperweights one is a lighthouse and 2 are artistic design
18
Antique paperweight "Panorama of Mauch Chunk, PA" and a Vintage miniature saling ship in a bottle 1 3/4" long Bermuda
19
Pair of Occupied Japan figurines (approx 10" tall) and a small piano baby
20
Framed pictures of Pinky and Blue Boy 17 1/2" X 21 1/2"
21
Framed picture of Dublin District #4 Somerset County, MD 13 1/2" X 17"
22
2 Applique' bird pictures including Bluebird and Cardinal
23
2 Applique' bird pictures including Black capped chickadee and Baltimore Oriole
25
Embroidery picture of a house, wagon and bridge 12" X 10" and a cross stitch picture of birds 23" X 10"
26
Pair of vintage clear glass lamps with shades 10 1/4" tall not counting bulb
27
Chalkware figurine of a lady with a dog 11 1/2" tall (small stress crack where dress meets dog)
28
Chalkware figurine of a lady with her arms behind her head 11 1/2" tall
29
Chalkware German sheppard (damage to ears and paws) and a terrier (damage to ear) paint worn in spots
30
Embroidery picture of a little girl and a dog 17" X 21"
31
Richard Parks picture of Baltimore Oriole bird and 3 Embroidery pictures two of flowers and one is of a Meadowlark
32
Old needlepoint sampler
33
Antique wooden plant stand and an antique milking stool
34
Pine drop leaf table 36" X 24"
35
Oak medicine cabinet with mirror on door 18" X 28 1/2"
36
Antique oak dresser with 5 drawers
37
Antique mahogany vanity signed Jungous? Richmond VA on bottom of 2 small drawers 46" X 21" with bench
38
Carnival Glass candy dish with lid and a fluted top serving dish
39
Marigold Carnival Glass fluted top dish and a compote candy dish 3" tall
40
Carnival Glass fluted top 2 handled candy dish and a swirled vase 8" tall
41
Carnival Glass fruit bowl 12 1/4" and a small scalloped top candy dish 5 1/4"
42
Lot of clear glass including candleholders, creamers, vase, bell, candy dish, fruit bowl, spider figures, Polystone figures and more
43
Donkey figure made in Italy (small chip on ear and basket), moose creamer small chip on one antler, a wooden rolling pin and Carnival Glass vase made by Smith Glass Company (cracked)
44
Black faced figure with a gray hat (chip on hat and small chip on top of head)
45
Pink and yellow hand blown vase 7 1/2" tall
46
Antique perfume bottle with gold metal overlay with roses (stopper broken on end)
47
Chase Occupied Japan Victorian wall plaques (5)
49
Japan cookie jar with wicker style handle and a book of old postcards (some Baltimore, USS Indiana, USS Maine and others)
50
Wm A Rogers flatware set Oneida LTD approx 60 pieces and other miscellaneous flatware
51
Bareuther Bavaria Germany tea set including tea pot, 6 cups and saucers and cream and sugar
52
Carvel Hall candleholders, 3 Carvel Hall steak knives and Sterling handled meat fork and cake slicer
53
Sterling silver presentation saucer Delaware Setter & Pointer Club Fall 1948 and a Sterling topped powder jar
54
Vintage Jeanette Glass marigold Carnival Glass deer powder jar and a clear glass dog powder jar
55
Amberina turkey on a nest and swan on a nest candy dishes
56
Clear glass turkey candy dish
57
Agate lot including strainer, kettle, bail handled jug and a utensil tray with lid
59
Amber divided candy dish with lid, amber vase and 2 hand blown ruby glass vases
60
Chicken with baby chicks cookie jar
61
White opalescent hobnail glass lot including ruffled top bowl, divided dish and two ruffled top vases
62
White opalescent hobnail glass lot including fluted top bowl, finger dish, fluted platter, powder dish and an opalescent candy dish(has line in dish does not appear to be a crack)
63
Pocomoke MD souvenir glass toothpick holder, Strasburg Rail Raod small creamer and Planters Mr Peanut plastic salt and pepper
64
Green opalescent glass fluted top pedestal candy dish and a ruffled top hobnail candy dish
65
Vintage green Depression glass sugar canister (chips in lid) and a green Depression Cameo pitcher
66
Lot of green glass including ruffled top candy dish, creamer, pedestal candy dish and a tray
67
Hofbauer Germany clear and ruby red crystal birds vase 10 1/2" tall
68
Anna Hutte lead crystal handled basket and vase 6" and a Kings Crown candy dish
69
Clear glass footed candy dish with frosted butterfly on lid and butterflies on sides and a clear steeple top candy dish
70
M.J. Hummel "Apple Tree Girl" and "Apple Tree Boy"
71
3 M.J. Hummel figurines "Just Resting", feeding the chicks has small paint chip area on tip of shoe and friends hugging has small chip on scarf where it is tied
72
3 M.J. Hummel figurines "Friends", "Busy Student" and "Doll Mother"
73
Lot including clear glass creamer with lions head spout, syrup container, cruet (chip on stopper) and an oil lamp that fits is a wall bracket
74
Vintage 1940's framed lithograph/print "Susie" cat with two dogs 13 3/4" X 9 3/4"
75
Antique framed picture of a woman, "Rock of Ages" framed print copyright 1911 by James and an embroidery picture of a house by Carl Velente
76
Hand crafted picture made of jewelry 8" X 10"
77
3 Victorian style prints "La Mode Illustree" and 2 oval gold framed pictures
78
Embroidery of the United States of America with the state flower for each state 28" X 22"
79
Seiko musical wall clock with movement and hi-fi sound
80
Embroidery wreath in a gold frame 19 1/2" X 19"
81
Antique flat top steamers trunk 39 1/2" X 22"
82
Lot of Pink Depression including Jeanette Adam pattern tray 11 3/4" long, candleholder, Strawberry pattern handled dish, compote dish and a marmalade dish with spoon
83
Anchor Hocking Mayfair butter dish with lid
84
Victorian mahogany white marble top table 26" X 18"
86
Antique round top trunk 26 1/2" X 17 1/2"
87
Lot of clear glass including lidded jar, cake plate, compote candy dish and a small pitcher
88
Pine round top table 24" diameter 30" tall
89
E. S. Adkins & Co 50
th
anniversary book 1893-1943
90
4 books including "Peanuts Treasury", "Charlie Brown & Charlie Schulz", "Little Women" and a 1927 Atlas of the World
91
Lot of 3 antique silhouttes (larger one has hole in back of it)
92
Lot including miniature doll china, Nippon marmalade, small ginger jar, Japan vase, Enoch Wedgwood planter 4 3/4" tall and more
93
Oak bookcase 18" wide X 34" tall
94
2 samplers "You are as welcome as the flowers in May" and "God bless our home"
95
Gold framed wall mirror 29" X 41 1/2"
96
Fostoria Tom & Jerry bowl 13" and 6 cups
97
Fostoria double candle candleholders
98
Fostoria divided relish dish, canoe dish and 2 nappies
99
Fostoria cream and sugar lot and one tray
100
Fostoria water glasses (8), sherberts (5), bowls (4) and 9 plates (8 are salad)
101
Knowles gold trimmed china approx 53 pieces
102
Baltimore Pear tray, butter, cream and sugar
103
Lot of clear glass including Heisey creamer, cream & sugar with silver plate bottom, covered butter dish, candy dish and fruit bowl
104
2 Clear glass cake plates
105
Victoria Carlsbad Austria pitcher
106
Antique Dayag Israel copper pewter pitcher
107
Glass lot including Victorian style vase, Homco candy dish with lid, Depression Iris & Herringbone vase and more
108
3 water pitchers, creamer and a small pitcher
109
Seth Thomas mantle clock
110
Candlewick lot including handled plate, divided bowl 6 1/2" and an etched glass bowl 5"
111
RS Germany creamer, Lenox candy dish, Homer Laughlin cream & sugar, Minnie Mouse cup and a Little Jack Horner bowl
112
Pair of antique bird pitcher frames with slot for picture 6" tall
113
Shaving/vanity mirror with figures 12 1/2" tall
114
2 old meat/nut choppers one is Anchor Hocking other is Androck
115
2 Willow Tree figures "Angel of Hope" and "Angel of Prayer"
116
Cast iron scotty dog door stop marked 173 with red bow
117
Cast iron scotty dog door stop marked 173 with red bow
118
4 clear glass juicers
119
Wooden butter print mold with acorns 5 1/2" tall
120
2 Scottish dolls (male and female) made in England and 2 Amish dolls (male and female)
121
Johann Haviland Bavaria Germany approx 48 piece China set
122
Fenton blue opalescent scallop topped bowl 5"
123
Lot including figural vases, Puss N Boots creamer, figurines, pink opalescent dish, Aunt Jemima pepper, covered butter dish, candy dishes and a trinket box
124
Antique blue inkwell, hand blown swirl glass vase 6 1/2" tall and a McCoy vase 6" tall
125
Lot of black glass including fruit bowl 9", 2 urns 7 1/2" tall, bud vase and 2 candleholders
126
Small Lefton basket and bell, Fly & Co dashund planter, bear planter, bird wall pocket and Love Birds by Lou A Butler 1943 wall pocket
128
Jacobean style antique mahogany china cabinet
129
Free standing jewelry armoire swivels 3 mirrored doors and a storage shelf on back side
130
Country style cabinet with 3 shelves and a door 15" X 10" X 67 1/4 tall
131
Pair of clear glass lamps
132
Washbowl set including large pitcher (chip on rim) and basin, small oitcher (chipped) and chamber pot
133
Buffalo Pottery "Cairo" large water basin pitcher 11 3/4" tall
136
Antique plant stand and a rush bottom chair
137
Wicker style decoration over wood blanket chest 38" X 19"
138
Lane cedar chest 42" X 17"
139
Antique mahogany washstand stamped POCOMOKE CITY MD on the back and a one drawer stand with dowel drawer
140
Hickory Chair Company Mahogany dropleaf table with 5 chairs (1 is arm chair with some damage)
141
Dutailier Glide-R-Motion glider
143
Oak end table with a built in lamp
144
Tea cart style rolling table
145
Cherry 5 piece bedroom suit including bed frame, chest, dresser with mirror and nightstand and a table lamp
146
Sumter 6 piece bedroom suit including bed frame, chest, dresser with mirror and 2 nightstands
147
Round tile top table 15" diameter X 26 " tall
148
Round tile top table 14" diameter X 21" tall
149
Drew 5 piece bedroom suit including 2 twin beds, chest, dresser and night stand
150
Kittinger Authentique Furntiure buffet 71" X 21"
151
Kittinger Authentique Furntiure small buffet 42" X 22 1/2"
152
King & Queen dining chair set
153
Kincaid Sleeper sofa and chair & ottman
154
Sam Moore Furniture ( a La-Z-Boy Company) pair of cream colored swivel rockers
155
Small wooden foot stool
156
Pair of pine bar stools
157
Eorc 100% wool hand woven in Pakistan rug 4' 2" X 31 1/2"
158
Cosco folding card table with 4 chairs
159
Pine 2 door stand 26 1/4" X 22 1/4"
160
Jamestown Lounge Feudal oak accent table 20" X 14"
161
One drawer night stand
162
Chocolate marble top stand with two doors and one drawer 29" X 23 3/4"
163
Small one door stand with slate top, 2 floor lamps and mirror
164
Silver chest 25 1/2" X 18"
165
Marble top coffee table with painted doors
167
Matching small bench with foot stool
168
Kincaid Southport cocktail table with storage 48" X 30"
169
Lighted floor model display case 34 1/4" X 14"
170
Round metal table 32" diameter with 3 chairs
171
Wicker style glider with cushions
172
Delfts Blauw Holland vase 6 1/2" tall, J.W. Co Belgium creamer, Delft Oriental vanity piece, and Long Clawson Blue Stilton London Pottery lidded jar
173
Syroco wood nautical figure, Willow Tree "Good Health", clay Oriental figure, two wooden elephants and a homemade cup
174
Lot of clear glass including juicer, cut glass bowls, round platters, swan, gravy boat and a cut glass vase
175
2 glass decanters one market scotch other marked sherry one is 10" tall other 10 1/2" tall (1 stopper has chips) 10 matching cordials, tray
176
Glass lot including candleholders 5 1/2" tall, cruet, marmalade, small pitcher, 2 large bowls
177
Steiner Germany military - marine 7 X 50 binoculars
178
Jason model 221F Empire 10 X 50 binoculars
179
4 Heisey Plantation etched cordials
180
Truimph Limoges 22K Imperial Victorian Farberware Aluminum bowl and 5 pieces P.A. Mack pottery
181
Silver plate lot including Wallace Bros handled dish with lid, Reed & Barton punchbowl, ladle, water pitcher, small creamers and a dessert dish
182
Georgetown Relay Race 1913 trophy and a Waters & Throp caviar dish
183
Pair of glass bookends with a schooner etched into the glass 5" X 5"
184
Lot including canisters, 8 fish shaped dishes, trivets and Corning Ware roaster
185
Lot including Sacagawea dollar, Seiko clock in gold United States of America 20 D case and 4 pewter pieces from Salisbury Pewter including Tred Avon Yacht Club
186
Lenox vase. Thomas Bavaria handled plate, 6 Germany saucers (1 chipped), GDA France tray, Royal Albert "Lorraine" candy dish, and two blue dishes
187
Noritake Nippon E. Challinor handled plate and an oyster plate
188
Eliot game plates (9), quail tray and a mallard vase/incense burner made in Italy
189
Lot including gold trimmed Depression style candy dishes, Maddock & Sons England handled dish, salt & pepper and a Limoge encrusted gold bowl
190
Anchor bookends, oyster shell paperweights, dog figures, brass bowl and a lead duck trinket dish
191
Glass lot including pitcher, etched tray, bowls, nappies, knife rest, heart bowl, decorative glass pieces and more
192
Blue decorated ginger jar 9 1/2" with wooden stand
193
2 carved bone miniature Oriental figurines with removable heads which reveals a spoon 3 1/4" tall
194
3 Eastern Shore Books "The Watermen of the Chesapeake Bay", "Shipwrecks on the Chesapeake Bay" and "The Waterman"
195
"Salisbury and Wicomico County A Pictorial History" 1280/3500 (Reflection in pictures shows design on book) and "Delmarva Remembered"
196
"Oxford Treasures Then and Now", "Oxford The First Three Centuries", "Four Belles: The Celebration of Life", "Oxford Library" and "A Port of Entry Oxford MD"
197
Marble egg and 3 flower paperweights
198
4 paperweights including crab, 2 egg shaped and 1 on a pedestal
199
3 paperweights and a decorated egg
200
2 paperweights of the world one blue and one clear
201
Tiffany & Co paperwight appears to be signed
202
3 paperweights 1 signed Robert Hamon, 1 is Caithness Scotland
203
3 paperweights 1 has initials RS 93
204
Large paperweight with blues and black signed 1996 WMV3 name starts with E
205
2 Large paperweights 1 blue other multi-colored
206
3 sided paperweight 6" tall signed on bottom with name and '98
207
Black and white paperweight signed DB on bottom
208
Multi-colored paperweight signed on side near bottom #4 '91 and makers mark
209
Set of 6 Riedel stemless wine glasses
210
3 sets of brass candleholders large set has names on base 12 1/2" tall, 9" and 3"
211
Hampton Brass Co trivet with a crab design 11 1/2" long
212
Brass drake and hen wood duck, brass sea captain6 1/4" tall and a ship captain at the wheel 5 1/4" tall
213
Lot including 6 Oriental soup bowls, Libbey red bud vase, 5 decorative molds, 2 pottery cups, refrigerator dish and 10 green plates
214
Antique small blue and tan mixing bowl 7 1/4" and a Spongeware bowl 6 1/2"
215
5 Rosenthal Selb Bavaria plates, 3 Bavaria plates, serving tray, carving tools and a canister
217
Antique blue and white pitcher with a soldier on the front 14 3/4" stamped on bottom
218
Taunton Silver plate oil center pieces 14 1/4" tall (chip on one globe)
219
ASC Antique folding school row desk
220
Antique Gone With the wind Parlour Lamp
221
Antique satin glass Gone with the Wind Parlour lamp with damage to bottom globe and a crack in the top globe
222
Maddox mahogany table 38" diameter
223
4 cane bottom chairs (3 match) and a cane bottom rocker that matches the 3 chairs
224
John Deere plow (metal), McCormick Deering farm wagon (plastic), soy bean header (metal) and a hay rake implement
225
Antique table top radio
226
Dropleaf table 36" X 19 1/2"
227
4 rush bottom chairs (3 match) 1 has carving at top of back
228
Round white marble stand 18" diameter 31" tall
229
Antique Gone with the Wind Parlour lamp with Oriental design on one side and mountain and trees on the other
230
B & H Duplex Floral Gone with the Wind Parlour lamp (never electrified)
231
Parlour lamp with blue and brown colors
232
Antique Gone with the Wind Parlour lamp (never electrified)
233
Guardian Service hammered aluminum roasting pan with lid 11" handle to handle
234
Guardian Service hammered aluminum roasting pan with lid 11 1/4" handle to handle
235
Guardian Service hammered aluminum large roasting pan with lid 15" handle to handle
236
Guardian Service hammered aluminum gravy boat and underplate 8 1/4" long
237
Guardian Service hammered aluminum roasting pan with lid 11 3/4" handle to handle (Chip in lid)
238
Guardian Service hammered aluminum roasting pan with lid 12" handle to handle
239
Guardian Service hammered aluminum roasting pan with lid 12" handle to handle
240
Guardian Service hammered aluminum roasting pan with lid 10" handle to handle
241
Guardian Service hammered aluminum roasting pan with lid 10" handle to handle
242
Guardian Service hammered aluminum roasting pan with lid 8 7/8" handle to handle
243
Guardian Service hammered aluminum drip coffee maker
244
Guardian Service hammered aluminum roasting pan with lid 14 1/4" handle to handle
245
Guardian Service hammered aluminum roasting pan with lid 14 1/4" handle to handle
246
Guardian Service hammered aluminum griddle 16 3/4" handle to handle and a Guardian Service tray 18 3/4" handle to handle
247
Antique plank bottom chair and two oval framed Victorian style pictures La Mode Illustree
248
Antique floral parlour lamp
249
Lot of 3 Guardian Service glass lids (Larger one has end broken off)
250
Marble top stand 17" X 14" (small crack in marble)
251
Acme tractor trailer (NIB) and Shop N Bag tractor trailer (NIB)
252
Gorham Sterling porringer #699 3 3/4" diameter and a Sterling bowl by Frank Whiting & Co marked 300 6 1/4" diameter
253
Sterling cup 4" diameter and a Sterling bowl 5 1/2" diameter
254
Sterling bell 5 1/4" tall and 5 Sterling napkin rings (inscribed)
255
International Sterling Courtship weighted compote 6" tall marked T200 and a Sterling weighted scalloped edge handled basket 6 3/8" wide
256
Sterling weighted compote 6" tall and a 6 Revere Silver Smiths Sterling weighted bowls marked 1075 2 3/4" tall
257
Sterling silver vegetable tray 12 1/4" long marked 268
258
Sterling vase style trophy Bannockburn Golf Club September 10-13, 1930 marked on bottom 5079 3 oz weighted 10" tall
259
2 Sterling weighted compotes both 6 1/4" tall 1 has scalloped edges
260
Gorham Sterling weighted candleholders marked 662 4 1/8" tall and Sterling weighted 3 candle candleholder marked 5-4 6" tall
261
Revere Silver Smiths Sterling weighted 3 candle candelabra marked 1102
262
2 Garden Silversmiths Ltd Sterling over glass one 2 1/2" and other 3 1/4" and 4 Sterling weighted salt & peppers
263
Alvin Sterling plate marked H16-1 inscribed 9"
264
3 piece settee set with claw feet and new upholstery including setttee, rocking chair and arm chair
265
Intricately carved blanket chest made in China 35" X 17 1/2"
266
Piano stool with claw & ball feet
267
Piano stool with 3 legs and claw & ball feet
268
Antique cane bottom rocking chairs
269
Flexible Flyer #60 Airline Racing Sled by S.L.Allen & Co.
270
American Electric Telephone Co antique wooden wall phone marked 325 on back
271
Small mahogany oval stand 20" X 14"
272
Mahogany portable bar/server 40" X 18"
273
2 wooden dinette chairs
274
Crawford Furniture entertainment center 40" X 22 1/2" X 50" tall
275
Pair of brass lamps with shades
276
Lock 1776 dry sink/buffet 38" X 19 1/4"
277
Broyhill gold colored chair, Fairfield gold patterned arm chair, green chair with ottoman and a Pennsylvania House green patterned sofa
278
2 Fairfield green wing back chairs (stain on bottom of one cushion)
279
Pine candle stand 14 1/4" diameter
280
Thomasville Welsh Valley gateleg drop leaf cherry dining table 44" X 30" closed with two leaves and 6 T back chairs (2 are arm chairs)
281
Thomasville Welsh Valley cherry china cabinet 48 3/4" X 20 1/2"
282
Pine 2 door country style cabinet 27" X 13" X 71 1/2" tall
283
Antique needlepoint foot stool
284
Unfinished pine country stand 19" X 12" X 63" tall
285
Antique Victorian walnut marble top dresser with mirror
287
Butcher block style portable kitchen island 28" X 20"
288
Pair of marble top end tables one is hexagon and other rectangle shaped
289
Wrought iron outdoor set including 2 benches and 4 chairs
290
John Deere X300 riding lawn mower 162.5 hours with 42" mower deck and bagger Kawasaki motor
291
Cub Cadet 2X 26" hp 2 stage power snow blower 243cc OHV cast iron sleeve electric start
292
Toro SR4 Personal Pace Self Propelled Super Recycler TXP 159cc mower with bager
293
Agri Fab 48" plug aerator tow behind lawn groomer
294
Stihl FC 90 Professional stick curve edger
295
Stihl FS 70R straight shaft trimmer
296
Stihl BR 200 backpack blower
297
QEP Power Mixer Pro 21665Q with paddle
298
John Deere tow behind poly utility cart 10 P
299
2004 Fabrique dump style utilty trailer 4 X 8 with trailer hitch
300 John Deere pull behind spreader
301 Hacks Necks and Its People Past and Present By James Egbert Mears
302 Henry Repeating Arms Company 22 L.R.
303 L.C. Smith Hunter Arms Company Black Powder 12 gauge double barrel
304 Conneticut Valley Arms INC. Black Powder 50 cal. front tier
305 Suede Fringed Shoulder Bag, Powder Horn, Patches, and more
306 Conneticut Valley Arms INC. Black Powder Pistol
307 Warren Leather Goods Company 1917 leather holster and magazine pouch marked US and canvas ankle chaps
308 Rechargable rotary tool with various heads, mikta quick attachments, craftsman snips and more
309 WW2 style bayonet and scabbard
310 CA 2000 digital alcohol detecter
311 Lot including hunter rifle sling, torel gun sling, maxilub by TC, nipple wrench, scope cover, western hand trap, and more
312 Box lot including bullets with sabots, remington bullets, wads, caps, and powder
313 Lot of 4 vintage corkscrews
314 Lot of 4 vintage corkscrews
315 Lot of old wooden measurers
316 Wards Western Field 93M-496A 22 S,L,LR bold action rifle with Allen gun sock
317 J.C. Higgins 22 cal S,L,LR bold action rifle model 41 DL with Allen gun sock
318 J.C. Higgins .410 GA 3'' chamber bold action shotgun with Allen gun sock
319 Framed painting of redheads by John W. Taylor 25x21
320 Picture of Quail signed DBH 11x12
321 Jules A. Bouillet handcrafted limited edition mold of red head drake decoy 1380/3500
322 Jules A. Bouillet handcrafted limited edition mold of Blue bill (black head) drake decoy 330/3500
323 Canvasback drake decoy by Bennett Scott Berlin, MD. 1975
324 Miniature goose decoy by Oliver "Tuts" Lawson 1977 Crisfield, MD 7 3/4" long
325 Jules A. Bouillet Collection Shaker Priarie Shop 1989 mold half size drake merganser
326 Jules A. Bouillet handcrafted limited edition mold of loon decoy with baby loon on back
327 Wooden miniature loon decoy 7" long
328 Old swan decoy 30" long X 23" tall
329 Jas Stimpson mid to late 1800's silverplate ice water pitcher
330 Reed & Barton silverplate Winthrop Shield 1795E five piece tea set
331 Large silverplate handled tray with grape design 29 1/4" X 19"
332 6 1840-50's silver spoons marked M. Perkins inscribed with HAS (Harriett A. Skofield)
333 7 Bigelow Kennard 925/1000 silver tea spoons and 1 larger Bigelow Kennard spoon
334 B&M Sterling bowl with quarter inside, Sterling snuffer, Sterling sugar tongs and a Sterling candle insert
335 Framed picture "Homecoming Queen Oxford" by Howard Lapp 66/550 31 1/4" X 18 1/4"
336 Framed picture Tred Avon Yacht Club 26/50 with remarque of Big Nana by Peter Hanks? 19 3/4" X 14 3/4"
337 Print of rockfish chasing bait fish 20" X 25" and dolphin chasing bait fish 20" X 24" both by Steve ?
338 Sailboats racing St Michaels and a picture of Oxford
339 Framed picture of a sailing skipjack 30 1/2" X 24 1/2"
340 Framed Chesapeake Bay pictures of Skipjacks and work boats 23" X 19"
341 Owl decoy
342 Craftsman stackable tool box with 9 drawers on top cabinet and two drawers on rolling cart with contents
343 Spalding golf bag containing Cougar drivers and Triad Sounder clubs
344 Antique plank bottom chair and an oak framed mirror 27 1/2" X 17 1/2"
345 Health o meter platform scale
346 Antique ox yoke and hanes
347 Antique ox yoke and hanes
348 Bucket of antique hanes and a single tree
349 Antique Disston cross cut saw
350 Lot including antique hanes, horse bridle with heart pin, single trees
351 Old metal pulley with rope
352 Fold art picture "Away We Go" 14 1/4" X 18" and a "Dumb Questions" $5 framed paper
353 Box lot of old leather holsters and belts including swivel holsters
354 3 Box lots including Craftsman band saw blades, hollow ground planer blade, Hilti blade, hammers, hatchet, files and more
355 5 Craftsman open end wrenches 2 9/16, 5/8, 7/8 and 1"
356 S & K Lectrolite combination wrenches (12) up to 1 1/4"
357 Ice tongs
358 Antique scythe, shovel, bush ax and saw
359 Antique cross cut saw
360 Pair of wooden handle sad irons Enterprise Mfg Co and A. O. Williams Co
361 Miller Spectrum 187D DC Plasma Cutting System
362 Craftsman 16" 3.5 peak hp electric chainsaw
363 Trakfast automatic drywall track fastening system ramset/red head
364 Trakfast automatic drywall track fastening system ramset/red head
365 Craftsman 19.2 volt impact driver and drill and an extra drill/driver (worked when tested)
366 2 Trakfast automatic drywall track fastening system ramset/red head (has BAD written on outside of case)
367 DeWalt chop saw
368 B&D chop saw
369 Craftsman tool box stackable section and contents
370 Black & Decker Mastercart rolling toolbox
371 Wooden box lot including iron horse head, old tools, oil can, antique shoe cobblers stand, horn and more
372 Salisbury Automotive NAPA creeper
373 Lot including welding helmets & gloves, parts bin, insulators, clamp fixtures and more
374 Box lot of 4 old hand drills, squares and antique draw knives
375 Antique 5 bottom cast iron plow
376 Planet Jr cultivator
377 Craftsman 1.5 hp router and router table
378 Portable air tank
379 Power Boss and Coleman Powermate Clean Machine pressure washers
380 Chicago Electric 10" 15 amp industrial table saw with Central Machinery universal tool stand
381 Wooden fruit bowl 10 1/4" long
382 Wooden country decorative sled 30"
383 Portable air compresser 260 psi
384 Box lot including gun cleaning kits, anchor line, trailer light, brackets, stud finder and more
385 3 hand saws including Stanley professional short cut
386 Stihl 028 AV Super Wood Boss chainsaw in a Craftsman case
387 Ridgid cutter, die heads and box lot including tube deburring tool, screw drivers and more
388 Sears, Roebuck & Co Dwell Tachometer (appears new)
389 Lot including Craftsman drill bits, 2Drill Master drills (one new in box), oil cans, Oregon chain saw sharpener and ratchet set
390 Frigidaire window air conditioner (worked when tested) 8,000 BTU
391 General Electric window air conditioner (worked when tested)
392 LG window air conditioner (worked when tested) 5,000 BTU
393 Frigidaire window air conditioner (worked when tested) 8,000 BTU
394 Whirlpool window air conditioner (worked when tested) 10,000 BTU
395 Conn clarinet with case
396 Craftsman 1 hp 8 gal air compressor (ran when tested)
397 Sears battery charger, Schauer battery charger and a gray tool box with contents
398 Drill bits in a green metal box
399 Stack-On toolbox containing open, box end and combination wrenches, Lufkin wooden rule, screw drivers, pliers, Proto sockets and more
400 Craftsman combination wrenches 1" to 1/2"
401 Genie 5 gal shop vac (ran when tested)
402 Snap On 1/4" drive ratchet, sockets and more
403 Keter plastic tool box with contents including ratchets, sockets, screw drivers and more, Broan ventilation fan (NIB) and electric drill
404 Craftsman 8 gal 2.25 hp wet dry vac (ran when tested)
405 Stihl 011 AVT chain saw
406 Proto 500 metric combination wrench set 7mm to 21mm & 24mm with leather pouch
407 Craftsman tool box with 3 drawers and lift top with contents including Star blind rivets, cresent wrenches and screw drivers
408 Proto P60 torque wrench
409 Snap On 9 pc midget combination wrench set
410 Snap On 7 pc nut driver set ND-1070K C-77B
411 Snap On 12 pc offset box end wrench set 1/4 to 1
412 Snap On 10 pc offset box end wrench set 7/32 to 13/16
413 Snap On 1 1/16 (OEX34) & 1 (OEX32) wrenches
414 Snap On wrenches 9/16, 1/2, 3/8, 11/32
415 Proto 5449 torque wrench
416 Box lot including Air Die Grinder Kit, Carbon Steel Hole Saw Set, 2 Craftsman wood rules, Proto 3 piece internal pipe wrench set and more
417 2 box lots including Snap On hex dies, masonry bits, staplers, gauges and more
418 Home Tool Storage tool box with contents including rivet gun, rivets, wooden rules, level and more
419 Clothtique by Possible Dreams Santa Claus with angel in left hand
420 Clothtique by Possible Dreams Santa Claus with toy bag over back
421 Clothtique by Possible Dreams Green Santa Claus with toy bag over back
422 Clothtique by Possible Dreams Green Santa Claus with horn hanging from belt
423 Pottery lot including Beaumont Bros whiskey jug & teddy bear crock, Maple City lidded crock, Salmon Falls Christmas crock and 3 Rivers pitcher
424 Signed Geo Lefton ceramic pcswith fruit design include 2 pitchers 7" & 8 1/2", lidded candy dish and sugar dish (chip on lid)
425 Buffalo Pottery "Cairo" small pitcher 7 3/4" tall and handled bowl 8 1/2" diameter (matches lot 133) and a Lefton candy dish with pineapples and fruit
426 Fenton ruffle top dish with bird design hand signed by Gloria Finn 3 1/2" tall
427 Spongeware lot of pitchers including Robinson Ransbottom and others tallest is 7 1/2"
428 Greg Neal 1987 signed pottery pitcher 8" tall, underplate or scalloped top bowl and matching candleholders signed by Cathy Gatch (Turtle Creek Potters)
429 Pottery lot including B. Mantegna signed pitcher, Bucks County signed crock, Rockdale Delaware Ohio crock and a signed Ark crock tallest piece 6 3/4"
430 WICO (What Is Cooking On) Party Line cookbook
431 Local cookbooks Smith Island PTA, Feeding Our Fleet Wico Co, Mennonite Recipes Eastern Shore, Berry Good Recipes Somerset Co and Alpha Delta Kappa recipes
432 Cookbooks including Peninsula Pacemaker, Dagsboro Church of God, Island Born & Bred Harkers Island, NC, Dishes from St Marks (WV) & Gooseberry Patch (Ohio)
433 3 Edwin Knowles dolls Heroines from the Fairy Tale Forests "Red Riding Hood", "Goldilocks" and "Snow White" (All NIB)
434 Mary Kay Ash silver anniversary collectors doll and Effanbee "Germany" doll
435 Embroidered Sampler art print by Cynthia Burr and an Amish couple print 886/1000
436 Clothtique by Possible Dreams Santa Claus with stocking in left hand
437 3 Longaberger Baskets including '89 Inaugural, '99 Lots of Luck and '98 Horizon of Hope
438 3 Longaberger Baskets including '90 Berry Basket and a Cracker Basket single divider
439 2 Longaberger Baskets (one hinge broken on lidded basket)
440 Longaberger Basket (magazine basket)
441 7 pieces of Robinson Ransbottom pottery
442 2 Box lots of Santas including Wood World, Rita Allred and Sarah's Attic and others
443 2 Box lots of Santas
444 5 pottery plates all signed (one with horse has crack on front), tray, bowl, coasters and pitcher some pieces Pennsylvania Redware signed by Eldreth
445 Box lot of silverplate including water pitcher, Chippendale dish, Gorham and box lot of pewter
446 2 box lots including Pfaltzgraft cookie jar and canisters, ceramic pitchers and more
447 Maple City Pottery tall jug 14" tall
448 3 Box lots including Bavaria coffee pot (chipped) with cream & sugar, pitchers, Drip O Later pot with cream (cracked) & sugar, Ironstone and more
449 Henriot Quimper France plate and creamer
450 Pottery lot including Bon Aqua crock, Three Rivers Pottery snowman, Rowe Pottery Glen Ave Elementary School and Rockdale heart crock
451 Clothtique by Possible Dreams Santa Claus (shorter than others 7" tall ) and Santa nesting dolls
452 Vintage Two in One galvanized wash board
453 2 box lots including country crafts and baskets - wooden Santa, checkerboard with hearts, heart shelf, Sussex Co 1997 basket, wooden sleigh and more
454 2 Wedgewood England pitchers both 5 1/4" tall
455 2 glass inkwells (1 has chip on lid)
456 Pottery lot including Eldreth bowl, Salmon Falls handld cup, Beaumont Brothers plates and spongeware pottery pitcher
457 Butter mold (cracked) bacon press, ceramic cutting board, enamel pitcher and bowl and more
458 Lot of pictures including "Skidmores Friends", teddy bear on rocking horse, flowers, March flower picture, house and more
459 Coleman road trip party grill, Nabisco Premium tin and more, 2 sad irons and a tractor thermometer
460 Lot including Wilton Pewter handled saucers, platter, plate and serving bowl and silver plate warming dish and more
461 T & V Limoges France gold trimmed plates (8), Anchor Hocking coasters, Bavaria handled plate, Homer Laughlin soup tureen, Depression candy dish and more
462 2 box lots stuffed animals including Boyds Bears and other collectibles
463 2 box lots stuffed animals including Gund, Vanderbear and more
464 Lot including Little Red Racer doll wagon, Hess truck, dolls, stuffed bears, Cats Meows and more
465 2 Wooden bird houses including the Ark
466 2 Wooden bird houses
467 Box lot including Country crafts, cookbooks, Bear sign and more
468 3 Box lots including shells, napkin rings, John Moll small prints, small Monthly floral pictures and plates
469 Fur Coat
470 Green & blue planter 15" diameter X 9 1/2 " tall
471 Blue planter 15" in diameter X 10" tall
472 Mushroom yard decoration with crack and blue planter 8" diameter X 9" tall
473 Green planter 13" diameter X 10 1/2" tall
474 Pair of bean bag chairs
475 4 Box lots including Sunbeam Mix Master, Christmas cups, tervis glasses, baskets, decanter set, Italian Vase and more
476 Oval Gold framed wall mirror 27 1/2" X 33 1/2"
477 3 Light chandelier and ceiling mounted light
478 Lot including Indian head walking stick, grippers, yard sticks and more
479 Lot including twin comforters, blankets, rugs, afghans, throw, ball glove, games and more
480 2 pieces luggage DF Studio and Rugged Cargo and a metal storage box
481 Lot of silver plate including tea pot, serving dish, creamer, enameled dish, Wallace Baroque serving set and more
482 Lot including pewter, silver plate, egg plate, napkin rings, Oster Stim.u.lax massage instrument, terracotta wine cooler and more
483 RCA blue tooth CD player with speakers and a collection of CD's
484 4 box lots including duck made in Italy, vases, mug, Oriental fisherman, and books
485 Royal Doulton Pecksniff made in England small figure 4 1/4" Dickens statue and Bill Sikes (head re-glued on him)
486 4 box lots including pots and pans, Tupperware, Rabbit figurines, paper towel holder, Pyrex pie plates and more
487 4 box lots including chowder dishes with lid, decorative flags, linens, blender, coffee mugs and more
488 4 box lot including various size glasses, rolling pin, tape measure, kitchen utensils and more
489 2 Box lot of pocketbooks including Simply Noel, Vera Bradley, Spartina and more
490 2 Box lots including agate roasting pans, pie tins, baking pans and more
491 Box lot including Federal Reserve bank bags and Eastern Shore National Bank & Taylor Bank money bags
492 Floral decorated sewing kit including thread, thimbles, buttons and more
493 Sewing basket tan,green and brown including pins, thimbles, needles, scissors and more
494 4 Box Lots including jewelry boxes, sliver plated trays, glasses, egg plate, figurines and more
495 5 Agate basins various sizes
496 Box lot of games including Monopoly, Hearts, Bingo, Tiddly Winks and Pokeno
497 Box lot of Fire King and Corning Ware
498 Fish planter 14" tall
499 Blue ceramic planter 9" diameter 7 1/2" tall
500 Lamp with flying ducks and a lamp with a Mandarin duck
501 Lamp with an elephant
502 Lamp with a crab
503 Upper Bay Bluebill hen lamp
504 3 Lamps including brass candle style lamp, brass lamp and a tin canister lamp
505 1/2 size Mallard decoy made into a lamp
506 2 lamps including pottery style lamp and a 3 candle desk lamp
507 Oriental tin lamp and a brass/copper lamp
508 Oriental design rug and 3 miniature rugs
509 Split oak basket 19" diameter 15" tall

RETURN