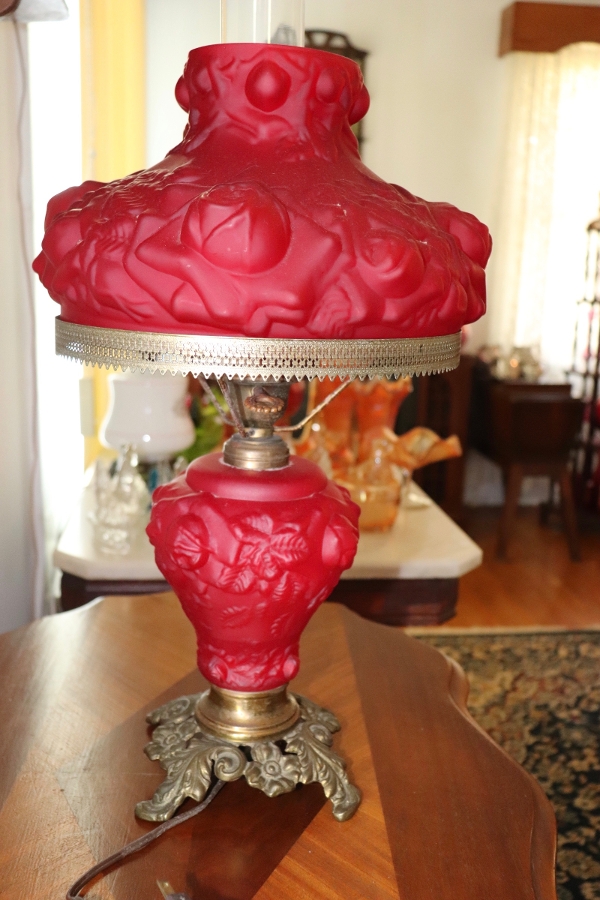 John Culp Estate Auction Salisbury
October 16, 2019
309 Park Heights Avenue Salisbury, MD. 21804
Eastern Shore Auctions, Inc., is honored to have been selected to sell the estate of John Culp of Salisbury, Maryland. This will be an ON-LINE ONLY auction that will open for bidding on Monday, September 30 and run through Wednesday, October 16, 2019. Bidding ends on Wednesday, October 16, 2019 starting at 5 PM.
PREVIEW DATE/TIME: Wednesday, October 9, 2019 from 5 to 7 PM.
CHECKOUT DATE/TIME: Sunday, October 20, 2019 from 9 AM to 12 PM. No exceptions.
LOCATION: 309 Park Heights Avenue Salisbury, Maryland. 21804
1
Walnut marble top table 31" X 22"
3
Pine country shelf 11 1/2", Timex clock, mirror 17 3/4 X 28" and an American Legion challenge coin
4
Mahogany 5 shelf knick knack stand
5
3 clear glass hens and a blue glass turkey
6
3 green hens on nest (1 is half size)
7
Mahogany wall table with diamond design in the top 32" X 20"
8
Carnival Glass dog powder jars (1 chipped on ear) and two hens on nest
9
Cranberry 40
th
Anniversary water pitcher with 6 glasses and a 50
th
Anniversary water pitcher
10
7 Ruby red custards and 3 cranberry vases
11
6 Cranberry etched glasses and 3 cranberry etched glass bud vases one has fluted top
12
Ruby red hand blown pitcher 7 3/4" with 2 ruby water glasses and 3 etched glass goblets with ruby base
13
6 Cranberry etched glass cordials and a cranberry decanter with gold trim
14
Samsung 40" LED television and a RCA console television
15
Decorative wall hanging shelving unit
16
5 hand painted figurines including Erich Stauffers "Playing Mother"
17
L.E. Smith blue rearing horse bookends
18
L.E. Smith anberina rearing horse bookends (mold line visible on base)
19
2 Cranberry hobnail opalescent fluted top vases (1 has bubble or small crack in glass)
20
2 Cranberry hobnail opalescent fluted top vases
21
Small blue hobnail opalescent scalloped top vase and a white opalescent fluted top vase 7 1/2" tall
22
Ruby red lot including candy jar marked Wheaton NJ on bottom, vase 10" tall, covered butter and miniature butter, cream and sugar
23
Mahogany table 30" X 18"
24
Cranberry lot including 3 brandy glasses, lidded candy jar, nesting jars, candle holder and more
25
2 Sailor Boy wall pockets made in Japan
26
Cranberry lot including vases, glass and oil lamp
27
Cranberry etched glass dome top candy jar 13 3/4" tall and Souvenir glass marked Mother
28
Relaxor 3 massage recliner
29
Pine dough box 28" X 12"
30
Floral patterned sofa with two pillows and a platform rocker (burn mark on one arm)
31
J. Palin Thorley silver resist small pitcher with birds
32
J. Palin Thorley silver resist decorated small pitcher
33
Vintage Gibsons Staffordshire England silver luster pitcher W204 and Wedgwood of Etruria & Barlaston luster creamer C5229
34
Lot including Belleek Sterling luster mug, Sandland Ware luster dish, Wade England floral copper lusterware and more
35
Wooden stool 21 1/2" X 13 1/2"
36
Floor rug 63" X 92"and matching runner 26" X 91"
37
Lot of glass shoes (some Fenton) and two white plates one has a donkey on it
38
Carnival Glass lot including a scalloped top bowl 8 3/4" with grape pattern and a scalloped top compote candy dish 4 1/4" tall
39
4 Carnival Glass vases one with the most purple has small chip on tip at top and another has broken base
40
Curio cabinet (does not include contents)
41
2 Hen on Nest one with black head and one with blue head
42
Slag glass Hen on Nest and 3 small white Hen on Nest
43
Heisey Cow on Nest candy dish
44
2 Blue with white heads Hen on Nest
45
Blue Hen on Nest and blue & white Hen on Nest
46
2 White Hen on Nest one has red on head
47
2 Hen on Nest one is white and one is amber
48
Round marble top stand 18" diameter
49
St Johns Co maple bench 35" X 18"
50
Marble top stand 14 1/2" X 14 1/2"
51
Old figurine candy top lot and elephant, fish, rabbit and whale paper weights
52
Old figurine candy top lot ans rabbit, unicorn and more
53
5 Tiered corner shelving unit
54
Lot of paper weights including Svend Jenson, orange fish, birds, unicorn and more
55
Lot of paper weights including toad stools, grapes, cat, mouse, dog, turtle, angel and more
56
China hutch 2 piece 36" X 17"
57
4 box lots including chip set, plastic fruit designed glasses, snack trays, apple dishes, candy dish, serving dishes and more
58
Kenmore window type room air conditioner 15,100 BTU's (works)
59
Floral decorated parlour lamp 18" tall
60
Cat door stop and a brick door stop with a duck and welcome
61
Pair of red prism lamps
62
Johann Haviland Bavaria Germany china 54 piece set
63
Lower contents of cabinet including creamer, large bowl, berry bowls, tray, salts, Fostoria vase, saucers and more
64
Saint Johns corner cabinet (does not include contents) 28" wide X 69 1/2" tall
65
2 Shadow Mirrors with contents including small figurines
66
Ruby red cut to clear 2 piece tumble up bedside water carafe
67
Green water pitcher with 9 glasses (8 match)
68
2 Green pitchers and 2 green cruets
69
St Johns Old Amber dropleaf dinette table with 4 chairs
70
Cameo Imperial navy 5'3" X 7'11" floor rug and small area rug
71
3 Daisy & Buttons hats, canoe & ash tray and 2 wall hanging peacocks
72
Endeavor J-Class yacht wooden model 47" long X 68" tall
73
Mahogany Governor Winthrop style desk with claw feet
74
Lot including Figgjo Flint fruit serving bowl, handpainted Benson fruit bowl, oriental style creamer and tea pot
75
3 Barstools that swivel with cushion
76
Pine corner cupboard 37' wide X 84 1/2" tall (does not include contents)
77
29 Piece white china set with silver trim
78
Duncan Miller Sandwich glass including plates, saucers, glasses, cream 7 sugar, cruet, handled basket and more (Anchor Hocking or Indiana Glass)
79
Lot including coin paperweights, bobblehead poodle, brass cat ring holder, figurines, letter organizer, plates hanging on wall, 2 small corner shelves, irons and more
80
Knee hole desk with a glass top and a paper shredder
82
Sawyer's View Master, noise makers and a GNC model 101 35mm precision viewer
83
2 Boxes of crab mallets and box of flatware, Cooper sharp cheese box
84
Hand blown purple glass fruit bowl, black amythist vase, Fenton ruffled top handled candy dish and small purple vase
85
4 Fan style vases including candlewick, pink depression, white handpainted grape design and amber
86
Planters Mr. Peanut peanut butter maker, teapots, salt & peppers with roosters, honey jar, Garfield, egg plate and egg salt & peppers
87
Brown Rockingham teapot and other brown Japan teapots and cream & sugars
88
Vintage Japan Rossini ceramic canister set with butter dishes and cream and sugar
89
Lot including decorative plates, egg plates, Oriental dish, cake plate, handled serving tray, etched glass vase and more
90
Vintage Goddess Hindu red glasses highballs tumblers (8) and green Depression bowl, tray and saucer
91
Vintage pottery stackable poodle teapot, sugar and creamer 4 piece set
92
Set of 6 vintage spice containers with raised fruit (nutmeg has a crack) with wooden display rack
93
Punchbowl set with ladles, handled fruit bowl, footed dish, Fire King chowder dishes, agate strainer, sifter and more
94
Small appliances including Panasonic microwave, B&D under the counter can opener, Toastmaster toaster, Mr Coffee, and a toaster oven
95
Pair of blue/green Pyrex Amish or Butterprint handled mixing bowls
96
Pyrex 1 quart divided dish, Pyrex Amish or Butterprint handled bowl, covered dish, Corningware coffee pot, USA bowl and more
97
Westmoreland Ruby Red English hobnail handled fruit bowl and candleholders and (3) three Royal Ruby vases
98
Vintage Kentley serving trays "The Romance of Fifi and Pepe" two secene 1, scene 3 and secene 4
99
5 Libby Plantation Scenes glassware "Southern Hospitality", "Stroll in Garden" and "Lawn Party"
100
Carnival Glass water pitcher and 5 glasses, Merry Christmas mugs, and Pepsi Warner Bros and Bicentennial glasses
101
Contents of upper cabinets in Kitchen including glasses, drink mixer, handpainted water pitcher, measuring cup, Brick oven stoneware, Pepsi glasses and more
102
Contents of cabinets and drawers including knives, rolling pin, baking pans, pressure cooker, pots, pans, hand mixer, electric knife and more
103
Pair of rush bottom ladder back barstools
104
5 box lots including Chicago angle grinder, flag, hammers, jewelry box, dashund planter, chalk/cork board, clock, wind chime and more
105
Mahogany twin bedframe with mattress and box spring
106
Gooseneck rocking chair, Null Manufacturing Company high back chair and platform swivel rocker
107
General Electric 32" TV & Phillips 14" TV and TV stand
108
Baby Ben Westclox alarm clock, "Speak no evil, See no evil, Hear no evil" bank
109
2 Wall shelving units with contents including Daisy & Button, JFK rocking chair, Oriental urn, swan lidded dish and more
110
2 Ucagco Ceramics figural vases, 2 poodle wall hangings and a floral vase
112
Pair of McCoy Cornucopia vases 7 1/2" tall (one has chip on lip and one has chip on base) and a USA cornucopia vase 6" tall
113
Vintage ship wall clock, ruby oil lamp and metal base oil lamp, Cape Cod style cookie jar and decanter, Daisy & Button canoe and hat and ceramic duck
114
Tin match holder, cast iron match holder, rooster plate, 2 embroidered farm pictures, cast iron skillet with eagle, tin cow and man wall hanging and a white souvenir plate
115
Marble top table (piece of molding off one side but present with table)
116
Tilt top table 21" tall X 16" wide, record stand, coffee table with Duncan Phyfe style legs and a Tell City Chair Co carved mahogany wooden chair
117
Forest Green Anchor Hocking square dinner plates, salad plates, cups and saucers 57 pieces
118
Forest Green Anchor Hocking punch bowl with cups, popcorn bowl and smallerbowls, berry bowls, dessert bowls, saucers, cups and glasses 52 pieces
119
Royal Ruby Anchor Hocking pitcher 6 1/4" tall, water and juice glasses, cups, sherberts and more 55 pieces
120
Royal Ruby Anchor Hocking dinner plates, saucers, bowls, vase, cream & sugar and more approximately 30 pieces
121
Royal Ruby Anchor Hocking sqaure plates, bowls, large vase, cream & sugar, large bowls and more 21 pieces
122
Lot of Cape Cod Avon including butter dish, globlets, vase, pitcher, decanters and more
123
Lot including Milwaukee sawzall, hammers, light, B&D drill, ceramic dogs, cat and more
124
Plastic tub containing Stanley hand planer #220, wooden rule, drill bits and more
126
2 Cranberry lamps one is marble based
127
Small corner hanging shelf, shadowbox frame with flower picture, "Old Stone Bridge" picture, oak picture frame
128
Lot of blue glass including handled vase, large vase, scalloped top candy dish, salt & pepper, violin bottle and more
129
Lot including Holland style ceramic shoes, cobalt salt and marmalade dish in pewter and a rock concert
130
Tan, green and mauve loveseat
131
Stainless steel flatware contained in a wooden box (inscribed)
132
Gold colored stainless steel flatware with Carvel Hall knife caddys in a wooden box
133
Marble top coffee table with carving of a rose 34" X 22"
134
Intricately carved parlour chair with needlepoint cushion and an arm chair with needlepoint cushion
135
3 footstools including needlepoint footstool, a black footstool and a patterned footstool
136
Sears space heater, table top fan, blankets, quilts, afghans, 2 drawer file cabinet, clothes hamper, flag, games, straw hats and more
137
Shelf lot including Christmas items and silver plate
138
Lot including poodles (possibly 1950's Arnart), Avon and 2 figurines
139
Vintage Mohawk whiskey jug marked on bottom
140
Lot including deer candy dispenser, 2 swans, dog candy dispenser, cat figurine and two Scotties (damage to whisker area)
141
Shelving lot including Carnival poodle top powder dish, Daisy & Button canoe, blue hobnail dish, Easter basket, Bavaria saucer, doll and more
142
Lot including Fostoria divided dish and sugar, bird wall pocket, Japan bird vases, angel wall hanging, silver plate serving sppons and forks, silver plate dish and more
143
Antique red satin prism lamp with rose design
144
Blonde Lane cedar chest
145
Antique straw brief case
146
Mahogany china cabinet (does not include contents) 36" wide X 74" tall
147
Silver plate serving dish, silver plate marmalade set, green egg plate, black amythest condiment tray and a silver plate footed bowl
148
Contents of top of cabinet including Leonard Crystal candle holders, glass horse, unicorn, cake plate, tiered serving tray, France decanter and more
149
Contents of bottom of cabinet including Kings Crown candy dish, amythest glass covered dish and 2 vases, Carnival glass bowl (chipped), Daisy & Button vase and more
150
Pine gun cabinet 20 1/4" X 60", gun cases, knife, cleaning kit and pool stick
151
Benjamin Franklin BB gun
152
Bissell Powerforce Helix vacuum
153
Hampton Bay legion panoramic infrared stove 20" X 11"
154
3 box lots including souvenir plates, 25
th
anniversary pitcher, glasses and more, trivits, apple shaped dishes and more
155
L.E. Smith green rearing horse bookends
156
L.E. Smith clear rearing horse bookends
157
Blue & white floral decorated washbowl and pitcher
158
3 piece blonde bedroom suit that has been painted white chest, dresser with mirror and bedframe Restonic Chirotonic mattress
159
Pair of Victorian scene vanity lamps
160
Clear glass horse head, small Christmas tree 13" tall (chips and damage at top) and 3 table lamps
161
Homemade pine stand with one drawer and candles in the drawer
162
Signature Series battery charger
163
Sunbean 1 Touch portable heater (worked when tested)
164
Lot of towels, blankets, electric blankets and sheets
165
Tabletops Unlimited Holiday 37 pieces china and Brinns Pittsburgh PA Holiday china 6 cups and saucers and a cream and sugar
166
Old Christmas decorations, wrapping paper, small tree, candles, ribbon and more
167
Sewing lot including buttons, cotton, scissors, needles, sewing notions and more
168
Lot of old ammunition including Western Super X 30-30, Remington DuPont Kleanbore .410, Western Xpert, Peters .410 rifled slug box with ammo, Sierra holster and more
169
Tin box, hats with pins, pillows, dollies, Sharp clock, Vtech phones, flashlight, Zenith VCR and more
170
Box lot of evening purses
171
Salisbury Pepsi Cola 75
th
Anniversary 1915 - 1990 paperweight
172
Wooden telephone stand
173
L.E. Smith amberina rearing horse bookends
174
Gold framed mirror 28" X 18 1/2"
175
3 Box lots including vintage bow ties, tie rack, playing cards, stationary, frames, bell collection, snack trays, vanity mirrors and more
176
Vintage Adirondack wooden baseball bat marked 35 on the knob No 262
177
Tootsie Toy Dump Truck circa 1950's
178
Tootsie Toy Chicago 24 Caterpillar Diesel Bulldozer and Grader
179
Tootsie Toy tractor and low boy trailer
180
4 miniature metal toy cars with metal wheels 1 1/2" long
181
Fine Toys Japan Pan American World Airways friction plane
182
Circa 1950's metal tractor and aluminum trailer 4 1/2" long
183
Cragstan Air Control Tower with Airplane and Helicopter complete with original box
184
Wyandotte Construction tractor and trailer 21" long
185
Cass Toys early wooden boat 16 1/2" long
186
Louis Marx Toys plastic fire engine friction toy truck length 12" over 14 1/2"
187
Toy lot including Coca Cola bottles and carrier, plastic dragster, miniature plastic tow truck and a plastic trailer
188
Carvel Hall Delmarva Power operating safely three years carving set
189
Carvel Hall steak knives in original box (6)
190
Lot of 6 orange crab imperial dishes
191
90 MM - T24 1953 spent shell casing
192
13 Johnson Humphrey 1964 campaign posters 20 1/2" X 13" (2 have small tear and 1 has larger tear)
193
Lot of large Maryland campaign signs including Tydings Democrat for US Senate, Harry Hughes to Congress, Governor Mandel for Governor and Sickles Action Team
194
Cardboard cut out of Maryland Eastern Shore, 1982 map of Salisbury, MD and Democrat posters
195
Crams Universal Terrestrial Globe 9"
196
Antique Victrola Victor Talking Machine withcontents including loose records and 3 record albums
197
Boy Scouts of America canteen
198
The M.C. Lilly & Co Columbus Ohio sword and sheath sword marked FCB and Piedmont Co #10
199
6 Tiered corner shelving and 3 tiered smaller corner whatnot stands
201
5 Mahogany ladderback chairs 2 are arm chairs and 3 other mahogany dining chairs (same bottom but different style back)
202
Antique musket made into a lamp with powder horn and leather powder flask
204
Black powder early muzzleloader double barrel shotgun marked Jeavons & Redfern
205
L.C. Smith Hunter Arms Co Armor Steel hammerless double barrel shotgun SN# LL4568 Patd Oct 5, 86
206
Winchester Repeating Arms model 90 22 W.R.F. pump rifle SN# 317438
207
German Mauser DOT 1943 model 98 8mm full wood miitary bolt action rifle
208
Mossberg model 183KE .410 bolt action shotgun with C-lect choke 2 1/2" and 3" shells SN# 1394112
209
The Marlin Firearms Company 22 cal LR
210
Iver Johnson's revolver SN# B28022 model unknown possibly 32 cal
211
Crossman Arms Co Mark II Target .177 pellet gun
212
Shadowbox framed mirror with display shelves 31 1/2 X 28"
213
Box lots including State plates, HI, MD, PA, Mt Rushmore and more, MD glass, Frosty mug, Del Mar Va Firemans Assoc glass and more
214
Lot including 3 hens on nest and various single pieces including candy dish tops and bottoms
215
3 Box lots including Owl clock, frame, plates, salad bowls, cats and more
216
Lot of vintage banners including Philmont Scout Ranch, Bear Mountain, Soldiers National Cemetary Gettysburg, PA, Newport VT and more
217
German Coo coo clock, antique wooden wall sheving unit and picture frames
218
Wooden train with cage cars and animals, triple combination game set and hanging doorway beads
219
Silver plate tea pot, cream and sugar, turkey platter, fan wall pocket and a partial drink mixer set
220
Octagon shaped wooden table, fishing lure, miniature lobster trap, wooden prayer piece and an antique Pott Bros gift set (T & P Pot)
221
Antique sampler "Here let us live life at its best, here may we find comfort and rest"
222
Lot of antique wooden display shelves and a foot stool
223
Agate bean pot and plastic toilet
225
Antique small wooden trunk 12" X 7 "
226
Lot including albums, cat picture, cosmetic suitcase and more
227
Werner 26" 2 step aluminum ladder
228
National Washboard Co No 512 washboard with Victory Glass visible on the back
229
Vintage Centurion 35 day wall clock and a plastic encased electric mantle clock
230
Lot of Christms items including small tress, tree stand, window candle, ornaments, mat, wooden rein deer and more
231
5 drawer dresser, 4 drawer dresser and a blue framed beveled glass mirror
232
Carrom game board in original box, Monopoly boards, childs plastic beach set and plastic planes (damaged)
233
Cranberry lamp, hobnail milkglass shade, ruby cakeplate and vase
234
Large glass handled basket and a wire chicken with plastic eggs
235
Lot including kleenix covers, 8 track tapes, doll with swing, cradle, owl, angel, wooden box, miniature butcher block cheese set, light and more
236
2 fans, curtains, linens, afghans, end table, magazine rack, records, books, hens on nest and more
237
Lot of vintage quilts (some have holes)
238
Corner shlving unit and a Victorian style lamp
239
Lot of Halloween pumpkins, scarecrow, sad iron, flashlight, robo grips and more
240
Zeiss Ikon Cupido camera, antique collectible tire ashtray and Kodak camera metal trays
241
Cast iron Pepsi Cola delivery truck with driver
242
Contents of utility room including stainless steel bowls, Perdue fly swatter, tins, thermal server, George Foreman, cleaning supplies and more (not including washer & dryer)
243
Ceramic Christmas tree, elf and glass ornament
244
Toast Master heater, wicker style hamper, ironing board, shop light, Electrolux sidekick, Drug Fair lighter fluid tin, Parke Davis band aid tin and more
245
Trim A Brake II siding brake by Van Mark Products 10 foot
246
Vintage lawn darts game
247
2 Rush ladderback chairs and oak side table
248
Open wash stand and 2 framed pictures one with an owl and one with a fish
249
Oak twin bed with no side rails, beveled glass dressor mirror and 2 foot stools
250
Black & Decker power miter saw
251
Lot including quick -grips, extension cords, sprayer , hanes, tool box & contents,
252
Vintage Military trunk
253
3 Box lots of Ruby red and green glassware
254
Contents of garage including agate pots, old basket, tins, books, sprayers, yard tools, Santa, metal box, rugs and more
255
Pepsi Cola mirror and Salisbury Pepsi Cola 80
th
Anniversary 1915-1995 Chesapeake Pewter trinket box
256
Antique mantle painted white (mantle only)
257
Milk glass lot including glasses, water pitcher, punch bowl, cups, glass hats and more
258
Amber Jeanette Glass 3 pheasant footed bowl
259
Mack Trucks, Inc limited edition Keith Smykal Assoc N.Y.C bulldog statue
260
No 5 Brass horse with jockey 4 1/4" tall
261
Lot of miniature oil lamps, lady and chicken planter, violin vases and more
262
12 sided Zodiac/Astrology dice
263
Cast iron dachshund boot scraper
264
Mahogany drop leaf table 46" X 27" with pads
265
5 Box lots including clown bank, vases, figurines, wooden box, rooster, miniature oil lamps, candle holders and more
266
Duraflame model DFI-500-4 electric heater
267
Lot including Sony television, end table, corner shelving unit and foot stool
269
Medical footstool, Table Mate, Kings Crown fruit bowl, box of bud vases, tv trays and a wooden stand
270
4 plastic outdoor chairs
271
Cub Cadet 2146 riding lawn mower
272
Craftsman platinum push mower
273
Troy Bilt TB110 push mower with bagger
274
Weed Eater 500 push mower
275
Vintage GE fan 4 blade and GE box fan
278
MVP super lift 5000lb hydraulic jack
280
Craftsman industrial dual wheel grinder
282
Task Force 4" belt & 6 " disc sander
283
Central Machinery table top drill press
284
Air compressor mounted on lawn mower frame
286
Craftsman 2 1/8 horsepower 7 1/2 " circular saw
287
Chicago electric 4 1/2 " angle grinder
288
Craftsman multi speed router
289
Craftsman electric drill & sabre saw and Black and Decker circular saw
291
Milwaukee Contractors right angle drill with box
292
Wards powr-kraft tool box with contents including sockets, pipe wrenches and more
293
Drill bits in a metal case
296
Air Brad nailer, ratchet screw driver set and bits
297
Crescent ratchet and Taiwan sockets
298
Master mechanic tool box with contents including Craftsman bits, strait line, masonary tools and more
299
Stack-on parts bin and contents
300
3 Levels including Craftsman 4 foot, Servess and Sands 24"

RETURN