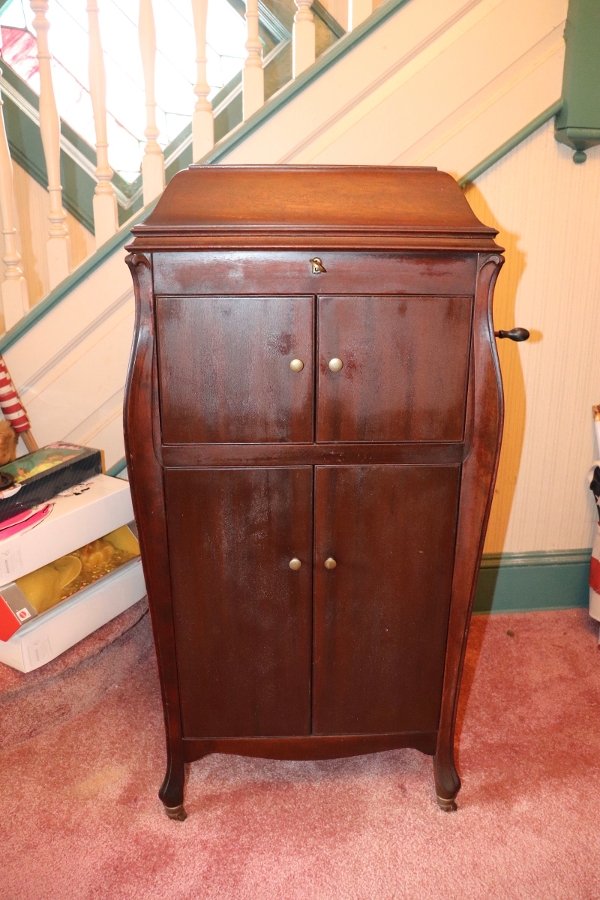 Crisfield Living Estate Auction
November 13, 2019
26425 Asbury Avenue Crisfield, MD. 21817
ON-LINE ONLY AUCTION***ON-LINE ONLY AUCTION***
Eastern Shore Auctions, Inc. is honored to have been selected to sell the personal property and real estate for Rudy & Rosie Heierling of Crisfield, Maryland. Items include quality furniture, glassware, dolls, tools and other collectibles.
DATES: Monday, October 21, 2019 thru Wednesday, November 13, 2019. Bidding ends on Wednesday, November 13, 2019 starting at 5 PM.
PREVIEW DATE/TIME: Monday, November 4, 2019 from 5 to 7 PM.
CHECKOUT DATE/TIME: Saturday, November 16, 2019 Noon to 3 PM. No exceptions.
LOCATION: 26425 Asbury Avenue, Crisfield, MD. 21817
Additional items are still being added.
1
Oak framed rocking chair
3
Victrola Victor Talking Machine VV100
4
White vase with green and brown flowers 10 1/2" tall
5
Maddox of Jamestown NY maple Governor Winthrop style desk
6
3 table lamps one is a desk lamp, one a girl holding a watering can and a small brass style lamp
7
Seth Thomas oak framed wall clock 17" long X 11 1/4" wide
8
Oak framed picture of a woman
9
Antique oak highback wooden chair
11
Wooden sewing kit and a sewing bag
12
Majolica style umbrella stand 21" tall
13
Walking man figure made from railroad spikes 12" tall
14
Wooden display cabinet 25" X 78 1/2" with 2 bottom doors
15
Catnapper Power Lift leather recliner burgundy in color
16
Brass floor lamp with shade
17
Victorian lidded divided candy dish
18
Carnival glass fan style vase and an amber fan style vase
19
Mahogany Serpintine front table 16" wide X 24" tall
20
Sony Bravia LCD digital color television 37" screen and television stand
21
2 Goebel figurines male figurine is 15" tall (female has broken pony tail) she is 8" tall and a wooden wall shelf
22
5 stuffed bears including Heinz Howard, H.J & Sarah, a Brass Button Collectables bear with rocking chair and a bear made in China
23
La Z Boy motion upholstery sofa with dual recliners burgundy in color (looks better in person than in photos)
24
Antique highback wooden armcahir with floral upholstery and a foot stool
25
Pair of Victorian style pink floral table lamps with eggshell beaded shades
26
Pair of wooden nightstands or end tables with mirror tops
27
Antique porcelain tabletop clock with flowers and gold trim movement made by Ingraham USA
28
Catnapper Power Lift recliner burgundy in color
29
Set of nesting dolls, green oil lamp, handled green vase and a green vase with gold trim (chip on bottom)
30
E. Ingraham & Co mantle clock
31
Lot of Cats Meows including Make Peace, Crisfield Fire Dept, McCready Hospital, Asbury & Immanuel Church, National Hard Crab Derby, Capt Tyler and more
32
3 M.J. Hummel Club figurines including "Too Shy To Sing", "Puppet Princess" and "First Mate" and 3 Hummel books
33
2 Floor standing ashtrays wooden one is Cushman Products and metal one is Duralod
34
Vintage Hull Sunglow pink pottery yellow flower USA 53 covered grease container and Sunglow pottery pitcher 52-248Z
35
Green Depression lot including 2 etched glass canoe shaped dishes, spoon, cream and sugar handled tray and a refrigerator dish
36
Pink Depression lot including etched glass compote bowl with gold trim, footed bowl and a dividied dish (chipped on rim)
37
Anchor Hocking Depression glass biscuit jar with lid and a matching serving bowl
38
Naughty Gnome (Viewer discretion) 11" tall
39
Lot of red glass including Sasaki slag glass ashtray marked on bottom with 3 S's, 2 Anchor Hocking Royal Ruby Anchorglass and a round wooden tray
40
Lot of walking sticks/canes including 2 cardinals, 1 dog, and assorted umbrellas
41
White wicker handled basket containing toy cars including Hot Wheels, Matchbox, Ertl and others
42
Brass crab trinket box and a tin crab candle holder
43
Buddy L green dump truck with a white dump body 20" long
44
Wooden Porgie fish (missing one fin) 11" long
45
Planter lot including large Camark USA Pottery #444 Art Deco pink planter, USA 404 yellow planter and Japan pink clam shell planter
46
Lot including Lipper & Mann musical decanter, brass vase (broken handle), musical figurine and a music box piano jewelry box with ballerina
47
WWII Trench Art 1940 Lot 6 40mm brass shell casing 8 1/8" tall
48
F.L. Godman Coal Co phone 148 antique wooden thermometer Famous Reading Anthracite Our Way is the Honest Weigh 9 1/8" tall
49
Norman C. Mason Coal and Wood Co phone 467 Crisfield, MD. antique wooden thermometer Always Remember: The Biggest Bargain is QUALITY Anthracite COAL Bituminous 9 3/4"
50
2 Bank of Crisfield 4% on savings Crisfield, MD Save Your Coins and Have Barrels of Money banks (one opened at top) 2 7/8" tall
51
Wooden two tiered table
52
Frigidaire 25,000 BTU window air conditioner with remote
53
Lot including wall mirror, plates, pictures, plastic storage stand, books and lamps
54
Wooden wall shelf 38" long X 10" deep, small octagon table and a lamp
55
Magnifier lamp, crochet blocks and crafting books
56
Lot including cardinal pictures, hawk picture, flower picture and cardinal plate
57
Vintage McCoy swan planter circa 1940's, handled planter marked 780/33/8 (age cracks in handle) and a small floral decorated USA vase
58
Green souvenir glass pitcher 5 1/4" marked Mother and Atlantic City 1906 (imperfection in glass where handle meets pitcher, Delfts vase, Kasuga Ware jewelry dish, Sonsco vase and more
59
3 Dolls including Queen on a wooden base (handmade has broken thumb), Crowne porcelain doll and a porcelain doll "Diana" 1812/2000 wearing a white dress
60
Oak veneered bookcase with two doors 54" X 18" X 60" tall (does not include contents)
61
Vintage Ronson Queen Anne table lighter and a table lighter made in Occupied Japan
62
Lefton dish, Japan wolf and pig figurine, Occupied Japan small vase, hand painted lidded dish, blue pitcher and a religious figure with earth stones
63
Books in bookcase including History of the World Ridpath, Harvard Classics, Mark Twain's Works Authors National Edition Harpers, The Century Peter Jennings and more
64
The Poetical Works of John Milton Boston 1841 Hilliard, Gray and Company Volume I and II
65
Gone With The Wind by Margaret Mitchell 1937 and Gone With The Wind Motion Picture Edition Margaret Mitchell 1940
66
The Life of Abraham Lincoln by J.G. Holland, published by Gurdon Bill 1866
67
Shakespeare Illustrated An Art Edition Chicago U.S. Publishing House 1890 copyrighted 1889
68
Rway Furniture Co Sheboygan, WI dining room table with 6 chairs 2 are arm chairs tag on bottom says Mrs. James Bounds 274 Princess Anne, MD 64" X 42"
69
Hummel plates 1972 & 1975, Loving is Giving plaque, Floral picture signed Berry and a Lockett plaque
70
Gold wall mirror with candleholders and 2 brass wall mounted dual candle candleholders
71
2 Shorebird decoys signed Dize #22 & #23 with cast iron stands
72
Thomas collectors edition radio electric number 1368
73
Lot of Sheila Collections decorative landmarks including Thomas Point Lighthouse, Fenwick Island Lighthouse, Police Officers Pledge and more
74
Set of 4 television trays
75
3 Longaberger Baskets including Woven Memories Basket 2002
76
Wooden ships wheel battery operated clock, vase, Aesbestos sad iron and 4 pillows
77
Majolica style planter 8 1/2" tall
78
Wm Rogers & Son IS Exquisite pattern flatware 55 pcs
79
Lot of flatware including Wm Rogers Presidential spoons and other miscellaneous patterns 70 pcs
80
Amcrest Fine China set Millbrook pattern china including dinner plates, dessert platesm soup bowls, cups, saucer, platter, serving bowls, gravy boat and more approx 97 pcs
81
Lot of blue and white china including Willow Ware, Ridgways and more
82
Lot of china including Tuska Chantilly, amber Depression glasses, Carnival, divided dishes, butter dish, large bowl and more
83
Stamps including 1998 Western Cattle in Storm (4), 1998 Trans Mississippi Stamps (4), Celebrate The Century books with contents (2) and more
84
2 Antique Windsor chairs
85
Lot including Pyrex loaf dishes, refrigerator dish, baking dish and bowls
86
Yellow Fiesta bowl 9 1'2" diameter and a blue bowl 9" diameter
87
Blue bowl with bail style handle 11 1/4" diameter
88
Antique gold colored mixing bowl (chip) and a wooden rolling pin
89
Longaberger Basket with protector, wooden leaf pattern bookends, nesting tea pot and Pfaltzgraff 2 quart casserole dish
90
Vintage 1920's Sunkist milkglass juicer
91
Vintage hand grater and an antique ice cream scoop
92
Lot including old bottle/can openers Schmidts, National Brewing Co, Waldorf Astoria, and pocket knives in a Pyrex bowl
93
Carvel Hall cake serving set (NIB)
94
Carvel Hall crab knives (NIB)
95
3 McCoy handled soup bowls, Hull handled soup bowls with one lid and 2 West Bend bowls
96
Small kitchen appliances including Emerson microwave, Mr Coffee, Black & Decker toaster and wafflebaker
97
Vintage Brass elk being chased by dogs expandable book rack bookends marked 805
98
Box lots including kleenix holder, ceramic angels, plate hangers, phone, multimeter, battery tester, stapler, X-Acto knife, egg plate and a lazy Susan
99
Kitchen Aid Classic mixer
100
Michelin Man bobblehead, Hess truck and Volkswagon Bug
101
Lot of agate bowls and handled pots
102
Stapleton step ladder with platform
103
4 S. Bent & Bros Colonial Chairs (2 are arm chairs) and dropleaf dinette table 60" X 24"
104
Metal file box, picture frames, Wagner paint stripper, plastic storage bins, decorative plates, Lenox cardinal dish, radio tubes and more
105
Igloo and Coleman coolers and a Florida State Seminole cooler shaped like a can
106
Memorex portable radio & CD player, "Make Peace" & "Asbury Methodist Church" plates, aluminum press, corner shelving unit with salt & pepper contents
107
Antique coffee grinder marked H.T. Armin
108
George Foreman, TeFal deep fryer, Rival Crock Pot, White-Westinghouse burner, punch bowl, Betty Crocker pie dish and more
109
Contents of upper kitchen cabinets including flatware, cups, baking dishes, handled soup bowls, butter dish, kettle, Farberware ladles and cutting boards
110
Contents of bottom kitchen cabinets includng Sunbeam opener, hand mixer, ice shaver, grater, cake tins, kitchen utensils, knives, cleaning supplies and more
111
Oneida flatware 54 pcs
112
Contents of corner stand including Lefton vases, satin blue candy dish, Kings Crown lidded candy dish, whiskey jug and more (does not include corner stand)
114
Wooden box with crochet needles, salts, Lefton bluejay and cardinal, table top fan and more
115
Spirit of St Louis wall phone
116
Extension cord, tarp, wicker basket with yarn, hand painted tray, slate, bar stool, blue trash can, plastic folding table and more
117
JVC 26" LCD television with stand
118
Cast iron gold floor lamp with green glass shade
119
Wooden floor lamp with shade
120
2 Dutailer glider rockers with foot stools
121
Wooden table 18" X 13"
122
Wooden wall handing hat/coat rack 24" long, wooden wall shelf 24" long and a metal cardinal welcome sign
123
Lasko high velocity fan
124
Vintage magazine rack and afghans
125
Farberware automatic coffee maker, cream & sugar, Occupied Japan tray, silver plate tea pot, green lidded candy dish and 4 margarita glasses, Depression candy dish and more
126
Amberina turkey candy dish
127
Occupied Japan figurine, 2 Victorian figurines, copper handled basket, Oriental design pottery lidded bowl, Mann glass basket, anniversary dish and more
128
Contents of bottom of blue cabinet including Edwin Knowles china, candy dishes,bowls, clear glassware, metal magazine rack, knife sharpener and more
129
Blue country style cabinet 44" X 13" X 74 1/2"
130
4 Vintage hand fans Garrett & Sons Snuff, Pocomoke City Pharmacy, Fox's 5c to $1.00 Store Princess Anne and Nora S. Davis Crisfield
131
Lot including 4 receipe boxes with recipes
132
2 shelves of miscellaneous cookbooks
133
Contents of pantry shelves including baking tins, stainless steel bowls, strainer, baking dishes, plastic containers and more
134
Shark Navigator vacuum, mop bucket, broom and wet mop
135
Columbus Washboard Co Dubl Handl washboard
136
Wall shelving unit with Lenox and Lefton cardinals, miniature oil lamps, baskets, a wooden paper towel holder and more
137
Empire Period full length mirror with beveled glass
139
Vintage clothes hamper
140
Pine chifferobe 47 1/2" X 21 1/2" X 74"
142
Antique black childs doll approx 9" tall
143
Antique Schildkrot doll T44 with turtle mark
144
Goebel M.J. Hummel male doll 11 1/2 tall in plastic case
145
Goebel M.J. Hummel female doll in glass case 10 1/2 tall
146
Antique childs doll in plastic case
147
Sylvania vintage radio model 1 250
148
Cast iron dresser mirror, vanity set and two powder dishes
149
Empire Period dresser with mirror
150
Empire Period sleigh bed with mattress and linens
151
Ironstone washbowl and pitcher with "Pinky" Lawrence
152
Empire Period vanity with beveled glass mirror (middle)
153
Sharp portable air conditioner with remote
154
2 1934 Chicago Worlds Fair Blatz Beer advertisingpaper stein breweriana Eitel Inc.
155
Antique 1878 Geo. Stinson & Co. Victorian girl lithograph and antique picture of a sleeping girl with a dog marked A. Trusty and antique oval framed picture of a man

RETURN