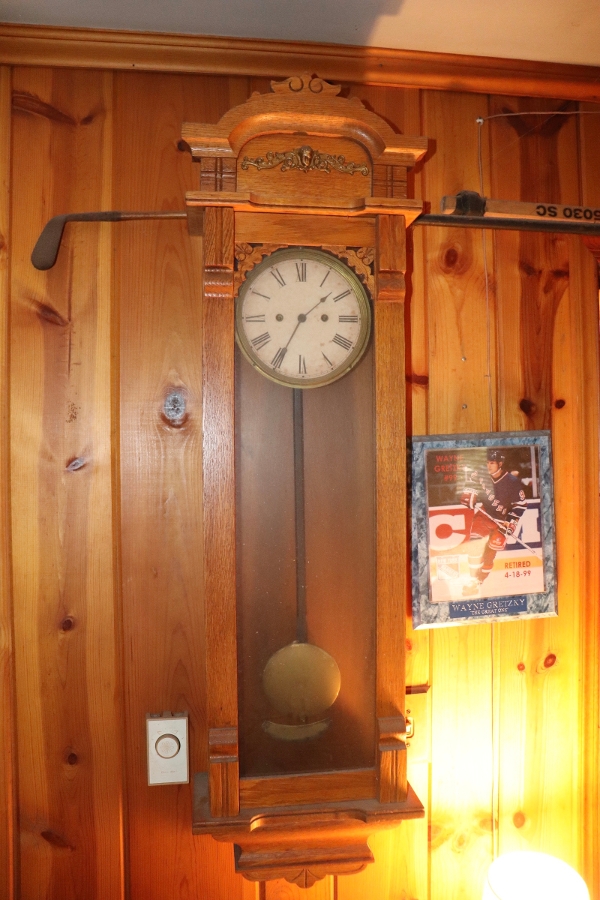 Marguerite Ensor Estate Auction Snow Hill, MD
December 11, 2019
3808 Nassawango Hills Drive Snow Hill, MD. 21863
ON-LINE ONLY AUCTION***ON-LINE ONLY AUCTION***
Eastern Shore Auctions, Inc., is honored to have been selected to sell the estate of Marguerite Ensor of Snow Hill, Maryland. This is an on-line only auction of furniture, toys, ice hockey figurines and memoribilia and other collectibles.
DATES: Monday, November 25, 2019 thru Wednesday, December 11, 2019. Bidding ends on Wednesday, December 11, 2019 starting at 5 PM.
PREVIEW DATE/TIME: Sunday, December 1 from 12 to 2 PM.
CHECKOUT DATE/TIME: Saturday, December 14, 2019 from 10 to 12 Noon. No exceptions.
LOCATION: 3808 Nassawango Hills Drive Snow Hill, MD. 21863
1
Samsung 40" flat screen smart television with television stand, Sony DVD player and DVD's
2
EdenPure Signature edition heater
3
Frigidaire window air conditioner 5950 BTU's
5
Lifetime 4 foot fiberglass table with a wooden 2 X 4 mounted on back
6
3 Toy trucks including 1992 Hess, 1
st
of a series Citgo and Exxon collectors series
7
Bachmann Big Haulers 4 door baggage car PRR Liberty Bell Green\
9
2 Metal 2 drawer file cabinets, bamboo style chair, 2 table lamps and a metal framed chair
10
Lot including hockey goalie picture, ice hockey memoribilia and shelf, Stanley Cup Greatest Trophies, 2 wooden country shelving units and more
11
Notebook of First Day of Issue Stamps including 1966, '67, '68. '69 and '70
12
3 James M. Bennett High School Voyager yearbooks 1966, '67 and '68
13
Victor "His Master's Voice" mirror
14
Partial tool set some Craftsman and a Weller soldering gun
15
2 metal tool boxes and a plastic container with Craftsman ratchets 1/2" and 3/8" with some sockets
16
Red metal tool box with contents including Craftsman ratchet, screw drivers and more
17
1945 Virginia single tag 53-051
18
Spalding Joel Horlen Professional baseball glove and a Worth Powercell Series softball glove both right handed
19
Lot including Auxiliary Lieutenant and USArmy belt buckles, Marshal Dodge City badge, US Coast Guard, 2 Santa keys and a Harley Owners Club pin
20
Boyds Bears & Friends lot of 5 figurines
21
Tub of miscellaneous collectibles including decanters, Budweiser steins, Lefton cat and more
22
Country style hat/coat rack, particle board book case, wooden stand/table, Lasko box fan and a Holmes portable fan
23
Lot of beer steins including Green Turtle, Henninger Brau, Budweiser, Strohs, Ravens Super Bowl Champions and more
25
Legends of Hockey 1942 - 1972 Hockey Cards from Eurographics Collection poster and a Wayne Gretzky #99 "The Great One" New York Rangers plaque
26
Hockey shadow box, hat rack, a Patrick Roy plaque and more
27
World Cup of Hockey 1996 limited edition pin set 14/350
28
Coors Light Stanley Cup Playoffs 2016 Reflective Plaque
29
Framed Opening Night at the Core States Center October 5, 1996 poster
30
McFarlane Toys Wayne Grezzky Edmonton Oilers 1979-1988 12 inch action figurine
31
Starting Lineup Freeze Frame One on One Hockey Figurines (all NIB)
32
Starting Lineup Hockey figurines including Turgeon, Brodeur, Fuhr, Coffey, Khabibulin and Osgood (all NIB)
33
McFarlane Sports Picks Alexander Ovechkin Washington Capitals figurine NHL Series 13 (NIB)
34
Hallmark Keepsake Ornaments including Gordie Howe (2), Mario Lemieux, Wayne Gretzky, Jaromir Jagr, and Eric Lindros
35
Yorkshire Co scale 1/25 Original 1929 Model A Ford US Postal truck
36
Just Wing'n It Decorative Decoys Swan decoy by Wayne Ensor 1991
37
Pair of brass duck head bookends
38
Miniature cast iron whistling swan and a miniature pewter wood duck
39
Ducks Unlimited Blue Wing Teal decanter, Ducks Unlimited Old Cabin Still 1972 & 1973 Wings Across the Continent decanters
40
Chincoteague Seafood Co Inc VA #604 Delicious Oysters can
41
Book lot including "My Maryland" by Bodine, "Chesapeake Circle" by Burgess and an artist signed copy "Land of the Evergreen" by Robertson
42
Book lot including Steve Ward "Closed for Business" sign by Jack Schroeder and "My Maryland" by Bodine
43
Book lot including "This Was Chesapeake Bay" by Burgess, "Chesapeake Bay A Pictorial Maritme History" by Brewington and "Pioneer Decoy Carvers" by Berkey
44
Book lot "The Years of Anguish Fauquier County VA" by Ramey, "Four Days" by Catton, "Ain't The Beer Cold" by Thompson and "From Colts to Ravens" by Steadman
45
Lot of hockey books including "Gordie A Hockey Legend", "The Game", Wayne Gretzky Pictorial Biography", "Blades on Ice", "Quest For The Cup" and more
46
Headliners by Corinthian NHLPA figurines including Sundin, Gretzky, Leetch, Messier, Lemieux, Forsberg, Modano and more
47
2006 USA Olympic pin set by Aminco Int'l
48
2006 USA Olympic pin set by Aminco Int'l
49
2008 Beijing Opening and Closing Ceremony pins, 1996 Olympics limited edition collector pin set, Champion pin set, 1996 Home Team Centennial pin set and more
50
Pin sets including 1992 Visa US Olympic pin set, '94 World Cup pins, Sydney 2000 day 13 and day 8 Coca Cola pins, 2006 USA pin and more
51
McFarlane's Sportspics figurines including Thornton, Iginla, Brodeur, Thibault and Turek
52
McFarlane's Sportspiccs Alex Ovechkin 2010 NHL Washington Capitals figurine
53
6 Kenner Starting Lineup figurines '98 Puppa, '96 Roenick, '96 Oates, '97 Bondra, '98 Gretzky and '96 Francis
54
6 Kenner Starting Lineup figurines '95 Vanbiesbrouck, '97 Tkachuk, '96 Richer, '96 Lindros, '96 Carey and '96 Sundin
55
4 PrimeTime Industries hockey figurines including Yzerman, Fedorov, Jagr, and Hull and a Starting Lineup pro action Wayne Gretzky figurine
56
4 Hallmark Keepsake hockey figurines including Crosby, Giroux, Kane and Tavares
57
McFarlane Legends Series 2 Phil Esposito figurine
58
McFarlane Legends Series 2 Jean Beliveau figurine
59
McFarlane Legends Series 2 Wayne Gretzky figurine and a Legends Series 5 Wayne Gretzky figurine
60
McFarlane Legends Series 2 Wayne Gretzky figurine and a Legends Series 2 Grant Fuhr figurine
61
McFarlane figurines Dominik Hasek, P.K. Subban and Brian Leetch
62
McFarlane Sports Picks Wayne Gretzky, Legends Series 5 LaFleur, and McFarlane Vintage Hockey Mark Messier
63
6 Kenner Starting Line Up figurine packs including Schultz, Clarke, Vanbiesbrouck, LeCavalier, Tony Esposito, Samsonou, Bure and Jagr
64
Starting Lineup Freeze Frame Wayne Gretzky 1998 edition
65
Starting Lineup Freeze Frame One on One Shanahan and Hackett, McFarlanes Sports Picks Cournoyer and Starting Lineup Pro Action Roy
66
McFarlane Iginla & Koivu, Sakic & Modano, Sundin & Forsberg, and Starting Lineup Hasek and Gretzky figurines
67
The NHL Patch Collection commemorating the greatest hockey teams of all time 50 patches
68
Lot of hockey books including "Total Hockey", "The Spirit of the Game", "Crashing the Net", "Who's Who in Hockey", "The Boys of Winter" and more
69
District of Columbia "Skins" Inauguration 1973 tag 1 of 3000 made after Nixons election in 1972 tage used for Dignataties and Diplomates
70
Baltimore Colts tag signed by Art Donovan, Jim Mutscheller, Raymond Berry, Lenny Moore, Doug Eggers and more
71
Starting Lineup Richard, Messier, Jagr, Trevor and Gretzy, Headliners Chelios, Potvin, Turgeon and Vanbiesbrouck
72
LGB Lehmann Gross Bahn Lehmann No 2774 on engine 2020D on underside engine and 40480 Work Shed car
73
Knee hole desk, black two drawer metal file cabinet and a table lamp
74
Franklin Washington Capitals and Chicago Blackhawks helmets
75
APC UPS ES 550 Battery backup & surge protector
76
Lot of 21 Hockey pucks including Capitals 1034/2500, Admirals 2000 Kelly Cup, Capitals autographed puck, 2000 Stanley Cup Playoffs and more
77
Lot of 24 Hockey pucks including Boston Bruins signed puck and more
78
Martin Brodeur autographed Score first round draft choice 1990 card and puck
79
Bruce Bodrau Washington Capitals Bobble Head 2007-08 Coach of the year
80
Jaromir Jagr Washington Capitals Bobble Head
81
2 Box Lots including Zamboni, hockey figurines, Tony Amonte Bobble Head, Hockey door stop and more
82
3 Box lotsincluding Nutcracker Village hockey player, Paver Bure Rookie Card with Puck, figurines, bobble head, mugs and Dodge Ram Pickup Toy
83
Box lots including ice skates, hockey glove, Starting Line up figurine, hockey cards and more
84
Main Street Chincoteague Island VA picture
85
Wilson NFL Football signed by Art Donovan, Lenny Moore, Raymond Berry, Jim Taylor, Ray Nitschke, Wheaties Ravens Cereal Box and others
86
Goose Neck Rocker, Cane bottom chair, and a parlor chair
87
Lehmann L.G.B. Gnomy 990 friction motor train, Gnomy truck friction motor, and a metal railroad crossing sign
88
Two LXI Series Speakers, Altez Lansing Computer Sub-woofer, shop light, green painted stand, pine end table, shelf, 2 match holders and two lamps
90
Iron City Beer Cans, signed Shore Birds Baseball, hockey cards, Monopoly games, possible game hockey stick, wooden shaft golf club and hockey pictures.
91
Lot of DVDs, CDs, cassettes and albums
92
Lunar picture with stamps including Project Mercury, First Man on the Moon, Apollo, Communications for Peace and more
93
Wooden Twin Trundle Daybed
94
Box lot of oil lamps and candle holders including Lamplight Farms oil lamps and Erik Hertz Pottery oil lamps
95
3 Washington Redskins Jerseys, 1 is Reebok NFL Equipment, 1 is Mitchell and Ness, and 1 is throwback Joe Theismann
96
2 ESPN Jerseys, 1 Salisbury University Jersey and 1 Redskins Baseball style jersey
97
New Jersy Devils Koho Officially licensed jersey and a CCM NHL Hockey Jersey
98
Ravens Reebok NFL Equipment Flacco Jersey and a Reebok NFL R. Lewis Jersey
99
2 KOHO Officially Licensed Colorado Alvanche Jerseys
100
KOHO Officially Licensed Detroit Redwings Jersey and a HYSTYK The Puck Stops Here roller hockey jersey
101
Lee Sport Washington National MLB jersey and a Reebok NFL Equipment Redskins 70
th
Anniversary Jersey
102
RBK CCM Authentic Washington Capital Ovechkin Jersey
103
New York Rangers Center Ice Starter Jersey
104
Lot Twenty Nine Wile E. Coyote 4X Jacket and a Florida Panthers Jacket
105
BUSHNELL Yardage PRO 800 Laser Range Finder
106
BUSHNELL 12 x 50 Powerview Binoculars
107
Belmont 7 x 35 Lightweight Binoculars and a TASCO 8x50 Binoculars
108
Burris 12x24x50 mm Compact Spotting Scope
109
Pentax 8x 24 UCF 8 x 24 Binocular with 2 pairs of goggles
110
Lady Shaeffer Cartridge Pen Set
111
Woman with a Guitar Renoir Satin top Music Box, a Born Free Satin Top Music Box (lid broke), and 3 Snow Babies
112
Rifle stock, military style bayonet, Bushnell Sport View Scope, Small cross bow with arrows, Polaroid Camera Light and an AVON Army jeep
113
Jason model # 707 Deluxe 1200 x zoom microscope
114
Lot including Black powder wads, patches, gun cleaner rod, bullets, shot gun shells, CO2 cartridges, Box of 303 British Bullets
115
Tin containing 22 bullets and a box of 22 Remington Bullets
116
2 American Eagle boxes of 45 automatic pistol cartridges (1 box is missing 6), partial box 9 mm, and 3 boxes game loads
117
2 Military Ammo Boxes
118
Metal Ammo Box containing 4 boxes 7.62x39 ammunition and 2 boxes 12 guage buckshot
119
Metal Ammo Box containing 7.62x39, 22 ammo, shotgun shells and more
120
Remington Tin car containing 8 boxes of 22 ammo
121
Vivitar Mono Pod with spotting scope and a Bausch and Lomb tripod
122
JVC 600x Digital Zoom CamCorder, Pocket Generator, Panasonic VHS OMNIMOVIE, NIKON Camera and bags
124
Arkansas 1981-82 Waterfowl Stamp and print, Core Sound Decoy Festival Print, Duck Stamp Print, Navigational Chart Hog Island Bay Area, and The Heritage of the USA Print
125
Plastic shelving unit containing dolls, CD's, DVD's and more
126
Lot including tape measures, Craftsman allen wrenches, Stanley stapler and Cobalt screwdrivers
127
Lot including Black & Decker screwdriver bits, small precision screwdrivers and Craftsman 1/4" socket set
128
Lot including Black & Decker high speed bits, precision screwdrivers, vise grips, wire cutters, cable ties and more
129
Lot including Craftsman open & box end wrenches, 3/4 to 1/4 and plastic storage conatiner with screwdrivers, scissors and more
130
Lot including wooden goose call, mallard tone duck call, patches and cigar boxes
131
Bell motorcycle helmet
132
Delmarva Power safe drivers utlity light, insulator and a Rockoway metal safe box
133
Craftsman precision screwdrivers and snips
134
EZE-Lap chain saw sharpner, tray of tools including wire cutters, pilers, srcewdrivers, small tripod and more
135
Craftsman screwdrivers, tool box with screwdrivers, Stubby hammer, tool box with gun cleaning kit, spot light and Weller soldering gun
136
Lot Hess vehicles including fire truck, police car, helicopter and tractor trailer with helicopter
137
Lot of Hess vehicles including truck with rocket, tractor trailer with race cars, truck with motorcycles, small airplane and Texaco pierce arrow
138
Husky metal tool box with contents
139
Tool bag with Black & Decker tools, level master kit, lantern, radio-light, TFT color monitor and more
140
Singer feathweight sewing machine
141
Lot including Molson beer hockey stick, rolling pin, masher, cookie molds, womens ice skates and wooden boxes
142
Coleman Cooler with electrical cords, Shorebird signed baseball, holsters, dry erase board and military backpack
143
Deer antler hat rack, pair of speakers, wooden shelf, nick nack shelf, doll radio flyer sleigh and more
144
Lot including cigar box made into a purse, vintage evening purse, Michael Collins mixing set, Gi Joe lunch pale, lamp, and wooden shelf
146
Hogs & Heros Foundation America motorcycle riding vest
147
Tub lot including scare crow, golf coat rack, Cash Cab game, toy snake, country snowman box, Ravens banner and more
149
Oak sleigh bed with mattress, box spring and linens
150
Lasko heater, portable antenna and floor lamp
151
Lot of bottles including McCormick of Baltimore, MD, Bumstead worm syrup, Listerine, Rumford and more
152
Lot including Hallmark Lionel 100
th
Anniversary ornament, small Lane chest, wooden jewel box with a duck and more
153
Pyramid regulated power supply model PS- 21 KX with battery and wires
154
Computer stand with lamps, hen on nest, barometer and Fosturia divided dish
155
Alpaca Aztec calendar plate Mother of Pearl and soup/sauce set
156
Wooden Snow Hill, Md box
157
2 Wooden country shelves and rush bottom Butler chair TV tray and pair of pine end tables
158
Samsung 27" flat screen TV with remote and a wooden stand
159
Bose wave music system stero with CD component and power microphone and a Sony DVD player
160
Natural finish chest and dresser
161
Green painted dresser
162
Maryland 1634 - 1934 Tercentenary tag
163
Vintage tiered sewing cabinet with contents
164
Cedar chest with contents including sharpening stone and Terracota pumpkins
165
Westmorelind pink vase with dragon feet and Depression style handled bowl
166
Lot including small wash bowl & pitcher, beer glasses, Michelob pitcher, doll china set and more
167
Large lot of hockey cards and hockey memoribilia
168
WSBY/WQHQ Eastern Shore Favorites 1958-68 signed by Gary Klelman
169
Selection of Western Hats and 2 pictures
170
Delmarva Shorebirds Manny Machado bobblehead
171
Sherman the Shorebird bobblehead
172
George D Spence & Sons Quinby, VA Quinby Brand Oysters can VA 612
173
Sailor Boy Brand Oysters R.F. Brown Seafood Co Lansing, Mich VA 16 Oyster can
174
Henry McKenna Fairfield, Nelson County, Kentucky Sour Mash Bourbon Whiskey half gallon jug and a Strawberry cheesecake crock
175
Original United States Post Office mailbox made into a bank #6023 (combination on bottom)
176
Corgi Classics Standard Greyhound bus
177
2 porcelain winter figurines
178
Lot of toys including Foose diecast 1967 Ford Mustang, 1949 Chevrolet Rescue Service and a Ford GT 500
179
First Gear 1949 Dodge Powerwagon brush fire unit Maryland Forest Ranger truck
180
Racing lot including Evernham Dodge, Dover Downs program, Budweiser 1/24 limited edition 095/166, Tony Stewart, Richard Petty autograph, Bill Elliott and more
181
Toy lot including Choptank bucket truck, Dodge trucks and racing cars
182
Frank Perdue bobble head, Perdue Cookbook signed by Mitz & Frank Perdue and used decorative fringed American flag
183
Boyds bears hockey figurines, Snow Baby hockey figurine and 2 hockey ornaments
184
Helicopter lot (missing parts) including Maryland State Police, Corgi Iroquios, Canada rescue and 2012 Hess Helicopter and rescue
185
1995 Hess truck with helicopter and a 1994 Hess rescue truck
186
2008 Hess truck & front end loader and 2015 Hess fire truck & ladder rescue
187
2009 Hess race car with racer and 2016 Hess truck with race car
188
1996 Hess emergency truck and 1999 Hess truck with space shuttle & satelite
189
2002 Hess truck with airplane with some yellowing, 2000 Hess fire truck and 2007 Hess monster truck with motorcycle
190
1993 Hess police car and 1997 Hess truck with racers
191
1998 Hess recreation van and 2010 Hess truck with jet
192
Large fishing creel basket with canteens and camping tins
193
Tile top dinette table with 3 chairs, a two drawer stand, corner shelving unit, microwave with stand, 2 step ladder, cooler and a wooden mirror/candle holder
194
Black metal shelving unit
195
Moto straight talk wireless phone
196
Hallmark Coca Cola Santa musical snow globe, Department 56 Village Junk Yard, Dickens Vale hockey game, antenna and contents of bathroom
197
EZ Hitch with receiver and 2 sway bars
198
Motorized wheelchair/scooter with 2 batteries
199
Lot of fishing rods including stirdy stick and Penn reel
200
Murray mens & womens bicycles
201
Troy Bilt TB 130 21" push mower with bagger
202
Poulan Pro 21" push mower with bagger
204
Saw horses and extension cords
205
Wooden Coors Light surfboard sign
206
Wooden original Carvel Hall back to reality sign
207
4 Indian Motorcycle tin sign
208
5 Wooden wheel chocks
209
Lot including greenhouse shelf, totes, birdhouse, coolers, gas cans, folding chairs and more
210
Lot of yard tools including post hole digger, snow shovel, hoe, racks, garden claw and more
211
Black plastic lawn cart/wheel barrel
212
McQueen from The Cars tricycle
213
Werner 8 ft fiberglass ladder and trash can
214
Vintage Pleasure Chest cooler
215
Anheuser Busch Inc Property St Louis MO wooden box
216
Black and White Blended Scotch Whiskey James Buchanan and Co LTD Glasgow Scotland wooden box
217
Wooden lift top box and a wooden Les Grands Vins Produce of France box
218
Wooden lift top box with flying mallards The Classic
219
Miniature wooden decoy in natural finish
220
LaBeille No 76 made in Germany lantern, Far East TMK II and a Dietz New York USA No 8 Air Pilot red globe lantern (cracked)
221
Craftsman Sawmill 7 1/4" circular saw with case
222
Black & Decker zip saw
223
Homelite chain saw 45cc
225
Metal Eagle with spread wings 43"
226
2 Sets of jumper cables
227
Power tool box with contents including pipe wrench, vise grips, Craftsman drill bits, Craftsman soddering gun and Plano Tackle box
229
Pair of red car ramps
230
Gray hand cart with a damaged handle
231
Hoover Exclusive 2 tank system wet/dry vac
232
Shop Vac 6 gallon and Shop Vac 1 gallon
233
Ridgid power spin and Emerald cast iron pan
234
Wooden red porch bench
235
Magic Chef dorm size refrigerator, milk can with table top, Husky air compressor and battery cart
236
Yard decore lot including shepard hooks, hose reel, purple flamingo and more
237
Char
Broil commerical infrared grill
238
Weber charcoal grill and Brinkman gas smoker & grill
239
Glass top patio table and 4 chairs

RETURN