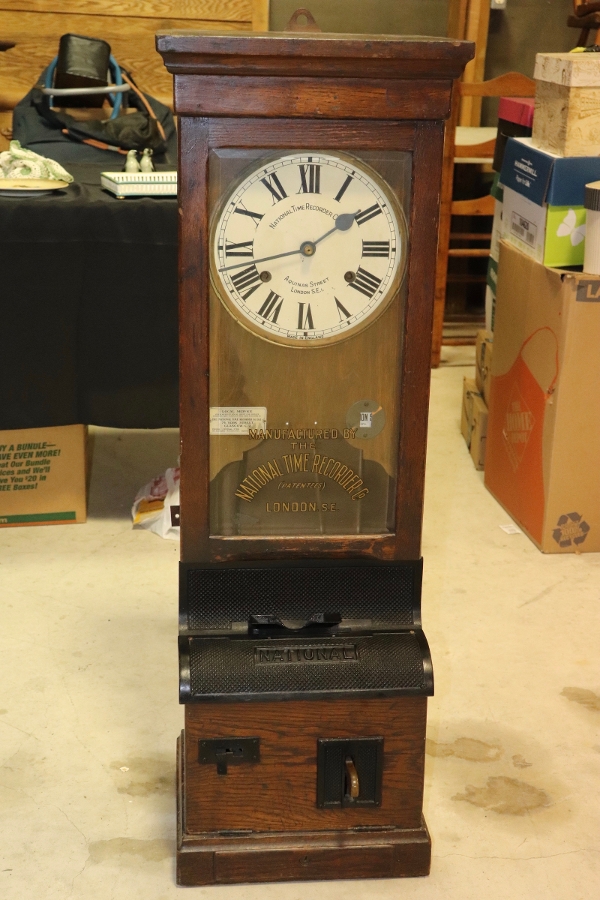 Quality Estate Auction
February 5, 2020
28614 Ocean Gateway Salisbury, MD. 21801
ON LINE ONLY AUCTION*****ON LINE ONLY AUCTION*****
INTERNET ONLY AUCTION: January 13, 2020 through February 5, 2020. Bidding ends on Wednesday, February 5, 2020 starting at 5 PM.
PREVIEW DATES/TIME: Wednesday, January 29, 2020 from 4 PM to 6 PM.
CHECKOUT DATE/TIME: Saturday, February 8, 2020 from 9 AM to 12 PM. No exceptions.
LOCATION: 28614 Ocean Gateway, Salisbury, MD 21801
Eastern Shore Auctions, Inc. is honored to have been selected to sell the Estate of Albert E. "Knobby" Mills of Easton, MD., and several other local estates.
This is a large auction of quality items including an English National Time Recorder clock, FBM Co hand painted leather fire screen, 1946 10c console slot machine, Longaberger baskets and pottery, glassware, Hummels, decoys, straight edge razors, furniture, crocks, Paul McGehee "Mount Vernon By Moonlight" print and other collectibles.
Enjoy the photos but keep checking back as additional lots are being added daily.
1
Vintage Old Honesty 5c Cigar cast iron bank marked Cleve Oh on bottom 13 1/4" tall
2
Chinese Cloisonne green floral ginger jar 9" tall
3
Friar Tuck by Goebel stein 7 1/2" tall to top of lid and Friar Tuck by Goebel salt and pepper shakers
4
Glass fish with green, tan and black 13" long
5
Orcas Island Pottery blue vase 4 1/4" tall
6
Orcas Island Pottery blue handled crock with lid 9" tall
7
Mermaid vase signed C Filip 7 1/4" tall
8
Signed Pottery Vase with sand dollar or flower decoration 7 1/4" tall
9
Marcolin Signed glass whale 8" long and angel fish 6" long paper weights made in Sweden
10
Dominos with "pivot" or spinner pins contained in a wooden box
11
Antique brass stamp box or tender box 4 5/8" long X 2 1/8" wide with hinged compartments inside
12
Pair of blue Chinese Cloisonne vases 5" tall
13
Chinese Cloisonne ginger jar with bird and flower decorations and with stand 5" tall
14
Hull double vase Woodland blue green 8 1/2" tall
15
Scrimshaw decorated with whaling scene among icebergs "The Whaler Prince" and "1
st
Mate T. Bowers" and "Taken from Dead Walrus Oct 17 1841" 20 1/2"
16
Pair of Baldwin brass candle holders 4 3/4" tall
17
Vintage woodcraft Berea College KY tic tac toe game and a cobalt Oriental vase 3 1/2" tall
18
Cobalt blue/gray 2 gal stoneware crock crack at top and down one side
19
Red Wing Union Stoneware Co 3 gal crock
20
French Val St. Lambert signed swirled art glass lamps 12" tall
21
Wooden kitchen utensil wall display set
22
Vintage Swedish Mauser 1896 M96 Bayonet marked EJ Anchor Crown AB with scabbard and leather frog
23
19
th
Century Brass decorated Islamic Persian Qalamdan inkwell/pen box decorated on both sides with horned animal inkwell has shell shaped lid pen box has hinged lid
24
Antique Herschede mantle clock marked on back with a tag that says Herschede Hall Clock Co Grand Prize
25
Marble/alabaster/granite tan and white vase 7 1/2" tall
26
Oriental vase decorated with dancing and musical figures 11" tall
27
Vintage cast iron toy horse drawn ice wagon 8" long
28
Cast iron horse toy pulling a metal wagon 6 3/4" long
29
Underwood & Underwood Antique Steroscope with over 100 photos/slides
30
Replogle 16" diameter globe World Classic Series with wooden stand
31
3 Purity "Pavesco" Bottles Baltimore, MD Antique Round milk/cream carton 1 quart, 1 pint and 1 half pint
32
Antique Stoneware brown pitcher with grape and trellis design 8" tall
33
Antique McCoy brown stoneware beer/ale pitcher with Buccaneer 8" tall wear to glaze on pour spout
34
Vintage handpainted wooden key/match box and a 9 sided wooden box with lid
35
Signed French Verly Clear glass vase 8" tall (chip in glass on inside of base), Heisey bowl, and a Fostoria Vase 10"
36
Cut glass vase 11 1/2 " tall and a clear glass water pitcher 10 1/2 " tall, and 5 Heisey goblets 5 1/2" tall
37
2 hand blown Cobalt Blue swirl glass champagne glasses 5 1/4" tall
38
Vintage cast iron bank "the one that got away"
39
Pair of antique pictures with water scenes 23 x 10 1/2
40
W Goebel Hummel Figurines Madonna/Mary and Baby Jesus Nativity Both 214A
41
MJ Hummel Goebel 185 "Accordion Boy" stamped Vwith Full Bee and Hummel-"Let's Sing" V with Full Bee 110/0 1938 age cracks in glaze on face
42
MJ Hummel Goebel 186 "Sweet Music" with Full Bee Germany and Hummel "Little Fiddler" Full Bee Germany
43
MJ Hummel 130 "Duet" V with Full Bee Germany
44
MJ Hummel 129 "Conductor" and MJ Hummel "Angelic Song" 144 V with Full Bee (wing has been reglued)
45
MJ Hummel 69 "Happy Pastimes" Marked with V and Full Bee Germany and MJ Hummel "Meditation" 13/0 V with Bee W Germany (rough edge on ponytail)
46
MJ Hummel 198/1 1948 "Home from Market" V with Full Bee W Germany and MJ Hummel 79 "Globe Trotter" V with Full Bee Germany (chip on umbrella and repair to head)
47
MJ Hummel 13/0 " Meditation" V with Bee W Germany and MJ Hummel 21/01 "Heavenly Angle" V with Full Bee Western Germany
48
MJ Hummel 142/1 "Apple Tree Boy" V with Full Bee Western Germany and MJ Hummel "Apple Tree Girl" 141/1 V with Full Bee Western Germany
49
MJ Hummel 99 "Eventide" V with Full Bee West Germany and MJ Hummel 197 "Be Patient" V with Bee W Germany
50
1/4 size Resin cast redhead drake signed Boyd '83 and a resin cast canvasback drake signed Tuttle '88
51
1/4 size Resin cast mallard drake signed Smith '88, resin cast bufflehead drake signed Small '88 (tail repaired) and The Bronze Menagerie mallard duckling
52
Chelsea Ships Bell Clock, Holosteric Barometer $200,000 Club award
53
Mills Golden Falls 1946 10 cent Slot Machine-worked when tested
54
Early Vintage Paper cards
55
Three Johnson Brothers England HOP Semi-Porcelain Blue Gray platters 2- 17 3/4", 1- 16"
56
1940's McCoy Clown Cookie Jar
57
Tung-Woo Hong Kong Copper Masthead Nautical light
58
Roseville U.S.A. Clematis Small Vase 103-6"
59
Roseville Robinson-Ransbottom Blue Spongeware 12" pasta dish and a Roseville Robinson-Ransbottom Blue Spongeware 10" bowl
60
Roseville Robinson-Ransbottom Blue Spongeware Large bowl 14 1/2"
61
2 NIPPON Royal Satsuma footed bowls, saucers, and spoons
62
Pair of oriental jars with lids with Flying Crane Design 4" and 3 1/2"
63
Wooden Fish on a Brass Pedestal 19" tall
64
Sevres Yellow Crystal made in France umbrella ring holder 3 1/2"
65
Set of three wooden musicians 16"
66
Chrokee Blue Indian Head Louisville Pottery Co Four Gallon Churn with lid (crack in glaze)
67
Ronson Decanter Silver Plated Cigarette lighter
68
Sterling silver Art Nouveau Double Lilly Pad with handle X103 hors D' oeuvres marked with an R
69
Amston Sterling 415 Pepper Shaker and a pair of sterling weighted salt and pepper shakers
70
Clichy France Crystal Glass Christmas Tree 6"
71
Retro style metal table lamp with glass globe 19" tall
72
Hull pottery Magnolia pattern 4 3/4" vase
73
Vintage Big Boy original Tinker Toy play set Circa 1957
74
Shur-Stop Fire Extinguisher
75
XL Crystal cube light house
76
Post Office Department Vintage Wood File letter, cash and stamp box #224 MFD by Corbin Cabinet Lock Co
77
Post Office Department Vintage Wood File letter, cash and stamp box #224 MFD by Corbin Cabinet Lock Co
78
Post Office Department Vintage Wood File letter and cash box #224 MFD by Corbin Cabinet Lock Co
79
National Time Recorder Company Aquinas St London S.E. Made in England Factory Time Clock in Oak Case 43" tall x 13" deep x 15" wide
80
F.B.M. Co Hoboken, NJ 3670 Ferguson Bros. Handpainted Leather Fireplace Screen
81
Wooden Original Goorton Cod Fish Box holds 24 8oz cakes Gloucester MASS 11 1/2 x 10 1/2
82
3 K. Szonk Ukrainian Art pictures framed enamel on copper- 5 3/4 x 8, 6 1/2 x 8 1/2, and 6 x 5 (woman carrying a bucket, man playing musical instrument, and a house)
83
Model of wooden sailing boat 9 1/2" long
84
2 wooden sailing boats 8 1/2" long
85
Paul McGehee "Mount Vernon by Mooniight" Print #351 of 2000 42 x 32

RETURN