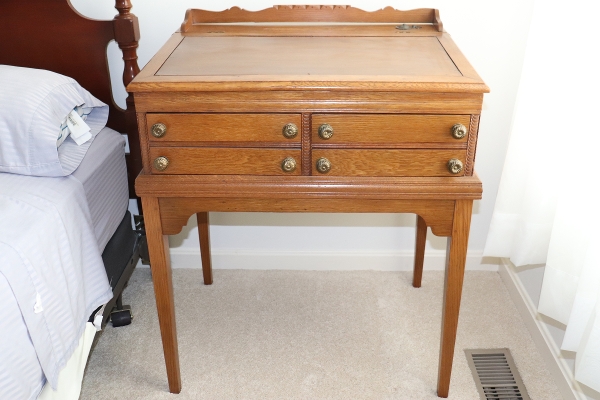 Margaret Toadvine Estate Auction
March 4, 2020
941 Winding Way Salisbury, MD. 21804
ON-LINE ONLY AUCTION***ON-LINE ONLY AUCTION***
Eastern Shore Auctions, Inc. is honored to have been selected to sell the estate of Margaret Toadvine of Salisbury, MD. She was a CPA in public practice and retired as a partner in the accounting firm, now operating as Wigglesworth, Layton, Moyers and Chance. At the 100th Anniversary celebration of the American Association of University Women, the Salisbury branch honored her as the outstanding business woman in this area.
We will be selling quality items including an Eastern Shore corner cabinet, a spool cabinet from R.E. Powell from Salisbury, MD., a pie safe, an antique gathering style basket, Sterling silver, blue/gray stoneware crocks and more.
DATES: Monday, February 17, 2020 through Wednesday, March 4, 2020. Bidding ends on Wednesday, March 4, 2020 starting at 5 PM.
PREVIEW DATE/TIME: Wednesday, February 26, 2020 from 4 to 6 PM.
CHECKOUT DATE/TIME: Saturday, March 7, 2020 from 9 AM to 12 Noon. No exceptions.
LOCATION: 941 Winding Way Salisbury, MD 21804
1
Oriental pair of framed pictures with peacocks and chickens 9 1/2" X 24 1/2" and a small Oriental decorative screen 11 1/2" tall (damaged)
2
Antique cast iron balance scale with weights
3
American sewing machine base with marble top (crack in the marble)
4
Pair of needlepoint bird wall hangings 9 1/4" X 47 1/2"
5
2 Santa cross stitch pictures
6
Floral decorated wall picture 21" X 27"
7
Blue and tan small area rug 42" X 20" and a blue and burgundy runner 26 1/4" X 96" (length does not include fringe)
8
Antique squirrel cage yarn swiftwithb yarning tools
9
Pair of floral decorated bedroom lamps 11" tall
10
Mahogany vanity with mirror and Ramseur Furniture Co stool
11
Antique oak spinning wheel
12
Mahogany one drawer bedside stand
13
Kerosene lamp converted to electric, needlepoint farm house picture, floral picture and children on a log crossing a creek picture
14
Twin bedframe with Serta mattress, box spring and comforter
15
Antique yellow pine chest 45" X 18 1/4"
16
Pair of vintage wooden Cotton Carders wool/cotton paddles marked Whittemore
17
Antique 2 sided slate chalkboard 13" X 9"
19
Antique plank bottom chair and particel board table
20
New Home Sewing Machine Co sewing machine with cabinet with knee pedal
21
Country Squire Solid Northern Cherry 6 drawer dresser with mirror by Cherokee
22
Country Squire Solid Northern Cherry 5 drawer chest by Cherokee
23
Pair of Century Chair Co wooden armed formal chairs
24
Small bedroom lamp and Antique Indian style doll
25
Gold trimmed 4 piece vanity set decorated with sunflowers by Matson
26
Antique brass school bell
27
2 Geese in an acrylic globe
28
Alabaster table lamp with gold colored shade with metal base
29
Antique rush bottom Windsor style rocking chair
30
Country Squire Solid Northern Cherry night stand by Cherokee
31
Mahogany bed frame with Sealy posturedic mattress & box spring with linens
32
Antique oak spool cabinet from R.E Powell Salisbury,MD
33
Antique Shirley Temple doll marked Shirley Temple on the back
34
Box lot of old puzzles, cards and more
35
La-Z-Boy rocker recliner
36
Pine style television stand with glass top, Sylvania 19" television and Zenith VCR VHS
37
Wool area rug marked D9130 45 1/2" X 85 1/2" red with black
38
Blue and burgundy runner 26 1/2" X 98"
39
Linen bedspread shown on double bed, round linen tablecloth and two bathroom rugs
40
4 Vintage Paint By Numbers paintings including deer, pheasant, swan and a boy fishing
41
Vintage Paint By Numbers horse picture, 2 Bird pictures, Mont Saint-Michel and a sailboat picture
42
Cobalt Blue/Gray crock has a crack 8 1/2" tall
43
1 1/2 Gallon Cobalt blue/gray crock with crack 11" tall
44
Stoneware whiskey jug 8 1/4" tall
45
Gold trimmed serving tray with 4 small pedestal dishes(one chipped) and 4 Limoges salt & peppers
46
Swedish Dala Horses from Nils Olsson
47
Blue table lamp with white base, blue fluted top vase and blue glass
48
Antique walnut sideboard marked with initials C.L.W
49
Large Oriental floral decorated urn with artificial plant
50
Mahogany drop leaf gate leg table 24" X 43 1/2" closed extends to 74 1/4" opened and 6 spindle back chairs
51
Antique 4 tin jelly cabinet
52
Perfume bottles & powder dish vanity set made in Japan with homemade floral arrangement
53
Wilton Pewter Popular Hill Mansion personalized scribed plate and Wicomico High School 1946-1996 pewter coaster
54
South American style decorated plate, needle point duck picture and 2 Spanish town pictures
55
2 Karastan Kirman tan, blue & pink area rugs 26" X 49"
56
Karastan Kirman 8' X 12' floor rug
57
Karastan Eastern Primitives Collection Panel Shirvan 4' X 6" rug
58
Vintage Dazor Floating Fixture Model M-210A magnifying floor light
59
Catnapper Pow'r Lift Power recliner
60
Antique kerosene lamp electrified, Seth Thomas battery operated clock, Brass oil lamp converted to electric and metal waste can
61
Permacraft Sanford Furniture solid Cherry server
62
Handmade small pine drop leaf end table made by Ernest Smullen 15" X 24"
63
Temple Sofa with tan & green
64
Large Oriental decorated urn
65
Jasper Cabinet Co curio cabinet (does not include contents)
66
4 Pieces of Luster Ware including Cumbow "Abingdon" creamer, 2 other creamers and a handled cup
67
Briley Co miniature widgeon drake, Hudson Pewter dog, France lovebirds and a pink bear with a fish
68
2 Inuit small carvings one is a walrus and an Eskimo and the other is a dog sled team 2 1/2" and 3"
69
Vaseline glass candy dish 4" X 4"
70
Vaseline style satin finish candy dish with lid
71
Vaseline style dishes including six sided dish (couple chips on lip), salt and a glass
72
Ruby red cut to clear water pitcher with six matching glasses and one additional glass
73
Oriental dish lot including 2 plates (1 damaged), 2 cups and saucers made in Hong Kong (1 chipped), a handled dish and a small sauce dish
74
Strawberry Tickets from A.P. Toadvine including 1, 2, 4 & 6 quarts contained in a small wooden box
75
Delft lot including two bells with no clapper, heart shaped dish, small trinket dish, bird figurine and a cup
76
Delft water pitcher with chip on lip marked PAH 1977 and 4 pairs of small glass shoes
77
Delft soup tureen marked Delft Blue PAH 1983
78
Foot stool with carved flowers and a needle point top cushion
79
Granna Glas Sweden lead crystal bird
80
2 paperweights both decorated with flowers
81
2 paperweights one is a flower other an apple
82
Mahogany tilt top table 25" diameter
83
C. Parker Co antique piano stool with needle point cushion
84
4 Thomasville dining chairs with needle point cushions
85
Balcom & Sons Seattle, Washington foot stool with needle point cushion
86
Samsung 40" flat screen with remote
87
Television stand, Samsung DVD/VHS player and General Electric cassette player
88
H. M. Co highback formal arm chairs
90
Cherry dropleaf gateleg table 14 1/2" X 30" closed 40" when opened
91
Small metalic pottery vase urn made in Isreal, small brass vase, Bavaria & Occupied Japan small cup and saucer, Bible compact disc
92
Wooden floor lamp with marble serving as a table in the middle
94
Mahogany knee hole desk with 6 drawers and a drop down middle drawer for keyboard and a desk set including pad, index card hiolder and pencil holder
95
Wood and brass floor lamp with flower decorated shade
96
Pine style one drawer stand with dropleaf sides
97
Karastan Kirman wool floor rug 11 1/2 X 14'
98
Embroidery bird tapestry signed MAT 1989 25" X 7" , Christmas needle point of the Twelve Days of Christmas signed MAT
99
2 Floral pictures in gold frames 8" X 16", a Paint By Numbers scene of a horse drawn carriage and a picture made of flowers
100
2 Paint By Numbers pictures 12" X 27" one of waterfall scene and the other of a violin and vase
101
Vintage N. Currier lithograph of "Winter Pastime" and Currier & Ives print "The Snow Storm"
102
2 Area rugs larger one is 34 1/2" X 58" and 24" X 44 1/2"
103
Lionel Ives engine, coal tender and two Ives R.R. Lines Pullman cars one is missing one set of wheels and 8 pieces of track
104
Small wooden childs toy baby carriage with wooden wheels and metal canopy 4 1/2" long
105
Cast iron Gasoline truck 5" long
106
Lot of vintage childs blocks and an old bear toy
107
Canon MP25DV Heavy Duty Desk Top Printing Calculator with rolls of tape
108
Small wooden top stand with metal legs 12 1/2" X 15"
109
Antique 3 drawer dresser 36" X 17"
110
Antique split oak gathering style handled basket with red and green colors throughout 13 3/4" diameter
111
Antique1800's Eastern Shore Yellow Pine Corner Cabinet with a tag indicating it was made by Anthony M. Brown (1823-1895) for his daughter 52" X 86" (not including contents)
112
Antique oak table with 4 leaves 63 1/2" X 44" with 3 leaves in
113
3 Antique wooden plank bottom chairs 2 match
114
Wooden arm chair with green upholstery
115
Staples hi speed shredder
116
Hubley cast iron bookends with pirates carrying treasure chest marked 213
117
3 Shelf Pine style bookcase 35 1/2" X 13 1/4" Height 44 1/4"
118
Antique copper kettle/bucket with handle 16" diameter
119
Antique brass bucket with handle 11" diameter
120
Brass floor lamp that swivels at the top
121
Vintage table lamp withmetal base and clear glass center area
122
Steelworks 3 drawer metal file cabinet with key
123
Staples 2 drawer legal size metal file cabinet
124
2 Drawer metal file cabinet and a Samsonite brief case
125
Framed picture of Nutters Dist. No 8 Wicomico County
126
2 Framed embroidery pictures of a Mill Stream and trees with mountains one is 16" X 16" other is 15 1/2" X 15 1/2"
127
Folding bookcase with 3 shelves
128
Lot including a wooden frog bank, a glass fruit dish, a Reli-On blood pressure monitor and more
129
Noritake Hand Painted Christmas Ball Gold Gilted Dinnerware set (approx 108 pcs) platters, dinner, salad, dessert & bread plates, gravy dish, lidded butter, vegetable bowls and more
130
Lot of clear glasses some with grape design, brandy glasses, dessert dishes, etched glass cream and sugar, another creamer and more
131
Lot of collectible plates including Schumann Germany, Bavaria, Wedgwood, and others and Noritake cream and sugar
132
Oriental design ginger jar with stand 4 3/4" tall (height does not include stand) purchased from Orient House New York
133
Oriental bowl decorated in Hong Kong Rose Medallion 8" diameter with stand
134
3 Oriental plates (2 has chips) and 3 saucers ( 1 has chips) Rose Medallion
135
Fair Oaks China by Royal China Inc 20 pieces total (crack in one plate and couple chips in some pieces)
136
4 Monarch China Coronado Occupied Japan plates (1 chipped), 3 Noritake Chinapeony plates (1 chipped), Noritake bowl, saucer & spoon, vase and brass candleholders
137
Rival blender and some Tupperware dishes including egg plate and a wooden paper towel holder
138
B & O Railroad bowl by Shenango China, caandle with shells, needlepoint robins and a 1997 Dresden Tour Basket II Longaberger Basket
139
Set of Oneida Craft stainless flatware and other miscellaneous brands
140
Clear glass punchbowl, 2 cups, cake plate, Homco candleholder, celery dish
141
Carlsbad CSM Austria serving platter, BRC Germany handled platter and a floral serving tray
142
Set of 4 Carvel Hall steak knives
143
2 Mignon Bavaria sandpiper plates 7 1/2", 3 fish plates 1 marked Orleans Bavaria (1 chipped on bottom) and a Guinea plate 7 1/4"
144
Porcelain top table 40" X 25"
145
2 Wrought iron outdoor chairs
146
Enterprise Mfg Co Philadelphia USA antique coffee grinder
147
Samsonite folding card table and 4 chairs
148
Antique wooden office chair on wheels
149
Folding utility table, folding card table, storage tubs and 3 Sheppards hooks
150
Festival Leisure Furniture 6 chairs and 4 tables
151
Medline Guardian 4 wheeled walker, bath chair, raised toilet seat with arms, EZ Grabber and three canes
152
Hand tools contained in storage cabinet including pipe wrenches, ice picks, knives, cutters, hammer, screw driver, pliers, trimmer and bulbs (does not include paint)
153
Gibson Frost Clear Refrigerator/freezer
154
Wooden storage cabinet and a metal bookcase
155
Extension cord, saw, broom, leader hose, snow shovel, broom, and more
157
Winston Furniture Company aluminum frame patio set including gliding loveseat, chair with foot stool and side table with cushions
159
Benchmaster Furniture swivel recliner and footstool (cat damage) and a white end table
160
Vizio 24" LED HDTV with rabbit ears
161
Antique Wooden Varnishes box 7 3/4" X 7 3/4", 2 wooden handled forks, a tenderizer, a wooden paddle and a Boomerang marked Mudde Dubde Tribe
162
Antique oak plant stand 18" X 18"
163
Cast iron plant/urn holder
164
Antique primitive wood grain measure bucket 11" tall
165
Antique cobalt blue/gray small crock/churn 1 gal with ears (cracked)
166
Apple rug, green and tan floral rug and a sheepskin
167
Sterling silver creamer and sugar monogrammed MW marked VCA on the bottom (Van Cleef & Arpels?)
168
Crown Sterling weighted candle holders 4 3/4" tall
169
S. Kirk & Son Sterling Rose pattern flatware set including 8 of each - dinner forks, salad forks, place spoons and knives, a sugar shell, a gravy ladle and 2 serving spoons
170
Ladies Diamond ring with two stones
171
1946 Wicomico High School class ring inscribed MAT inside
172
Ladies 10 K initial ring
173
Sterling silver pin with jade
174
Elgin pocket watch (ran when tested)
175
Lot of three Peace silver dollars including (2) 1923 and (1) 1922
176
Lot of 9 silver half dollars including 1907, '15, Walking Liberty 1940, '41, '43 & '46, Ben Franklin 1950 and 2 Kennedy 1964
177
Lot of 5 silver quarters including Barber Quarters 1893, '03, and '05, a 1927 Standing Liberty and a 1944 Washington
178
Lot of 17 silver dimes including Barber 1909, '11 and (2) '12, Mercury dimes 1916, '17, '18, '19, '20, '26, '27, '28, '29, '34, '35, '36 and '39
179
Lot of 6 Buffalo nickels including 1927, '29, '30, (2) '35, and a '37
180
Tourquise and Sterling silver necklace marked 925 Mexico and a Sterling silver pin
181
S. Kirk & Son Sterling pin engraved Quota 1972-74 with intials on front, a necklace with a charm marked Sterling and a chello pin marked Sterling
182
Herringbone style necklace marked 925 Mex
183
S. Kirk & Son Sterling pin and a Sterling bracelet with 1961 and inscribed with initials marked on hasp
184
Antique cameo brooch marked 10K on clasp and a small cameo on black material for a shirt
185
Necklace with a heart shape pendant containing a flower with a red stone marked 14K on the necklace and pendant
186
A & Z 14 K round pin inscribed with initials and on the back reads Congratulations on C.P.A. Nov 6,7,8, 1963 and matching earrings
187
Pair of red stone earrings marked W.R.E. Sterling (W. E. Richards) and a pair of Sterling cuff links made in Siam
188
Beaded necklace with matching earrings
189
3 bags of costume jewelry including pins, charms, necklaces, pewter and more
190
4 bags of costume jewelry incuding necklaces, earrings and lapel pins
191
4 bags of costume jewelry necklaces
192
4 bags of costume jewelry including pins and earring sets, opal style necklace and earring set and more
193
Lot including glass jewelry box, antique doll, pewter skipjack and pewter PGH 1904-1972 School of Nursing cup
194
Pair of Forbes Silver Co quadruple plate candleholders and Sterling weighted 3 candle inserts
195
Lifetime Brand silverplate tray 27" long handle to handle
196
Oneida Tudor plate flatware service for 10 plus extra pieces
197
Coin lot including 3 Kennedy half dollars '65-'67, large assortment foreign money 1937 canadian dollar bill, 1918 2 Franc coin, 1862 Italian coin and more
198
Old ring lot including 14K, 10K, 14K PAT-L and 10% IRID PLAT, wheat pennies and 3 silver nickels including 1941, '44 and '51

RETURN