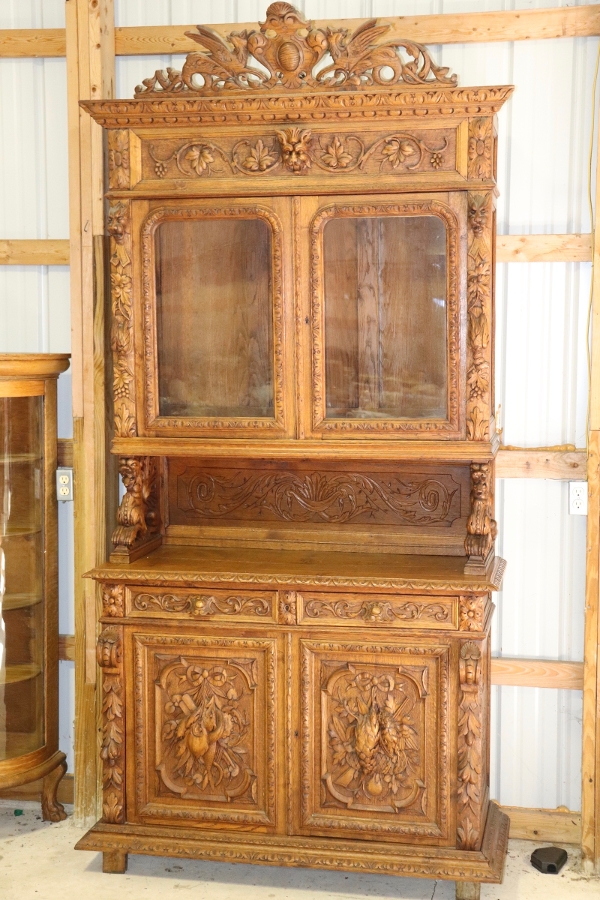 Outstanding Salisbury Estate Auction
May 27, 2020
28620 Ocean Gateway Salisbury, MD. 21801
COVID19 has affected our Country and we all must do our part to ensure we do not spread this virus. Our most important assets are our employees and you, our customers. Please continue to bid from the safety of your home and do not hesitate to call with any questions.
Eastern Shore Auctions, Inc. is honored to have been selected to sell the estate of lifelong antique collector Paul Butler of Salisbury, Maryland and several other local estates. Paul was active in the antique business as a buyer and seller for decades. Quality items include a Tiffany Sterling silver pitcher, a Renaissance Revival Hunt Cabinet and many other quality items.
ON-LINE ONLY AUCTION***ON-LINE ONLY AUCTION***
DATES: Monday, March 9, 2020 through Wednesday, May 27, 2020. Bidding ends on Wednesday, May 27, 2020 starting at 5 PM.
PREVIEW DATE/TIME: Tuesday, May 19, 2020 from 3 to 6 PM. If you plan on attending the preview, make sure you wear your mask. If you do not have a mask, you will not be allowed inside. We will allow 5 clients inside at a time to view the items. We will also be checking temperatures of attendees. Hand sanitizer will be available. We will also schedule private showings Tuesday morning. If you have a question, do not hesitate to contact us.
CHECKOUT DATE/TIME: Saturday, May 30, 2020 from 10 AM to 1 PM. No exceptions.
LOCATION: 28620 Ocean Gateway, Salisbury, MD. 21801
1
Watt Pottery Vintage #10 Banded Yellow Ware mixing bowl Oven Ware USA circa 1930's (has black marker on bowl)
2
3 Z.S. & C Bavaria plates 2 are country house scenes and other is birds
3
Vintage United brass horse clock model 313 (needs to be re-wired)
4
L.E. Smith Carnival Glass Bowl
5
Ruby cut to clear vase 12" tall
6
Three Small Fox Hunting pictures including "The Find", "Full Cry" and "The Huntsman" 5 3/4" X 5 3/4"
7
Cast iron red eagle door stop 15" wing tip to wing tip
8
Antique Fenton Ye Olde Willow J.K.L. England platter 14 1/2" long
9
Antique Mason & Sullivan Gothic style mantle clock with key
10
Royal Tunstall Staffordshire England Wild Flower china including 12 dinner plates (2 chipped), 10 salad or dessert plates (1 chipped), 5 saucers and 1 cup (cracked)
11
Antique McCoy Biddie Waterer top section only
12
Antique Santa Claus head made from cement possibly used for advertising or to hold a Christmas tree 11" tall 9" wide
13
Antique Santa Claus head made from cement possibly used for advertising or to hold a Christmas tree 11" tall 9" wide
14
Hand carved pintail decoy in natural finish by Tom Dudley Shady Side MD 2006
15
6 Round wall plaques black with gold trim 3 3/4" diameter
16
Lot of 12 glasses including 3 Marquis by Waterford, 4 sherry glasses with etched flowers, 3 etched glasses with flowers and 2 champagne glasses
17
19 wine/water glasses with green stem (4 are taller)
18
Lot including 13 green Anchor Hocking water tumblers and 6 green water glasses
19
Royal Doulton Character Jugs from Williamsburg Gaoler D6570
20
Royal Doulton Character Jugs from Williamsburg Boot Maker D6572
21
Quimper France Soleil Yellow fish platter 24" long (couple chips on edge)
22
4 Quimper France Soleil Yellow plates (each has a chip)
23
Pair of Oriental double handled vases with swimming swans and flowers 12 1/2" tall (1 has small chip on handle)
24
Matchbox B Type Bus 1912-1920 made in England by Lesney and two handmixers (1 is for childs toy)
25
Antique Victorian double inkwell with Cherubs has letter and pen holders area
26
2 B & M (Baldwin & Miller) Sterling silver salts and 3 glass salts (2 have age cracks)
27
Pair of B & M (Baldwin & Miller) Sterling silver salt and pepper shakers and a Crown Sterling weighted salt shaker
28
Lenox Cattail pattern dinner plates and salad plates (12 of each)
29
City Dairy Salisbury MD wooden milk bottle crate
30
Reed and Barton Victorian silver plate tilting water pitcher with stand inscribed it was presented to a Reverend (not legible) by Rev. John Gallagher
31
McCoy green salt glaze pitcher grapes and leaf design 8 1/4" tall (age crack on one side and a small chip inside lip)
32
Bluebill drake decoy with bottom hollowed out (mold or ceramic) and a small wooden loon decoy 7" long
33
Bluebill decoy 1/3 size branded RCJ on bottom
34
Vintage Cordey figurine 4075 (chips on bottom of dress) and a Brinnco porcelain figurine
35
Paul Muller Selb Bavaria pattern Mue5 marked original faktory decoration 8 saucers and 6 cups
36
Delamere England 5 saucers (1 chipped) and 4 cups (1 chipped), Haviland & Co Limoges platter, Oriental style divided dish (crack), Stone China bowl, a large platter and more
37
Man o' War framed lithograph picture Fair Play Mahubah Owner: Mr. Samuel D. Riddle by J. Martin 1920 with a seal dated 1921 29 1/4" X 24"
38
Painting of a tree at waters edge signed by J. Calhoun with letter of provenance 12 1/2" X 10 1/2"
39
Painting of a house by water with boats by Alice Stanley Acheson, widow of Dean Acheson, former Secretary of State under President Truman 18" X 14 1/2" Radcliffe Manor Easton
40
Pair of Victorian style pictures one of man and woman marked TACTUS and PALPAR and other of one man and two women marked ODOR and OLER 24 3/4" X 18 1/2"
41
Vintage childs baby walker
42
Majolica umbrella stand (chip in finish on one side) 21 1/2" tall
43
Wooden two door chest with Oriental carving on the front 25" X 18" X 46" tall
44
Antique oak childs chair with cane bottom
45
Marble top stand with one drawer and one door
47
Antique North Wind Face carved mahogany chair with claw feet
48
Marble top table 21 1/4" X 15" ( Dark area in marble is a vein not a crack)
49
Antique wooden childs Morris style reclining chair with clown cushions
50
Vintage metal octagon table with marble/alabaster base
52
Antique piano stool with claw and ball feet (no glass inserts in feet)
53
Ringtons Limited Tea Merchants New Castle upon Tyne Oriental Tea Caddy
54
Green Depression pitcher with 4 juice glasses (2 different patterns)
55
Sterling silver bowl marked Randahl
57
4 Vintage shrimp cocktail bowls with 1 sauce bowl
58
4 Wahlif Wien plates blue with gold trim marked on bottom
59
Philco model 51 Superheterodyne clock radio
60
Chocolate pot set made especially for Bailey, Banks & Biddle (spout on pot is cracked and 2 cups have cracks)
61
Nippon hand painted floral decorated vase 8 1/2" tall
62
Mintons England set of china approximately 1873-1891 (76 pieces 12 dinner plates, 11 lunch & salad plates, 7 butter plates, 20 saucers, 9 soup cups 7 with broken handles, 6 cups 2 broken)
63
Oriental vase with a woman 12" tall (cracked) and an Oriental tea pot
64
8 Wedgwood Bone China Colonnade black trim tea cups and saucers
65
Lamberton Puritan pattern Ivory China 5 Saucers and 7 cups (2 cups damaged), Flow Blue pitcher with cracks and chips and W A Pickard hand painted platter (chipped)
66
6 Pulg Czechoslovakia Peerless Dec. in USA plates gold trimmed in blue charger plates 3 marked Bohemia, 1 Victoria and 2 Pulg
67
Bassett Limoges Oesterreich tea pot, 6 Germany Ramekin dishes, 5 Elite Works Limoges France saucers ( 1 chipped) and Elite Works Higgins & Seiter New York dish and saucer
68
Cobalt blue/gray 1 1/2 gal stoneware pottery crock with ears 11" (one ear has some chipping)
69
Silver plate lot including vegetable bowl w/lid inscribed BMS, Sheffield shaker and vegetable tray, Eureka cream & sugar, Reed & Barton Mayflower tray and 8 butter trays
70
Towle Sterling weighted candleholder, Sterling coaster with glass, 24K gold plated trinket box and 2 24K gold plated butter dishes
71
Lot of glasses including 6 English Hobnail water glasses, 6 wine glasses, 5 cordials, 10 etched water glasses and 2 blue etched glasses (1 chipped)
72
Glass lot including 11 wine glasses (1 chipped), 3 martini glasses, 6 cordials, martini shaker, 3 margarita glasses (1 chipped) and more
73
Little Men doll by Dee Gilbert 19 1/2" tall hand made with yoyo shawl
74
Little Men doll by Dee Gilbert 21" tall hand made
75
U.S Hotel Saratoga flatware made by Reed & Barton in wooden case 67 pieces
76
Antique framed oil painting on canvas of a rider on a white horse 16 1/2" X 19" originally purchsed from the Radcliffe Manor Easton Maryland
77
Antique framed oil painting on canvas of a rider on a brown horse 16 1/2" X 19" originally purchsed from the Radcliffe Manor Easton Maryland
78
A.M. Bubble Sextant Mark IXA possibly WWII Royal Air Force
79
Tiffany & Co Sterling Silver 4 1/4 pints water pitcher 7" tall
80
Etched glass vase signed 12" tall
81
Spode Copeland "Chelsea" creamer, 3 saucers and 2 cups and 12 Wm. Guerin & Co Limoges France butter dishes
82
Miscellaneous flatware including Wm Rogers, Nirosta and others contained in a wooden box
83
Lot including salesman sample dresser, Pink Depression glasses (most chipped), Purple glasses (most chipped) and collectible plates including JFK
84
Antique Oriental Wooden Privacy Screen Room Divider 70 1/2" tall (age cracks)
85
Antique cement yard jockey with damage to left leg 45" tall
86
Antique claw foot oak bowfront china cabinet 44 1/2" X 18" X 65" tall
87
Renaissance Revival Hunt Cabinet with intricate carvings of birds and Fu Dogs
88
Antique mahogany wooden rocking chair
89
Antique oak side by side china cabinet and buffet with beveled glass mirror 49 1/2" X 16"
90
Half moon claw foot marble top table
91
Antique Pine Jelly Cupboard with raised panel doors 50" X 18 1/2" X 58" tall
92
Governor Winthrop style desk
93
Antique bow front china cabinet with carved Fu Dogs/dragons with rope twist (no door)
94
Antique Oak Princess Dresser with side Curios and drawers under the curios
95
Mahogany Clawfoot Secretary Desk 36 1/4" X 20" X 85" tall
96
Antique Pine Stepback Cupboard 49 1/2" X 22 1/4" X 84 1/2" tall
97
Antique Spinning Wheel
98
Antique Spinning Wheel (larger than previous lot)
99
Antique Walnut Scottish style Grandfather Clock marked John Brown Sklkirk on the face
100
Antique Oak Washstand with towel bar
102
Small Marble top stand 12" X 12"
103
Antique Silvertone model 6133 Tube Radio
104
Ansonia Wall Clock 30 1/2" tall
105
Intricately Carved Antique Library Style Table with animal head carving (gargoyle) in each corner and North Wind Face on legs (top not assembled)
106
Antique Metal Fireplace Guard with Figurines 37"
107
Antique Oak Claw Foot Reclining Morris Chair
108
Maddox Colonial Reproductions Cherry Secretary Desk with Claw feet 34" X 19" X 83" tall
109
Huntington Furniture Corp Lyre back chair and a mahogany end table
110
Milkglass style lamp with a blue floral decorated shade
111
Brass desk lamp with 2 milkglass hobnail shades
112
Brass floor lamp with flower decoration and a Wrought iron style floor lamp
113
Ethan Allen Round Pedestal Table with two leaves 48" diameter without leaves (each leaf is 15")
115
Antique Pine Corner Cupboard (no doors)
116
Original Painting of Working Skipjacks Under Sail and Oyster Houses by W. Shockley painted on plywood 120 1/4" X 48"
117
Antique Stoneware 6 Gal Crock
118
Antique Stoneware Crock with Lid, Chip on lip 15 1/2" tall
119
Antique Structo Fire Truck
120
Vintage Ford Tractor with Ertl disc, plow and grain wagon
121
Massey Ferguson 3650 DataTronic Tractor
122
Ertl Grain Wagon stamped 1585
123
John Deere toy tractor stamped 2583
124
International toy tractor
125
Corgi Lionelville Mack AC Delivery Truck--H.P. Hood & Sons Milk (NIB)
127
Nylint Toy Car Carrier
128
General Fiber Co Canvas Back Decoy
129
Dietz Eureka Buggy Lantern Kerosene Lamp
130
Antique Brown/Tan Stoneware Whiskey Jug, chip on lip and bottom
131
Maddux Glazed pottery Spittoon
132
Vintage salt-glazed planter marked on the bottom with star 5 1/4" tall
133
Vintage Spongeware Pottery Planter (seams visible)
134
Antique Ceramic Biddie Waterer
135
Tumble Tree Timbers Childrens Log Building Set
136
Collier's New Potographic History of the World's War, Dickens A Christmas Carol, The Bobbsey Twins at Pilgrim Rock, and The Wizard of OZ Books
137
Annette Himstedt Doll named Ellen
138
Annette Himstedt Doll named Kathe (hair not glued)
139
Ideal Toy Corp Hanna Barbera Doll marked FS14, Mattel 1982 Doll Lil' Drowsy Beans, and doll with crochet outfit
140
Knickerbocker Toy Company Huckleberry Hound Circa 1959
141
Authentic Raggedy Ann Doll
142
Doll lot including Wizard of Oz Dolls dated 1988, Wicked witch, Tin man, Scarecrow, Glinda Good Witch, Lion, Lollipop Boy, and more
143
Lil' Punkin Porcelain Doll by Elke Hutchens Danbury Mint (NIB) and Ashton Drake Cute As A Button Porcelain Doll (NIB)
144
Ashton Drake Dolls including Sugar Plum and Vintage Dianna Effner Doll named Emily (NIB)
145
Knowles-Goldilocks Porcelain Doll (NIB) and 2 Brinn's Dollsnamed Naomi and Jill (NIB)
146
Vintage Cabbage Patch Twins
147
Lot of 7 dolls including Mae Ella Doll, 2 Holland Style Dolls, Cathay Collection Doll, Dynasty Doll, Amish Doll and other
148
Germany Decorative Bowl with roses
149
Lot of 4 decorative bowls, 1 green decorated with roses (chipped and has a crack), 1 white with roses marked Germany, and 2 other bowls decorated with flowers
150
8 Princess House Tumblers, 6 Princess House Stemless Water Glasses, and 7 Stemless Wine glasses
151
Noritake Decorative Flower Bowl with spoon
152
2 Decorative glass Vegetable trays both made in Germany
153
Mignon Z.S. & Co Bavaria Vegetable Bowl and a hand painted Nappon Vegetable Bowl
154
2 Porcelain Eggs decorated with flowers
155
Ruffled top blue swirl Glass Bowl
156
Fenton Milk Glass Hobbed Nail Handle Basket 9 1/4" tall
157
Green Opalescent Scalloped Top Footed Candy Dish
158
Lot of 3 Circa 1940s Pie Servers
159
Lefton Bud Vase marked 1772 and a Trinket Dish signed Woodward 1974
160
Hand painted Nappon Cheese Dish
161
Lot of Collectible Plates including Avon Christmas Plates 1975-1979, Anniversary Plates, Boehm Plate, Voodoo Plate, France, Germany and others
162
Lot of 3 Bud Vases, 2 signed on bottom, 1 with small chip on lip
163
Asbury Methodist Church Sharptown Md Plate and St Paul's Methodist Church Mardela Springs Md Plate
164
Formalities by Baum Bro Victorian Rose Porcelain Serving Tray, Pie Server and Decorative Egg
165
Blue Porcelain Victorian Style Mantle Clock
166
Vintage Lenox The Graceful Swan Ivory China
167
Vintage Lenox The Majestic Swan Ivory China (1 wing tip broken)
168
Green Pedestal Candy Dish 5 1/4" tall and a Floral Decorative Dish made in Germany
169
Hand painted Nappon Floral Decorative dish, 2 Bone dishes 1 marked Germany, Bavaria Plate, and a Francis Plate
170
2 Vintage Glass Chicken Waterers, 1 marked Safeway
171
3 Vintage Glass chicken Waterers
172
2 Collectible WHEATON Cape May Bitters Turquoise Blue Lighthouse Shaped Bottles 3 1/2" tall
173
Biddie Waterer Top Section (has a crack) and a Stoneware Pottery Crock
174
Brown 6 panel Slag Glass Shade 14" diameter
175
Coleman Instant Light Lantern made in Wichita Kansas
176
Lot of 3 minature Clear Glass Oil Lamps
177
2 Antique Clear Glass Kerosene Finger Lamps
178
Antique Clear Glass Kerosene Finger Lamp
179
Antique Clear Glass Kerosene Lamp
180
Antique Clear Glass Kerosene Lamp
181
Box lot of Oil Lamp accessories
182
Hobnail Milk Glass Lamp Shade 11 1/4" diameter
183
Heisei Japan Saki Set
184
Brass/Metal Table Lamp with Chimney
185
4 Glass Globes including red Dietz, clear Dietz and others
186
R S Prussia Floral Decorated Bowl
187
R S Prussia Floral Decorated Bowl (small chip)
188
P.T. Bavaria Green Floral decorated bowl (with chip) and 2 Germany bowls 1 with aged cracks in the glaze
189
5 Floral Decorated Bowls, 2 are marked Germany ( with a small crack and chip)
190
3 Floral Handled Plates, 1 marked Bavaria, 1 marked R.S. Germany, 1 marked Thomas Bavaria and 1 Germany Vegetable Dish with two matching butter dishes (couple age cracks)
191
RS Prussia Decorated Plate
192
Hand Painted Floral Plate, Germany Saucer, Bavaria Tray, Japan Cup and Saucer, Etched Glass Bowl and a Clear Glass Bowl
193
Decorative Chimney Flue Cover
194
2 Decorative Flower Arrangements Andrea by Sadek, Roman Inc White Rose Decoration, Seymour Mann Rose with Vase
195
CorningWare Casserole Dish with lid, 3 Petite CorningWare pans 1 with lid , and molds of Bundt cake and hearts
196
Hummel "The Kindergartner 5" Porcelain Figurine No 467
197
2 Blue Candy Dishes 1 w/Lid, Hair Pin Holder, Brass Candle Sticks, Small Brass Bell, Avon Bottle, 3 Glass Hats, Luxembourg Wall Plaque, Chokin NY Plate, Germany cup and more
198
3 Clinton Bowland E. Princess Anne Md Strawberry Tickets, Bozman's Esso Scraper Salisbury Md, Carvel Hall Oyster knife, Hog Scraper and a Portable Torch
199
EB Brittingham Brown Farm Dairy Salisbury MD 1 Pint Milk Bottle
200
Glimes Dairy Federalsburg Md 1 Pint Milk Bottle
201
American Oyster Co Providence RI 1 Pint Jar
202
Stevens Dairy Pocomoke City Md 1 Pint Milk Bottle
203
Edward Hook Fairview Farms Dairy Woodlawn Md 1 Pint Milk Bottle and a Western Md Sealtest 1 Pint Milk Bottle
204
SilverHill 1/2 Pint Milk Bottle, 1/2 Pint Milk Bottle, an Anchorhocking Cream Bottle, and a Glimes Dairy Cardboard lid
205
2 Antique two-sided slate Chalk Boards 1 is 10 1/2" and 1 is 13 3/4"
206
Nippon Hand Painted Floral Decorative Vase 7" tall
207
Flow Blue Victoria Ware Hat Pin Holder
208
Floral Decorated Footed Dish, Nippon Hand Painted Creamer, Small Handled Dish, RS Germany Floral Decorated Footed Candy Dish (small chip on edge)
209
Floral Decorated Gold Trim Bowl and Handled Plate and a Homer Laughlin Genesee Platter
210
2 Old Abbey Limoges plates, W. G. & Co Limoges France Tray, and an H L & Co France signed Dish by E. S. MacCollom
211
6 Vintage Pins, 1 marked Western Germany
212
4 Ceramic Animals, 3 marked Japan, Lion, Cheetah, Rhinoceros, and Buffalo
213
West Germany Cuckoo Clock
214
Colt 38 Leather Toy Holster
215
Book lot including Md Folklore, Eastern Ghosts, Scary Stories to Tell in the Dark, More Scary Stories to Tell in the Dark, and Scary Stories- More Tales to Chill Your Bones
216
Book by Brice Stump It Happened in Dorchester
217
Sailing Rams: A History of Sailing Ships Built In and Near Sussex County, 1994 by James E Marvil
218
Sea, Sails and Shipwreck by Robert H Burgess and Having My Say Wylie Gator Abbott by Foley
219
Kimmie Doll by Rolfe/Danbury Mint (NIB)
220
Penny Doll by Rolfe/Danbury Mint (NIB)
221
Annette Himstedt Doll named Lisa, Barefoot Children Series
222
Annette Himstedt Doll named Paula, Barefoot Children Series
223
Precious Moments Doll named Emily
224
Minton Haddon Hall Green Edge China- 95 pieces including dinner plates, salad plates, snack trays, cereal bowls, cups, saucers and more
225
Minton Haddon Hall Green Edge China--Tea Pot with Creamer and Lidded Sugar Dish
226
2 Minton Haddon Hall Green Edge China--serving bowls (1 with chips in bottom)
227
2 Minton Haddon Hall Green Edge China--Platters ( 1 large, 1 small)
228
Light green floral decorated Oyster Plate
229
CH. Field Haviland Limoges Oyster Plate marked CFHGDM
230
Limoges Cobalt Blue/tan Floral Oyster Plate, Crown over Cross Swords Logo
231
Haviland & Co Limoges France Oyster Plate
232
Limoges White with Pink Flowers Oyster Plate, Crown over Cross Swords Logo
233
Oyster Plate with Pink trim with yellow/orange flowers
234
Oyster Plate with Pink and yellow oyster designs
235
Century Furniture Co Kentshire Mahogany China Cabinet with interior lighting, original retail price $21, 695.00, width 76 1/2" X 15" depth, 88 1/2" height
236
Metal Fireplace Screen w/Gold Trim
237
Woman shaped Antique Brass Bell and 2 shot glasses
238
Antique Small Wooden Barrel/Keg with Bail Handle 10 1/2" tall
239
Antique Cobalt Blue/Gray Stoneware Pottery 2 Gal Jug Marked D. P. Shenfelder, Reading PA (small age crack near bottom) 13 1/2" tall
240
Antique 4 Gal Stoneware Crock with Handles marked with a 4 in a crown
241
Antique Split Oak Handled Basket
242
Gold trimmed floral decorated footed and handled Vase 9 1/2" tall
243
Pair of Chalkware Figurines Male/Female Balloon Sellers (small chip on male hand) male 8" tall, female 7" tall
244
Lego Japan Vintage Tobacco Jar/Humidor w/Pipe stand
245
Murano Style glass Vases Turquoise/Black (one with crack on side) 9 1/2" tall
246
Antique US General Pershing Cast Iron Bank, 7 3/4" tall
247
Vintage 1 Gal Metal Watering/Oil Can
248
Holy Family Flue Cover
249
Mandarin Emperor and Empress 2 Piece Figurine Set 26 1/2" tall (Possibly made in Italy) (Empress head damaged)
250
Antique Cast Iron Boot Scraper
251
Metal Sculpture of 2 Horses, 6" tall 7 1/2" long
252
Royal Doulton England "A Good Catch" Figurine
253
Vintage Chalkware Squirrel Bank 8" tall
254
2 Black Tin Wall Match Holders, 1 marked American Stores Co
255
Green Tin Comb & Brush Holder
256
Hanging Metal Match Holder with Mirror
257
Jacobs Bros Detecto Baby Scale, 16 Kilogram
258
3 Blue Wedgwood England Small Dishes and 1 Green Wedgwood England Ash Tray
259
Griswold #8 Cast Iron Frying Pan
260
Vintage Biddie Waterer and Glass Refrigerated Water Bottle
261
Brown Spongeware Pottery Bundt Cake Dish
262
Ocean City Dairy Ocean City Md Pint Milk Bottle
263
Sunburst Dairy Cambridge Md Pint Milk Bottle
264
Homestead Dairy Salisbury Md, Bottled at Queenstown Md, Quart Milk Bottle
265
Cast Iron Face Figured Wall Mount Match Holder
266
Bell marked 1878 SAIGNELECIER Chiantel Fonduer and Minature Sad Iron
267
4 German Hot plates, 2 Small Glazed Decorative Saucers and a Victoria Carlsbad Tray
268
Vintage Metal Trunk 23" X 15"
269
Lancaster Sandland Hand Painted Character Ware England mug and 2 small cast iron Amish Figurines
270
Lenox China Bears Childs 3 piece dinner set Box
271
Atlantic Ice Mfg Co Ice Pick, Ingram Richardson Co Advertising Ash Tray, 2 Vintage Candy Box Lids, Sundial Shoes Advertising Comb and more
272
Durham Duplex Celuloid Razor
273
Picture of the Washington Monument in Baltimore Md by Don Sucuum?
274
Vintage Razor/Knife Leather Sharpening Strap
275
Starting at Sea Level Book signed by Terry Noble and Going Back to the Eastern Shore Book by Gall
276
Lot incuding Books, Brass Candle holders, Bronze Lidded Canister, Bo Peep Doulton Figurine (repaired), and a Basset Hound Dog
277
Scott Products Inc Springer Spaniel Dog Bottle Opener
278
Van Briggle Pottery Lamp
279
Ammon of London Golfer Framed Picture
280
Lot of Tooth Pick holders and 1 Decorative Glass
281
Box Lot of Children's Toys including Noise Maker, Toy Gun, Iron, and alligator hand puppet
282
Penn Reels 50 TW International II Reel with a Fenwick IGF 50 Black 6' 10" 50 lb Class Rod
283
Penn Reels 50 TW International II Reel with a Fenwick IGF 50 Black 6' 10" 50 lb Class Rod
284
Penn Reels 50 TW International II Reel with a Fenwick IGF 50 Black 6' 10" 50 lb Class Rod
285
Penn Reels 50 TW International II Reel with a Fenwick IGF 50 Black 6' 10" 50 lb Class Rod
286
Cast Iron Corn Bread Mold Stamped #3
287
Griswold "Erie" 833A #8 Dutch Oven with Lid
288
Griswold 6" Reversible Chimney Vent Damper
289
Griswold Cast Iron #8 TITE Top Dutch Oven Marked 1278 with self basting lid marked 1288
290
Griswold Mfg Co Erie PA 8 Trivet marked 206
291
Griswold Erie PA #10 Muffin Pan marked 949
292
Griswold American #8 marked 885 Waffle Iron with 975C Base
293
Griswold #6 Erie PA Cast Iron Frying Pan Marked 699V
294
Griswold Cast Iron Frying Pan #8 Marked 704K
295
Framed Persian Painting on Leather of a Dancing Girl 14 1/2" X 18"
296
Pair of Persian Paintings on Black Leather of Hunting/Fighting Scenes in Suede Frames
297
The Ten Commandments by M Leone Bracker Dated 1924 & 1925
298
Corgi Classics Wilkes-Barre Mack B Aerial Ladder Fire Truck (NIB)
299
Corgi Classics St Mary's County Mack CF Pumper (NIB)
300
Corgi Classics Lampeter Mack B Series Pumper
301
Print of Buffalo Bill's Wild West Americas National Entertainment Calhoun Print Co
302
Cast Iron Samurai Warrior Style Hat
303
Pink Crown Tuscan Clam Shaped Candy Dish
304
Hull Art L-3 5 1/2" Vase and a Weller Handled Planter
305
Royal Nippon Nishiki Floral and Bird Decorated Vase 8 1/2" tall
306
Nippon Oriental Decorated Tea Pot
307
Lindner Kueps Bavaria Echt Cobalt #168 6 3/4" tall Vase
308
Buffalo China Creamer with green trim and Occupied Japan Figural Handled Mug
309
Vintage B. W. Buenilum Hammered Aluminum Single Candlesticks and Vintage Christmas Ornaments (a few are damaged)
310
Antique Painting on Canvas entitled "A Old Sport" signed CB, 22" x 15"
311
Sonny Sugar Cones 5¢ Manufactured only by the Automatic Cone Co Cambridge Mass., Frame size 23 1/2" X 17"
312
Antique Framed Ad for Cream of Wheat entitled "Getting Up Steam" 1924
313
Auf Wiedersehen Hummel Figurine Goebel Germany 153/0 and Goebel In Commemoration of Berlin Airlift June 26, 1948-Sept 30, 1949
314
Georgian Mahogany Traveling Case with original bone-handled implements inscribed 1823
315
Painting on Wood of a Pair of Mallards, artist unknown, 36" x 29 1/2"
316
Nippon Hand Painted Gold Trim Creamer 5" tall (age crack) and a pair of Goebel Penguin Salt & Pepper
317
Pair of Oriental Themed Brass Lamps
318
Footed and Handled Candy Dish signed W. L. Dailey Nundo NY
319
Vintage Chinese Brass Cloisonne' Enamel Flip Incense/Ash Tray Burner
320
Cross 10K Gold Filled Pen and Pencil Set and a Cross Silver Pen Set
321
Stanley Insulated Unbreakable Gal Jug
322
Kathy Kale USA Brown Drip Pottery Bowl and a Moon and Frog Mirror
323
Large selection of Antique Keys contained in a JR Wooden Box, one marked Pennsylvania Railroad
324
Jeanette Iris & Herringbone Clear Depression Glass Pitcher
325
Vintage Jeanette Iris & Herringbone Gold Iridescent Bowl 11 1/2" diameter
326
Wooden Inlaid Jewelry Box with Red Velvet Lining 8" X 5"
327
Norman Rockwell Snow Globe "Saturday Night Out" and 3 Butterflies suspended by wire 4 1/2" tall
328
Plastic bag containing marbles including some shooters
329
2 Antique Blown Glass Bird Designed Perfume Bottles
330
Antique Fishing Lures including Wooden Paw Paw, Wooden Shrimp, Mepps Aglia 3 Made in France, Hopkins #EQL, and RE Nungesser
331
Frederic Remington "Mexican Miners at Work" Wood Engraving AP with Amon Carter Museum of Western Art Seal of Authentication, Double matted, 18 3/4" x 22 1/2"
332
Frederic Remington AP with Amon Carter Museum of Western Art Seal of Authentication, Double matted, 22 1/2" x 19"
333
Frederic Remington AP with Amon Carter Museum of Western Art Seal of Authentication, Double matted, 22 1/2" x 19"
334
Framed Old Oil Paninting/Collage of Modern Art, Martha Trainer written on back 21" x 23 1/2"
335
Miriam Haskell Brown Stone Brooch
336
Sterling Cross Necklace and Sterling Latch Hook
337
Coro Necklace with Color Stones, Bead necklace, and a White and Green Stone Necklace, Hold On Stick Pin, and a Pair of Earrings
338
Sterling Handled Letter Opener, Sterling Bottle Opener, Stieff Pewter Spoon, and a Set of Sugar Tongs
339
Bird Lamp Finial, Notre Dame Football Pin, Scrimshaw Style Pendant, 2 Tie Clips, Alfred E Smith for President Pin, 2 Bisque Dolls
340
Pentax IQ Zoom Camera, Minox 35 GL Flash, Minox Monotar Camera, and a Canon Powershot A2000 Camera
341
Lot of Baseball and Football Cards including autograph Mark Stepnosky, Steve Christie, Jack Del Ril, Daryl Johnston, and more
342
Bone Handled Utensils, Old Flatware Knife Marked J. Gilmore Belfast, Butterknife marked Alaska and a Camper Pocket Knife
343
Schmachtenberg Bros Straight Razor, The Celebrated Extra Hollow Ground Razor
344
Pine Glass Display Case 36" x 19"
345
Pine Glass Display Case 36" x 19"
346
Lot of 49 1943 Silver Wheat Pennies and 2 Bags of Wheat Pennies
347
Motion Picture Book, A Story Without Words, The KnockOut 1897
348
Vintage Beaded Evening Purse, Italian Gold and Black Wallet and a Brown Leather Wallet
349
2 Li'l Abner Books, A Union Leader Tobacco Tin, Pie Server, Pin Cushion, Ruler and more
350
3 Antique Writing Pencils, 1-Fyne Poynt, engraved ERM 2-10-29, 1 Sheaffer, 1 BX Made in USA
351
Wooden Female Figurine handcarved in Kenya, Wooden Mexico Religious Carved Figure and a Handcrafted Pottery House
352
Wooden Goose Figurines, Wooden Elephant, and a Wooden Statue of a Man Reading a Book
353
Vintage Handled Basket with Sailing Ship Plaque, Chinese Walking Stick and a Otter Fishing Reel
354
Atique Clay Incense Burner (possibly Morroccan Markings) and 2 Sad Irons
355
Griswold #458 Grinder
356
Lot of Cranberry Glass including Bud Vase, Hand Blown Vase, 40
th
Anniversary Lidded Dish 1973 Hummel Plate, and more
357
Pair of Cranberry Prism Lamps with Brass Base
358
RJS Germany Trinket Dish, Porcelain Glass Tray, and a Carlsbad Foral Tray
359
Lefton Lighthouse, Oriental Decorative Tray, Cut Glass Crystal Bowl (chipped), and more
360
2 Ringling Bros and Barnum Bailey Circus Posters, dated 1970
361
Book lot including Norman Rockwell Favorites, Feb. 1937 Edition of Fortune, Pueblo Artist, Peter Pan and Vintage Old Records and Music Rolls
362
Floral Decorated Tiffany Style Hanging Light 21 1/2" Diameter
363
Brown and Tan Hanging Light 20 1/2" Diameter
364
Yale Portable/Floor Security Safe with combination, 12 3/4" x 9"
365
Intex Sleep Restoration Full Air Mattress w/Internal Pump
366
Coleman Twin Double High Air Mattress w/Internal Pump
367
Intex Full Air Mattress with Intex Quick-Fill Electric Pump
368
Achilles C3 Zodiac Inflatable Boat with oars
369
Minn Kota Autopilot Electric Trolling Motor
370
Minn Kota Endura C2 Electric Trolling Motor
371
Alabaster Lamp with a Floral Shade
372
Wooden and Metal Candle Stand 24 1/2" tall
373
Lot of 3 Table Lamps including 1 Tea Pot Shape, 1 Blue and 1 Tan with an extra shade
374
MI Hummel Club "A Story from Grandma", 8" tall 7149/10000
375
MI Hummel Club "At Grandpa's", 9" tall 7149/10000
376
Hand painted Nippon TE-OH Chocolate Pot Set with 5 Cups (some chipped) and Saucers
377
Cast Iron Train Set, Engine marked 40, Passenger Car marked 403, and Caboose marked 404
378
Lladro Figurine #4811 -- Girl wit Pails
379
Lladro Figurine #5219--Summer
380
Lladro Figurine #D219--Girl with Baby
381
NAO Lladro Figurine #B27N--Girl with Goose
382
Lladro Figurine E-10MY Boy With Toy Sailboat
383
Lladro Figurine #4505 Girl with Lamb
384
NAO Lladro Figurine Girl with Poodle
385
Green & Opalescent Scallop Top Footed Candy Dish
386
Pink Depression Decanter with 5 Cordial Glasses
387
Pink Depression Etched Glass Bowl with Dragon 8 1/2" long
388
Pink Depression Etched Glass Lidded Candy Dish 6 1/2" long
389
Pink Depression Lot including Round Footed Bowl (Hairline crack in bottom) 11", small serving bowl, 2 Dessert Bowls, Creamer, and a Handled Candy Dish
390
Pink Depression Lidded Butter Dish and a Divided Dish w/carrier
391
Pink Depression Etched Glass Rolled Edge Glass Bowl with 8 Glasses Etched with Flowers
392
Clear Glass Prism Lamp
393
2 Clear Glass Egyptian Star Perfume Bottles (top chipped on 1)
394
Green Perfume Bottle with Gold decorations
395
2 Purple Glass with Gold Trim Perfume Bottles Made in Egypt
396
2 Green with Gold Trim Perfume Bottles (1 stopper chipped), 2 Purple with Gold Trim Perfume Bottles (1 chipped)
397
2 Clear Glass Perfume Bottles (slight chips on stoppers)
398
Stieff Sterling Silver Rose Pattern Flatware Set, 72 Pieces including dinner and dessert forks, tablespoons, knives, butter knives, serving pieces, and carving set
399
6 Sterling Butter Knives, 6 Sterling Spoons and a Minature Sterling Salt Spoon
400
Santa Claus dressed in White Robe with Gold Trim 17" tall
401
Possible Dreams Pepsi Santa Claus
402
Possible Dreams Santa Claus with Ski Poles
403
Possible Dreams Santa Claus Painting a Decoy
404
Possible Dreams Santa Claus Ringing a Bell and a Sack of toys
405
Possible Dreams Golfing Santa
406
Possible Dreams Santa Fishing in a Boat "With Baited Breath"
407
Possible Dreams Painting Santa Claus
408
Possible Dreams Santa on a Motorbike
409
Santa Claus with Golf Bag and Clubs
410
Santa Claus Wearing Red Sweater with Golf Clubs and Bag
411
Kurt Adler Softball Santa Claus
412
Creative Design Santa Sitting on a Bench with a little boy and a sack of toys
413
Christmas Cheer University of Md Terps Santa Claus with bag of toys, dog and Christmas Tree
414
Antique Oak Stromberg-Carlson Telephone MFG Co Wall mounted Telephone with inside Mechanisms
415
Micronta 7 X 50 Binoculars with case
416
Set of 53 pieces of Community silverware
417
Biltmore Collection Authentic Delft Cow Pitcher 10" tall
418
Williamsburg Authentic Delft Figural Mug with Hat distributed by Eastern Shore Trading Co
419
Longaberger Pottery blue tea pot
420
B & G Copenhagen Porcelain Denmark Christmas plates and Royal Copenhagen Christmas plates 1970 thru 1986
421
Geo Stenholm & Son Stag Handled Sterling Band Carving Set made in England
422
Vintage Goebel Hummel "Joyful" figurine 53
423
Vintage Goebel Hummel "Let's Sing" figurine 110/0
424
Vintage Goebel Hummel "School Girl" figurine 81/0
425
Vintage Goebel Hummel "Village Boy" figurine 51 2/0
426
Vintage Goebel Hummel "The Doctor" figurine 127
427
Vintage Goebel Hummel "Congratulations" figurine 17/0 1971
428
Vintage Goebel Hummel "Telling Her A Secret" figurine 196/0 1948
429
Vintage Goebel Hummel "Goose Girl" figurine 47/0
430
Vintage Goebel Hummel "Carnival" figurine 328
431
Vintage Goebel Hummel "Hello World" figurine 429 M.I Hummel Club
432
Vintage Goebel Hummel "Mother's Helper"figurine 133
433
Vintage Goebel Hummel "Baker" figurine 128
434
Vintage Goebel Hummel "Good Friends" figurine 182
435
2 Vintage Goebel Hummel figurines "Morning Concert" 447 1984 Collectors Club and "Serenade" 85/0
436
Vintage Goebel Hummel "The Band Leader" figurine 129
437
Vintage Goebel Hummel "Street Singer" figurine 131
438
Vintage Goebel Hummel "Birthday Serenade" figurine 218/0? 1945
439
Vintage Goebel Hummel "Surprise" figurine 94 3/0
440
Vintage Goebel Hummel "Grandma's Girl" figurine 561 1989
441
4 Vintage Goebel Hummel figurines M.I. Hummel Club 92/93, 93/94, 94/95 and 95/96
442
Pink Floral Decorated Parlor Style Lamp
443
Oak 3 door Icebox 33 1/4" X 17 1/2"
445
Vintage Wooden Bench decorated with fruit 41" X 16 1/4"
446
Fiberglass Nautical Box/Step with Wooden lid and handles with contents including lures and rope
447
Springfield Fighting Chair with mounting supports and cushions
448
Brass 3 Blade Boat Propellar marked 24 LH
449
Brass 3 Blade Boat Propellar marked RH
450
1800's Curly Maple 2 Drawer table base with newer Cherry top 60" X 41 1/2"
451
Pair of Pine drop leaf end tables 22" X 14 1/2" (23 1/2" opened)
452
Antique Mahogany drop leaf table 33 X 20 1/2" (39" when opened)
453
2 Wooden Plank Bottom Chairs
454
Antique Spinning Wheel
455
Antique Pull Type Baby Carriage
456
Antique Gold Framed Oil Painting on Canvas of a Family Gathering signed O. Imperati 1967 (Has some damage 2 holes and some paint loss (Approx 60" X 46")
457
L.L. Bean Freeport Flyer sled
458
Lot of 3 Fishing Rod and Reels including Shimano, Longcast X and Pflueger
459
Penn 309 Level Wind Reel on a Pflueger Heavy Duty Fishing Rod with Wood and Cork
460
Penn 309 Level Wind Reel on a Pflueger Heavy Duty Fishing Rod with Wood and Cork
461
Penn 309 Level Wind Reel on a Pflueger Heavy Duty Fishing Rod with Wood and Cork
462
Penn 49 Super Mariner Reel on a Catalina Custom Built Heavy Duty Rod with Wood and Cork
463
Penn Senator 4/0 Special Reel on a Penn Heavy Duty Rod
464
Olymic 5060 Reel on a Kunnan Rod (broken tip), Shakespeare Rod and 3 Boat Hooks
465
Aftco Flying Gaff Hook
466
Pompanette The Record Setter Taper Tip 38 Gaff
467
Framed Picture of Women in a Field 32" X 26"
468
Framed Picture of a Woman 22" X 22 1/2"
469
Antique Framed Picture of Niagara Falls 19" X 22"
470
2 Framed Pictures of Niagara Falls one is 15 3/4" X 17 3/4" marked 6125 and other is 11 3/4" X 14 3/4"
471
Painting of Lily signed by J. Niccwicz 12" X 12"
472
Framed Print October Cardinals by Don Whitlatch 522/1000 17 1/2" X 20 3/4"
473
Framed Print of Lobster 91/200 by Olson, Painting of Flowers and Jars, Print of Girl at the Lake and an unframed print of a man and woman playing pool
474
Antique Oak Folding Sewing Table with 36" yardstick marked on table
475
Wooden Pine Lift Top Stool with storage 18 1/2" X 11 1/4"
476
Pair of Oriental Woman Painted on Silk 13" X 30 1/2"
477
Pair of Plank Bottom T Back Chairs
478
Pair of Shaker Style Rush Bottom Ladder Back Chairs and 2 additional chair frames
479
Antique Oak Bed frame probably full (One railing has been repaired)
480
Ornate Plant stand and a Candle stand
481
Pair of Wooden Chairs
482
Lot of 4 Cane Bottom Chairs
483
Pier 1 High Top Pub Style Table with 2 Bar Stools
484
Vintage Military Helmet and Canvas Military Leggings dated 1942
485
Ruby Red Art Deco Shaker Set from the 1930's with 6 footed cocktail glasses (Couple wear marks on shaker)
486
Homer Laughlin Harlequin Teapot Turquoise 6 1/4" Tall
487
Hall China Co Water Pitcher made exclusively for Westinghouse 8" tall
488
Hall Orange Fiesta Style Donut shaped Tea Pot 7 1/2" tall
489
The Hall China Co Coldspot Refrigerator Dish
490
Vintage Blue Art Deco Shaker decorted with Fish
491
Alabaster Sphinx Figurine marked in paper on bottom WW II 2 3/4" tall 5" long
492
Hall Cobalt Blue Donut Pitcher 7 1/2" tall
493
Hall Orange Refrigerator Dish made exclusively for Westinghouse
494
Homer Laughlin Fiesta Carafe Sapphire Blue 8" tall
495
Homer Laughlin Fiesta Carafe Orange/Red 10" tall 1936-43
496
Homer Laughlin Fiesta Black Water Pitcher 7" tall
497
Burton & Burton Chester the Cat Teapot (small chip on one ear), mug and a planter 10" tall
498
Royal Bayreuth Bavaria Textured Finish Pitcher 4 3/4" tall
499
Austria Floral Decorated Bud Vase 6" tall

RETURN