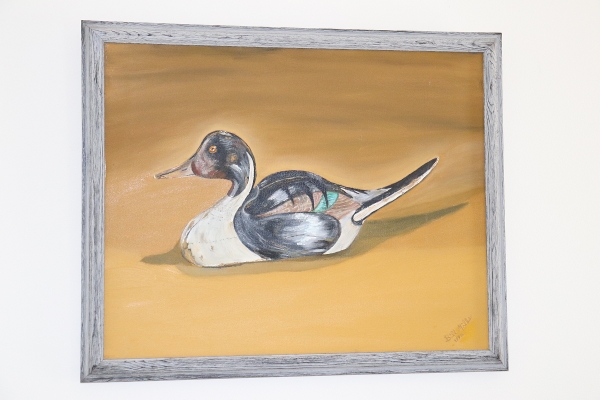 Crisfield Living Estate Auction Somerset Avenue
June 24, 2020
3421 S. Somerset Avenue Crisfield, MD. 21817
ON-LINE ONLY AUCTION***ON-LINE ONLY AUCTION***
This auction features quality furniture, glassware, Hummels, Jan Hagara figurines, Local books, fire department collectibles, lamps and other collectibles.
DATES:
Wednesday, June 3, 2020 thru Wednesday, June 24, 2020. Bidding ends on Wednesday, June 24, 2020 starting at 5 PM.
PREVIEW DATE/TIME:
Tuesday, June 16, 2020 from 4 to 6 PM.
CHECKOUT DATE/TIME:
Saturday, June 27, 2020 Noon to 3 PM. No exceptions.
LOCATION: 3421 S. Somerset Avenue Crisfield, MD. 21817
1
Aikosha 30 Day wall clock 29 1/2" tall
2
Stangl Pottery two handled vase 16" tall marked 3161 on bottom
3
Antique table with no marble 25" X 19"
4
Parlour lamp lights top and bottom
5
Pine 2 drawer sofa table 54" X 15 1/2"
6
Somerset An Architectural History by Paul Baker Touart signed August 1990
7
The Eastern Shore of Maryland An Annotated Bibliography Pritchett & Woodcock edited by Enoch Pratt Free Library
8
The 1877 Atlases and other Early Maps of the Eastern Shore of Maryland Bicentennial Edition Copy 27
9
Handmade wooden shelving unit with 4 wicker style baskets with liners
10
2 Leg -O-Matic wooden folding chairs with vinyl seat bottoms
11
Desa corner mantel and base with Dimplex portable fireplace with remote (came on when tested) 47 1/2" wide at the base
12
Lane Industries blue recliner
13
Lane Industries blue recliner
14
Picture "Sweet Corn For Sale" by Billy Jacobs 32 3/4" X 12 3/4"
15
Picture by W. Saunders of water scene with church and houses 38 3/4" X 20 3/4"
16
Wet bar with 2 doors and 2 drawers 40 1/4" X 20 1/2"
17
Kerosene lamp converted to electric with white and blue shade and a flower design table lamp with a brass base
18
Floral decorated Parlour lamp 17" tall lights top and bottom
19
Round pedestal stand with alabaster style top 18 1/4" diameter
20
2 Pfaltzgraff floral design table lamps with wooden base
21
Broyhill Quality Furniture end table with drawer 21 1/4" X 26"
22
Cherry coffee table made in the USA 46" X 28"
23
Craftmaster Furniture Inc patterned sofa with 2 pillows
24
Dropleaf end table with one drawer 20 3/4" X 27"
25
Beveled wall mirror 46" X 28"
26
Brass floor lamp with swivel top and a Sauder Co storage bin
27
Cherry finish wooden table with drawer 19 3/4" X 19 3/4"
28
Vizio model E420i-BO television
29
Magnavox VCR/DVD player and a Sauder corner television stand
30
3 Pictures including farm house scene 25" X 19" and 2 floral pictures 12 1/2" X 14 1/2"
31
Painting of a Ward Bros sytle humpback pintal decoy by B. Mills 22" X 18"
32
Wooden picture of 5 geese 31" X 17"
33
Safavieh Lyndhurst Collection light blue/ivory 2'3" X 8' runner and a 2'3" X 4' area rug
34
Wooden candle stand with a battery operated metal lantern style candleholder
35
Wooden Biscuit Bakery box stamped Tawes & Son Crisfield, MD 22" X 14 1/4"
36
Cast iron horse drawn pumper fire department toy 8 3/4" long
37
Cast iron horse drawn ladder wagon fire department toy with driver and rear rider 17" long
38
Cast iron horse drawn pumper fire department toy 13 1/4" long
39
Cast iron horse drawn ladder wagon fire department toy with driver and rear rider 14 1/2" long
40
Book "Making Decoys The Century Old Way" by Grayson Chesser & Curtis Badger signed by both
41
Local Books including "Somerset County a Brief History", "The Chesapeake Bay of Yore" and "Chesapeake Bay A Pictorial Maritime History"
42
Local Books including "Somerset County a Brief History", "Chesapeake Bay A Picture Book to Remember Her by" and "Lighting the Bay Tales of Chesapeake Bay Lighthouses"
43
Local Books including "Chesapeake Bay and Tidewater", "Four Seasons of the Chesapeake Bay" Volume I (signed) Spring-Summer and II Fall-Winter
44
3 Collectible decoy carving figurines one is marked Ceramica Creativa Napcoware C9460 7 1/4" to 8 1/4" tall
45
Wooden butter churn painted with drake and hen mallards painted by B. Oligney
46
Uncle Sams 3 Coin Register Bank Ohio Art Company
47
Vintage wooden box with hidden drawer with Oriental hunting scene 8 1/4" long
48
White Horse Cellar Blended Scotch Whiskey wooden box 16 1/2" X 12 1/4"
49
Bissell Powerforce bagless vacuum (worked when tested)
50
Fostoria American ice bucket with detachable metal handle and tongs
51
2 Fostoria American glass pedestal candy dishes with lids 7 1/4" tall
52
Jan Hagara "Kayla" 340/3000 The Make Believe Series
53
Jan Hagara "Butchie" 205/3000 The Make Believe Series
54
Jan Hagara "Phillips Cousins" 1988 including Phillip, Karen and Sybil, Debra and the toy wagon 577/5000
55
Jan Hagara 1984 Signature Collection "James" 5205/20000
56
Jan Hagara 1997 The Georgetown Series Cassie 2612/6000 and 1998 Enya 925/6000
57
Jan Hagara 1990 Suzy Shelfsitter 1772/15000 with chair
58
Jan Hagara 1997 Collectors Club Barbara #382 with chair
59
Jan Hagara Collectors Club Courtney #1114 with chair
60
Jan Hagara Larka #1853 with bed
61
Goebel Hummel Littlest Teacher figurine 2268 and 2007 with Hummel scape for Littlest Teacher mark 1141-D
62
Williamsburg Pottery salt glaze cobalt blue vase/pitcher 7 1/4" tall
63
Williamsburg Pottery salt glaze cobalt blue vase/pitcher 7 3/4" tall
64
Mahogany sewing cabinet with a White Sewing Machine Corp sewing machine
65
Microwave/computer stand
66
Pine style finish computer cabinet with contents including HP All in One printer, baskets and office supplies 35" X 20" X 66" tall and Office Depot computer chair
67
Wooden 6 shelf bookcase with pine finish 20 1/4" X 12" X 76" tall
68
Wooden telephone/bedside stand 15" X 15"
69
King size Vaughan-Bassett poster panel bedframe dark English oak finish with Simmons mattress and boxsprings
70
Lane cedar chest 48" X 19"
71
Cherry 5 drawer chest 33 1/2" X 17 1/2"
72
Cherry 8 drawer dresser 60" X 18 1/4"
73
Wooden framed wall mirror 41" X 31"
74
Small wooden framed wall mirror 12 1/2" X 26 1/2", brass swivel arm floor lamp with shade and 2 table lamps
75
Phillips 19" television with remote
76
Pine corner shelving unit with 4 shelves and a door 17 1/4" wide by 72 1/4" tall
77
La Z Boy blue patterned recliner
78
Cherry night stand and a marble based lamp with amber glass
79
Thomas Pacconi Classics jewelry box
80
Thomas Pacconi Classics jewelry box
81
Czechoslovakia 1 Liter pitcher marked 3587 and a vase marked 630?
82
R.S. Prussia floral pitcher 7 1/4" tall and a Limoges floral pitcher 9" tall
83
2 Hand painted Japan pieces including chocolate pot and tea pot
84
4 Pitchers including antique Sevres pitcher, green made in Japan pitcher(chip on bottom) and 2 others (1 has chip on lip)
85
Green glass lot including L.E. Smith Moon & Stars scalloped candy dish, Moon & Stars footed and pedestal candy dishes, Crackle glass small pitcher and a glass boot
86
Green glass lot including L.E. Smith Moon and Stars lidded butter dish, cream & sugar, lidded candy dish and toothpick holder, small Crackle glass pitcher, handled glass basket
87
Mallard drake picture by E. Mills 16 1/2" X 13 1/2" and M. Towson picture of a bluebird 14" X 12"
88
Towle Bone China trinket dish, porcelain floral decorated egg and a Japan floral trinket dish
89
Small pitcher/creamer lot including Williamsburg Pottery salt glaze cobalt blue, J&G Meakin classic white, Persian Ware Germany, green chicken shaped creamer and more
90
B & B Pottery blue pitcher decorated with a heart 8" tall and a vase decorated with a heart 6" tall
91
Paul Storie Pottery pitcher decorated with a barn has a lid 8 1/4" tall and a blue floral decorated pitcher 8 3/4" tall
92
Robinson Ransbottom Roseville Ohio spongeware bean pot 2 quart
93
Robinson Ransbottom Roseville Ohio spongeware bean pot 1 quart and a small spongeware crock 1 quart
94
Clear glass sunflower decorated footed fruit bowl 6 3/4" tall, ruffled top vase and a pitcher (small chip on lip)
95
Indiana Glass Co green Depression pitcher grapes and leaf pattern 10" tall
96
Pink Fostoria American water pitcher 8 1/2" tall
97
12 Orange crab imperial dishes (some chipped on point)
98
6 Clear crab imperial dishes (1 has a point missing) and 4 shell dishes
99
Thomas Pacconi Classics magazine rack with storage drawer
100
Purple Martin bird carved by E.F. Muehmat? With 2
nd
Annual Atlantic Flyway Wildfowl Carving & Arts Exhibition stamp
101
Miniature carvings lot including Eugene Mills hen mallard, E. Mills natural finish mallard, greenwing teal signed Hal Liden? and a shorebird
102
Ward Bros cards, Wallace Dize cards Scenes from the Lower Chesapeake Bay Country and a pewter 1994 Sponsor Member of the Ward Foundation paperweight
103
Electric fireplace style heater 13" X 7 1/2" (worked when tested)
105
Lot of local Crisfield Cat's Meow including Crisfield High School, The Depot, Ward Bros, The Docks, Pine Street Station, McCready Hospital, Jersey Island and more
106
Lot of local Crisfield Cat's Meow including Fire Department, Bradshaw & Sons Funeral Home, Gordons, Ginger Bread House, Maryland Crabmeat Pickers, Gov. Tawes and more
107
Lot of local Ocean City Cat's Meow and lighthouses including Thrashers French Fries, Fishers Pop Corn, St. Matthews By the Sea, Turkey Point Light, Somers Cove Lighthouse and more
108
Lot of Christmas Cat's Meow and ornaments
109
Lot of Cat's Meow including Biblical and miscellaneous ones and a Cat's Meow Village sign
110
Hand stitched quilt 92" X 105" (has a couple yellowing spots due to age)
111
"Quindocqua, Maryland Indian Country" by Woodrow T. Wilson signed 454/1000
112
"Quindocqua, Maryland Indian Country" by Woodrow T. Wilson signed 897/1000
113
"The Parson of the Islands The Life and Times of the Rev. Joshua Thomas" by Adam Wallace
114
Book lot "The Last Waterman", "Baykeeper", "An Island Out of Time", "Smith Island, Chesapeake Bay", "A Sand County Almanac" and "Cruising Guide to the Chesapeake"
115
"Rails Along the Chesapeake A History of Railroading on the Delmarva Peninsula" by John Hayman
116
Book lot "The Lord's Oysters", "Mrs. Kitching's Smith Island Cookbook" and "An Island Out of Time"
117
Book lot "Waterwomen", "Watermen", "Shoreman An Anthology of Eastern Shore Prose and Verse" and "God, Man, Salt Water and the Eastern Shore"
118
Book lot "Steve Ward Closed for Business", "Breadbasket of the Revolution Delmarvas Eight Turbulent War Years", "Maryland Folk Legends & Folk Songs" and "Maryland Folklore & Folklife"
119
Book lot "Historic Salisbury Updated 1662-1982", "Baltimore A living Renaissance", "Skipjack" from Cambridge South Dor 1973, "Beautiful Swimmers", "Shore Historian" and more
120
John W. Taylor signed print Jug Bay Patuxent River blue heron 36" X 26"
121
Gold framed picture of a front porch covered with flowers with rocking chairs 35" X 29"
122
Picture of a church by Bill Mills 22" X 18" and an Airguide barometer
123
Assorted rug lot including runners and area rugs
126
Lot including 2 paper shredders, 2 portable fans, holmes programable heater, drying rack, and quilt rack with pink throw
127
Pine step stool with storage area
128
Eldreth pottery cobalt blue pitcher 2001 8''
129
Brown spongeware crock Robinson Ransbottom 5''
130
2 apple decorated pitchers tallest 8''
131
Abstract art decorated pitcher and blue pitcher decorated with grapes tallest 7.5''
132
Blue pottery mixing bowl with a 10'' diameter and malibu collection earthenware bowl
133
Two egg plates one decorated with rooster
134
Wicker style basket with wooden rolling pins and crab mallets
135
Wooden bakers style cabinet 33''x72'' (contents not included)
136
Lot of pictures included hand painted crane by Bill Mills, pintail decoy, canvasback duck, string art seagull, flowers, pride of Baltimore and more
137
Lot of unframed waterfowl prints
138
Pitcher lot including Williamsburg pottery cobalt blue 6'', blue decorated floral pitcher, fruit decorated home pitcher, Bergschrund seashell pitcher, lamp, soap dish, toothbrush holder
139
Quilt rack with homemade afghan
140
Set of 4 oak tv trays
141
Clear glass cake plate and duck cookie jar
142
Enterprise aluminum Drop-o-lator along with other pitchers including winrose collection, bavaria, japan, and more
143
Fostoria water pitcher 7 3/4''
144
Fostoria water pitcher 6 3/4''
145
Fostoria candle holders and bud vase
146
Fostoria lidded candy dish, bowl, vase, cruet and syrup
147
Fostoria handled fruit bowl, butter dish with lid, vase, candy dish
148
Fostoria small pitcher, cream and sugar
149
Fostoria canoe shaped serving dish 11.5'' and 4 serving dishes
150
Bottom contents of china cabinet including cut glass fruit bowl, empress led crystal bowl, clipper collection glasses and more
151
Wooden stepback china cabinet with 2 drawers and 2 doors 54''w x 17''d x 72''h (does not include contents)
152
Wooden sailing ship and a miniture sailing ship
153
Johann Haviland Bavaria Germany 116 pieces including platter, casserole dish, dinner plates, salad plates, soup bowls, and more
154
Wooden china cabinet with 4 doors and 1 drawer 42''w x 17''d x 72''h (does not include contents)
155
Lot of green glass including moon and stars fruit bowl, sugar shaker, handled dish, vases and more
156
Fostoria 3 toed tricorne triangle folded bowl
157
Fostoria lot including 3 serving dishes, footed candy dish, footed bread plate, and a handled dish
158
Fostoria lot including 11'' fruit bowl, 11.5'' diameter serving dish and, 9.5'' vase
159
Pair of footed Fostoria bowls
160
Fostoria pedestal cake plate
161
3 Fostoria divided serving dishes
162
Fostoria punch bowl with 7 cups
163
Lot of toothpick holders and salts including green depression
164
Wooden dinette table with 4 chairs and 2 leaves
165
Venice collection 5'3'' x 7'7'' motif pink rug
166
Pine one drawer stand with an small antique Ironstone washbowl (cracked) and pitcher
167
Bushnell 10x50 binoculars
168
Tasco 7x35 binoculars
169
Luggage rack, piano bench and a wooden childs chair
170
Bose wave music system multi-CD changer (working condition)
171
Jan Hagara "Sarah Mae" 10084/15000 and "Cathy" 4755/15000
172
Jan Hagara "Grace Ann" 707 and "Daniel and friend" 50
173
Jan Hagara "Carrie" 12545 and "Joleene" 1913/15000
174
Jan Hagara "Lesley" 4735 and "Audrey" 2084
175
Jan Hagara "Marie" 18986 and "Jan" and larkas toys and Lesley with Larry
176
Jan Hagara "Winter/Aspen" 1171/7500 and "Brooke" 3850/15000
177
Jan Hagara "Fall/Megan" 627/7500 and "Adell" 5121/15000
178
Jan Hagara "Goldie" 8817 and "Cindy" 2266/15000
179
Jan Hagara "Scott" 8348/15000 "Ryan" 6334 and "Jeff" 8561
180
Jan Hagara "Faith" 3490/6000 and "Mandy"
181
Jan Hagara legacy series "Rebecca" 981/10000
182
Jan Hagara "Spring and Lance" 7024 "Sean" 474 and "Paige" 9960/15000
183
Jan Hagara 3 ornaments "Cristina" "Stephen" "Parry" and one stand alone "Lori"
184
Jan Hagara "Paul" 5453/15000 "Amy" 5227 "Lydia and the shirley temple doll" 19405 and "Judianna" 2182/6000
185
6 Jan Hagara hanging mini ornaments "winter/aspen" "summer" "fall/Megan" "spring/Katy" and others
186
6 Jan Hagara hanging mini ornaments
187
Jan Hagara lot including doll on horse, teddy bear, rabbit, matte doll, "Sally" with bench 50/15000 "Bunny" and "Tippi"
188
Hummel lot including christmas surprise 536/310 (chip on tree and figurine) and puppy pal and monkey business
189
Jan Hagara "Stars buggy 2" "Sofia's buggy" "Rennys buggy" "Mae and Josephs buggy" and more
190
Jan Hagara "Mary" 5309/15000 and "Debbie" 403
191
Jan Hagara "Spring/Katy" 2035/7500 and "Michelle" 9207 and "Blossom" 63/7500 and "Summer" (chip on bird tail) 206/7500
192
Jan Hagara "Tara" 853 and "Cristina" 9292
193
Jan Hagara signature collection "Beth and Amy" 3882/10000
194
Jan Hagara "Sharice and Parry" 21520 "Abby" 9452/15000 and "Victoria"
195
Jan Hagara "Matthew" 5147/15000 with trunk and "Peppermint" 671/700
196
Jan Hagara signature collection "Julie" 7640/20000 and "Betsy and Jimmy" 15556
197
Jan Hagara "Haley and Hillary" 4795/6000 and "Sharice" 7129/15000
198
Jan Hagara "Tiffany" 1127 and "Cathy II" the georgetown collection 3378/6000
199
3 small hummel figurines including "Garden treasures" and "Natures gift"
200
4 small hummel figurines including "from me to you" , berta hummel "make a wish" and berta hummel "dashing through the snow" berta hummel "token of love" and hummel bell
201
Dolly dingle 80
th
anniversary boy and girl figurines
202
Lot including: Dept 56 trees, screen saver snow baby, Jan Hagara "Daniel and friend" "Cupcake" "Kristas Wagon"
203
Misc. figurines including: Effanbee Heart to heart figurines, Japan, small piano baby (broken thumb) and more
204
Curio cabinet 28''w x 76.5'' (does not include contents)
205
13 Fostoria 5 1/2'' glasses
206
2 Fostoria butter dishes
207
Fostoria footed candy dish, cream and sugar, handled dish, 2 lidded candy dishes, platter and more
208
16 Fostoria plates, 8 cups and saucers and salt and peppers
209
Contents of cabinet including hobnail juice glasses, pedestal candy dish, creamer, anniversay pieces, salt and peppers, vases and more
210
Blue pyrex serving bowl and small mixing bowl
211
Lot of cookbooks including mennonite recipes from the eastern shore and winning recipes from annual crab cooking contest
212
Lot including pink depression dish, 3 glass frogs, bird plate, trivits, clear glass bowls
213
Cane bottom chair, antique wooden picture frame, floor fan, basket of artificial flowers and scarecrow doll, lighthouses and more
214
Robinson Ransbottom Pottery Roseville Ohio spongeware 7'' bowl, salad bowl and 6'' bowl with age crack
215
Robinson Ransbottom Pottery Roseville Ohio spongeware 8'' bowl
216
Robinson Ransbottom Pottery Roseville Ohio spongeware 9'' bowl
217
Robinson Ransbottom Pottery Roseville Ohio spongeware 10'' bowl
218
4 level wrought iron stand with wooden shelves 50 1/2''
219
Oak drop leaf table with chairs stored inside 60 1/2'' L open x 34'' W
220
Wooden wall shelf and contents including small pitchers, saucers and more
221
1 hand carved crisfield cane presented to CG Lawson, 2 wooden canes and an easy grabber
222
Lot of kitchen knives and meat forks, including numerous pieces of Carvel Hall and 3 Carvel Hall knife rest
223
Lot including fire king and glass bake measuring cups and measuring shot glass
224
Contents of cabinets including shot glasses, salt and peppers, small temp-tations baking dishes, corning ware baking dishes, pots, pans and glasses
225
Contents of cabinets including MSE china, glasses, bowls, coffee cups, cleaning supplies under sink, contents of lazy susan, corn dishes and more
226
Contents of cabinets including Holiday Hostess china, glasses, covered cassarole dishes, gravy sleigh, and more
227
Wagner Ware Sidney 0 1058M cast iron fry pan 8
228
6 Fire King floral decorated dessert dishes and two small pink pyrex cassaroles with lid
229
Lot of Corning Ware baking dishes with lids (one lid chipped)
230
Set of Carvel Hall flatware including forks, cake forks, spoons, soup spoons, knives and more
231
2 Goebel Figurial wine glasses made in Germany
232
Davis Designs crab bowls, duck plates, spoon rest, and green sponge ware cake plate
233
Beige KitchenAid mixer model K45SS
234
Lot including U.S. Congressional holiday ornaments '06 '07 '08 '09 '10 and challenge coins, WWII 60
th
anniversary stamp and .50 piece (1945), 1935 steel cents, and lincoln pennies
235
Lot including hand painted Japan teapot, goose lamp, Immanuel United Methodist Church Crisfield hot plate, ducks of north america coasters and more
236
Goose planter and a wooden shelving unit with coasters, candles and vases
237
KitcheAid ultra power mixer
238
Cooks essential pressure cooker and Moulinex Lamachine food processor
239
Contents of pantry excluding top shelf, including toaster, christmas cups, baking dishes, pressure cooker, blender, ottlite, and more
240
Contents of closet including snowman and reindeer yard decorations, straw hats, John Deere hat and ironing board
241
Antique toy cars including matchbox and antique car with rubber wheels, miniature coke bottles, childrens tea set
242
3 small hummel figurines including "A sweet offering" "Pigtails" and "Pupet princess" 4'' tall
243
3 small hummel figurines including "Clear as a bell" "Spring waltz" and "First mate"
244
4 small hummel figurines
245
3 small hummel figurines including "Keeping time" "Too shy to sing" and "Steadfast soprano"
246
3 small hummel figurines including "Lucky fellow" "For keeps" "Surprise"
247
3 small hummel figurines including "Two hands, one treat" "Forever yours" "I brought you a gift"
248
Goebel hummel annual angel 1999 1585/12500 and small angel figurine
249
Berta hummel figurine "With Love" with stand
250
Hummelscapes collection "Summer Stroll" with "Sister"
251
Goebel hummel figurine "School Boy" and "Happy Days"
252
Hummelscapes collection "Winter Rides" with "Ride into Christmas"
253
Hummelscapes collection "Christmas Time" with "Christmas Time"
254
Boy and girl figurine with umbrella 8'' Japan girl reading book, Japan boy and girl, and boy with swans
255
4 small hummel goebel figurines musical group
256
Goebel crystal figurine and 3 small hummel figurines
257
Goebel hummel figurine "Tender Loving Care" and M.I. Hummel Club sterling silver necklace
258
Spool style bed with sertapedic mattress and box spring size full
259
Lot of baskets including long handled baskets, duck basket, american basket
260
Homestead by Sears pine 3 drawer dresser
261
Homestead by Sears chest with 4 drawers
262
Homestead by Sears nightstand with drawer and mirror
263
Hoover Runabout ultra vacuum (worked when tested)
264
Lot of artificial flowers, candles and 3 pieces of luggage
265
Sentry fire and water proof safe 15 1/4" X 13 1/2"
266
Byers' Choice Santa Claus 1772/2009 and Mrs Claus and a sack of toys
267
Byers' Choice nautical Santa and christmas tree
268
2 Byers' Choice snowmen
269
Byers' Choice Crisfield Santa with crabs and beach chair and worn nose
270
Byers' Choice sailing Santa with Crisfield bag
271
Byers' Choice Jane's accents Crisfield, MD sailer with table
272
Byers' Choice carolers 2006 and 2001
273
Byers' Choice victorian adults 2002, 2003 victorian grandparent 2001
274
Byers' Choice English countryside Santa and Mrs Claus
275
Byers' Choice 2 victorian shoppers 2005, 2001 and 2017 Merry Christmas
276
Byers' Choice 2 2009carolers and 2 1991 carolers and a christmas clock
277
Byers' Choice 2009, 2000, 2002, 2007
278
Byers' Choice 2012 dog, 2003, (2) 2005, 2006
279
Byers' Choice 2004 Wiliamsburg, 2003, 2007, 1997
280
Byers' Choice 1999, 1997, 2006
281
Byers' Choice 2001, 2006, 2007
282
Byer's Choice 2005, 1999 and a street lamp, Christmas mouse, Christmas tree, wrought iron christmas fence
283
Lot of towels, pillow cases, doilies, blanket and more
284
Wicker style clothes hamper and wooden toilet paper holder
285
Wooden cabinet with 2 doors and 2 drawers 31 1/4'' x 21d x 57''h
286
Two drawer storage cabinet 28 1/4'' x 15''
287
3 shelf book case 30'' x 12''
288
Green Lane recliner, blue lamp and sunflower painted bench
289
Wrought iron floor lamp with shade
290
Pine wooden shelf with quilt rack and blue tapestry
291
4 shelf book case 42 1/4'' x 12''
292
Wooden framed mirror, decorative wreath and blue vanity stool
293
Metal kitchen stool, wooden stand, medical potty chair, walker, wicker style heart shaped trash can, and magazine rack
294
Honeybee maple chest with 5 drawers 34 1/2" X 17"
295
Vintage hat pin holder with hat pins
296
Wooden jewelry box with mallard top
297
Lot including comforter, electric blanket, sheets, pillow cases, doilies, furniture scarves and more
298
Pine stand/magazine rack, drying rack and luggage holder
299
Honeybee maple dresser with 6 drawers 48" X 17 1/2"
300
Wall mirror 36" X 30"
301
3 Ruby lamps with white floral decorated shades (1 shade has chips where it meets holding bracket)
302
Vintage wicker style sewing basket with knitting needles
303
Phillips 22" television with remote
304
Television stand 31" X 19 1/2"
305
3 shelf book case 30'' x 12''
306
3 table lamps including blue/gray table with shade, kerosene lamp converted to electric and an alabaster lamp
307
Pine night stand 28" X 16 1/4"
308
Lefton China hand painted rose snack set 8 1/4" plate with cups and an additional bone dish (8 plates and cups)
309
Lot of collectible bells including some crystal
310
Lot including frames, Knowles collectible duck plates, small washbowl and pitcher, Crisfield hot plate, Uncle Sam wind decoration, candy dishes, playing cards and more
311
Cross stitch goose picture, cross stitch of Somerset County and a slate "A Harvest of Blessings" sign
312
Cherry queen size cannonball style bedframe with Sealy Posturepedic mattress and boxspring
313
Lot including 5 foot Christmas tree, wrapping paper, plastic 3 drawer storage bin, ribbon, bedrail, cane bottom rocker (cane damaged) and more
314
2 Jan Hagara dolls Parry by Danbury Mint and Cristina by Effanbee
315
Lot of 5 dolls including Effanbee Patsy Playtime, Seymour Mann, Engel Buppe German doll, Dynasty Doll Cayala and a Heritage musical doll
316
Royal Palace handmade rug 30" X 41" oval lapis blue
317
Freedom Scientific desktop video magnifer (working condition)
318
Kenmore portable refrigerator
319
Rubbermaid Roughneck trash can, geese welcome hat rack, Swiffer pads, bowling balls and a television/microwave stand
320
2 Milk crates containing extension cords
321
Lot including extension cords, power strip and rope
322
Blue storage cabinet with broken marble and brooms, mops, snow shovels, aluminum 3 foot ladder/stool, gardening tools and trimmers
323
4 Wooden baseball bats including Spalding Ken Boyer, H&B Louisville, Kentucky Little League Garry Maddox and more
325
Poolside tea cart, flower stand, flag holder, jug (cracked) vases and buckets
326
Hand tool lot including hammers, levels, rubber mallet, pry tools, hatchet and more
327
Lot including fire helmet, Crisfield Fire Dept tag toppers, Fire Police tag topper and a homemade Crisfield Fire Dept tag topper
328
Craftsman tool storage cabinet 54 1/4" X 20 1/4" (does not include items on top)
329
2 Black agate steaming pots large for crabs and small for clams
330
3 Folding card tables and a blue plastic chair
331
2 Keter plastic storage cabinets
332
Wonder Winder with extension cord, 2 dollies, yard cart and a Hirsh stand
333
Vintage Ford Model T cast iron car marked JM135
334
Vintage cast iron toy truck
335
Vintage cast iron toy car
336
Vintage cast iron tow truck and farm truck
337
4 Drawer metal file cabinet, Rubbermaid cooler and a LIttle Playmate cooler
338
16" Hardbox with contents including screwdrivers, pliers, level, small hammer, screws and more
339
Tool lot including ice picks/bottle openers with drink recipes, Stanley screw driver, cutters, Carvel Hall fish handled knife, tape measures and more
340
2 Box lots including Craftsman screw drivers and some Craftsman wrenches,folding rulers and more
341
3 Box lots including folding rulers, tape measure, pliers, paint brushes and masonry tools
342
Assortment of plastic yard decorations
343
Lot including elastic tie downs, cable ties, string, bits and nails
344
Lot including gloves, storage bins and cabinet, plastic storage bins, metal clipboard, Presto deep fryer, Bell South walkie talkies and more
345
Fire wagon weather vane
346
Tub containing train cars, controller and track
347
Lot including light bulbs, batteries, caulking gun, B&D drill bits, Drill Doctor, wire brushes, wooden planter and more
348
Pair of deck mounted citronella torches
349
2 Folding tables (damage to edges), cane bottom chair with damage to cane, curio cabinet and plastic access covers
350
2 Cement planters (1 is cracked)
353
Outdoor patio set including tile top table, 4 chairs and 2 side tables
354
Rubbermaid outdoor storage box
355
Smart Bin storage box, flower watering can, gas cans, trash can and yard tools
356
Suncast storage cabinet and landscaping bricks
357
Jackson wheel barrow, E-Z Spread spreader, Yard Cart, Ground Work wagon and Craftsman lawn sweeper
358
Lot of flowering pots
359
Rubbermaid Roughneck storage shed with sliding lid 74" X 54"
360
Yard tools, Hand cart, flag and broom
361
Craftsman Home & shop vac
362
Wooden cabinet 36" X 84" with contents including screws, screwdrivers, bolts and more
363
Grinder/sander out of Carvel Hall with extension cord and belts
364
Contents of two cabinets including nails and bolts and hand tools on wall including hand saws, Stanley screw drivers, T square, level and more
365
2 Cabinets with contents including tin snips, hand plane, oil cans, pipe wrench, Traq Master wrenches and more
366
4 C Clamps the largest is a 5
367
4 C Clamps smallest is 2 1/2" to a model 404 J. H. Williams & Co
368
3 Box lots including hammer, soldering iron, thermometer, screw drivers, heavy duty staplers, saw bldes and more
369
Gun rack with drake and hen mallard heads made by Oliver "Tuts" Lawson for his brother in law
370
Goose and duck pattern cut outs and a swan
371
Full size wooden duck decoy
372
Miniature blue wing teal decoy signed E. Mills
373
Mallard decoy pen set
374
Vintage wooden work stool
375
Cooks Oak Storage cabinet 30" X 20 1/2" deep X 59" tall with first aide box
376
Biddy Waterer painted with Canvasback and Metal Mallard Waterfowl sign
377
Wooden J.W. Shockley & Son Snow Hill MD cheese box
378
Dalmation Fire wind chime, Crisfield Fire Dept Tag topper & Fire Dept Plastic Member Cross and Fire Xing Sign
379
Wrought iron plany hangers, decorative country star,landscaping lights and grill cover
380
Medical bench, outdoor stands, bar stool, desk chair, extension cords, maul and horse shoe set
381
4 Drawer metal file cabinet,partsbins with screws & nails, misc. pieces of wood, metal flower holders and more
383
Bradshaw and Sons Funeral Home metal box phone number 231
384
Lot of planters and vases
385
Workbench 72" X 29 1/2" with contents including Wilton vise, casters, plumb bob, magnifying lights, face shield and more
386
Flambeau 22030 Tool Box and Craftsman Tool Box
387
Metal Cabinet 36" X 78" and contents including All Around Vac, paint and 5 Foot Metal Ladder
388
Carvel Hall Knives, Carvel Hall Knife Sharpner, Flying duck and Duck Note holder
389
Lot of Fishing Rods and Reels one rod is Bamboo
390
Lot of Sheppards Hooks for hanging flowers and ceramic flying ducks
391
Lemax Caddington Village Engine House 8 Fire Station
392
Lemax Caddington Village Engine House 9 Fire Station
393
Heartland Valley Village porcelain lighted house
394
2 Paper mache' style fireman Santas one is a hanging ornament
395
Clothique Possible Dreams fireman Santa and a fireman Santa hanging ornament
397
"A Pocketful of Hope" 2002 A Heros Salute figurine
398
Red Hats of Courage "Volunteer" 1998 Vanmark
399
Red Hats of Courage "Lean On Me" 1998 Vanmark 1/1747 with box
400
Red Hats of Courage "Lil Recruit #2" Vanmark 0052/2991 with box
401
Maryland State Fireman's Association 1893-1990 Joe Robison collectible
402
Lefton China fireman figurine, Clowning fireman by Vanmark and Yesterdays Child The Chief (damage to hat) with boxes
403
Box of fireman Santa ornaments and fire helmet Christmas lights
404
Red Hats of Courage "Hero 1" Vanmark with box
405
Red Hats of Courage "Digging It" Vanmark 1/1402 with box
406
Red Hats of Courage Vanmark with box and Red Hats of Courage clock
407
Corgi Fire Heros 900 Boston FD truck, 1922 Ford fire engine and a Department 56 A Christmas Story fire truck
408
Ertl 1926 Seagrave fire truck bank 1/30 scale with John Deere Company on side of truck
409
Ertl 1937 Ahrens-Fox fire truck bank 1/30 scale
411
Santa fire truck, a fire wagon, a Corgi and a plastic fire truck
412
3 Matchbox Models of Yesteryear fire trucks
413
Corgi E-One Sidemount Kansas City firetruck in box
414
Dinky Toys Merry Weather Marquis Fire Tender made in England
415
2 Model fire trucks including 1928 REO and 1938 Ford fire engine
416
Red Hats of Courage "Getting Prepared " Vanmark 1/1913 with box
417
Department 56 "The Fire Brigade of London Town" porcelain accessories in box
418
Corgi Aerial Rescue Tractor made in Great Britian and a metal 1970's fire truck
419
Signature Series 1941 GMC firetruck and a Ertl 1926 Seagrave fire truck
420
2 Cast iron fire trucks, cast iron fire wagon bank and a fire department crystal paperweight
421
Lot of miniature fire trucks including Corgi, Tootsie Toy, Tonka, Army jeep and more
422
Lemax "Village Volunteers" and "Festive Fire Engine"
423
Lot including remote control fire truck, nutcracker fireman, Santa fireman and a ceramic fireman
425
Lot of costume jewelry & jewelry holders and Christmas pins
426
Lot of Fire Memoribilia including wind chimes, Americans Heros, Dalmation Dogs, Snowman and more
427
Hallmark Firetruck, Fire Dept Legacy of Courage and Dept 56 Fire Figurines
428
Lot of pocketbooks including Evening Bags, Vera Bradley, Stone Mountain, Scarves and more
429
Luggage including Leisure, Coleman and Encore
430
Lot of fire memoribilia including ornaments, flags, pictures, Mickey Mouse, local FD mugs and more
431
Lot including wooden shoe rack, frames, magnifying glasses, lamps, radio, flashlight and more
432
Sewing Lot including thread, scissors, pin cushions, ham and more
433
Singer Sewing Machine and 2 orange plastic organizing stands
434
Wooden shoe rack, 2 step stool, CD's,cassettes, flashlight, figurines, batteries, and a two drawer organizer stand
435
Wooden shoe rack, 3 telephones, Hummel stationary, mantle clock, trash cans and more
436
Blanket, bed spread and a Sylvania clock
438
Ashley Cooper "Jade" Doll
439
Goebel Angle Dolls by Bette Ball
440
Lot of Christmas including Crisfield Ornaments 2000,' 01, '03 Santa, snowmen, lighted nativity scene, Lenox angels metal ornaments, garland and more
441
Large assortment of VHS tapes Band of Brothers, The Sopranos, World War II, Mafia, Mafia An Expose', some DVD's
442
Lot of World War II books including D-Day, War at Sea, Patton, Battle of the Bulge and more
443
Lot of World War II books including The All Americans in World War II, The War, Life World War II, Life Our Finest Hour, Medal of Honor, Utah Beach to Cherbourg and more
444
Book lot including 1941 America in WWII, The Second World War, WWII Memorial, Duty Honor Victory, Deceptions of WWII, US Army Atlas WWII and more
445
Book lot including Waterfowl Painting, Watercolor Painting, Birds of North America, Birds of America and more
446
Book lot Battle of the Rhine, The Good Fight, Voices of Valor, The Vietnam War, The Story of WWII, Summer Thunder, Young American Patriots MD-DE and more
447
Book Lot Franklin and Winston, God and Generals, Pearl Harbor, Fostoria Glass, Kovels Antiques and more

RETURN