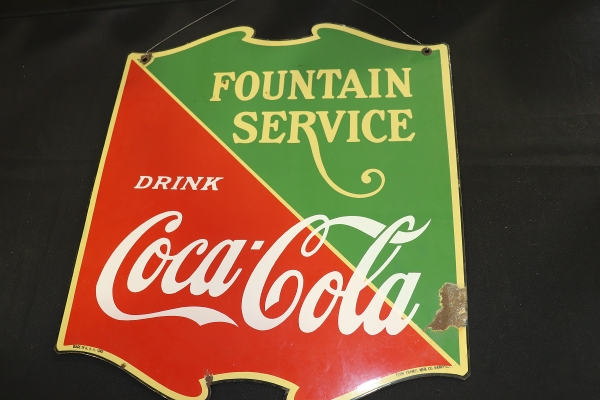 Quality Salisbury Estate Auction
July 22, 2020
28620 Ocean Gateway Salisbury, MD. 21801
ON LINE ONLY AUCTION***ON LINE ONLY AUCTION***
INTERNET ONLY AUCTION: July 2, 2020 through July 22, 2020. Bidding ends on Wednesday, July 22, 2020 starting at 5 PM.
PREVIEW DATES/TIME: Tuesday, July 14, 2020 from 4 PM to 6 PM.
CHECKOUT DATE/TIME: Saturday, July 25, 2020 from 9 AM to Noon. No exceptions.
LOCATION: 28620 Ocean Gateway, Salisbury, MD 21801
Eastern Shore Auctions, Inc. is honored to have been selected to sell the living estate of Jean Knarr of Somerset County, MD., the estate of Philip Sheehan of Salisbury, MD and several other local estates.
This is a large auction of quality items. Firearms include an M1 Carbine Paratrooper model, decoys by the Ward Brothers, Dan Brown, Bennett Scott, Larry Tawes, Ken Kirby and others, a large selection of Coca Cola items including a 1933 Porcelain Fountain Service Sign (from a store in Princess Anne, MD), a Select-O-Matic 100 jukebox, Victor Talking Machine table top record players, antique phones, Longaberger baskets and pottery, old toys, crocks and stoneware pottery, glassware, furniture and other collectibles.
1
Three antique wooden block and tackle
2
Antique wooden bail handled paint bucket with brass tag Beymer Bauman and Co.
3
Golden Novelty turtle spittoon
4
Miner safety lamp by Koehler Manufactoring Company #203
5
6 gallon cobalt blue gray crock with ears (couple of cracks)
6
2 signed Art LaMay Waterfowl Festival prints "Fabulous Five" 1993 29''x 24'' and "Mallard Mania" 1998 (water damage on one corner) 21''x 29''
7
Old Pal minnow bucket and Frabill wade bucket (2.5 quart), both galvanized
8
Antique galvanized metal style minnow trap
9
Rare antique Cowden & Wilcox small brown crock with small chip under rim 6 1/2'' tall
10
Lot including Stoneware pottery tan planter 7 1/4''h and brown Stoneware pottery crock
11
Vintage black galvanized bail handled oil can marked Dover possibly railroad can
12
Child's mining hat by Portable Lamp & Equipment Co. Flexo Band leather cool cap size 6 5/8 with Auto Lite lattern
13
Stoneware pottery tan crock 9'' tall
14
Two hand planers including Bailey Stanley and antique wooden plane
15
Two antique wooden hand planers, scraper and brace
16
Antique wooden hand plane and LB Davis molding plane
17
Antique primitive carved wood 20 cigar mold
18
Antique primitive carved wood 10 cigar mold 4340086- GA
19
Brown and tan stoneware pottery crock 7 1/4'' tall
20
2 Stoneware pottery crocks, brown and tan 6'' tall, smaller has chip on rim
21
Antique plow plane marked JL Hensch
22
Stoneware whiskey jug possibly 1/2 gallon 9'' tall
23
Large Stoneware whiskey jug possibly 2 1/2 gallon 13'' tall
24
Lot including Adam Antique by Steubenville plate and serving tray, pink Depression handled bowl, Carnival bowl, and pedestal cake plate
25
Vintage water pitcher with 6 glasses
26
Christ United Methodist Church Upper Fairmount church plate, 5 vintage glasses, 4 cook glasses, syrup container, and antique glasses with glasses case marked Delmar DE
27
Three Coca-Cola TV style serving trays including, Fall Harvest, Fondue Hostess and Wagon
28
Lot including "Have a Coke" bottle opener, Coca-Cola Christmas ornament, Coca-Cola wall badge, and 10 Coca-Cola advertisement placemats
29
Coca-Cola ice pick, 5 coasters and bar tray
30
2 Coca-Cola rulers, A.W. Perdue and Son Incorporated yard stick and Perdue fly swatter
31
2 Coca-Cola rulers, A.W. Perdue and Son Incorporated yard stick and Perdue fly swatter
32
3 Coca-Cola playing cards
33
Coca-Cola toy bottle tray, 8 bags of Coca-Cola tees with ball marker, Wincester Western pocketknife, pencil, and roadmap of Delmarva Peninsula Whiten Leonard 1974
34
Not an Exit metal sign 14'' x 10''
35
Lot of 5 vintage hand fans, 4 are local advertising including; Holloway and Company, Marvel Funeral Home, Hill and Johnson, Bradshaw and Sons.
36
Metal Pepsi thermometer stamped 5-73 in right corner 99 in left corner PM-1105 Stout Sign Co.
37
Vintage lot including Roy Rogers leather belt, Westminister leather belt, an Indian headdress, leather 3 strap childs motorcycle kidney saver waist belt, and two water guns
38
McCoy Aunt Jemima cookie jar
39
Vintage 1940's F&F Mold & Die Works plastic Aunt Jemima and Uncle Mose salt and pepper shakers
40
Black Americana Mammy measuring spoon holder 5 3/4" tall with 3 spoons
41
Black Americana Aunt Jemima 4 1/2" tall and Uncle Mose 4" tall salt and pepper made in Japan
42
Black Americana Aunt Jemima and Uncle Mose Souvenir of Washington D.C. salt and pepper shakers 5" tall
43
F&F Mold & Die Works vintage plastic Aunt Jemima syrup/creamer 5 1/4" tall
44
Lot including Aunt Jemima salt shaker 5" tall, Black Mamma figurine, Black Americana bell and a pottery Aunt Jemima (broken scarf top)
45
Antique bank Savings Department Bank of Crisfield
46
Lot including Montgomery Ward & Co collectible truck bank, Farmers and Merchants Bank of Salisbury pocket savings bank and a wooden church bank
47
Yellow wooden Coca Cola tray with 24 Coca Cola bottles
48
Lance jar with glass lid
49
Vintage cast iron bank/house bank
50
Farmers and Merchants Strato bank Salisbury, MD
51
Metal pirate chest bank, Wilmington Trust coin bank, and plastic pig bank
52
Durable Toy Company Uncle Sam's 3 coin register bank
53
Southern States fiftieth anniversay pewter plate and feed bag with AW Perdue and son yardstick and Perdue fly swatter
54
Vintage cast iron Santa Claus door stop (possible damage to hat)
55
Coca-Cola metal bottle advertising sign marked on bottom A-M 1-51 17'' long and "Drink Coca-Cola" metal sign 11 3/4 '' long
56
Coca-Cola metal bottle advertising sign marked on bottom A-M 10-49 17'' long and "Drink Coca-Cola" metal sign 11 3/4 '' long
57
Drink Coca-Cola delicious and refreshing thermometer made in USA 1939 Robertson-Duallife Springifled, OH 16'' long
58
Coca-Cola metal bottle thermometer made in USA R-12-52 17'' long
59
Vintage 1953 Coca-Cola serving tray "Menu Girl"
60
Vintage 1940 Coca-Cola serving tray "Girl fishing on the boat dock" faded
61
Vintage 1939 Coca-Cola metal tray "Springboard Girl Diving Board"
62
Vintage 1972 Coca-Cola metal tray "Lady in Bonnett" victorian oval and Vintage 1973 girl with coke
63
Vintage 1941 Coca-cola metal tray made in USA The American Art Works INC Coshocton, OH
64
Vintage 1971-473 Coca-Cola metal tray Hamilton King Girl and Coca-Cola Santa Claus and elves tray
65
2 Vintage 1953 Coca-Cola serving trays "Menu Girl"
66
Vintage 1973 Coca-Cola serving tray "Flapper Party Girl" and 1953 "Menu Girl"
67
Structo Toys transport tracter trailor NO. 700
68
Buddy L Mobile Repair-It Unit pressed steel toy truck 1950s
69
Buddy L Army Transport pressed steel toy truck with cannon 1950s
70
Marx Old Jalopy wind up friction toy
71
Marx Rocket Fighter wind up tin toy
72
U-29 1960's Japanese tin battery operated boat made by TN
73
Structo Toys Toyland Garage 24hr Towing Service truck
74
Dick Tracy remote control Linemar toy car late 1950s
75
Wind up toy bear with key made in Germany US zone
76
2 miniature wooden bats, old wooden blocks, dominos, Coca-Cola softball, and baseball rack
77
Enjoy Coca-Cola official softball bat model 100SBCC 34in
78
Mattel Thunderburp toy gun circa late 1950s (slide sticks)
79
Plastic toy machine gun on tripod
80
Marx 777 Lumar Special Hot Rod and a plastic molded fire truck
81
Lot of 4 metal cars including Tootsie Toy and Manoil #708
82
Lot of 3 models including Revell 56 Ford pick up, Revell 55 cadallac, AMT 29 Ford and box lot of model boats
83
2 vintage Park Plastics air powered water rockets with pump Linden NJ
84
Erector "The World's Greatest Toy"
85
Electric Coca-Cola light up clock (Coke plate loose light up when tested but clock did not run) Ingress-Plastene model G17
86
Strowger Private Automatic Exchange (PAX) candlestick telephone
87
Ideal 16in "Drink & Wet" Betsy Westy doll in box
88
Tin wind up friction train made in Germany US zone with key and track
89
Lot of antique marbles including cats eye
90
Vintage Superior Rocket gun red plastic toy
91
Lot including vintage Louis Marx planet patrol, rockets, space code box, figurines, Lumar cannon, and more
92
United Parcel Service 1929 Model A delivery vehicle in box
93
United Parcel Service 1929 Model A delivery vehicle in box
94
United Parcel Service 1927 White Motors light delivery vehicle
95
United Parcel Service 1927 White Motors light delivery vehicle
96
United Parcel Service Feeder Truck
97
United Parcel Service Feeder Truck
98
United Parcel Service Open Front Panel side truck
99
United Parcel Service Open Front Panel side truck
100
United Parcel Service Open Front Panel side truck bank made by Ertl
101
United Parcel Service Open Front Panel side truck bank made by Ertl
102
United Parcel Service Next Day Air/2
nd
Day Air plane
103
2 1977 plastic United Parcel Service toy trucks and one miniature metal United Parcel Service Truck
104
2 1977 plastic United Parcel Service toy trucks and one miniature metal United Parcel Service Truck
105
United Parcel Service lot including 1977 plastic toy truck, 80
th
anniversary coasters, pencils, desk calendar and clock and more
106
Coca-Cola plastic thermoter and Coca-Cola 1981 wall calendar poster
107
CJ Carol Auction Company Dover DE wooden walking stick
108
Purina Believes in Delmarva grand opening new Purina mill 1952 walking stick
109
Purina Believes in Delmarva grand opening new Purina mill 1952 walking stick (label worn)
110
Vintage walking stick inlaid with Mother of Pearl
111
Lot of 3 wooden walking sticks
112
A.W. Perdue and Son Incorporated yardstick, Perdue fly swatter, Booth & Brown fly swatter and more
113
Lot of 8 yard sticks including Chas. B. Timmons & Son Snow Hill MD, Carr's Farm Supply Service Annapolis MD, Sears with 55 gallon drum measure and more
114
Lot of 8 yard sticks including Tull Brothers Seaford DE, Fowler Motor Sales phone 7 Mt Airy MD, Berlin furniture, David B Sterner & Sons John Deere, Pilchard Brothers Salisbury, MD and more
115
Lot of 6 yard sticks including E Mace Smith Feed & Seed phone 163 Princess Anne MD, Tull Brothers Seaford DE, Magee Hardware Berlin MD, VV Hughes & Sons Salisbury, MD
116
8 Yard sticks including David Bradley 48 inch and 4 Tull Brothers Seaford DE, Sears with 55 gallon horizontal measure, and Agway
117
Amoco Motor Oil wooden gasoline gauge
118
Al Nero & Company Gutting & Spouting yard stick Laurel DE phone 4765 and 371
119
9 Yard sticks including The Adkins Company of Pocomoke MD phone 135, ES Adkins, LW Gunby Company, and more
120
Lot of 10 school house rulers
121
Lot of 9 school house rulers
122
Gilbert Chemistry outfit
123
1933 double sided porcelain Coca-Cola fountain service sign Tenn. Enamel MFG Company Nasvhille TN, hung outside store in Princess Anne MD
124
Tudor Tru-Action electric football game in original box and old Bingo, Beat the Clock and Golden Treasury of Games
125
Wooden doll dresser and chest with Rudolph the Reindeer and cat and 3 box lots including Coca-Cola, glassware and more
126
Brass Cannon 19 1/2 inches long
127
Cast iron redhead wing duck decoy 16" long
128
Jimmy Bowden loon decoy 13 3/4" lond signed 1999
129
Miniature pintail drake on driftwood 8 3/4" by Ray Walker, Jr. Chincoteague, VA. crack in front of neck
130
Herb Daisey black duck decoy 8" 1970 Chincoteague, VA. separation in back of head where it meeets the body
131
Mallard hen and drake by Ed Jones Ewell, MD drake dated '89 hen dated '90 8" long
132
Dan Brown '73 wall plaque of a black duck head with painting of a black duck 15" long
133
Black cast iron decoy with removable head 13" long
134
Drake Mallard decoy by Sherman Evans 1986 10 1/2" long
135
Miniature hooded merganser decoy on driftwood by Ray Walker, Jr Chincoteague, VA. decoy is 5 1/4" long
136
Miniature drake mallard decoy by Harry? Wilimgton DE 6'' long
137
Miniature wood duck decoy Harry? Lewis DE 7'' long
138
Drake Bufflehead decoy Bobby Umphlett Chincoteague VA 10 1/2'' long 2/21/70
139
Drake mallard decoy by Michael and Susan Veasey 1996 11 1/2'' long
140
Drake and Hen Shouvler decoys full size
141
Atlantic Flyaway Waterfowl and Bird Carving Exhibits Salisbury MD catalogs 1968-1985
142
Jimmy Bowden Chincoteague VA Shorebird 23'' long
143
Swan decoy with canvas body and wooden head 30'' long
144
Drake Widgeon decoy by Larry Tawes Sr full size
145
Drake and Hen Canvasback decoys full size keel has been removed
146
Woodduck Drake and Hen decoys carved by Freeman with keel full size
147
Hen Bufflehead decoy by Beau Nelson 1998 full size
148
Drake redhead decoy possibly Dan Brown full size
149
Drake green wing teal by Larry Tawes Sr full size 1994
150
Drake pintail decoy by Larry Tawes Sr full size (chip in paint on neck)
151
Cork black duck decoy by Cigar Daisey full size
152
Hen and Drake green wing teal by Bennett Scott Berling MD 1975 full size
153
Coot decoy by W.R. Wilson 1981 with Ward Foundation World Championship Wildfowl Carving Compeition, first in species ribbon
154
Hen and Drake cinnamon teal by Al Burke
155
Old Squaw Drake and Hen Oliver "Tuts" Lawson Crisfield MD full size 1986
156
Black duck decoy by William Veasey full size
157
Brant decoy by Howard Freeman 1989
158
Antique wood goose decoy swimming pose
159
Pair of vintage wooden skies "Karhu" poles
161
Oak 3 drawer dresser with towel bar 38'' x 20''
162
Steve and Lem Ward Brothers print signed by Lem and Steve 1971
163
Lem Ward pintail print 1982
164
Lem Ward goose print 1983
165
Framed picture of Buffleheads by Fritz Strobel 1999
166
Brown wooden bookcase 26'' x 9''
167
Antique fireplace mantle
169
Short pine display cabinet lighted
170
Majestic antique tube radio
171
Oak 4 drawer dresser 40'' x 19''
172
Gold framed mirror 43 1/4'' x 31''
173
Woodduck carving by Royce Nielson 44'' x 14 3/4''
174
Seeburg Selecto-o-matic 100 Jukebox (worked when plugged in)
175
2 piece antique cherry corner cabinet 32 1/2'' wide x 84'' tall
177
Intricately carved upholstery foot stool 22''x 22''
178
Mahogany one drawer stand 25''x 17 1/2''
179
Rockingham dining table with 8 chairs and 2 leaves and pad (couple of the chairs are damaged)
180
Homemade framed costume jewlery christmas tree 19 1/4''x 37 1/2'' (did not light)
181
Antique smoking stand with one door and one drawer 18 1/2''x 15''
182
Mahogany one drawer stand 15 3/4''x 18 3/4''
183
8 gallon stoneware pottery crock with lid (crack on one side)
184
Marble top table with claw feet 36'' x 26 1/2''
185
Mahogany drop leaf stand with one drawer 16''x 24'' and drop leaf end table 20''x 27'' and two table lamps
186
Antique one drawer stand with spool legs 24''x 17 1/2''
187
One drawer painted sea green sofa table 32''x 18''
188
Intricately carved plant stand with hooved feet 33'' tall
189
Seth Thomas empire NO. 48N brass crystal regulator mantel clock
190
Antique marble top washstand with one drawer and two doors 33 3/4''x 16
191
Ward Brothers Crisfield, MD Bluebill pair of decoys with turned heads signed 1972
192
Dan Brown full size drake pintail decoy
193
Marlin Firearms Co 44-40 lever action rifle
194
Rossi made in Brasil 38 special
195
P38 AC41 semi automatic pistol
196
ETAT pistol cal 7.63 Broomhandle
197
Marlin Firearms Co model 1894 cal 44 Rem mag lever action rifle
198
R.E. Terni 1939 XVII 7.35 X 51 bolt action rifle
199
Mauser .243 Winchester bolt action rifle
200
U.S. 30 cal M1 Carbine with folding stock variant the M1A1 Paratrooper model
201
Remington .22 pump rifle model 12
202
Marlin Firearms Co Model 93 lever action rifle
232
Shorebird decoy by HV Shourds on a wooden base
233
Coot decoy by unknown maker with a triangle carved in the bottom
234
Drake bufflehead decoy branded Great Bay by Dunkin ?
235
Standing drake pintail full size decoy by Ken Kirby (bite marks on the bill)
236
Blackbelly plouver decoy by HV Shourds on a wood base
237
Antique drake canvasback decoy (age crack in bottom)
238
Redhead drake circa 1930 factory decoy (cracked in neck)
239
Victor drake mallard decoy cracked in back
240
Amoco multi-purpose gear lubricant 5 gallon tin
241
Ford hydraulic oil 5 gallon can
242
Farmer Peet's shortnin Michigan's Favorite 50lb tin
243
A.R.Co large galvanized funnel 19 1/2'' tall
244
Lifesavers and Beechnut Gum advertising display rack
245
Antique hand crank New Rapid ice breaker
246
Antique metal tractor seat
247
Vintage flatware case with Revelation silver plate flatware 52 pieces
248
Schmidt's of Philadelphia cold beer lighted sign (works)
249
Wooden sailing yacht model
250
Anco by Anderson windshield wipper blades and arms metal cabinet circa 1958
251
Decorative cornershelving display stand
252
Antique pine cashiers drawer with EB White bell pat. July 5, 1859
253
3 glass soda pop dies circa 1951-1960 including Sun Crest Black Cherry, Orange Pinapple soda, and Teem (2 in original wrappers)
254
3 glass soda pop dies circa 1958-1959 including Sun Crest Orange, Canada Dry Ginger Ale, and Sun Up Ginger Ale
255
Singer Crockery Co hotel and restaurant equipment coffe maker
256
Self Winding Clock Company New York T-180 minute interval program clock 25'' x 8 1/2''x 30 1/4'' tall
257
Antique double tree horse/ox yoke
258
Siren's Song advertising wooden single sided sign 56''x 26 1/4''
259
Pair of Davos handmade Kofix skies 66'' long
260
Vintage shoe shining stool Koken
262
12''Calvery saddle with covers with US markings on bridle
263
Adjustable dress form size A
264
Antique oak stool with upholstered seat 22 1/2''x 16 1/2''
265
Antique metal hospital stand 16 1/2''x 13 1/2''
266
Antique red and yellow wagon with wooden wheels with metal band
267
Framed stained glass cream with brown frame
268
The Golden Link movie poster framed
269
Pink and white jockey silks monogramed with a C in framed (glass damaged in lower corner)
270
Pair of wooden decorative room dividers
271
Antique Kjobenhavns Telefon-Aktieselskab phone
272
Pair of brass horse bookends
273
Antique Victor Talking Machine Company VV-VI table top hand crank record player
274
Antique cast iron boot jack
275
Lot including antique bells, trivet, horse shoe, strainer and more
276
Green Diamond vintage table top radio case
277
Western Electric antique oak telephone cabinet
278
Philco tabletop radio manufactured by Philadelphia Storage Battery Co
279
2 Antique wooden mashers, wooden spoon, and pan scrapers
280
Floral decorated white table lamp with chip on lip of globe
281
Emerson Radio and Photograph Corporation model 547A tabletop radio
282
Victor Talking Machine Company VV-VI table top hand crank record player
283
One brass and one alumium parrott bottle and wine opener
284
Cast iron pig face mold
285
Antique cobblers shoe cast iron Blakey's Paragon NO 2 Shoemakers Anvil 1884
286
Vintage cast iron shoemakers cobbler lap anvil O-M-F
287
Wrought iron and glass candle holder lantern and three kerosene lamps not electrified
288
3 Vintage tin candle molds for 4, 10, and 12 candles
290
Bell system by Western Electric telephone receiver
291
Miniature Stanley planer and an antique wooden hand plane
292
Two antique western wooden stirrups with metal trim and a boot spur
293
Two antique wooden hand planes one marked T. Walker and one marked L. Kirsten - Mockridge & Francis Newark NJ
294
Two antique wooden hand planes one marked Germany and one marked L. Kirsten
295
Ohaus scale weights Florham Park NJ 1KG to 1g
296
3 AC Williams Company Ravenna OH wooden handled irons size 3, size 2, size 2
297
Cole Brook Dale Iron Company Boyertown PA wood handled iron and Bless and Drake Newark NJ wood handled iron
298
Lot of 6 NO. 7 sad irons with two stands
299
Antique whiskey barrel bung hole
300
Griswold square egg skillet No. 53 and cast iron heart mold and Mello Rich pie plate
301
Wagner ware 1423 muffin tin
302
Cast iron cornbread mold marked USA
303
Square cast iron fry pan marked No. 5 and cast iron ice tongs
304
Wooden ship wheel 30''
305
Western Electric company candlestick phone pat. in US November 1 1992
306
Antique primitive wooden washboard 22'' long
307
Antique horse/ox collar made into a mirror
308
Stewart by Oster Farm (n) Barn model 8050 dairy scale
309
Antique double block and tackle marked 5PB
310
Antique double block and tackle
311
Miniature double block and tackle and a brass pulley
312
Vintage Durbin Durco cast iron pulley red paint
313
Laughlin and Sons Portland ME iron boat steering wheel 15 1/2''
315
Orange and white buoy marker and lobster pot buoy marked RAN496 and a throw ring marked dropped anchor
316
Elephant cookie jar marked USA
317
Little Red Riding Hood cookie jar marked Pat Des No 135889 USA and matching salt and pepper
318
Rayo Pony No. 21 lantern
321
George Washington hatchet
322
2 pieces wrought iron
323
Tropic lantern and a red globed lantern converted to a candle holder
324
A-1- Carriage Lamp made in USA
325
Antique oil lamp lantern marked Cleveland, OH
326
Sargent and Company hand plane and a vintage rug beater
327
Bell system by Western Electric Company antique rotary phone marked F1
328
Western Electric Company antique rotary phone marked D1
329
Zenith long distance radio with clock 2-328 and a rotary Western Electric phone
330
Trutone Superheterodyne tube radio
331
Stromburg antique tube radio and sound design speaker and Tele-Tone portable radio
332
Estate commercial bottle opener
333
Antique hand coffee grinder
334
Western Electric antique oak telephone cabinet
335
Vintage Philco model 46-350 leather/wood AM tube radio and antique speaker
336
Antique Western Electric E-1 telephone
337
Edsion home phonograph combination type model E
338
Philco tabletop radio
339
Western Electric oak encased antique wall mounted telephone with Robinson phone pads inside phone
340
Leighhigh Valley Corporation Farmers milk can
341
Meadow Gold Pittsburgh PA milkcan marked with R on lid
342
Gerstlauers Dairy Leighton PA milkcan with hinged handles
344
Antique harness, haynes, yolk and more
345
Antique Townsend Sheldon fence stretcher, 2 antique yolks, antique shovel, and more
346
Antque Lightning original Hiram Holt & Co. hay knife
347
Antique lot including haynes, yolk, bridle, hay fork and more
348
Antique block and tackle
349
Flying eagle sculpture on stone
350
Pine 3 drawer cabinet 24'' x 16''
351
Pine 3 drawer cabinet 24'' x 16''
352
Oak stand with one door 27 1/4 '' x 16 3/4''
353
Lucas Brothers Incorporated Baltimore MD antique oak desk 39'' x 31 1/2''
354
Couristan Kashimar imported oriental design rug 100% wool pile 9' 10'' x 16'
355
Antique mahogany stand with magazine storage 25'' x 11 1/2'' , homemade marble top stand, and a wooden chair
356
Red floral decorated vase 23'' tall
357
Round 3 level wooden table 23'' diameter
358
Round 2 level spiral leg wooden table with beading 26'' diameter
359
Oriental style fish bowl planter 11 1/4'' tall 14 1/2'' diameter
360
Pier One tan decorative dining room chair
361
Wrought iron stand with glass top
362
7 piece wicker set including two swivel chairs, two foot stands, two tables and a tea cart (does not include contents)
363
Vintage Snow Crest Beverages INC glass bottle bank
364
Egyptian style figurine 25'' tall
365
4 Franklin Mint cars including a 1904 Mercedes Simplex, a Ford, 1935 Mercedes Benz 500k and 1911 Mercedes
366
2 box lots of glasses, box of books, seashell framed mirror, beveled glass gold framed mirror 25'' x 29 1/2''
368
Persian hand woven rug approximately 10 x 13
369
Framed swamp forest watercolor scene by S.R. Robey 30'' x 23''
370
Framed "Liquid Amber 1" 12/15 by Sharon Bliss 1998 24 1/2'' x 24 1/2''
371
Al Jordan carving of small red tail hawk 10 1/2'' x 10 1/2'' overall
372
Petite Nyctail Saw Whet owl carving by Robert Comeau # 1.077 22'' tall
373
F.L Scholz #0416 Sept. 2002 "Autumn Leaves" redtail hawk 12'' tall
374
Wooden carved elephant family some missing tusk and a ceramic rooster 19'' tall
375
High top wicker table with glass top and 4 wicker chairs
376
2 piece abstract on canvas painting signed "D" 2001 40'' x 44''
377
L&L WMC vintage brass and crystal candy dish scale (missing scales)
379
Antique M. Reischmann & Sons english pub style table with four chairs
380
Grandfather clock Colonial of Zeeland made in Western Germany "has been disassembled"
381
Vintage shoe shine stool
382
Antique Singer sewing machine with cabinet "Century of Sewing"
383
Pine corner cabinet 27'' wide x 74'' tall
384
Mahogany stand with one drawer and one door
385
Folding teacart style coffee table
386
Antique oak potty chair with tile top
387
Antique oak potty chair with arms
388
Antique shaving mirror and vintage stand with lift top and a rush bottom ladder back chair
390
Antique cane bottom chair and magazine rack with cane sides
391
Sargent Mtg Co bed tray
392
Cherry drop leaf end table and oak glass top coffee table with wolf scene
393
Square wooden table with one shelf
394
Vintage book case with rod 24 1/4'' x 13 deep by 53'' tall
395
Marble top side table 36'' x 20''
396
Antique Jadeite floor lamp
397
Antique brass floor lamp
398
Lot of three brass floor lamps with swinging arms
399
Vintage coat/umbrella rack
400
Pinefull size poster bed with black foot and headboards
401
Oak stand with one drawer and two doors 32'' x 18''
402
Drop leaf corner stand with a brass lamp
403
Three shelf pine heart stand
404
Antique brass bed warmer
405
White quilt rack and a three shelf bookcase 29 1/2'' x 10''
406
Vintage table painted with seafood and vegetables 43'' x 30''
407
Magazine stand, wooden barrell style chair and a tapestry
408
Antique primitive wooden yarn winder and wooden primitive stool with lift top lid
409
Antique equestrian bench
410
Roos sweetheart cedar chest
411
Wooden chest with padded top 44'' x 14''
412
Split oak picnic basket with a picnic set
413
Pine country style doll bench
414
Wooden goal line marker box and a Delaware state fair banner
416
Antique oak round pedestal table 48'' diameter
417
Print entitled "Hunters Moon- The Hunt" by Michael Sieve 368/1880
418
2 box lots of old tools including scrapers, cabbage shredder, plane marked LB Davis and more
419
Antique round top trunk
420
Antique oak wall cabinet 16'' x 36''
422
Sport Europa mens XL two piece wetsuit
423
Raycon mens XL two piece wetsuit
424
Calypso scuba vest with US Divers bag, recreation inflatable (adult size), and size L flippers and more
425
General Electric window air conditioner and Playmate Elite cooler
426
Antique wooden framed bevel glass wall mirror 21 1/2'' x 21 1/2''
427
Antique wooden gold framed sailing print entitled "Eight Bells"
428
Antique mirror with a colonial period tapestry
429
Framed picture of barn swallows, fox hunting scene entitled "Spring" by Shaver and unframed merganser print by Pritko and bamboo magazine rack
430
Longaberger 2 quart pickling crock
431
4 Longaberger Reindeer appetizer plates
432
Longaberger pie plate color tomato
433
2 Longaberger 'Nature's Garland' embossed dishes and "Entertaining with Longaberger" book new in wrapper
434
2 Longaberger one quart utensil crock color Blue
435
2 Longaberger one quart utensil crock color Paprika
436
2 Longaberger one quart utensil crock color Red and color Green
437
2 Longaberger one quart utensil crock color Ivory and Ivy
438
Longaberger Summertime Stripe travel mug and "Entertaining with Longaberger" book new in wrapper
439
Longaberger 1 pint salt crock with lid color Paprika, 1 pint salt crock color Ebony, "Entertaining with Longaberger" book with new wrapper and assorted colors coaster lids
440
Longaberger Woven Traditions cracker dish color Cornflower
441
6 Longaberger Woven Traditions soft sqaure mugs color Tomato and 1 Woven Traditions jumbo mug Tomato
442
3 Longaberger Woven Traditions mugs color Ivory and 3 Woven Traditions jumbo mugs color Ivory
443
Longaberger Woven Traditions 4x8 lidded dish color Paprika and 3 star dishes (red, white and blue)
444
Longaberger wrough iron rack with 2005 Christmas Collection Silver Bells basket with L&P and a Holiday Helper basket with lid, L&P
445
3 Longaberger one quart utensil crocks and a 2 quart pickling crock
446
Longaberger Woven Traditions Ivory 9x13 baking dish and small pitcher
447
2 Longaberger Horizon of Hope mugs, holiday lunch plate, ivory planter, and 6 1/2 pint canning jars
448
Longaberger Woven Traditions covered butter dish color Ivy
449
Longaberger lucky twist dish, Ivy coffee cup, filled hurricane candle, holiday coaster lid, and American blue star plate
450
3 Longaberger baskets including a bread basket? With L&P, two smaller baskets and a Diamond Tradition Basket Co Pittsville, MD
451
2 Longaberger baskets including Game Duo basket with lid and a leather handle basket with protector and lid
452
Longaberger Collectors Club 2001 Renewal Basket and a 2001 Collectors Club Gathering basket with L&P
453
Longaberger 1996 Collectors Club membership basket charter member
454
Longaberger Media Basket with L&P and miscellaneous tie ons
455
Longaberger Woven Traditions cracker dish color Ivory
456
2 Longaberger 1 quart untensil crocks color Ivory
457
2 Longaberger 1 quart untensil crocks colors Paprika and Green
458
Longaberger lot including small loaf dish baking pan color Eggplant, a set of 2 dash bowls ivory, 1 pint salt crock paprika, and 2 4x4 lidded dish color Paprika
459
Longaberger1995 Dresden handle basket signed by Jerry Longaberger, a 2002 leather handled small basket, and a two-pint handled basket
460
Longaberger Darning basket, a frosty junior basket with L&P, and a medium berry basket with L&P
461
3 Longaberger baskets including pantry basket with protector, bagel basket with L&P, and cracker basket
462
Longaberger tender heart basket with lid, L&P and sweetheart basket with lid, L&P
463
Longaberger 2010 tall file basket with protector and small wall pocket basket with L&P
464
Longaberger small vegetable basket with L&P, medium berry basket with liner and Longaberger lidded dish, and basket with star trim dated 2009
465
Longaberger small picnic/ fruit basket with liner and extra denim liner
466
Longaberger hat basket with L&P and lid
467
Longaberger card game basket with lid, protector and divided tray
468
Longaberger silver bells basket with L&P, medium key basket with L&P,a small basket with L&P, and color sample magnets
469
Longaberger lot including 2007 hostess appreciation basket, Saffron booking basket with P, handled basket, a teaspoon basket, candle
470
Longaberger cranberry trim basket with serving solution insert and lid
471
Longaberger holiday treats basket with L&P and lid, and falling snow basket and 4 Horizon of Hope scarves
472
Longaberger Crocus basket with protector and Crocus handkerchief set
473
Longaberger oval kitty purse basket with protector and two other baskets
474
Longaberger lot including (2) 2004 Hostess Appreciation, 2005 Hostess Appreciation and a Coaster keeper basket with protector
475
Longaberger Shades of Autumn, Autumn harvest basket with L&P, a halloween basket with L&P and ghost lid, and a bread basket with protectors
476
Longaberger medium gathering basket with protector and medium bin basket with protector
477
Longaberger mail and bill basket with protector and handled basket with protector
478
Longaberger Crisco American Baking Celebration basket and fabric squares
479
Longaberger medium pot luck basket with L&P and lid
480
Longaberger medium bin basket with L&P, serving lid and a small oval gathering basket with liner and serving dish with lid
481
Longaberger pottery lot including 4 1 pint salt crocks various colors and 1 quart utensil Ivory crock
482
Longaberger Holiday Helper basket with L&P, Utensil basket with L&P and small basket L&P
483
Longaberger medium chore basket with L&P and 2000 woven memories basket with L&P
484
Longaberger fancy round pie basket with protector
485
Longaberger round serving basket with liner and serving dish and a button basket with protector and lid
486
Longaberger medium Gos Boardwalk basket with L&P and a 2000 century celebration with L&P
487
Longaberger Darning basket with L&P and Tarragon basket with L&P and lid
488
Longaberger Lucky Twist basket with protector, Tea basket with liner and serving solutions, basket with L&P and 8 Fusions Raspberry and Evergreen dishes and more
489
Madison Mitchell signed dated 1948 personal rig of decoy maker Harry Jobes Have De Grace (has his stamp on the bottom)
490
Charlie Joiner red head original paint gunning wear
491
2006 Mallard drake by Lisa Byrd all original
492
Drake Mallard from Crisfield 1960's Balsa all original scratch paint
493
1960's Red breasted Merganzer lower E. Shore of VA all original paint gunning wear
494
VA-NC old drake golden eye gunning bird
495
Doug Jester Chincoteague VA drake widgeon 1950's found on Smith Island
496
Rollins Bradshaw wood duck drake decoy 1984 broken primary tip
497
Herters Factory drake red breasted merganzier
498
Oliver Lawson cinnamon teal (female) Crisfield MD 1983
499
Shore bird intials RY on tail

RETURN