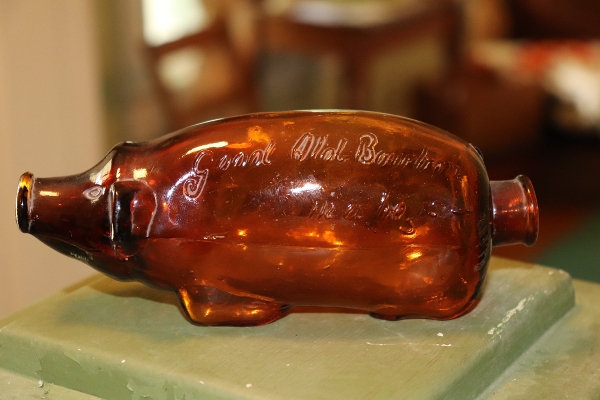 Raynor Estate Auction Pemberton Drive Salisbury
October 7, 2020
1501 Pemberton Drive Salisbury, MD. 21801
ON-LINE ONLY AUCTION***ON-LINE ONLY AUCTION***
INTERNET ONLY AUCTION: September 7, 2020 through October 7, 2020. Bidding ends on Wednesday, October 7, 2020 starting at 5 PM.
PREVIEW DATES/TIME: Tuesday, September 29, 2020 from 4 PM to 6 PM.
CHECKOUT DATE/TIME: Saturday, October 10, 2020 from 9 AM to 1 PM. No exceptions.
LOCATION: 1501 Pemberton Drive, Salisbury, MD 21801
Eastern Shore Auctions, Inc. is honored to have been selected to sell the estate of Ronald Raynor of Salisbury, MD. Items include antique furniture, glassware, local advertising, Pennsylvania Railroad lanterns and booklets, collectibles, antique dolls, handmade quilts, crocks, cast iron banks and more.
Additional lots are still being added so keep checking back.
1
Antique round top trunk with decorative tin covering
2
Savory & Co Philadelphia No. 1 cast iron 2 quart pot with legs
3
Antique cast iron floral door stop
4
Antique brown/tan stoneware two handled whiskey jug marked D60 8 1/2" tall
5
Antique oak secretary with beveled glass mirror
6
Cobalt blue/gray stoneware crock with age crack on bottom 9 3/4" tall
7
I. Ulman & Sons Fine Liquors W. Pratt Street Balto, MD stoneware whiskey jug
8
2 Antique brown/tan stoneware whiskey jugs (one has chips on lip)
9
Vintage mahogany corner shelf display stand 53" tall
10
Collection of 6 glass shoes including ruby, green, amber and clear
11
Antique hair receiver with cobalt blue and gold trim
12
Antique floral decorated sugar shaker
13
White hobnail and opalescent handled basket and an opalescent ruffled top candy dish
14
Thrifty The Wise Pig cast iron bank
15
Antique cast iron still bank castle 4" tall
16
Antique cast iron corn bread stick pan marked B
17
Cowan of Chicago genuine mahogany Martha Washington sewing table
18
Vintage glass barrel Lucky bank
19
Antique still bank shaped like a building 4 1/2" tall
20
Vintage cast iron log cabin still bank possibly by John Wright 6" long 4" tall at chimney
21
Antique wooden duck decoy painted black full size
22
Good Old Bourbon In A Hogs Figural Whiskey Bottle circa 1860-1880 6 3/4" long
23
Cook & Bernheimer Company Full Five Mount Vernon Pure Rye Whiskey bottle
24
Primitive wooden bucket with metal handles marked 411
25
Cobalt blue/gray 2 gal stoneware crock
26
Wall mounted corner display unit 27" tall
27
2 Bisque figurines made in Japan 7" tall
28
France De'Pose' C Ahrenfeldt Limoges for Wright, Tyndale & Van Roden condensed milk holder and a Westmoreland candle holder with green hand painted shade
29
Green Depression glass table lamp with floral decorated shade
30
Wooden wash stand 23" X 16"
31
2 circa 1940 wooden church shaped banks one with Rev. E.E. Crockett 1940 Mrs Dashiell on bottom 5 1/4" long X 5 1/4" tall
32
The Peters Cartridge Co Small Arms Ammunition collectible wooden box
33
Foot stool with brown upholstered top
34
Handmade quilt with tans and greens some staining 86" X 84"
35
Handmade quilt with orange and reds 74" X 85"
37
Vintage ice cream scoop
38
Vintage ice cream scoop "Compliments of Clover Farms Tenderbest Meat & Fancy Groceries"
39
Salisbury Milling Co kitchen utensils
40
Lot of 4 hand painted glass bottles
41
Cobalt blue/gray stoneware crock with chunk missing from rim 6 1/2" tall
42
Metal railroad crossing sign and building 5 3/4" X 7"
43
B&H brass lamp with American Homestead Summer Currier & Ives shade
44
3 Drawer dresser with marble top 39" X 17 1/2"
45
Corner display stand with Home Sweet Home New England Clock and an Equity plastic clock
46
Pine wooden step stool
47
Pine wooden step stool decorated with hearts
48
2 Cookbooks "Mountain Makin's in the Smokies" 1957, "Home Comfort Cook Book" by Wrought Iron Range Co and a leather "I's Never Too Late To Mend" 1944 sewing box
49
2 Black Americana bells and a porcelain doll
50
Lot of 3 straight razors including John Jay Velvet Shaver, Judson Cutlery and Henckels Twinworks
51
Antique doll furniture washstand
52
Niagara Falls Americas Scenic Wonder book, Beauty Spots of Niagara, Niagara Falls pin cushions & needle holder, The Fast Express book and steroscope slides
53
Uncle Wiggily's Library 1929 with 8 books A thru H including The Barber, The Canoe, The Sleds, The Red Spots, Snow Plow, Learns to Dance, The Peppermint and The Apple Dumpling
54
Lot of vintage advertising fans including Holloway & Co Funeral Home phone 154, Liberty Wallpaper & Paint phone 649, Allen & Cannon Laurel, DE and others
55
Microwave stand and a Rush bottom childs rocking chair
56
Chestnut Farms Dairy Chevy Chase Washington, D.C. Safe Milk for Babies quart milk bottle with cream top
57
Homestead Dairy Farm, Inc Salisbury, MD quart milk bottle
58
The Salisbury National Bank Savings Department Salisbury, MD bank
59
Pennsylvania Railroad lantern made by the Adams & Westlake Co red globe also has PRR logo and Adlake Kero
60
Pennsylvania Railroad lantern made by Dressel Arlington, NJ clear globe also has PRR logo
61
Antique Triplex Trade Mark port & starboard boat light patented April 1, 1913
63
Wooden Rumford Yeast Powder box marked ,T & Co Salisbury, MD 11 1/2" X 17"
64
Uncle Sam's 3 coin register bank
65
The Pennsylvania Railroad Electrical Operating Instructions booklet 1952 C.T. 290 75M 7-21-52
66
The Pennsylvania Railroad Book of Rules 1951 & 56, and Schedule of Regulations and Rates of pay 1941
67
Pennsylvania Railroad Air Brake Examination Questions & Answers 1942, Brake & Train Air Signal Instructions 1953, Operating Instructions 24RL Locomotive brake equip & more
68
The Pennsylvania Railroad Machinery Examinations for Locomotive Fireman 1949 and Transportation of Explosives 1955
69
2 Saddlers Railroad Time Books Delmarva Division 1942 with local advertising and 1949 and a Rates and Pay 1925 Charles Lewis June 16, 1925 Baltimore Chesapeake & Atlantic Railway
70
Baltimore, Chesapeake and Atlantic Railway Co Book of Rules with label dated 1910
71
Pennsylvania Railroad and Baltimore & Eastern Railroad Schedule of Regulations 1953, Classes of Locomotive Engineers 1941, Constitution of Brotherhood of Locomotive Fireman and more
72
Antique 1890's cast iron "Dog Tray Nutcracker" Harper Supply Co No. Chicago
73
Vintage tin wind up toy hopping dog (worked when tested)
74
Antique hand painted in California cookie jar 9 1/2" tall (tape on inside of lid to prevent chipping)
75
Antique Brush USA cookie jar marked 61M or Gim 11" tall
76
Vintage Planters Peanuts 1906 - 1956 Diecasters Inc ashtray
77
Mr Peanut plastic bank, Planters Mr Peanut Salt & Pepper shakers and green plastic Mr Peanut pieces (some damage)
78
Mr Peanut plastic bank, Planters Mr Peanut Salt & Pepper shakers and a Mr. Peanut plastic mug
79
Winchester - Western Sporting Arms and Ammunition catalogues including 1964, 1966 100
th
Anniversary and 1967 (in plastic protectors)
80
Jace Pearson of the Texas Rangers No. 648 10c comic book (in plastic protector)
81
Antique mantle clock with Wm L. Gilbert Clock Co on wrkings on back 8 3/4" X 10"
82
Wooden bucket with bail handle hand painted with flower decorations 13 1/2" tall with 14" diameter signed Joann Marston
83
Shorebird decoy with feet carved into wooden base 10" long X 10" tall
84
S.C. of O.U.A.M Maryland Salisbury Council No 32 C.H. Lewis Councilor 1916 and N.C. of O.U.A.M. State Council Maryland Chas. H. Lewis 1941-42 medals
85
The Eastern Shore of Maryland In Song and Story A Pleasant Peninsula book by W.C. Thurston Salisbury, MD 1938 No 313
86
Local books including Salisbury in Vintage Postcards, Salisbury Picturing the Crossroads of Delmarva, Crisfield, Snow Hill, Biography Business Wicomico Co 1934-35 and more
87
Vintage metal childs school desk with formica style top
88
Large ceramic milk bottle with Aunt Jemima 16 3/4" tall
89
2 Cole Brookdale Iron Co sad irons, The Pearl sad iron and 2 other small ones and shoe cobbler stand and molds
90
Mauser Bolt Rifles by Ludwig Olson third edition
91
American Boys Rifles 1890-1945 Jim Perkins
92
Small Arms of the World by Smith and Encyclopedia of Modern American Small Arms by Elwell
93
The Winchester Era 1 of 1000 by Madis and Winchester Shotguns and Shotshells by Stadt
94
Gunsmith Kinks and Gunsmith Kinks III by Bob Brownell
95
Lee Roy Wisners Handbook of Hard to Find Gun Parts Drawings, Lyman Cast Bullet Handbook, Lyman Pistol & Revolver Handbook and Lyman Reloading Handbook
96
Bookcase containing Colt, Winchester and other gun books and some Nascar books
97
Antique wooden box with lid 20" X 13"
98
Handmade basket style quilt with pink/red and white 86" X 86 1/2" (some staining)
99
The Hillary Nutcracker stainless steel thighs cracks toughest nuts
100
Antique Duldley Triple Metals Corp padlock patented Sept 7 - 20 and 2 brass Worlds Fair 1933 Keep Me For Goodluck keys by Master Lock Co
101
Display case 35 1/4" X 21 1/4" X 7 1/4"
102
Mahogany 4 drawer chest 25" X 18"
103
2 Antique wooden chairs and a magazine rack with hearts on the ends
104
Vintage 2 sided wooden sign "1860 Decoys, Antiques, Art" 20" X 29"
105
Cast iron man, woman and bench, cast iron Amish couple and 3 antique bisque musicians (looks like two have been reglued) All about 2" to 2 1/4" tall and 5 wooden houses
106
3 Antique stoneware mixing bowls with blue trim some age cracks smallest marked USA
107
Lot of antique wooden kitchen utensils including ice cream scoop, batter mixers, spoon and more
108
Robinson Ransbottom Pottery Co Roseville small mixing bowl and a brown trimmed mixing bowl (age cracks)
109
Antique pottery mixing bowl with green trim 10" diameter
110
Pink Depression refrigerator dish 8 1/4" X 8 1/4" and a lidded candy dish 6" tall
111
Green Depression 2 cup measuring cup marked T & S Handimaid and a dish marked Hazel Atlas (chips on inside lip)
112
Jim Beam folding card table
114
Antique Pepsi Cola bottle opener (has 2 dots in logo)
115
Miniature oil lamp collection with wooden display unit and 4 small oil lamps one marked 3 and other marked 4
116
Blue and white spice set marked Germany (Allspiceand nutmeg has chip on corner of lid) and 2 Strawberry marmalade/sugar dishes (one has crack under glazing)
117
Shirley Temple bowl, 2 small pitchers and Shirley Temple books including How I Raised Shirley Temple, Shirley Temple On The Movie Lot, In Starring Roles, Twinkletoes and more
118
Poplar jelly cabinet with 2 doors and one drawer 40" X 15 1/4" X 52" tall
119
Oak top drop lef table 41 1/2" X 25"
120
Budweiser Anheuser Bush Inc 100 year Anniversary tray and a Evervess Sparkling Water Product of Pepsi-Cola Company tray
121
Wooden Havenner's Celebrated Biscuits box with paper tag that says Mr E.A. Ames Onley & Accomac, VA
122
4 Wall pockets including two coocoo clock style made in Japan, blue floral and one similar to Roseville
123
Bowfront china cabinet with claw feet 42" X 17" X 66" tall
124
2 W.F. Messick Ice Co Phone 2 Merry Christmas Happy New Year mashers and a York Milling Co Yorlo Flour cake server
125
Davis Ice & Coal Co Berlin, MD Merry Christmas & Happy New Year slotted spoon
126
W.F. Messick Ice Co Save It With Ice Merry Christmas Happy New Year bottle opener/server and W.F. Messick Phone 2 Merry Christmas Happy New Year tongs
127
3 W.F. Messick ice picks one shows phone number 2
128
W.F. Messick ice pick, W.F. Messick Phone 2 Merry Christmas Happy New Year peeler and a Salisbury Ice Co ice pick
129
3 Ice picks Local Ice Co Kentucky, Glen Burnie Ice Co and Lakewood Ice Co Michigan
130
1907 Jamestown Exposition Ter Centennial Norfolk, VA souvenir pin (clasp missing)
131
J. Preston Short Insurance Co Garrett Building Baltimore 2, MD phone Saratoga 1045 carboard calendars from 1944, '45 & '46
132
The Peters Cartridge Company 1923 calendar runs from Dec 1922 to January 1924
133
Cast iron horse with circus wagon
134
William B. Tilghman farmer pocket note/receipt books from 1941 (2), '42, '46, '48
135
William B. Tilghman farmer pocket note/receipt books from 1941 , '49, '50, Peoples Bamk of Somerset savings book, Agrico memo book '37, Le Gore Lime '44 & "46 and more
136
R.O. Dean Canners Suppliers rain gage Federalsburg, MD telephone 2221
137
Antique cardboard advertising Crossroads Motor Parts Salisbury, George H. Vickers Salisbury 527, Salisbury Printing Co, Keen Service & Compressed Gas and more
138
Berkeley Windproof lighters wooden display case Guaranteed For Life $2 Dependable All-Ways with Coca Cola on the slide out drawer 9 1/2" X 12"
139
Antique cigar mold for 20 cigars 22" X 4 1/2"
140
Singer Traditional Values Series K-20 antique mini sewing machine reproduction
141
Antique split oak basket
142
Henry McKenna Sour Mash Bourbon Whiskey Fairfield, Nelcon County, Kentucky half gallon jug 9 1/2" tall
143
Hazel Atlas Egg Nog punch bowl with 6 matching cups and 3 Tom and Jerry cups
144
Victor Lock & Safe Co antique cast iron safe with combination patented Oct 2, 1888 (bring help if you buy)
145
S Haller Simonswald West German anniversary clock rose design (no key)
146
Set of scales with 2 1 lb weights and a 2 lb weight made into a lamp
147
Antique set of scales
148
Keebler by Nylint toy tractor trailer
149
Antique oak roll top desk 54" X 30" X 49 1/2" tall
150
Oak display cabinet 47" X 24" with wooden top (does not include contents)
151
Stylex 4 drawer metal file cabinet
152
Primitive large wooden clamp/vise base is 29" long not counting handle
153
Seth Thomas Metronome
154
National No 9 Speciality Mfg Co Philad'a USA dual wheel coffee grinder
155
Wooden round pedestal table 26" diameter piained black
156
Round wooden wall hanging of clipper ship "Flying Cloud" and Bunker Hill advertising
157
Cast iron turtle 7 1/2" long
158
Antique wooden hand plane, finishing plane marked F. Meyer and a vegetable/cabbage shredder
159
3 small wooden vegetable/cabbage shredder (one made into candle holder)
160
5 gal brown and tan stoneware crock
161
Winchester Gun Oil 3 fluid ounces can with top
162
Du Pont Pistol Powder number 5066 can
163
Grand Union Baking Powder tin and a Fun-To-Wash Washing Powder box The H-L Inc
164
Tin lot including Du Pont military rifle powder IMR-4320, Hercules Bullseye powder tin and more
165
Tilghman's Fish Fertilizers Factories Salisbury, MD Pocomoke City, MD antique wooden thermometer 12" long
166
Contents of shelf including Santa, Coffee canister, Climax & Ball lidded jars, advertising pieces, Pepsi & Coca Cola glasses and more (Not the shelf)
167
Pine bookcase and paperback books by J. Frank Dobie and others
168
Vintage Watt Pottery Eve-N-Bake bowl with brown trim 7 1/4" diameter (age cracks on bottom does not go all the way through)
169
Antique wooden Upper Bay drake red head decoy full size
170
Habbart Dean Fat Duck Collection miniature drake canvasback (tail broken in couple places)
171
Wooden triangular We Recommend Vitamins Stams Stan-B sign and a Grocers Want Book possibly from 1932
172
Oak washstand with one drawer and one door (smaller than normal) 24" X 15 1/2"
173
1950's-60's Childs tin toy kitchen cabinet with contents including rolling pins, mashers, hand mixers, molds and more
174
Lot including Regency Canonsburg Pottery pitcher, pottery bowls (some cracked) Hall bowl, other pitchers, Germany dog ashtray and more
175
Dead game picture of hanging mallards stamped #155 Wild Ducks 15 1/2 x 27 1/2
176
Antique Pie Safe 34" x 15 1/2" x 58" (Does not include contents)
177
Contents of Pie Safe including covered butter dishes, candy dishes, Hazel-Atlas candy dish, salts, glasses, Bavaria Pitcher, Nippon dish, saucers, and more
178
Wicomico Lodge No. 81 Bivalve Md Gold Knights of Pythias Medal
179
Lot including brass candle holders, amber glass candle holders, cruet set (not complete), and a collection of salt and pepper shakers, and more
180
Two Aunt Jemima style salt/pepper shakers 5" tall
181
Collection of salt/pepper shakers (some include marmalade dish), minature gold luster collectibles, and more
182
Wooden Pennsylvania Dutch Style cabinet with mirror, thee drawers and two doors 39" x 17" x 73" stamped Salisbury Md
183
Lard tin containing vintage wooden kitchen utensils including rolling pins (large & small), wooden spoons and more
184
Brown stoneware pitcher wih chip containing vintage wooden kitchen utensils and a glass bowls containing aluminum molds
185
Antique brown mixing bowl (with chip) containing vintage bottle openers including Hamms beer, Mac's , Canada Dry, and others, and a lidded cobalt blue crock
186
Pine Hutch top containing Pink, Green and Yellow Depression dishes including Biscuit jar (chipped), divided dishes, dessert & candy dishes, butter dish, pitcher and more
188
Antique wooden advertising box with dovetail
189
Two shelf Pine cabinet with one drawer and one door 18" x 12" x 63" (does not include contents)
190
Lot of salt and pepper shakers, some include marmalade dish and 4 small oil lamps
191
Empire Period China Cabinet 41 1/2" x 16 3/4" x 62 1/2", two glass side panels broken, (contents not included)
192
Contents of China cabinet including creamers, lidded sugar dishes, fruit bowl, vases, syrup container, hens on nest, blue slag glass toothpick holder, swans and more
193
Vintage Girl riding chicken (rocking on spring legs) Germany
194
Bow Front China Cabinet 35 1/4" x 14 1/2" x 60"
195
Cast iron donkey/mule bottle opener and a Stag Bottle opener
196
Wooden magazine stand with miscellaneous glassware including hen on nest, water and pitcher set, hobnail ashtrays and more
197
Vintage Butter Churn (large chip on lip), 1 1/2 galleon Crock with crack running length of back and a Fiasco (Italian Wine Bottle)
198
Lot including various size Antique glass eggs (some marked Easter)
199
Pair of Green Depression lidded candy dishes
201
Lot including two hair pin holders with hairpins (one made in Austria) and a Philadelphia souvenir basket made in Germany, and more
202
Lot of six vintage wooden mashers
203
Basket containing vintage kitchen utensils including hand mixer, whisks, egg scoop, peelers, knife sharpener, spatulas and more
204
Antique cast iron Spaniel Retriever 5 1/2" with moving head
205
Bols Ballerina Bottle Le Bleu Danube (did not play when tested)
206
Clear glass lot including cruets, milk bottle, knife rest, train candy container, and more
207
Lot of 7 antique small oil lamps
208
Antique set of cast iron scale with weights and a sad iron (marked #5)
209
Antique Oak one drawer stand 34" x 21" x 37"
210
Antique German Roly Poly Clown
211
Souvenir Cordial Marked Rose Lavin Rock 1907 (chip),Red Dietz Lantern Globe, Milk glass ship dish (chip), 3 glass shoes, lamps, Adeps Benzi lidded jar (chip)
212
Antique cast iron mule donkey still bank 4 1/2" long
213
West Clox Baby Ben Clock (possible accessory for early cars)
214
Metal Indian Chief Bank with Metal British Soldier and Indian
215
Lot of bells including two antique desk bells, school bell and others
216
West German .5 L Beer Stein, a West German .25 L Beer Mug and a seated man handled pitcher
217
Lot including Toby creamers, Toby salt and peppers, minature jug (marked Ballantine's, made in Scotland) and a minature crock
218
Antique Buffet 52" x 17" x 48"
219
Antique Blue/gray Stoneware Crock with ears and Cobalt blue flower decorations (crack in lip) 11"
220
2 Gal Blue/gray Stoneware Crock with Cobalt Blue decorations (cracked), small oyster style crock (age chips) and a green pottery pitcher with grape decorations (repaired)
221
Large Stoneware Pottery Crock 14" tall
222
Sterling Silver See Saw Margery Daw Napkin ring
223
2 Framed Circa WWI Silk Embroidered post cards, 1 marked 1918, 1 marked Souvenir DeFrance
224
2 Handmade Purnell Style Frames (made in Snow Hill Md)
225
Antique Brown glazed stoneware spittoon and a brown glazed planter
226
Farmers and Planters Co. Salisbury Md Meat-N-Fowl Lifter, Ulman Sons 1901-1951 Ashtray and Breyers Ice Cream Ashtray (cracked)
227
Knisely's Dairy slotted spoon, Salisbury Ice Co metal ice pick, Esslingers Beer Bottle opener, Koontz Creamery and Schmidts openers, Chamberlayne Hotel spoon, and more
228
Bar Sign Bottle Opener (in box), Woodpecker Woodware Hors d" oeuvres server, 1939 and 1947 Rear View Mirror Gag gifts, and others
229
Lionel Barrymore Gold Foil Etchings, NEHI Six Pack, Cracker Jack Metal Cartoon Characters, Firestone Folding Yardstick, Andersonville Prison Print, Floral Tin and more
230
Oak Dining Table with two leaves and 6 Rush bottom Chairs (some damaged)
231
Green Painted Windsor Style Chair by Boling Chair Co. and a Cane Bottom chair
232
Two Vintage Topsy Turvy Dolls (one damaged outfit)
233
Box lot of Black Folk Art Americana and dolls
234
Chic Gaylord Handgunner's Guide
235
Tales of the Chesapeake by George Townsend and God, Man, Salt Water and the Eastern Shore by William Tawes Books
236
Bread Basket of the Revolution by Charles Truitt and The Chesapeake Bay Country by Swepson Earle Books
237
The Entailed Hat by George Townsend Book
238
Currier & Ives by Harry T. Peters copyright 1942 (with dust cover,some tears)
239
Currier & Ives by Harry T. Peters copyright 1942 (damaged cover)

RETURN