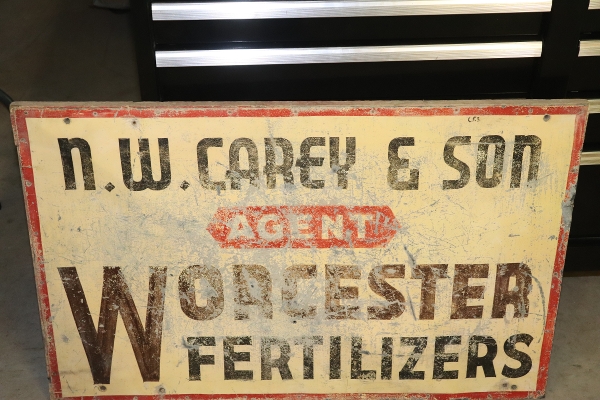 William Billy Jones Estate Auction Powellville 2
October 24, 2020
35559 Mt. Hermon Road Powellville, MD. 21852
INTERNET ABSENTEE & LIVE AUCTION***INTERNET ABSENTEE & LIVE AUCTION***
Date(s)
10/7/2020 - 10/23/2020 Wednesday, October 7, 2020 thru Friday, October 23, 2020. Internet bidding closes on Friday, October 23, 2020 at 3 PM.
Live auction will be Saturday, October 24, 2020 starting at 10 AM.
Preview Date/Time
Tuesday, October 20 from 4 to 6 PM.
Checkout Date/Time
By appointment on Tuesday, October 27, 2020 from 10 AM to 12 PM. No exceptions
Location
35559 Mt. Hermon Road Powellville, MD 21852
Eastern Shore Auctions, Inc. is honored to conduct auction 2 for the William "Billy Jones Estate of Powellville, Maryland, with selected additions belonging to Reese Jones. We will be selling a 1941 Farmall H tractor in restored condition, funnel wagon that is the same era as the Farmall and it is also in restored condition, a large selection of local advertising, collectible signs, a large selection of firearms including a Roy Rogers King of Cowboys single action army 45 revolver, Ducks Unlimited shotgun, Winchester John Wayne and Legendary Lawman rifles, Daisy BB guns, Pepsi Cola items, Craftsman Professional tool cabinet, power and hand tools, split oak baskets, and much more.
1
Olin Urea Nitrogen metal advertising sign with chalk board area Stout Sign CO 19 1/2" X 30"
2
Milford Fertilizer Company rain gauge recorder with box "Plant Foods That Produce"
3
Stevenson Equipment John Deere rain gauge M.D. Tyndall & Son V.V. Hughes & Sons Deere Day
4
The Farmers & Planters Co. Manufacturers of Red Letter Fertilizers Spreading Service Salisbury, MD 749-7151 rain gauge recorder with box
5
The First National Bank Snow Hill, Maryland 632-2122 Rainfall Recorder with box
6
Quillin's Implement Company Ford Tractors and Dearborn Implements Electric Welding Body and Fender Work Phone 63 Berlin, MD Rain Gage
7
Framed Farm Bureau Member sign $1000 Reward 16 1/4" X 13 1/4"
8
Tilghman Fertilizers Salisbury Pocomoke Maryland rain gauge
9
George C. Rothwell Inc. Dealer In Grain & Fertilizer Smyrna Clayton Frederica, Del. Rain gauge recorder
10
IH Okie's Inc International Harvester Farm Equipment Sales-Parts-Service Georgetown, Delaware rain gauge
11
Compliments of Your Pioneer Seed Corn Salesman plastic rain gauge
12
Lee L. Hayman Hardware G.E. Appliances Somerset Ave. Princess Anne, MD rain gauge
13
Esso Round Tube Thermometer
14
Libertytown Market Arco Gas & Oil Groceries 641-1461 Round Tube Thermometer and plastic measuring cup
15
The Worcester Fertilizer Company Snow Hill, MD. Phone 125 Fertilizer-Lime-Seeds-Insecticides-Feeds metal clipboard with H.E. Millard Lime and Stone Company notepad
16
2 Southern States Cooperative Incorporated aluminum clipboards
17
Antique Cow Bell 5 1/2" tall
18
Newtons New Holland Bridgeville, Del. round tube thermometer
19
Delta Electric Company Railroad Powerlite Lantern and 3 plastic flashlights including R.E. Michel Co Salisbury, Milton Hardware and Coleman Dekalb
20
Murray's Feed Service Div. of Cargill Frankford, Del. Metal thermometer
21
Chesapeake Growers 301-641-0900 301-742-8811 Berlin, MD. Metal thermometer
22
Central Implement Co. Inc. International Harvester Farm Machinery Snow Hill, Md Phone 418 metal thermometer
23
Paramount Poultry Cargill Inc. phone 732-6611 meatl thermometer
24
Chesapeake Growers 301-742-8811 Parsonsburg, MD. metal thermometer
25
Antique Embossed Galvanized Feed Purina Right 1 Gallon Dry Measure bucket
26
Vintage Dover No. 80 Cambridge, Mass Dover Stamping and Mfg Co glass oil bottle with The Master Mfg Co metal spout Penn serial No S-13
27
Veedol Motor Oil 100% Pennsylvania "A Better Tractor Oil By The Clock" Protect Your Tractor With 150 Hour Veedol Tractor Oil wooden thermometer 20" X 5"
28
5 Yardsticks including Davis Ice & Coal Co Berlin, MD Phone 18, Lloyd W. Powell Pioneer Seeds Berlin, MD, Adkins Bros Mardela Springs, MD, Okies Inc IH Georgetown, Del and more
29
5 Measuring sticks including W.B. Tilghman Co Salisbury & Pocomoke, Southern States, Selbyville Tractor, Phillips Hardware Cambridge and Fertilizer Solutions Equipment Ohio
30
5 Yardsticks E Mace Smith Phone 163 Princess Anne, MD, Rayne Bros Farm Store Willards Phone 2114, Worcester Fertilizer Co Snow Hill Phone 125, Farmers Supply phone 192 Snow Hill
31
Vintage E.C. Simmons Keen Kutter Cutlery & Tools Cast Iron Match Holder painted by R.F. Messick
32
Vintage Tin Comb and Brush Holder and Match Holder both painted by PKJ 79 and a Frank Bartlow International Harvester Dealership 1940-72 wood Hometowne Collectibles
33
Antique Wooden Bucket with bail handle and metal bands
34
Wicomico County Fair A Family Affair framed poster Wicomico Youth & Civic Center Sept 17-18-19 Taylor & Sons Amusements Inc 18 1/4" X 25"
35
Utica Duxbak Corp metal advertising sign 17 1/4" X 13 1/4"
36
Daisy 1871 - 1971 NRA Centennial .177 Cal. BB Pistol Gun
37
2 Vintage Circa 1930's Kilgore Invincible cap guns patd'd Dec 14
38
Antique / Vintage Kenton? Cast Iron Wild West Cap Gun 1926
39
Vintage Sneaker Automatic 59 KTC Single Shot Toy Cap Gun Made In Italy, Vintage Cap Gun with Inidian Head on handle, pistol grips and Tasco 4 X 15 scope
40
Vintage Crosman 38T (target) CO2 22 cal Pellgun Pistol
41
Massive Novelty Folding Knife Giant Vintage "Ridge Runner" Pocket Knife 3 Blades 8 1/4" closed
42
Case Knives Trapper 6254 CV folding pocket knife and an Old Timer folding knife
43
Camillus 1967 pocket knife marked US and a Franklin Mint Collector knife
44
Lot of pocket knives including Imperial and Barlow
45
Pocket Knife Lot including Imperial, Camillus, Klein Tools and others
46
Pocket Knife Lot including Boker, Camco, Camillus, Browning, Colonial and more
47
Victorinox Outrider Red Pocket Knife NIB
48
Pocket Knife Lot including Barlow John Deere, Winchester and Advertising knives including 1982 Worlds Fair, Skyline Drive, Virginia
49
Advertising Lot of Pocket Knives including 4-H, M & G Armatur Generator, Watkins Johnson, Eastern Shore Equipment, MAC Tools and more
50
Two Multi Use Pocket Knives with case
51
Schrade Cutlery National Park Service 75
th
Anniversary 1916-1991 Pocket Knife NIB damage to plastic package
52
Harry Gant HG2CP Lightweight Lock Back Knife INB damage to plastic wrapper, Sears & Robocek & Co Commemorative Jack Knife, Sabre Knife and more
53
Leatherman Side Clip and Two Harry Gant HG2CP Knives NIB
54
Antique Split Oak Basket with handle 11" diameter
55
Antique Split Oak Basket little damage on bottom 16 1/2" diameter
56
Vintage Clayton & Lambert Brass Blow Torch
58
Grand Opening New Purina Mill Cane
59
Guest Purina Research Farm Tour Cane
60
Purina Believes in Delmarva Grand Opening New Purina Mill June 4,1952 Cane
61
Lot of Minature Tools ,2 Harmonicas and a gun and 2 Antique Corn Huskers
62
Daisy 4 Lense 2 Power Telescopic Sight and Winchester Lead Air Rifle Shot
63
Daisy BB Gun Cleaning Kit
64
1950's Morton H Harris Marksman Air Pistol with Orginial Box
65
Daisy NOS Model 38 Detailed Replica Soft Air Gun
66
Daisy BB Guns Wall Rack Display
67
Daisy No.72 Squirt-O-Matic Combo Water Gun and Clicker
68
Daisy No. 177 Target Special BB Pistol
69
Daisy 20
th
Century BB Gun
70
Daisy Champion Model 99 BB Gun with Strap with Official Shooting Education Medallion in Stock
71
Daisy Buck Master Single Pump Air Rifle NIB
73
Made for Daisy in Scotland 160 BB Gun 177 Caliber
74
Daisy Manufacturing Co. Model 26 Pump BB Gun
75
Daisy Model 960 BB Gun
76
Daisy Scout Model 75 BB Gun
77
Daisy Model No. 107 Pump BB Gun
79
Daisy Manufacturing Co. Cap Gun
80
Daisy Manufacturing Co. Model 27 1000 Shot BB Gun
81
Daisy Red Rider Carbine BB Gun with Box
83
Diana Model 22 Made in Germany BB Gun
84
Daisy Model 26 Pump BB Gun
85
Daisy No. 25 Pump BB Gun
86
Winchester Air Rifle Model 1894 BB Gun .177 Cal Daisy Outdoor Products NRA on stock with Box
87
Winchester Air Rifle Model 1894 BB Gun .177 Cal Daisy Outdoor Products NRA Logo on stock with Box
88
Daisy Model 1894 BB Gun Spittin' Image with Box
89
Daisy Heddon Cub BB Gun Model 102 with Box
90
Daisy 100
th
Anniversary Model 25 Pump BB Gun
91
Daisy Red Rider Model 1938B BB Gun
92
Daisy Red Rider 2000 Millennium Edition Nation Rifle Association with Box and a box of Daisy BBs
93
Coibel Made in Spain Texas Rifle Man Cap Gun
94
N.W. Carey & Son Agent Worcester Fertilizers Metal Sign mounted on wood 37 1/2 " X 24 "
95
Sealtest Dairy Wooden Milk Crate
96
White & Pahira Wooden Beverage Crate
97
Delmarva Power and Light Company Another Flameless Electric Heat installation Framed Poster 23 1/2" X 29 1/2"
98
New Holland Color Me Safe Poster Contest First Place You Gotta Be Alert When You Work In The Dirt Rachel Jurgens 25" X 38"
99
Purina Poultry Chow Millersburg Milling Co. Clothes pin Bag Phone Number 13 Millersburg,PA
100
Rolston Purina Company Mink Chow Pottery Tray and Purina Weight Tape for Calves, Heifers and Cows
101
1941 Farmall H Tractor restored condition
102
Funnel wagon same era as the Farmall H restored condition
103
Woods Model 42C-6 Rotary Mower with mounting kit for Farmall Cub
104
Two Cross Cut Saws (one is 44" and one is 62")
106
Two Single Trees and Haynes
107
Antique Farm Hay Knife
108
Antique Double Tree Horse Yoke
109
The R D Grier & Sons Co Salisbury Md 1974 Wall Calendar (new in wrapper) and a Metal Established 1940 Sign
110
Hoskins MFG Bulls Eye For Quality Automatic Red Top Livestock Waterers Metal Sign 28" x 19"
111
Metal Public Telephone 5 cent Sign 9 1/2" x 4 1/2"
112
James E Lewis Buyer of Cotton and Burlap Bags Willards Md Phone # 2067 Silhouette Thermometer and a Taylor & Messick John Deere Frame and Thermometer
113
Case Since 1847 Tested X X Manufacturers of Quaility Cutlery Bradford PA Porcelain Sign 14 3/4" x 10 3/4"
114
Coca-Cola Checkers, Playing Cards and Drink Racks for Toy Trucks
115
Two Vintage Coca-Cola Aprons
116
Oil can lot including Central Implement Co Snow Hill Md Phone 418, Esso Handy Oil, Texaco Home Lubricant, and American Grease Stick Co
117
Savory 2 Qt Liquid Metal Can and a US Standard 1/2 gal Liquid Metal Can
118
Daisy BB Gun with Scope Model 104 in original box
121
Replicas by Parris Toy Gun and a Wooden Double Barrel toy gun with clothes pin hammers
122
Daisy No 101 Model 36 BB Gun
123
Daisy Red Rider Carbine BB Gun
124
Daisy No 25 Pump BB Bun
125
Daisy Model 75 Scout BB Gun
126
Daisy Model 98 BB Gun with Eagle and the Pledge on the stock
127
Ertl Ford 8000 Metal Toy Tractor
128
Ertl US Forest Service No 2147 Smokey The Bear Tractor Trailer Bank with original box
129
Ertl US Forest Service No 2146 Smokey The Bear 1931 Hawkeye Motor Truck Bank
130
Ertl US Forest Service No 7639 1937 Ahrens-Fox Pumper
131
Ertl P H Glatfelter Co No 3250 Tractor Trailer, Matchbox No 6 Smokey the Bear 4 x 4, and a Danbury Mint 1953 Chevy Pickup with original boxes
132
Daisy/Matic No 65 Power-Loading Cargo Truck in original box
133
Great Plains Toy Drill the Grain Drill Co Solid Stand 13 Drill Serial No 2486/3000 in wooden box
134
Coca-Cola Collectors Club Tray with Smokey the Bear 1997
135
Ande Rooney Inc 1988 State Forestry Dept Smokey the Bear Porcelain Sign 7 3/4" x 11"
136
The Advertising Council Inc US Department of Agriculture-Forest Service Pals..Working Together Poster 1956
137
S Franklyn Woodcock Real Estate Metal For Sale Sign Phone 360 Salisbury Md 28" x 19 3/4" (possibly donated land for Wicomico Civic Center)
138
Firestone Tire Co Promotional Solid Rubber Tire Ash Tray
139
General Tire Service Promotional Rubber Tire Ash Tray
140
Good Year Affordable Radial Performance for Every Tractor DT710 Promotional Rubber Tire Ash Tray
141
Two glass advertising ash trays Midway Texaco Service Howard Powell Pittsville Md and Quality Motel Salisbury Md
142
Two glass advertising ash trays I H Central implement Co Snow Hill Md Phone 418 and Pocomoke Frozen Food Lockers Phone 511
143
Two Red Safety Flags including Paul M Jones Lumber Co Snow Hill and Bethlehem Steel
144
J V Wells Inc Sharptown Md Red Safety Flag
145
Veasey & Brittingham Piling and Lumber Millsboro Red Safety Flag 2 sided
146
Pioneer Quartz Wall Clock
147
Pioneer Brand Products Thermometer and Humidity Gauge made by Taylor
148
Metal Pioneer Sign 2 sided 20" x 5 3/4"
149
Roy Rogers King of the Cowboys Single Action Army 45 Revolver United States Historical Society No 459 SN #SA94701 in wooden case with COA
150
Winchester Model 94 Ranger Side Eject 30-30 Win Lever Action Rifle SN# 5512778 with 20" Barrel
151
Winchester Model 94 Carbine Legendary Lawmen 30-30 Win Lever Action Rifle SN# LL04106 with 16" Barrel
152
Winchester Model 94AE Lever Action 30-30 Win Rifle Checkered Walnut 20" Barrel 1995 Gun of the Year NRA of America Logo SN# 6128729
153
Winchester Model 94 Carbine Lever Action 32-40 Win Commemorative John Wayne Rifle 18 1/2" Barrel SN# JW 13881
154
Springfield Armory Inc M6 Scout Caliber 22LR/410GA Over/Under SN# M15636 with knife and leather sheath
155
Savage Arms Corp. Over/Under 22 Long Rifle and 410 3" Chamber Model 24 SN# UNK
156
Execlstor 50 Super 12 Gauge Shotgun Single Shot Made in Italy SN# 12445
157
Browning A-500 Ducks Unlimited 12 Gauge Semi-Automatic Shotgun 1989/90 Edition 28" ventilated rib barrel 2 3/4 and 3" SN# 89DU000203 with chokes and case
158
Remington 1187 12 Gauge Premier Semi-Automatic Shotgun 2 3/4 or 3" with chokes SN# PC427472 with case
159
Winchester Model 94 30-30 Win Lever Action Rifle Sheriff Bat Masterson Commemorative Rifle SN# BM223 with Gun Guard case
160
Ruger Model 10/22 Carbine 22LR SN# 24591907
161
Henry Repeating Arms Co Model H004 22 S/L/LR Golden Boy SN# GB 419598
162
Pride of Spain POS 10 Guage 3 1/2" Double Barrel Shotgun Sloan's S. G. Co NY SN# 38257
163
Single Shot 12 Gauge Shotgun Made in Spain SN# 71442NF
164
Iver Johnson Champion 410 Single Shotgun Chamber for 3" shells SN# UNK
165
Casa J Urigen-Fibar Spain York Cutlery Co York Pa Double Barrel Shotgun RE110 Stamped MC314 on trigger guard SN# JU 62361
166
Remington 870 Express 410 Gauge 3"Shells Shotgun SN# A188382H
167
Winchester Model 94 30-30 Win Lever Action Rifle SN# 2159626
168
The Original Marlin Goose 3" Magnum Chamber Bolt Action Shotgun SN# 69261535
169
Winchester Model 94 32 Win Spl Lever Action Rifle SN# 1860583
170
Remington 22 S/L/LR Improved Model 6 Breechloading Rifle SN# 500065
171
FOX B-SE Series H Savage Arms Corp. Model B 410 3" Double Barrel Shotgun SN# B227513
172
The Hamilton Rifle No 27 22 Cal Single Shot Rifle MFG by C. J. Hamilton & Son Plymouth MICH SN# UNK
173
Winchester Repeating Arms Co Model 1902 22 short, long, or extra long Single Shot Rifle SN# UNK Initials CA carved in stock
174
The Hopkins & Allen Arms Co Norwich Conn 44 Cal Shotgun SN# UNK
175
Meriden Firearms Co Model 6 22 Cal Breechload Rifle SN# UNK
176
Leather Rifle Case, Ted Williams Rifle Scope and a Maple Shotgun Rod No 4000
177
Two Gun Cases (1 is a Gun Guard)
178
Pine Gun Cabinet with one drawer (holds 6 guns)
179
Ruchti Bros. Baby Beef South Gate, Cal. Our Specialty Porcelain Sign 34" x 26" circa 1951
180
The Shield of Quality Wesco Farm Implement Drive Shafts Repair or Replace with WESCO AG-SHAFT Parts 35" x 12" Masonite Sign
181
5 Yardsticks including Phillips Hardware Co Phones 410 & 411, Samis & Bray Sporting Goods Easton, St Michaels Hardware, Choptank Electric and more
182
5 Yardsticks including Friendly Farm Service Phone 23313 Salisbury, Berlin Milling Co Phone 812, Linwood Morris Implement Co, J E Shockley Co Salisbury Phone 568 & 569 and more
183
Cast Iron Michelin Man 6" tall Reg 67548 Detroit
184
Small red anvil 6 1/4" long
185
Small anvil marked Clydesyd 1908 International Harvester
186
Two small black anvils
187
NAPA Exact Fit Wiper Blades Wall Clock (working condition)
188
Diamond TORX Screwdriver Display Stand Diamond & Tool Co
189
Drink NEHI Beverages Burgess Grocery Metal Advertising Sign 52" x 38" Marked MCA 1985 Somerset County Md
190
4 E S Adkins Carpenters Aprons
191
Lot of Carpenters Aprons including The Cohn & Bock Co Phone 740, Milford Fertilizer Phone 4014, Delaware Lumber, 2 AL Nero & Co Phone 3711 and E J Trader & Sons
192
ServiStar Professional Quality Screwdriver Metal Display
193
True Temper Finest Quality Tools Metal Display Stand
194
Two Vintage Fly Swatters MaGee Tire & Appliance Co Berlin Phone 80 and Booth & Brown Insurance Snow Hill Phone 12 Salisbury PI 9-9341
195
Three Rain Gauges including Townsend Inc Mount Pleasant Branch Millsboro DE, Georgia Pacific and a Southern States Milford Coop
196
Miller Feed Co Allis Chalmers New Idea Sales & Service Feeds-Grain-Fertilizer Phones 8041 8534 Selbyville DE Rain Gauge Recorder
197
The Farmers & Planters Co Salisbury Md Rain Gauge Recorder and a Plastic Hancock Ford Tractor Sales Salisbury Md Phone Pioneer 2-2275 Rain Gauge
198
Kerr McGee Chemical Corp Fertilizers & Farm Chemicals Rain Gauge Recorder
199
Merton Brand Corn Beef Wooden Box 7 1/4" x 15"
200
Dorman Ready-Paks of Plated Metric Fasteners Metal Display Stand 23 1/4" x 19"
201
Antique Split Oak Handled Basket
202
Redi-Bolt Threaded Steel Rods Wooden Display Case
203
R H Palenske Original Drypoint Framed Pony Express
204
Craftsman Professional 13 Drawer Tool Cabinet
205
Vintage Railroad/warehouse cart
206
Belly Hydraulic for a Farmall H Tractor
207
Model Toys Press Steel Road Grader
208
Vintage Cast Iron Rocking Horse Door Stop, a 1986 Longaberger Corn/Apple Basket (some damage) and a cast iron horse head book end
209
Cast Iron Bull Bank/Doorstop 11" long
210
Clydesdale Cast Iron Doorstop 10" long
211
Ralston Purina Scarecrow Doll, cira 1965 22"
212
Pioneer Seed Corn Semore Selmore Doll 14"
213
Farm & Family Center High Pressure Washer (working condition)
214
Pine Book Shelf 36" x 12 1/2"
215
Antique Cast Iron Horse Doorstop Hubley? 10 1/2" tall
216
Vintage Cast Iron Brown Draft Horse/Clydesdale Door Stop 9 1/4" tall
217
5 Yardsticks including Jesse Zeigler Phone 3311 PA, Essco Supply Co Salisbury Md Poultry & Hatchery Supplies Phone 7153, Dukes Lumber, and more
218
5 Yardsticks including Berlin Milling Co Berlin Phone 36, Davis Ice & Coal Co Berlin Phone 18, Laurel Building Supply Laurel DE Phone 7541, The Longest Store on the shore and more
219
6 Yardsticks Al. Nero & Co Laurel DE Phone 3711, Md Dept of Natural Resources, John E Hurst & Co Baltimore MD, Selbyville Manufacturing Selbyville DE, A H Angerstein Dover DE
220
5 Yardsticks Gunby Seabrease Hardware Seeds Salisbury Md, Ideal Contractors Seaford DE Phone 3013, Jones Furniture, Arnold Hurt's Fabric Center Salisbury Md
221
5 Yardsticks R W Anderson Gulf Oil Easton Md Phone 2-3535, J E Shockley Salisbury Md Phone 568, J J Newberry Salisbury Md, Sheets Bros PA, Gray Insurance Salisbury MD
222
5 Yardsticks International Harvester Co, Burton Bros Hardware Seaford DE, Wrights Piece Goods, The Singer Co, and Value Carpet
223
5 Yardsticks 2 C & P Hardware Salisbury MD, Newberrys PA, Delmarva Power, and more
224
5 Yardsticks Quince Ashburn Pocomoke MD, Montgomery Wards, Egan & Hausman Co (on front) Hickman Lumber Co (on back), PowrKraft and more
225
Vintage Crosscut Saw, 24" Saw Blade and Fodder Knife
226
Vintage Nylint Toys Michigan Shovel Crane Truck
227
Nylint Toys Payloader Front End Loader Red
228
Nylint Toys Pressed Steel Red Bulldozer
229
Ertl Diecast Dump Truck Red
230
Nylint Toys Road Grader
231
Antique Diecast Flatbed Tractor Trailer
232
Vintage Buddy L Pepsi-Cola Beverage Truck with steerable axle
233
Brass Pepsi-Cola Bottle Opener/Ice Crusher, cira 1930s
234
Vintage Muth copyright 1940 Bottle shaped Pepsi-Cola Bottle Opener and a Pepsi=Cola 12 oz 5 cent Bottle Opener
235
Vintage Muth copyright 1940 Bottle shaped Pepsi-Cola Bottle Opener and a Pepsi=Cola 12 oz 5 cent Bottle Opener
236
Lot of Pepsi keychains, bottle openers, and a pocket knife
237
Michael Garman Pepsi Bench 1990 Rare Dealer Only Piece
238
Pepsi-Cola America's Hometown Choice Square Yardstick, a Pepsi 2000 Generation NEXT Framed Poster, and 20 Pepsi The Boss Promotional Plastic Cups
239
Craftsman HD 1/2" Reversible Drill, Sioux HD Electric Polisher, a Black and Decker 1/2" Special Drill and a safety guard (all working condition)
240
Embossed Pepsi One Gallon Fountain Syrup Bottle Pepsi-Cola Bottling Co Salisbury MD
241
Pepsi-Cola One gallon Pepsi Syrup Jug with lid and paper label
242
Pepsi:Cola Fountain Syrup 12 oz Bottle Pepsi-Cola Bottling Co Salisbury MD
243
Pepsi:Cola 10 oz Syrup/Cola Mixing Glass
244
Antique Compliments of Pepsi Cola Bottling Co Syrup Opener/Mixing Spoon
245
Vintage Pepsi-Cola Stuffed Santa Claus 28" Tall
246
Pepsi-Cola Animal Fair Soft & Safe Stuffed Santa Claus approximately 29" Tall Item# 7386
247
Vintage Pepsi Animal Fair Plush Caroler Girl 26" Tall
248
Two Vintage Pepsi Animal Fair Plush Carolers Item# 7397 & 7398 16" Tall
249
Two Vintage Pepsi Animal Fair Plush Carolers Item# 7399 & 7396 16" Tall
250
Two Vintage Pepsi Animal Fair Plush Carolers Item# 7390 & 7397 16" Tall
251
Two Vintage Pepsi Animal Fair Plush Carolers Item# 7396 & 7399 16" Tall
252
Vintage Pepsi Animal Fair Plush Elf Item # 7384 16" Tall
253
Vintage Pepsi Animal Fair Plush Mr and Mrs Santa Claus (Mrs. Claus Item# 7382)
254
Pepsi Salisbury Hamilton Masterpiece Watch inscribed on back Richard Hazel 30 years service Salisbury Pepsi-Cola (Mr. Hazel was owner of Salisbury Pepsi)
255
Vintage Pepsi-Cola Carafe with 5 Pepsi-Cola Stained Glass glasses
256
Vintage Pepsi-Cola Clear Glass Pitcher with 5 matching glasses and one extra glass
257
Two Vintage Pepsi-Cola Stemmed Goblet Glasses
258
Two Etched/Embossed Pepsi-Cola Glasses and two Pepsi-Cola Glasses with the Pepsi Logo
259
Four Pepsi-Cola Christmas Ornaments NIB Three dated 1997 on box
260
Four Pepsi-Cola Christmas Ornaments NIB Two dated 1997 on ornament
261
Rare Framed 1960's 20" Die-cut Cardboard easel back Pepsi Santa Claus with Norman Rockwell Artwork
262
Exclusive Pepsi TV Commercial Outfit Britney Spears Doll
263
Remco 1987 Pepsi Tractor Trailer Truck with bottles and a Pepsi-Cola No 1 Travel Air Mystery Ship Die Cast Airplane Bank
264
Pepsi Jackson's World Tour 84 Jacket
265
International Harvester Service Collector Sign 23" diameter
266
Smokey the Bear Help Keep Maryland Green Prevent Forest Fires Metal Sign 36" x 36"
267
Andy Rooney Texaco Fire Chief Gasoline Reproduction Metal Sign 10 1/2" x 16"
268
Texaco Sky Chief Su-preme Gasoline Super-Charged with Petrox Porcelain Sign date code 3-5-60 12" x 18"
269
Park & Pollard Co Scratch Feeds Tin Sign 16" x 12 1/2"
270
This is an International Harvester Farm Metal Thermometer

RETURN