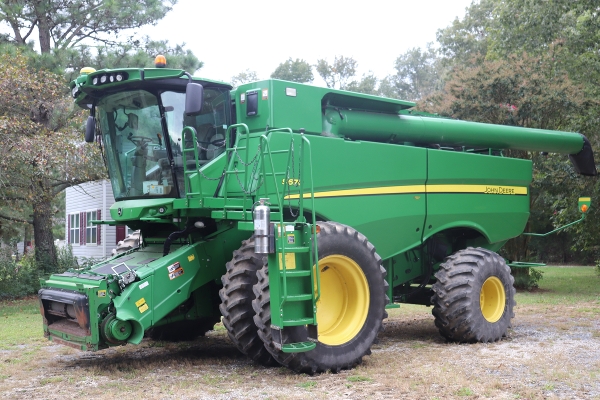 Painter VA Farm Equipment Auction
November 7, 2020
15308 Shell Bridge Rd, Painter, VA, 23420
(View the video of the 2005 Kit Car ('34 Ford Coupe) by clicking above)
On Saturday, November 7, 2020 at 10 AM, Eastern Shore Auctions, Inc. will liquidate the assests of Susan and Harry Beasley of Painter, Virginia. The auction will be held at 15308 Shell Bridge Rd, Painter, VA, 23420. We will be selling farm equipment, collector cars, tools and other items. 
Preview will be Tuesday, November 3, 2020 from 11 AM to 2 PM. 
      EQUIPMENT AND VEHICLES WILL BE SOLD STARTING AT 10 AM. SMALLS WILL FOLLOW.
PUBLIC AUCTION
2012 John Deere S670 Combine, 1992 John Deere 7800 Tractor, 1976 John Deere 4230 Tractor, John Deere 635FD Bean Header, John Deere 893 Corn Header, Trucks & a Good Line of Tillage Equipment, 1969 Camaro SS, 2005 Kit Car ('34 Ford Coupe)
DIRECTIONS: From Points North - Take Rt 13 S to Painter, VA. Turn R onto Wayside Dr (State Rt 614) approx. 2 miles. Sale on left. From points South - after crossing the Chesapeake Bay Bridge Tunnel continue on Rt 13 N for 39.8 miles. Turn L onto Belle Haven Rd. (becomes St Rt 609). Turn L onto St Rt 614. Sale on left. Signs posted.
COMBINE/TRACTORS/COLLECTOR CARS: '12 John Deere S670 4WD combine w/1966.4 engine hours and 1184.5 separator hours, auto steer mapping system, '92 John Deere 7800 tractor w/5803 hours duals, loader bucket and forks, '76 John Deere 4230 diesel tractor w/8729 hours, 1969 Camaro SS with supercharged 572 cu. In. Arias Hemi Chevy 1150 hp Merlin X aluminum big block, 2005 Ford kit car (1934 Ford).
TRUCKS: '96 Freightliner road tractor 634,365 miles, '93 Freightliner road tractor w/Cummins diesel, wet line odometer showing 022381 miles, '83 Peterbilt road tractor odometer showing 037203 miles, '01 Ford F-150 pick up 151,181 miles, '85 Ford 9000 road tractor (not running), '71 White road tractor (not running), '47 Studebaker M-16 truck (not running) and more. 
TRAILERS: '04 Merritt Hopper Bottom trailer, '87 Mate frameless dump grain trailer, '79 Fruehauf with 3 Unverferth grain gravity boxes, Hyster 25 ton equipment trailer, '52 seed trailer with 2 hydraulic 16 foot augers, HD tri axle trailer, Horst header cart and more. 
EQUIPMENT: John Deere 635FD Bean Header, John Deere 893 Corn Header, Great Plains Solid Stand 30 grain drill with coulter cart, Hutchinson grain augers 6" X 57, John Deere 2018 batwing 20 foot mower, John Deere MX7 rotary mower, Rheintub irrigation trailer with hose and nozzle, John Deere model 115 9 foot blade, irrigation pipe, and more.
MISCELLANEOUS: '74 Starcraft aluminum boat with Mercruiser inboard/outboard on a TeeNee trailer, '88 Argo six wheeler, E-Z-GO 36 volt golf cart, Eagle 10,000 lb car lift, AMP 200 psi air compressor, Tuff hot water pressure washer, Whitco space heater, APC mini-bikes, Coolant Quick Changer 2, True Temper wheel barrow, Central Machinery HD drill press, Stack On and Craftsman tool chests, Motomco Moisture Meter, Miller Spectrum 625 plasma cutter, Millermatic 252 mig welder with aluminum accessory, Lincoln AC/DC arc welder, Cotterman rolling ladder, assortment of hand tools, and much more. 

RETURN