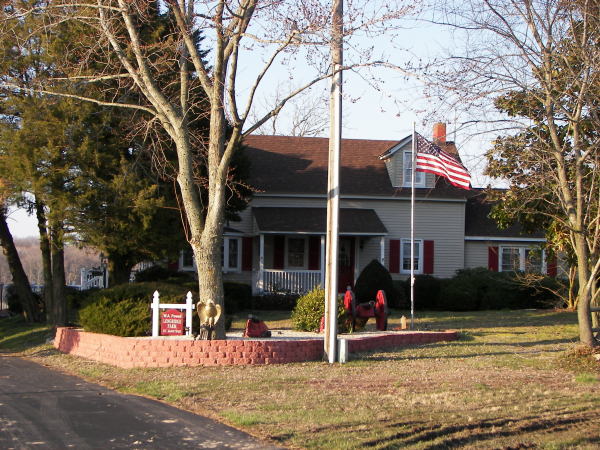 Outstanding Berlin Farm Auction
June 15, 2013
8839 Old Ocean City Road Berlin, MD, 21811

On Saturday, June 15 at 10 AM, we are proud to offer for sale the estate of Wayne Powell of Berlin. Wayne was one of the co-founders of WKHI (99.9) FM in Ocean City. In an article by Greg Bassett, Wayne was affectionately known as the heart of 100 WKHI during its Top 40 heyday in Ocean City. This outstanding farm and adjoining property is located just 9 miles from the beaches of Ocean City, MD. PUBLIC ESTATE AUCTION Valuable Real Estate-Vehicles-Antiques-Firearms-Furniture-Glassware Pursuant to proper authority, the undersigned will sell at Public Auction the estate of Wayne A. Powell of Berlin on: Saturday, June 15, 2013 at 10 AM 8839 Old Ocean City Road Berlin, MD. 21811 Directions: From Salisbury-Take Rt 50 East to Hall Road - turn L. At stop sign, turn R onto Old Ocean City Rd. Follow 1.8 miles. Sale on left. From Berlin-Take Rt 50 W to route 346 (Old Ocean City Rd.) Bear right. Cross over Rt 90 Sale on right. Signs posted. REAL ESTATE 1:30 PM: 67.12 +/- acre farm with 52 acres tillable and 15 acres wooded. Improved with a 1500 sq ft two story farm house with two bedrooms, living room, den, kitchen w/dining area, dining room, small office area, 1.5 bathrooms. Detached three car garage/workshop. Excellent location only 9 miles from OC. RECENTLY ADDED SHORT NOTICE-REAL ESTATE 3:30 PM: 38 .53 +/- acres of mature hardwoods and some pine. Offers excellent deer and turkey hunting opportunities. Zoned residential. Property borders the 67 acre Powell Estate listed above. Property address is described in Maryland Department of Assessments and Taxation as West side Campbelltown Road N of St Martins. Parcel 1 - Map 0014 Grid 0023 Parcel 0077 Parcel 2 - Map 0014 Grid 0023 Parcel 0074 Parcel 1 and 2 will be sold together. FURNITURE: Antique Eastern Shore corner cupboard, Mahogany marble top vanity, dressers, washstand & plant stand, Governor Winthrop roll top desk, Oak dresser w/mirror, wash stand, round table & corner shelving unit, Kling cherry bedroom suit, drop leaf table w/chairs, Maple china cabinet, bed frames, washstand & rocker, curio cabinet, Pine stand, antique rocking cradle, cane & rush bottom chairs, spool legged table, leather arm chair, library table, recliners, sofa, flat top trunks, coffee & end tables, drum style table, mincemeat bucket, antique Ansonia enameled iron clock &Ingraham wall clock, and much, much more. GLASSWARE/PERSONAL PROPERTY 10:00 AM: Local Interest -Plim Hinman Hotel vase, S. Ulman & Bros Salisbury, MD jug, Lionel Scout train, Oyster plates, Lefton, Enoch Wedgewood, Delft, Amberina & Ruby red glass, blue moon & stars dish, Willow ware, punch bowl set, old egg basket, Lrg Assort. of pewter, copper & brass pcs, Crosley pay phone, Griswold fry pan, nautical hanging lanterns, ships wheel, Roy Rogers lunch box, Dept 56 pcs, Jadeite lamp, kerosene lamps, wooden model skipjack by Jones, wooden model work boat, replica cannons, decoys by Rollins Bradshaw, Travis Tyler, Ed Jones, Beverly Lynch & others, cast & wrought iron pcs, Ward Bros, Robt Barnes & Willie Crockett prints, German Waffin Loesche Bayoney knife with stag handle, TV's, and much more. VEHICLES: 2007 Saturn Sky convertible, leather, PW, PL, auto, cruise, 21,838 miles. 2011 Dodge Caliber, cloth, PW, PL, auto, cruise, 17,900 miles. 2005 Lincoln Aviator, 100,000. All MD Inspected. FIREARMS: Josh Grolcher muzzle loader rifle, Remington 22 cal semi auto rifle, model 9, 22 cal rifle with octagon barrel, American Gun Company Knickerbocker 12 g dbl brl shotgun, Windsor 1856 percussion 12 g shotgun, antique muzzleloader w/brass butt plate, Ithaca 410 dbl brl, Winchester 22 Model 6, Remington 22 semi-auto model 550-1, Colt Police Positive 38 revolver, H&R 22 revolver model H&R 922, 9 shot, Iver Johnson 32 Breakfront revolver, Colt JR 22 short semi auto pistol, Black powder pistol, stamped Italy. (Firearms will be taken to a local firearms dealer who will complete the necessary paperwork for ownership. If you are prohibited from possessing a firearm, do not bid on the firearm. If you are the successful bidder and are found to be prohibited, your money will be forfeited and not returned.) COINS: Chrysler Plymouth Millionaire Club, Proof sets, Olympian coins, US Mint Medals of Presidents, Star Spangled Banner Silver dollar set, Presidential Dollar proof sets 07-09, 1993 Bill of Rights coin, 1990 Eisenhower Centennial Silver dollar, 1994 & 95 Bicentennial coin of US Capitol, 1999 Dolley Madison silver dollar, 2000 Sacagawea dollars (3), George Washington half dollar, American Eagle 1 oz proof silver dollars 1987-89, 1998 Robert Kennedy silver dollar, Susan B. Anthony coins, US Liberty Coins 1 dollar and half dollar. TERMS: Real Estate - $10,000 down in cash, cashiers check, certified check, or check approved by auctioneer on day of sale. 30 day settlement. 2% buyer's premium. Broker participation. Personal Property - 10% buyer's premium. 10% discount for cash and/or local check. This is another outstanding on site auction with something for everyone.


Outstanding Berlin Farm Auction Gallery
RETURN